One Crisis Away: Forum Calls Attention to North Texans on Financial Edge
May 2014
On Feb. 27, North Texas public broadcaster KERA and the Communities Foundation of Texas hosted a public forum at Dallas City Performance Hall that sought to answer one question: What is asset poverty?
Asset poverty is a measurement of financial stability, and it's defined as lacking the financial means to support a household for three months at the federal poverty level, given the loss of the main source of income.[1] Over 350 people at the forum and thousands more viewing the broadcast on KERA TV discovered the harsh reality that 29 percent of North Texas households live in asset poverty.[2]
Asset poverty is the Dorys of White Settlement, who live in a suburban Fort Worth home with their two children and who are both are steadily employed. It's Natalie Berquist, a single mother of two who lost her job and had no savings to fall back on. It's the Madrids, who are struggling to pay their medical bills. And it's Shirley Martin, a retiree who, at age 72, worries about money every single day. These families bravely shared their stories of living on the financial edge as part of KERA's multipart One Crisis Away news series, which culminated with the forum.
Addressing Asset Poverty
The event featured a panel of three experts who discussed asset poverty and its impact on communities. Moderated by KERA's Krys Boyd, the panel included Alfreda B. Norman, vice president and community development officer at the Federal Reserve Bank of Dallas; Andrea Levere, president of the Corporation for Enterprise Development; and Larry James, president and CEO of CitySquare. The focus of the conversation was asset poverty, but the panelists discussed other issues, such as banking access, credit scores, savings and budgeting.
Levere said the first step in dealing with asset poverty is to realize that the "conversation is not about 'those' poor people—it is about half of 'us.'"
Today, 24 percent of households in Texas live in asset poverty and 50 percent live in what is known as liquid-asset poverty, a measure of the liquid savings a household has to cover basic expenses for three months.[3] Moreover, 40 percent of Texas households are either unbanked or underbanked, and 56 percent of Texans have a subprime credit rating, which puts them at a severe disadvantage when financial hurdles arise.[4] In North Texas, it's estimated that a single working parent with one child needs an annual income of $41,664 to get by, but roughly 70 percent of jobs in Dallas–Fort Worth don't pay that much.[5]
When considering the real cost of living and the associated burdens of low credit scores, lack of adequate banking and the absence of high-paying jobs, it's suddenly easier to see why so many in our communities struggle to stay afloat. However, as with most things, awareness and knowledge are the building blocks to combat the problems communities face.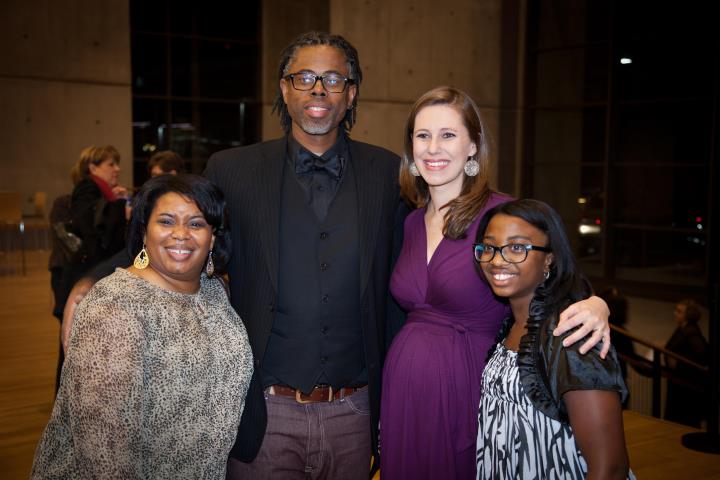 The Dory family with KERA's Courtney Collins. Courtesy of North Texas Public Broadcasting/KERA.
---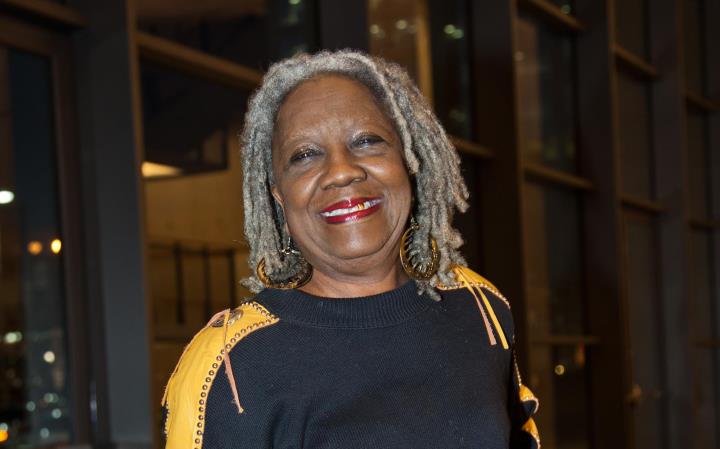 Shirley Martin. Courtesy of North Texas Public Broadcasting/KERA.
---
Informing the Community
Throughout the series, the One Crisis Away campaign opened the eyes of individuals across North Texas to the issue of asset poverty. Through social media outlets such as Facebook and Twitter, as well as traditional sources such as KERA radio 90.1 and the KERA website, a vast new audience was informed of the financial burden that affects 29 percent of North Texas households.[6]
Angela Beedle, a 90.1 listener, said she was moved "listening to the story by Courtney Collins about Natalie and her son Samuel. I have been there. Truth is, I'm still one good crisis away from disaster most days, but not today." During the forum, the discussion around One Crisis Away went beyond the stage and began trending locally on Twitter through the hashtag #onecrisisaway. With nearly 8,000 page views on the KERA site and an estimated audience of 10,000 through the Think program featuring Boyd on 90.1, news of asset poverty was spread throughout North Texas.
When the lights dimmed one final time, the audience was introduced to the Madrid family. Isac and Elizabeth Madrid live in Rockwall with their 1-year-old son. Isac had been battling a rare disorder known as erythropoietic protoporphyria (EPP), which caused him to lose his job, leaving his family in a financial bind. In February, Isac lost his battle with EPP. Elizabeth must now cope with the loss of her husband as well as a looming financial cliff.
Preparing for Crises
While news of Isac's passing cast a somber cloak over the audience, it also reaffirmed that unexpected life events can happen at any moment. If individuals are not financially prepared to withstand these challenges, they will struggle to stay afloat.
The One Crisis Away series provided the community with the awareness and tools to be financially prepared to withstand such crises. Sylvia Komatsu, KERA's executive vice president and chief content officer, said that "together we've been able to build awareness of the critical issue of asset poverty and highlight potential solutions." 
As audience members departed, they were provided with information on organizations such as CitySquare, YWCA, Community Enrichment Center, United Way and many others that can assist those in need throughout North Texas. Learn more about where to find help.
For more information on the One Crisis Away series and to view the forum broadcast, visit the KERA website.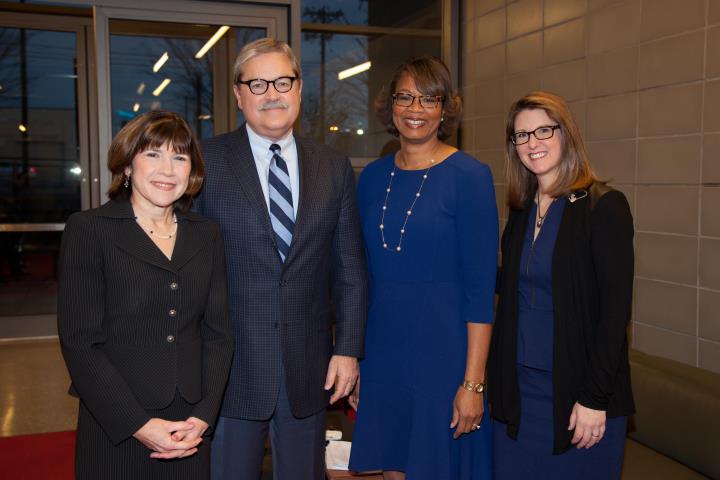 Panelists (from left) Andrea Levere, Larry James and Alfreda B. Norman with KERA's Krys Boyd. Courtesy of North Texas Public Broadcasting/KERA.
---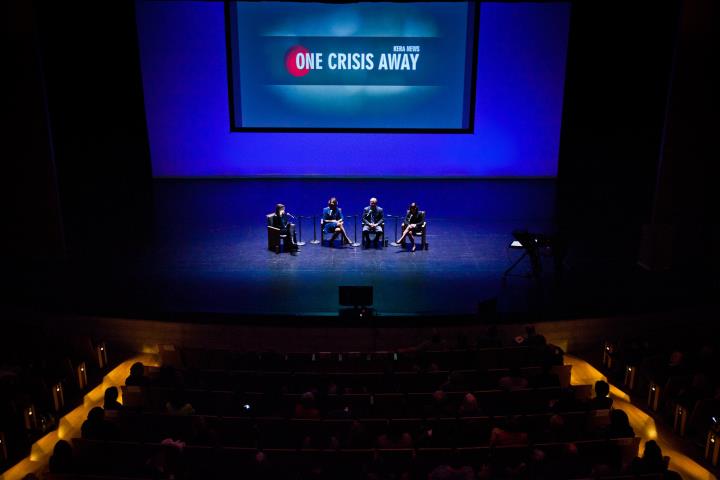 Panelists at Dallas City Performance Hall. Courtesy of North Texas Public Broadcasting/KERA.
---
VIDEO: The Dallas Fed highlights One Crisis Away, a news series and forum on asset poverty in North Texas, presented by local public broadcaster KERA and Communities Foundation of Texas.
---
Notes
About the Author
Shkëlqim Kelmendi is a management development professional at the Federal Reserve Bank of Dallas.