News Releases
Dallas Fed: Texas Economy Poised to Shift into 'Second Gear' in 2017; State Projected to Add 242,000 Jobs
Dallas Fed's Texas Employment Forecast About 2 Percent for 2017, But Risks Posed by Oil Prices, Trade Remain
For immediate release: January 10, 2017
SAN ANTONIO—Texas job growth should increase slightly from 1.6 percent in 2016 to about 2 percent in 2017, said Federal Reserve Bank of Dallas assistant vice president and senior economist Keith Phillips today in San Antonio.
"Job growth picked up in the second half of 2016 due to a stabilization of the energy sector," Phillips said. "With that positive momentum, the Texas economy enters 2017 poised to shift into 'second gear.'"
Phillips presented the Bank's annual Texas Economic Outlook before local business leaders at the Dallas Fed's San Antonio Branch.
The forecast of 2 percent job growth means Texas should add about 242,000 new jobs in 2017. The Dallas Fed's current estimate for job growth in 2016 is 1.6 percent, or about 193,000 new jobs, pending the release of December state employment data.
Over the past two years, the state's economy weakened sharply but continued to grow, according to Phillips. Continued growth in the service sector has helped offset the impact of the fall in oil prices on the Texas economy.
"In 2015 and 2016, low oil prices and a strong dollar reduced job growth, but Texas still fared better than the other energy states," Phillips said. "The service sector and the I-35 corridor have not been impacted much by the energy downturn."
Despite the positive momentum heading into 2017, there are still risks to the employment forecast, Phillips notes. A sharp decline in oil prices or exports could result in slower growth.
The Dallas Fed releases its Texas Employment Forecast on a monthly basis in conjunction with the release of monthly Texas employment data. The forecast projects job growth for the calendar year and is estimated as the 12-month change in payroll employment from December to December.
For information on the methodology for the Bank's Texas Employment Forecast, visit the Dallas Fed's website.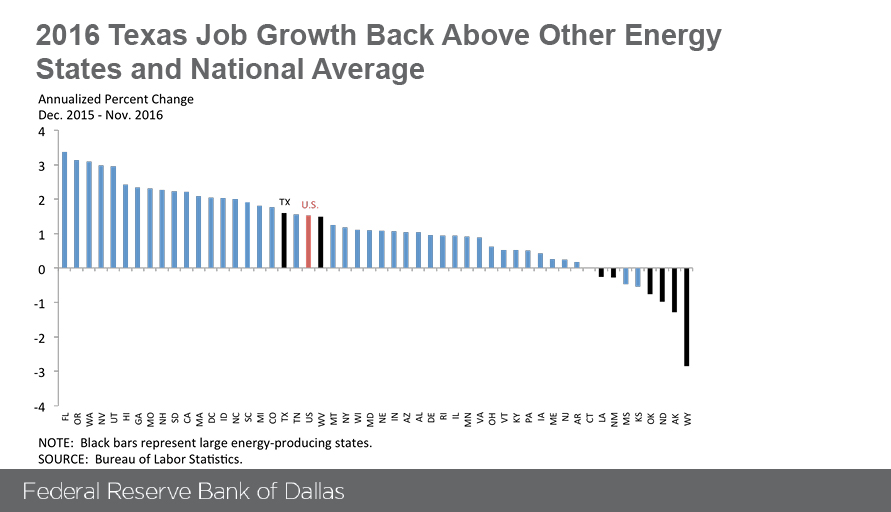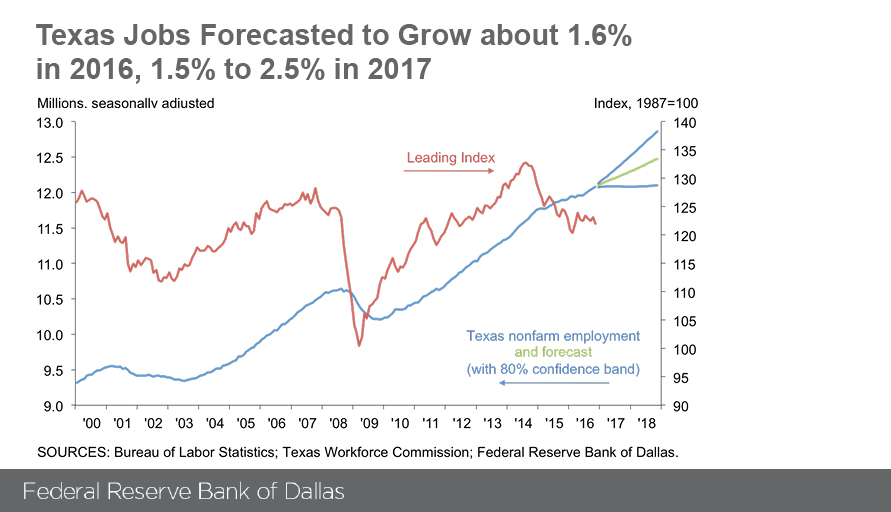 -30-
Media contact:
Alexander Johnson
Federal Reserve Bank of Dallas
Phone: (214) 922-5288
Email: alexander.johnson@dal.frb.org