In Memoriam: Herb Kelleher
January 4, 2019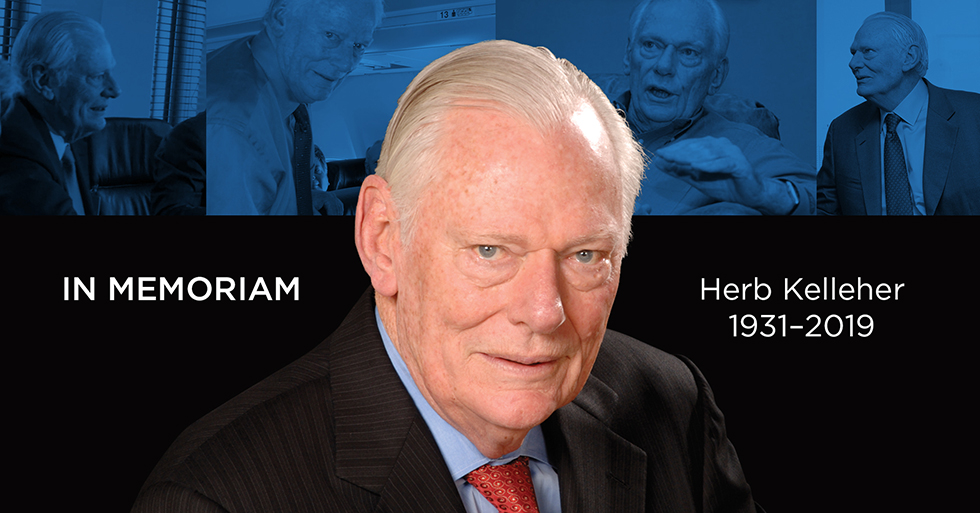 We are deeply saddened by the passing of our dear friend and colleague, Herb Kelleher. Herb was the former chairman of the board of the Federal Reserve Bank of Dallas as well as the co-founder, former chief executive officer and executive chairman of Southwest Airlines.
Herb was a legendary business leader and pioneer. He was a brilliant innovator who revolutionized many aspects of the airline industry. He was a superb leader with a unique leadership style. He emphasized plain talk, a focus on the customer, and dedication to empowering employees of the company. He is often quoted as saying, "The business of business is people" as well as "Your people come first and, if you treat them right, they'll treat the customers right."
Herb joined the board of the Dallas Fed in 2007 and served through 2013. He was chairman from 2011 through 2013 and also served as chairman of the Federal Reserve System's Conference of Chairs in 2013. During the financial crisis, his advice and counsel were invaluable to leadership of this Bank as well as the Federal Reserve System.
Herb embodied the spirit of public service. He often spoke about his great affection for the people of the Federal Reserve. He worked tirelessly to promote the economic well-being of our region and our nation and always made himself available, including after his term of board service, to advise leadership of the Dallas Fed.
We will always treasure Herb's wisdom, insights, leadership and great humanity. We will sorely miss his brilliant humor, exhibited particularly in trying times.
We extend our deepest condolences to his wife Joan and their children.