Community Development Publications
Consumer Credit Trends for Bexar County

Consumer Credit Trends for Bexar County
November 2019
Introduction
In 2018, the Federal Reserve Bank of Dallas published its first report on consumer credit, with a particular look at Dallas County. The Dallas Fed added to the consumer credit series in 2019 with its statewide report on consumer credit. The series now continues with information on Bexar County, home to the city of San Antonio. This report uses a nationally representative loan-level dataset from Equifax to study consumer use and timely payment of four major loan types in Bexar County: mortgage, credit card, auto and student. Equifax assigns risk scores to consumers that reflect past loan performance; scores range from 300 to 850 (Table 1).
Table 1
Equifax Risk Score Categories
Category
Risk score range
Prime
680 and above
Near prime
620–679
Subprime
550–619
Deep subprime
Below 550
SOURCE: Federal Reserve Bank of New York Consumer Credit Panel/Equifax.
Bexar County
As the statewide report noted, there is a positive correlation between risk score and income (Chart 1). The following maps demonstrate this relationship throughout Bexar County using ZIP codes and Equifax data for the first financial quarter of 2017. The north and northwest areas of the county, and the far eastern corner to a lesser extent, are shaded purple in both maps, indicating that residents of these areas have relatively high incomes, as well as high Equifax Risk Scores (considered to be favorable). Similarly, residents in the center of the county tend to have both low incomes and low Equifax Risk Scores (or unfavorable scores). However, low risk scores are also common in most of the southern part of the county, even though households outside of Interstate 410 tend to be middle income rather than low income.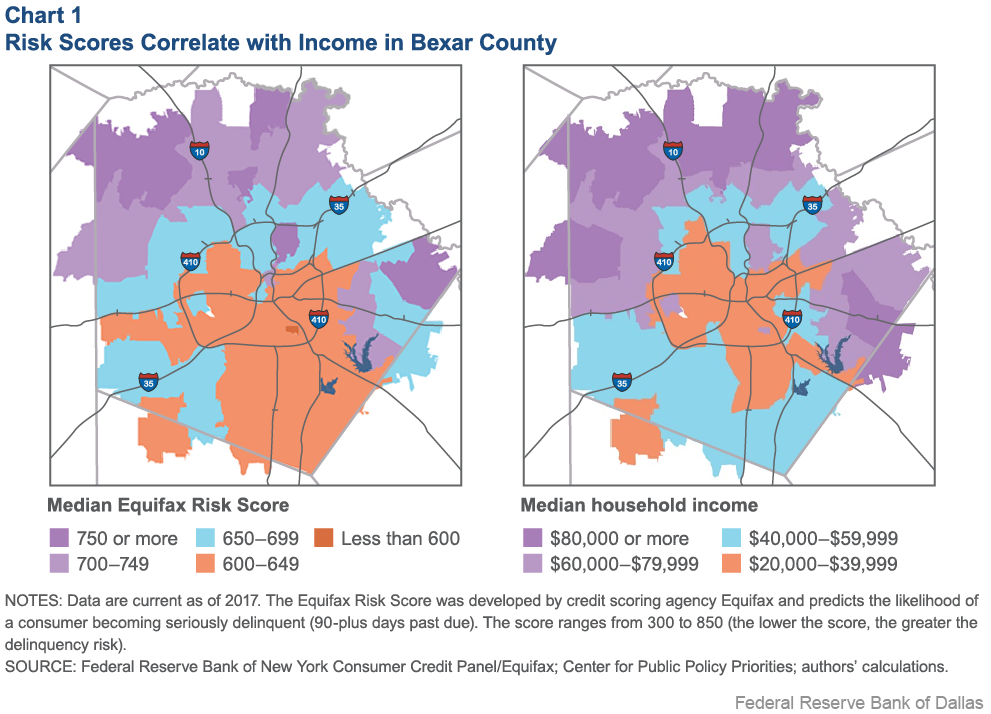 Consumer Credit Trends
Like previous reports in the Consumer Credit Trends series, this report tracks serious delinquency rates for the four most common types of loans from 2003 to 2018. Loans are considered seriously delinquent if the borrower is 90 or more days past due. Chart 2 illustrates serious delinquency trends in Bexar County.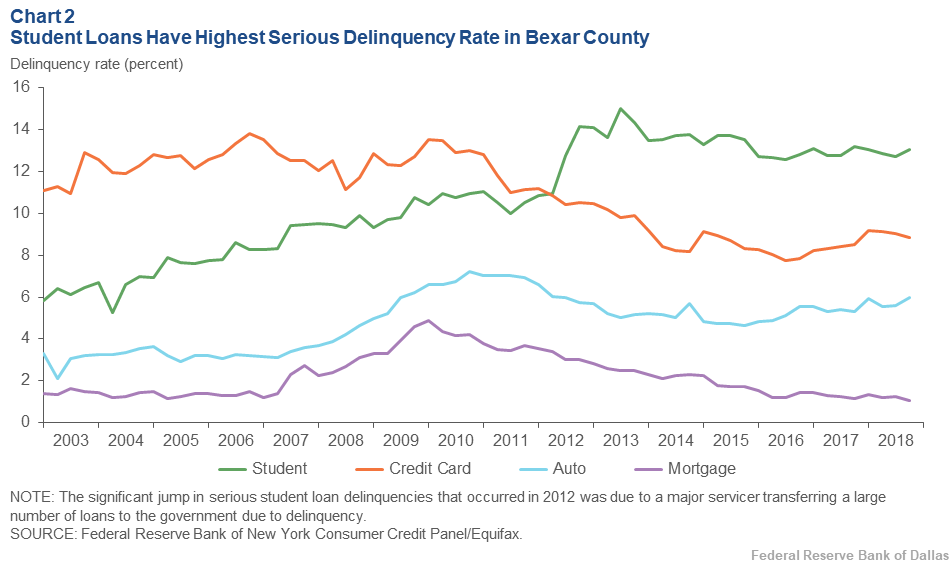 Overall, the county's consumer credit environment appears to be similar to the statewide environment in terms of both the quality of credit and patterns in serious delinquency rates. Nonetheless, there are some consumer credit trends in Bexar County that warrant further discussion.
Student Loan Serious Delinquency Rate Sees Dramatic Rise
Unlike other types of credit, access to a student loan is not based on a borrower's risk score. This has implications for loan performance and may at least partially explain the high rates of serious delinquencies. Falling behind on student loan payments may also put greater financial pressure on borrowers, reducing their ability to repay other loans and possibly leaving them with worse credit.
Between 2003 and 2018, Bexar County saw the largest change in student loan serious delinquency rates compared with other urban counties and the state as a whole. Of these, Bexar County's 2003 first-quarter serious delinquency rate was the lowest at 5.8 percent. By the last quarter of 2018, the rate had more than doubled to 13.1 percent and was on par with the statewide average (Chart 3).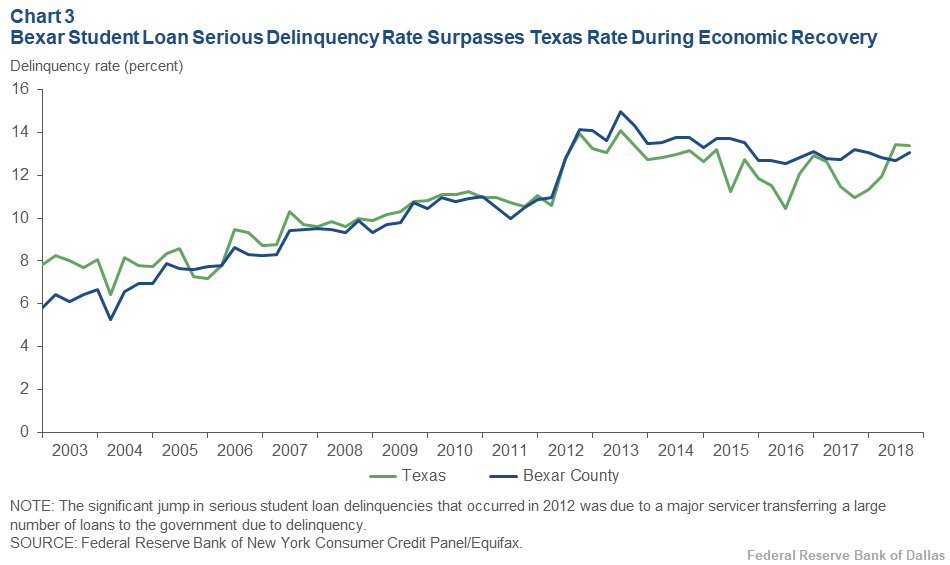 The rise in Bexar County's student loan serious delinquency rate has come almost entirely from borrowers that currently have deep subprime credit ratings. Loans held by such borrowers are about twice as likely to be seriously delinquent in 2018 as they were in 2003 (Table 2). Moreover, the student loan serious delinquency rate is now higher in Bexar County than the rest of the state, whereas it was lower in 2003.
Table 2
Bexar County Sees Student Loan Performance Worsen for Deep Subprime Borrowers as Compared with State
Delinquency rates (percent)
Prime
Near prime
Subprime
Deep subprime
Bexar
Texas
Bexar
Texas
Bexar
Texas
Bexar
Texas
2003
0.0
0.0
0.11
0.28
2.2
3.19
20.91
24.67
2012
0.02
0.06
0.54
0.61
7.38
6.58
37.77
35.87
2018
0.01
0.07
1.66
1.73
12.72
11.76
41.12
36.92
Difference in rate since 2003
0.01
0.07
1.55
1.45
10.52
8.57
20.21
12.25
NOTE: All delinquency rates are from the second quarter of each year.
SOURCE: Federal Reserve Bank of New York Consumer Credit Panel/Equifax.
In both Bexar County and the state, deep subprime borrowers make up a smaller share of the credit market (both overall and the student loan market) than they once did. So while Bexar County has fewer student loan borrowers with deep subprime credit ratings, those who fall into this category are clearly struggling to pay back their loans. It is unclear whether this poor performance is a matter of increased access to college for those with poor credit, relatively low incomes or something else entirely. No matter the cause, it appears this phenomenon is more drastic in Bexar County compared with the state as a whole.
Auto Loan Serious Delinquency Rate Consistently Higher than State
For nearly all of the 2003–18 time period, Bexar County had an auto loan serious delinquency rate that was higher than the statewide rate, although Bexar County's median and average auto loan amounts were slightly lower. In fact, Bexar County's current auto loan serious delinquency rate is nearly as high as the state's rate at the height of the Great Recession (Chart 4). Moreover, the county's serious delinquency rate appears to be on the rise (as it is in the rest of the state).[1]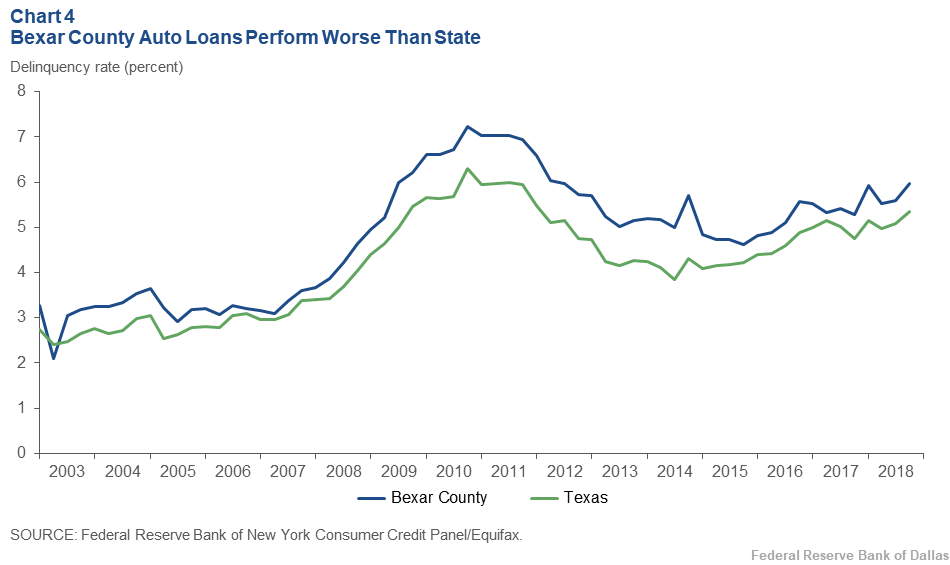 Could Bexar County's high auto loan serious delinquency rate be attributable to deep subprime borrowers? While deep subprime auto loan borrowers perform worse than auto loan borrowers with higher risk scores, Bexar County's relatively high auto loan serious delinquency rate does not appear to be caused by deep subprime borrowers alone. All nonprime borrowers in Bexar County have higher serious delinquency rates today than they did before the recession, and the rise in serious delinquency for each nonprime risk score group is fairly proportional.
The significance of late auto loan payments is discussed in depth in the statewide report. Auto loans are particularly important; not only do many consumers rely on personal vehicles to get to work, but they can live in their car if they lose their home.[2] Auto loan amounts are also typically smaller than mortgage and student loans and are, therefore, easier to pay off.
The relatively high rate of auto loan serious delinquencies in Bexar County may indicate that its residents are having difficulty making payments on one of their most important assets.
More from the Dallas Fed's Consumer Credit Series
More county briefs featuring El Paso and Travis counties are forthcoming. They will be made available on the Dallas Fed Consumer Credit Trends webpage.
Lead Author
Anna Crockett
Community Development Outreach Analyst, Federal Reserve Bank of Dallas
Contributing Authors
Emily Ryder Perlmeter
Community Development Advisor, Federal Reserve Bank of Dallas
Garrett Groves
Vice President of Business & Industry Partnerships, Austin Community College
The information and views expressed in this report are the author's and do not necessarily reflect official positions of the Federal Reserve Bank of Dallas or Federal Reserve System; nor do they constitute an endorsement of any organization or program.
Full report is available online: https://www.dallasfed.org/cd/cct/19cctb.
Federal Reserve Bank of Dallas 2200 N. Pearl St., Dallas, Texas 75201 | 214.922.6000 or 800.333.4460