Economic Development and Human Capital
Connecting communities during COVID-19: a quick guide to broadband solutions for local governments
The COVID-19 pandemic has brought national attention to the digital divide—the gap experienced by households without internet access. Directives for social distancing and stay-at-home orders have made access to broadband an urgent necessity for families as they struggle to stay connected with schooling, jobs, health care, government assistance and more.
Schools and colleges have shut down and moved to online learning platforms. Public health officials have called for medical clinics to use telemedicine in place of office visits. Remote work most often requires a broadband connection. But geographic and economic factors leave many families offline. In most urban areas in the U.S., for example, 30 percent of households earning less than $50,000 a year do not have a broadband internet subscription, according to the Census Bureau.
Governmental entities, community stakeholders and banks are seeking ways to narrow the digital divide during the pandemic. This post outlines some immediate actions they can take to improve the availability and affordability of broadband.
Broadband Is essential for community resilience
Our current crisis makes it clear: Broadband infrastructure is being recognized as essential infrastructure for building resilient communities that can respond effectively to a public health emergency. To help low- and moderate-income (LMI) residents, including students, conduct vital activities while maintaining social distancing, many communities see the need to quickly develop or expand connectivity projects.
How can local communities address this urgent need? The Dallas Fed has been working with Eleventh District communities on digital inclusion efforts for several years, and we've convened city summits to discuss best practices. (See our story on last year's Dallas summit.) Based on this experience and information we've compiled for our forthcoming detailed guide for local governments, we have basic strategies to share.
Immediate solutions for local governments
All cities are entrusted with protecting public health, growing the local economy and managing public rights-of-way. Additionally, some cities control network infrastructure. These functions give them opportunities to close the digital divide on their own or in partnership with other governmental entities.
A partnership between a municipal government and a local school district, community college district or public health care system is a powerful one. While providing the platform for distance learning or telemedicine required to respond to a national emergency such as COVID-19, the two entities can come together to share broadband infrastructure to close the digital divide.
Several immediate solutions are within the control of municipalities and other local governmental entities, such as school districts.
Leverage public network and vertical assets to support neighborhood wireless connectivity.
Redirect existing and new building Wi-Fi hotspots outward to serve the public.
Promote free and low-income offerings of internet service providers (ISPs).
Incentivize wireless carriers and the technology industry to donate connectivity devices.
We explore each solution below.
Leverage public assets to create neighborhood hotspots
Municipal and other governmental partners can leverage their own fiber infrastructure and vertical assets—such as poles, towers, buildings or water towers—to support neighborhood-wide wireless hotspots. This type of network infrastructure can be implemented quickly to expand community access. It also provides a long-term solution to help close the digital divide.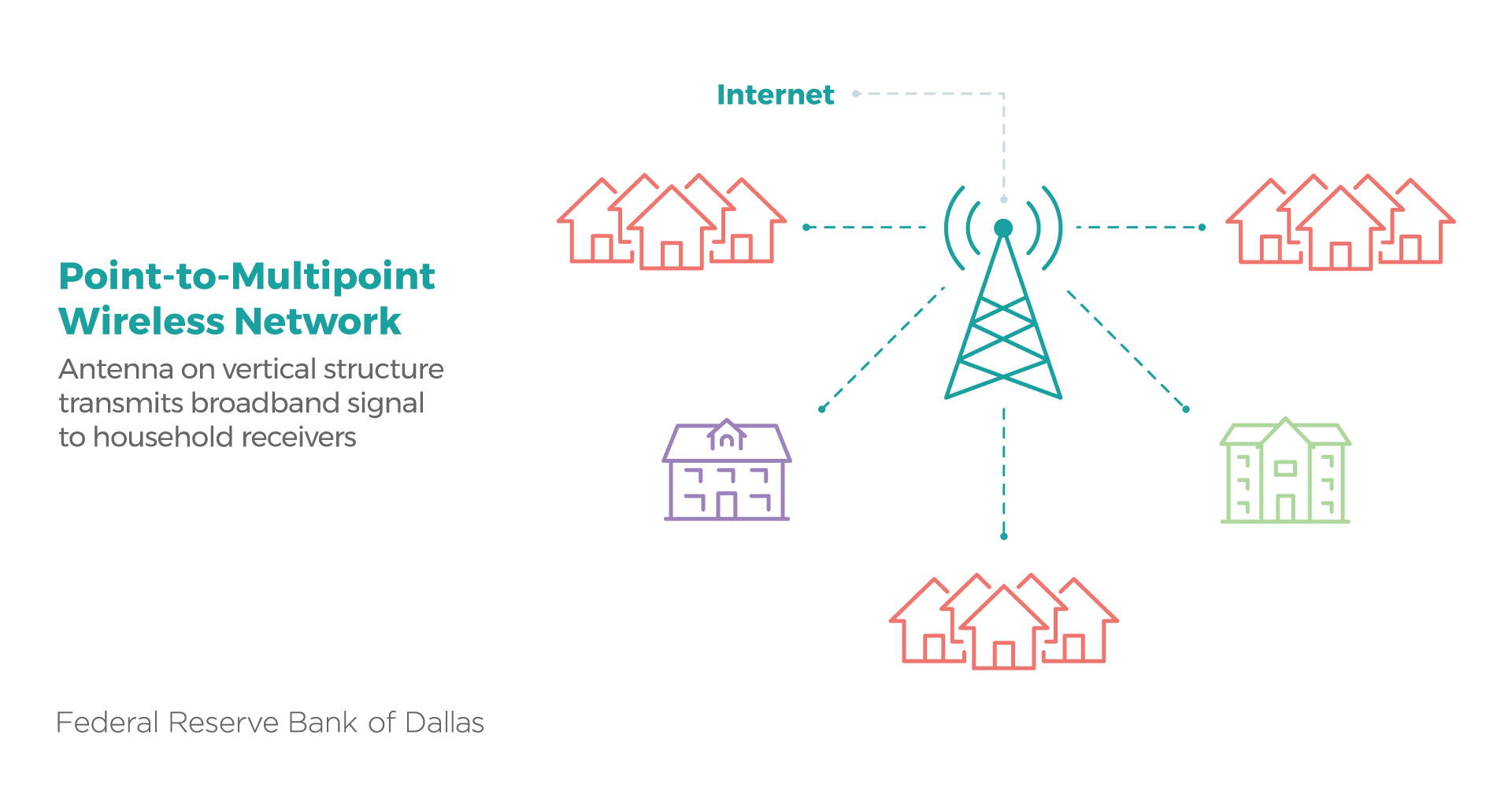 Following are the basic steps for building a point-to-multipoint wireless network to cover a neighborhood. For large multifamily apartments, build a dedicated Wi-Fi hotspot covering the footprint of the complex with its own connection to the fiber infrastructure.
Divide service area into four quadrants of about 150 homes per quadrant (number of households may vary by geography and network capacity).
For each quadrant, identify a public vertical asset 150 feet high for installation of an antenna for transmission of the broadband signal. Use the 5GHz band with line of sight over the coverage area or 900 MHz without line of sight.
Leverage public fiber, if available, for network connectivity to the vertical asset.
If public fiber is not available, use microwave technology for network connectivity to the vertical asset.
Install receiver devices at each home to access the wireless broadband signal.
Establish policies for connecting users to the network.
Set policies to lessen the risk of network congestion.
Redirect public building hotspots outward
Wi-Fi hotspots in public facilities such as libraries, schools and colleges can be redirected outward to provide internet access outside of the building, extending to a parking lot. This strategy can also be used to create a mesh network for coverage of an entire neighborhood.
Following are steps to implement this type of internet access:
Adjust antennas to transmit outside of the building into the parking lot or other targeted area.
Leave the Wi-Fi hotspot on 24/7 or hours deemed appropriate.
Establish policies for connecting users to the network.
Establish rules to ensure safe social distancing within the parking lot area while people are accessing internet service, such as staying inside a car.
Set policies to lessen the risk of network congestion.
Community use of school and library Wi-Fi hotspots supported by the federal E-Rate program is permitted during facility closures due to the pandemic. The Federal Communications Commission (FCC) clarified this in a March 23 notice, stating, "We leave it to individual schools and libraries to establish their own policies regarding use of Wi-Fi networks during closures, including hours of use."
Promote free and low-income broadband service
On March 13, the FCC announced its Keep Americans Connected initiative to help ensure people do not lose connectivity during the COVID-19 emergency. This provides opportunities for local communities to work with ISPs to expand broadband access.
More than 700 broadband and telephone service providers have voluntarily pledged to open their Wi-Fi hotspots to the public for 60 days, as well as refrain from terminating service to residential or small business customers because of inability to pay and to waive any late fees incurred due to the pandemic. Additionally, FCC Chairman Ajit Pai urged providers to increase eligibility and broadband speed of their low-income programs, relax data caps and waive long-distance overage fees. He urged broadband providers to work with schools and libraries on remote learning opportunities and advised network operators to prioritize the connectivity of hospitals and health care providers. Most ISPs have incorporated some of these emergency measures.
There are several steps local leaders can take to maximize the benefits of these programs in their communities:
Open existing Wi-Fi hotspots to the public in low-income residential areas to provide free access.
Work with ISPs to create a campaign advertising their free and low-income broadband service. This is important since ISP low-income products are undersubscribed. Aim to keep people connected using a low-cost product after the free period.
Work with ISPs to increase household utilization of Lifeline, the $9.25 subsidy program for low-income households, or other subsidy programs that can be developed.
Ask broadband providers to implement their free and low-income programs for all customers, regardless of prior outstanding balances.
Find details on free and low-cost products using this National Digital Inclusion Alliance guide.
Incentivize donation of connectivity devices
Business and community partners can be encouraged to help provide devices for residents to connect to the internet.
Work with wireless carriers (e.g., AT&T Wireless, Verizon and T-Mobile/Sprint) to create or expand personal Wi-Fi hotspot account programs with schools and other nonprofits.
Reach out to the technology industry to expand programs for donating Wi-Fi-enabled laptops, tablets, cell phones and related connectivity devices.
Partner with nonprofits, such as Goodwill, Comp-U-Dopt and PCs for People, to support computer refurbishing and distribution programs.
Banks can support connectivity projects
Local banks can be an important partner in implementing community connectivity projects in response to the COVID-19 crisis. Guidance issued by the Federal Reserve and other financial institution regulators in March, following the national emergency declaration, encourages their support.
The guidance encourages banks to work constructively with borrowers and customers to meet the financial needs of those affected by COVID-19. A second statement clarified that banks will receive Community Reinvestment Act (CRA) consideration for community development activities in response to the pandemic. These may include loans, investments or services that support digital access or access to health care for LMI individuals or communities. See our March 27 COVID-19 and CRA post for more information.
For a broader background on CRA and digital inclusion activities, see our 2016 publication, "Closing the Digital Divide: A Framework for Meeting CRA Obligations."
Moving forward on digital inclusion
COVID-19 is a tipping point for our nation when it comes to digital inclusion. Going forward, it should be clear that lack of broadband access is a principal vulnerability. It inhibits the development of resilient cities and towns that are responsive to the public health, educational and economic needs of all citizens. We encourage local governmental entities to leverage their infrastructure, assets and partnerships to bridge the digital divide in communities across the country.
Dallas Fed resources
A detailed guide for local governments on broadband as essential infrastructure is forthcoming.
Author
The views expressed here are those of the author and should not be attributed to the Federal Reserve Bank of Dallas or the Federal Reserve System. The information provided does not constitute an endorsement of any organization or program.