360 in 365 Tour
Corpus Christi's export hub is about to get busier
Rush hour on the port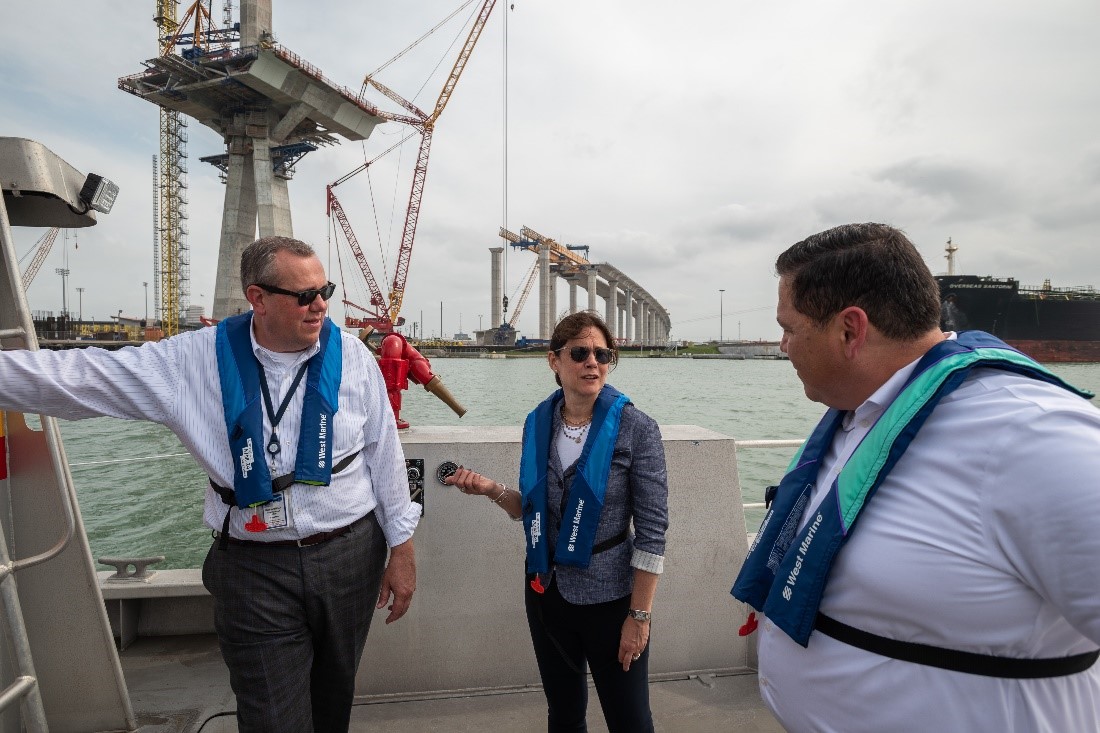 Touring the Port of Corpus Christi, it's hard to miss evidence of the port's expansion and what it means for the city on Texas' Gulf Coast. Dredging vessels in the Port of Corpus Christi pause briefly while carving deeper and wider pathways into the ship channel to accommodate more oceangoing carriers. Economies around the world are expected to rely more on what's already the leading U.S. port for crude oil and LNG exports, officials told Dallas Fed President Lorie Logan during her stop in Corpus Christi in May.
Last year, Corpus Christi saw an 18.4 percent increase in crude oil and a 29.4 percent increase in refined products exported. A record average 2.3 million barrels of crude and refined products, excluding petroleum gas liquids, moved out of the port each day in December. That's equal to about one-tenth of what the U.S. uses per day.
An estimated 753 billion cubic feet of liquefied natural gas (LNG) was exported through Corpus Christi in 2022. European export share from Corpus Christi went from 31% in the second half of 2021 to 75% during the same period a year later. Demand is expected to rise from there. As a consequence from the Russian war on Ukraine, European countries are expected to pull even more LNG from U.S., business leaders said.
Business from Corpus Christi's port and tourism to the area have long anchored the local economy. More traffic on the water means the opportunity for more growth in the region. One constraint, though, is getting enough product to Corpus Christi to meet export demand. Business leaders told Logan that rising interest rates are affecting decisions to add more pipelines, as are wait times for refinery development permits.
Read more: Dallas Fed Energy Survey, Trade diversion has helped ease the impact of the embargo on Russian oil
LNG market expanding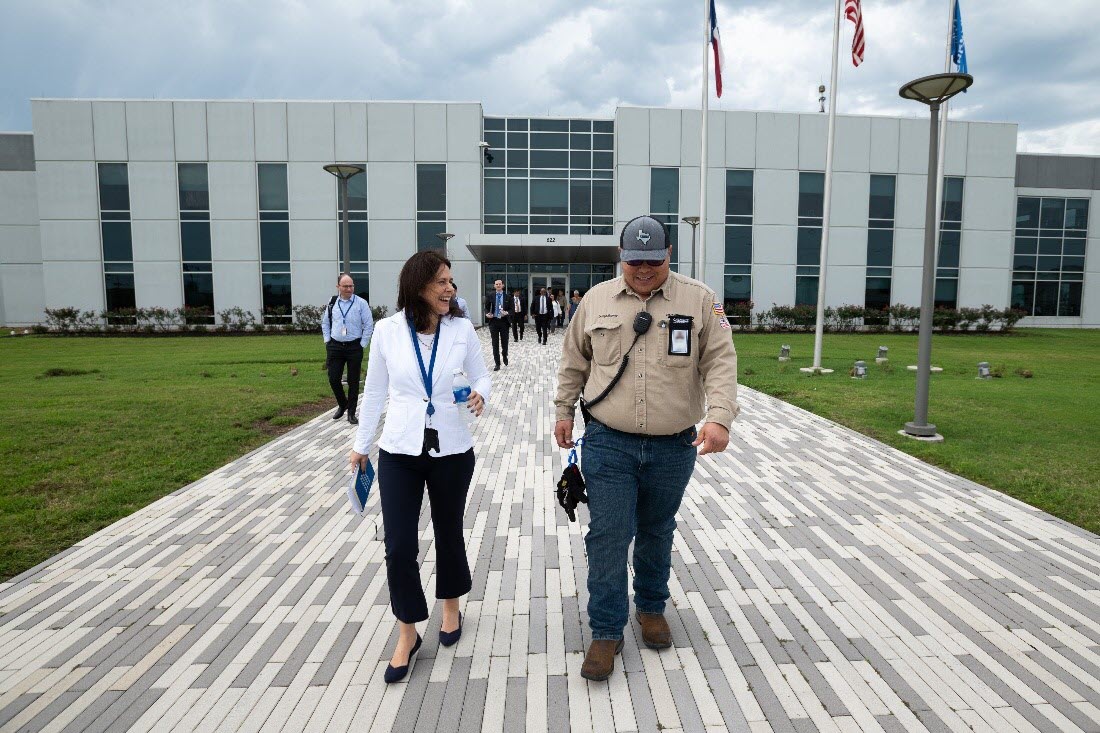 The Port of Corpus Christi is the third busiest gateway for liquefied natural gas exports from the U.S.
European demand made a sudden shift from Russian pipelines to waterborne LNG as the Russian war on Ukraine unfolded. As a result, demand for LNG delivered by ship increased sharply for a market that has prepared for long-term growth prospects in Southeast Asia, local officials said. Population growth, rising power needs and new climate goals have made the region a key growth market even while attention remains on Europe in the short term, leaders said.
Read more: Energy Indicators
Skilling up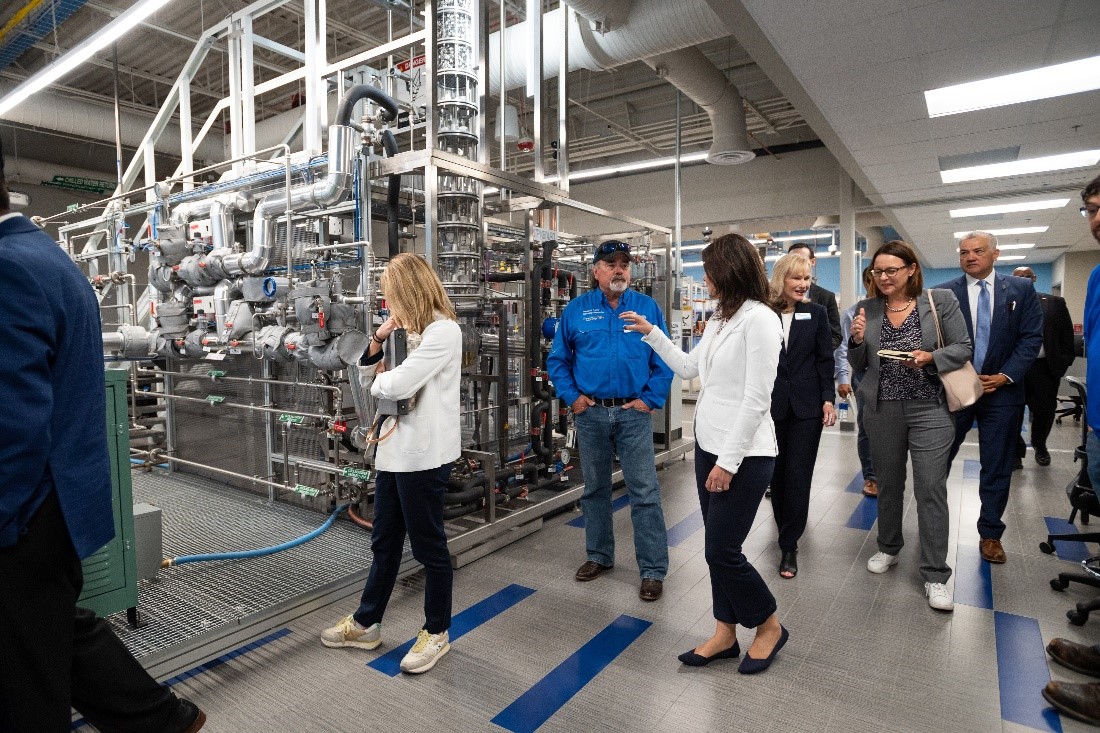 Del Mar Community College and Texas A&M Corpus Christi are partnering with the energy industry to tackle another challenge associated with rising energy demand and more exports from the area: finding trained workers.
For years, average wages earned by the traditionally blue-collar Corpus Christi workforce trailed average pay in Texas as a whole. But recently, earnings in Corpus Christi have pulled even with the rest of the state.
The energy industry needs workers to meet the booming demand for exports and to staff new plants near the port. These companies are offering top dollar for hard-to-find skill sets.
Logan examined equipment students work on that simulates refinery and petrochemical manufacturing processes, while on her tour of the Del Mar Community College training center. Logan also visited welding bays and a millwright workshop, where instructors explained how they consult with industry leaders to shape their curriculum.
Many students of Del Mar's programs often graduate toward a career path to earn six-figure salaries . Pump mechanics who leave with new trade skills can quickly earn up to $50 per hour and are often marketable workers just a couple semesters into their coursework, one instructor told Logan.
Read more: All Eyes on Texas: Community Colleges Focus on Preparing the Workforce of Tomorrow
Hydrogen next for Corpus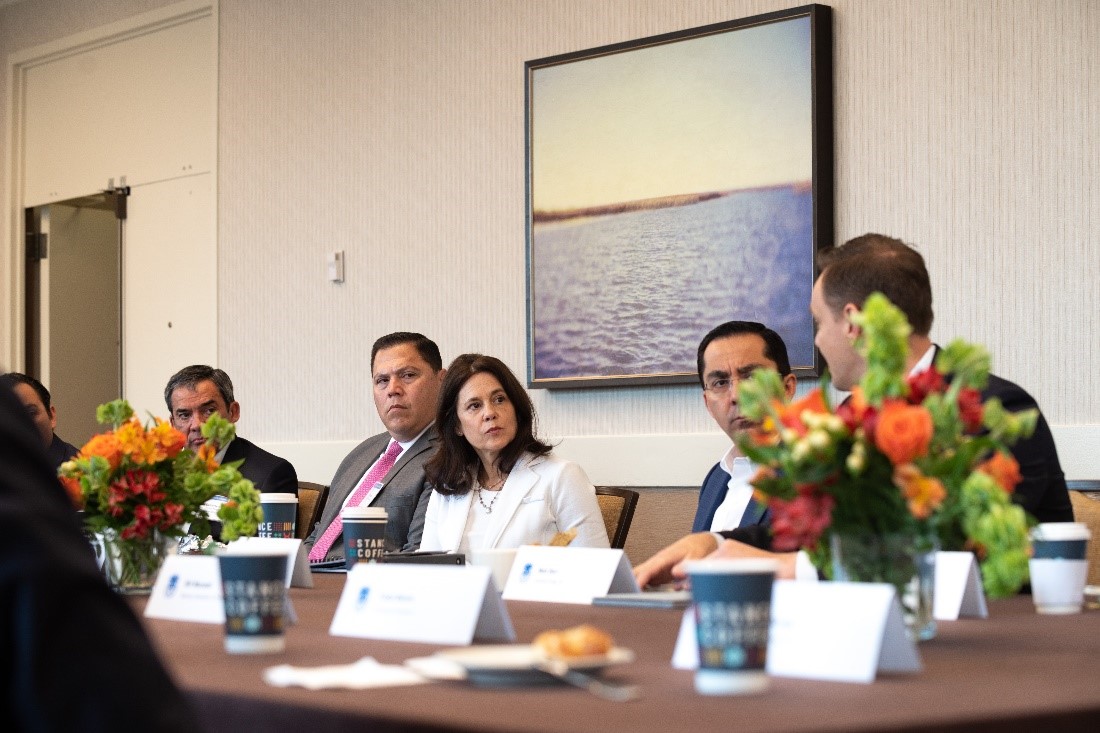 Navigating the energy transition is a priority for regional leaders. And exporting one emerging energy source, hydrogen power, is a part of Corpus Christi's future, port officials told Logan.
Widescale adoption of hydrogen power in the U.S. won't happen overnight, leaders said, but the underlying science has advanced enough that production and exports to Asia could get underway in the next few years. New incentives made available through the Inflation Reduction Act are a driver in developing the industry locally.
Read more: Energy transition means more than just additional electric vehicles
Homebuilder challenge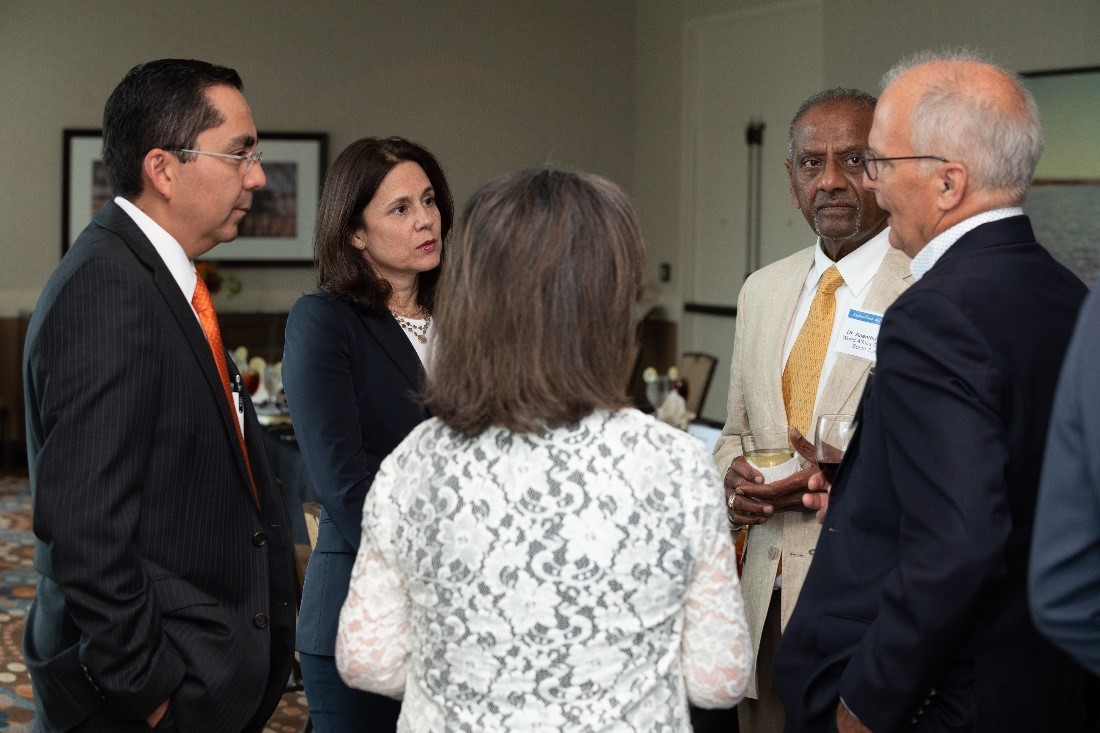 Investments pouring into the energy industry around Corpus Christi over the last few years have raised wages—and with that, the prospects for local workers of buying a home. However, business leaders told Logan, it's becoming harder to keep home prices affordable in new developments.
Housing costs have been a key driver for inflation across the U.S. In Corpus Christi, Logan heard directly how supply chain issues and difficulties with land development have contributed to stubbornly high prices.
Raw materials cost more in Corpus Christi because trucking routes reach a "dead end" there and can't pass through to other destinations, one homebuilder explained.
To Corpus Christi's visitors, large swaths of land appear available for development, with many opportunities to put up affordable homes. But the flat areas surrounding the city create drainage problems and make it more expensive to build sewer networks, business leaders said.
Read more: Texas' cheap housing edge slipping away as resilient demand outpaces supply
A need for power and water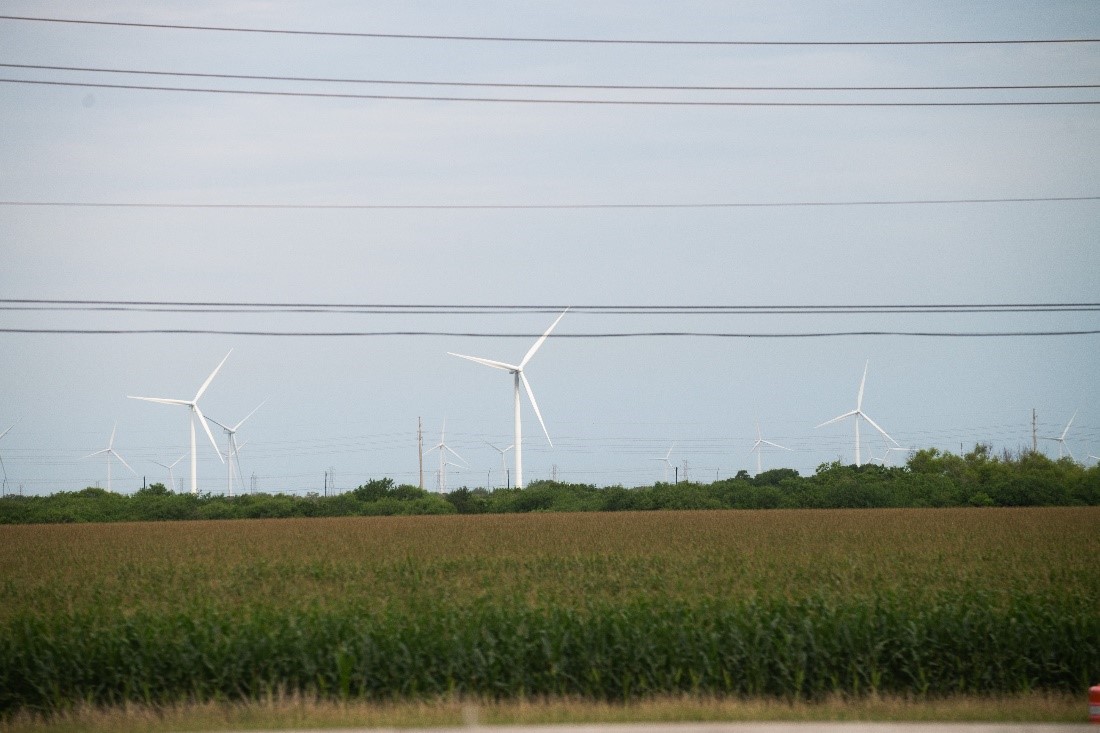 Industry executives said any struggles to get reliable electricity from the Texas grid could hold back development for businesses and residents in Corpus Christi.
Texas' surging population has compounded the vulnerabilities in its electric grid. Widespread outages have occurred when demand has spiked in times of extreme weather, most famously during the freeze of 2021.
Even when the power stays on, prices at times of high demand have skyrocketed. Residents as well as the area's critical businesses need constant power in Corpus Christi at dependable prices, leaders told Logan.
The area is also facing a growing need for a reliable supply of fresh water. Within the energy industry, new hydrogen fuel plants will have a constant need for water.
Corpus Christi officials said several seawater desalination facilities are being planned after proposals to use recycled wastewater were considered and rejected.
Read more: Texas electrical grid remains vulnerable to extreme weather events
See where President Logan has been
During her first year at the Dallas Fed, President Lorie Logan is visiting communities all around the Eleventh Federal Reserve District. The tour is helping deepen her understanding of the region's people and economy by adding color and perspective that go beyond official statistics.