Permian Basin Economic Indicators

March 22, 2018
Midland and Odessa's combined nonfarm employment increased to 172,200 during January, and unemployment continued to fall. Oil production grew to over 3 million barrels per day and the rig count continued to rise, but West Texas Intermediate (WTI) crude prices fell slightly between January and February. Housing remains tight in the Permian Basin, but average sales prices have remained flat.
Labor Market
Midland and Odessa's combined nonfarm employment grew at a 3.1 percent annualized rate in January. Employment now stands at 172,200 jobs—the highest level since March 2015 (Chart 1). The area's employment growth was substantially revised upward recently. Total nonfarm employment grew by 14,000 (8.9 percent) in 2017—the data prior to the revision showed an increase of 9,100 (5.8 percent). Growth came as improvements in the price of oil and the rig count helped accelerate economic activity in the area.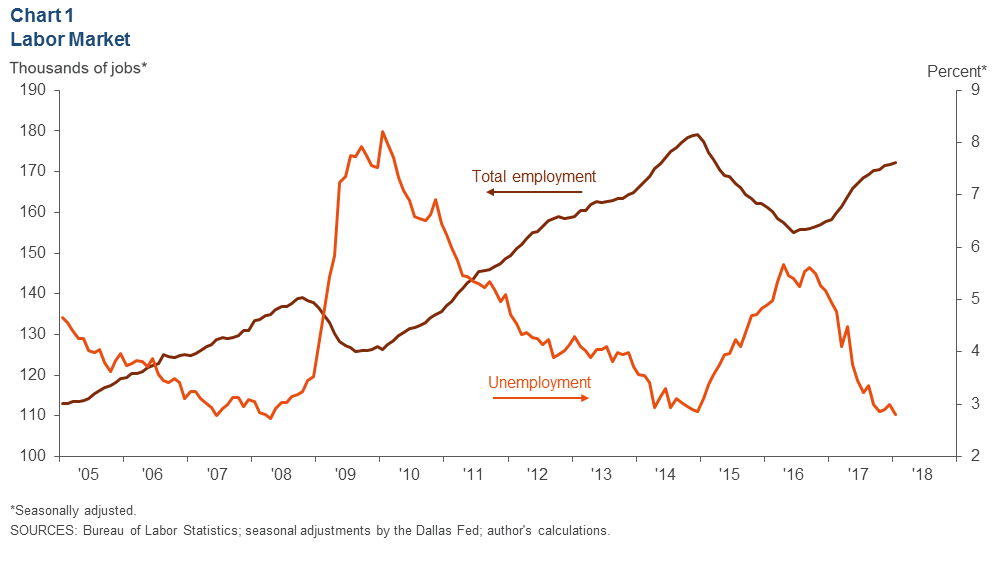 The combined unemployment rate fell to 2.8 percent in January 2018—the lowest point in a decade. The decrease was driven by Midland's fall to 2.4 percent unemployment, which is just above its low of 2.3 in December 2014, when employment was at its peak. Odessa's unemployment rate has stayed around 3.3 percent since October 2017.
Energy
Rigs Show Faster Growth, Production Breaks 3 Million Barrels per Day
The Permian Basin rig count increased about 6 percent in February to 433 rigs—the largest single-month increase since May of last year (Chart 2). The Permian Basin makes up over half of the total U.S. oil rig count of 788.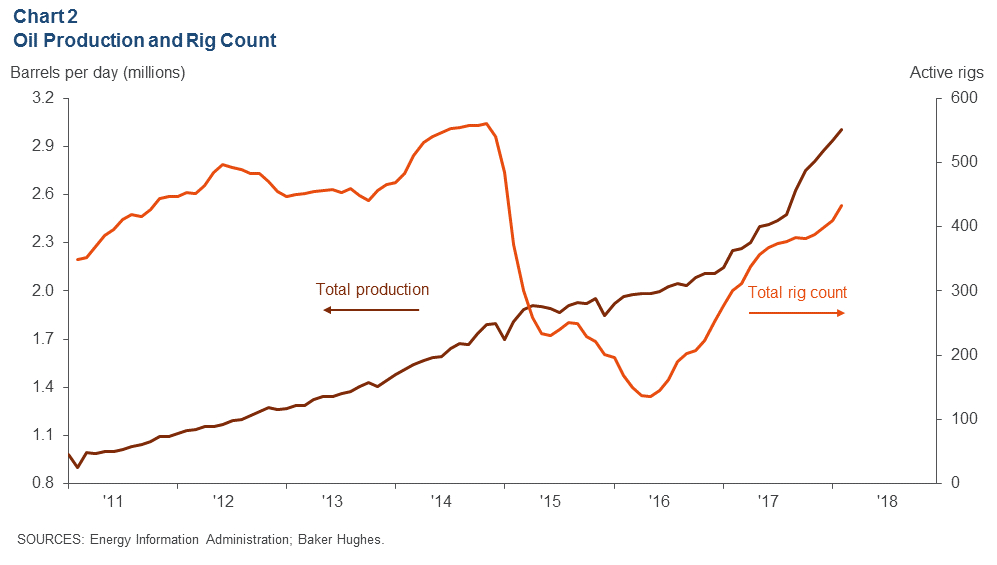 Monthly Permian Basin oil production grew to 3 million barrels per day (b/d) in February—an increase of 68,000 b/d. In the first couple of readings in 2018, oil production growth has been slower than the 2017 monthly average.
Price of WTI Decreases Along with Brent
The average WTI spot price fell from $63.70 in January to $62.23 in February, a decrease of 2.3 percent (Chart 3). The average Brent spot price also fell but at a faster pace than WTI, causing the spread between the two prices to decrease for the second month in a row.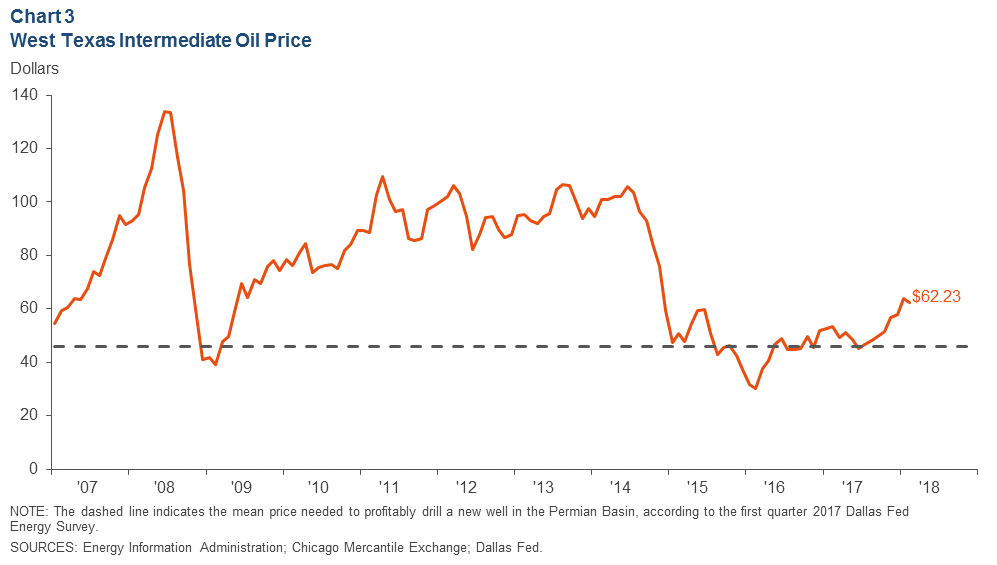 Drilled but Uncompleted Wells Rise in Permian, Fall Elsewhere
The number of drilled but uncompleted wells (DUCs) increased by 122 between January and February (Chart 4). About 44 percent of the wells drilled in the United States were in the Permian Basin, while about 38 percent of all wells completed in the U.S. were in the Permian. The number of DUCs in the U.S. minus the Permian fell for the fourth straight month to 4,664 because more wells are being completed than drilled. A steep drop-off in drilling during November 2017 allowed for completions to catch up.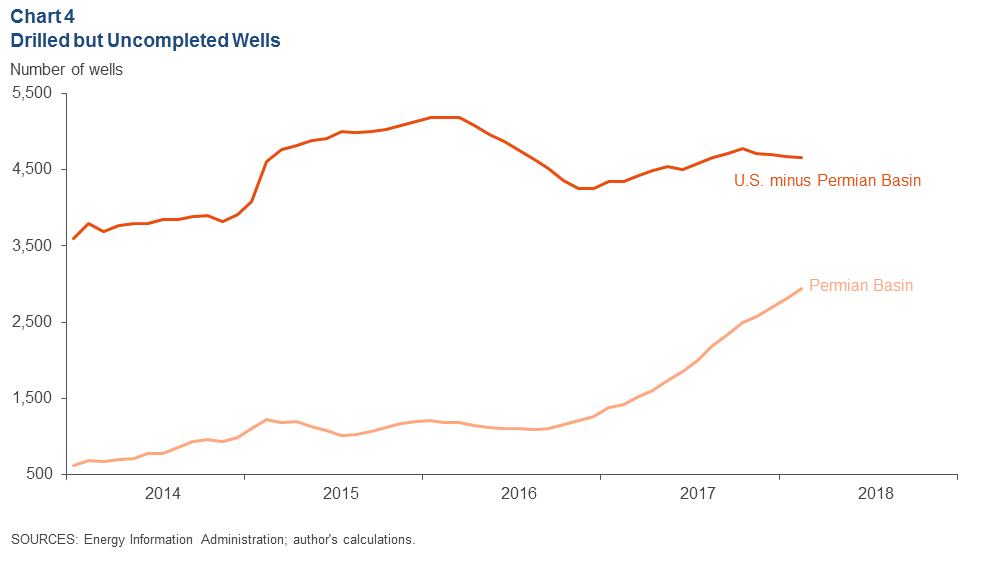 Housing
Housing Inventories Fall Further
Midland–Odessa's supply of existing homes continued to tighten between December 2017 and January 2018 (Chart 5). The six-month moving average for months of inventory was 1.6 in Midland and 2.8 in Odessa. This coincides with a fall in the six-month moving average for total listings to 534 during January—a 20 percent decrease year over year.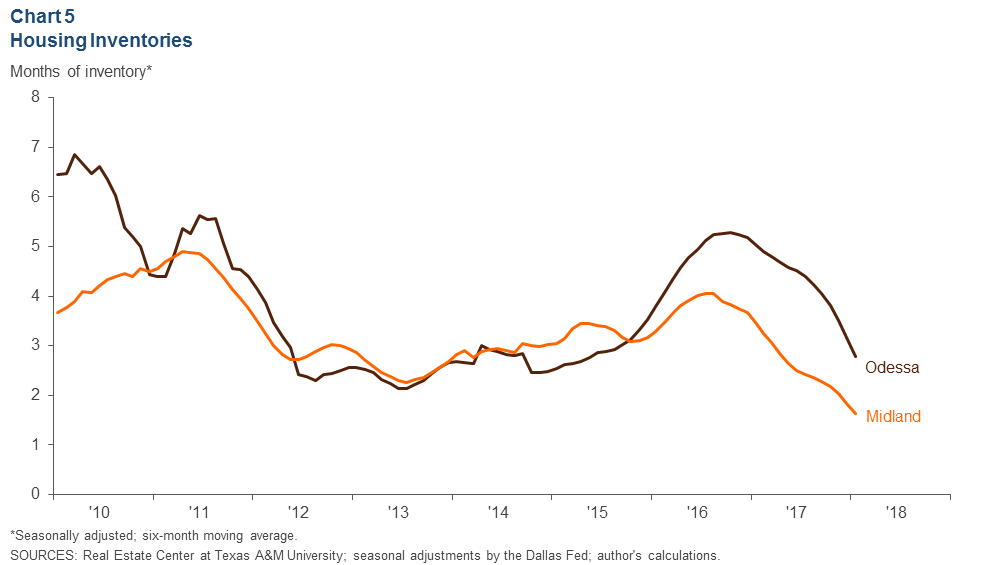 Home Sales Surge, Prices Hold Steady
Existing-home sales in Midland and Odessa have surged since September 2017, jumping more than 13 percent to 364 through January 2018 (Chart 6). However, the rise in sales and tight inventories have not shown up in the average price of homes in the area. The average price, which was $264,700 in January, has actually fallen since September 2017 but remains elevated at 2 percent below its November 2014 peak.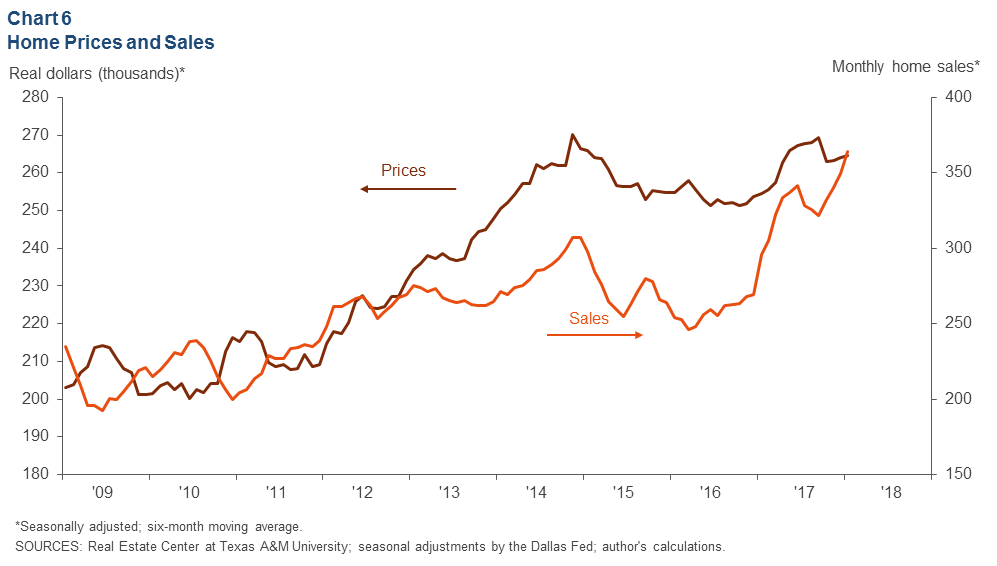 NOTES: Data are for the Midland–Odessa metropolitan statistical area (Martin, Midland and Ector counties), except for energy data, which cover the 55 counties in West Texas and southern New Mexico that make up the Permian Basin region. Data may not match previously published numbers due to revisions.
About Permian Basin Economic Indicators
Questions can be addressed to Dylan Szeto at Dylan.Szeto@dal.frb.org. Permian Basin Economic Indicators is released on the third Wednesday of every month.