Research Analysts Program
The Dallas Fed Research Analyst position is a great opportunity for recent college graduates to gain knowledge, skills and insight into a research career. Research Analysts typically work for two years before moving on to graduate school, the private sector, other research institutions or another position within the Bank.
Frequently Asked Questions »
About the position
Research Analysts spend their time working with economists on analysis of current economic conditions as well as long-term research projects for publication. This involves computer programming to access and manipulate data, producing charts and other graphics, conducting statistical and econometric analysis, running forecasting models, reviewing and summarizing background literature and economic reports, collecting survey data and anecdotal information and summarizing it for the Beige Book, and even co-authoring Bank publications.
Qualifications
Undergraduate degree, with classwork in economics, statistics, econometrics and at least two semesters of calculus and/or linear algebra
Familiarity with writing programs in software such as Stata, R, Matlab, SAS or Eviews
Ability to accurately and succinctly describe economic trends in writing
Previous research experience is a big plus
U.S. citizenship or permanent residence is required
How to apply
Recruitment of RAs begins in the fall for positions starting in the following spring/summer. Once the RA job posting is opened in the fall, applications are reviewed on a rolling basis; candidates are strongly encouraged to apply early. A limited number of additional RA positions may be hired for in the spring when necessary.
Explore open roles
About the Research Department
The Federal Reserve Bank of Dallas Research Department helps fulfill the Bank's core monetary policy mission through the production of substantive research and public outreach. Through regular briefing documents, memos and oral presentations, research staff prepare the Bank president for Federal Open Market Committee meetings and inform the board of directors of current economic conditions.
The department encourages cutting-edge research; staff members engage in ambitious research projects to publish in academic journals. Staff members also speak at business, academic and government meetings and Bank-sponsored conferences, luncheons and workshops.
Economists and Research Analysts are divided into four groups, which specialize in international, macroeconomics, microeconomics/regional, and energy economics.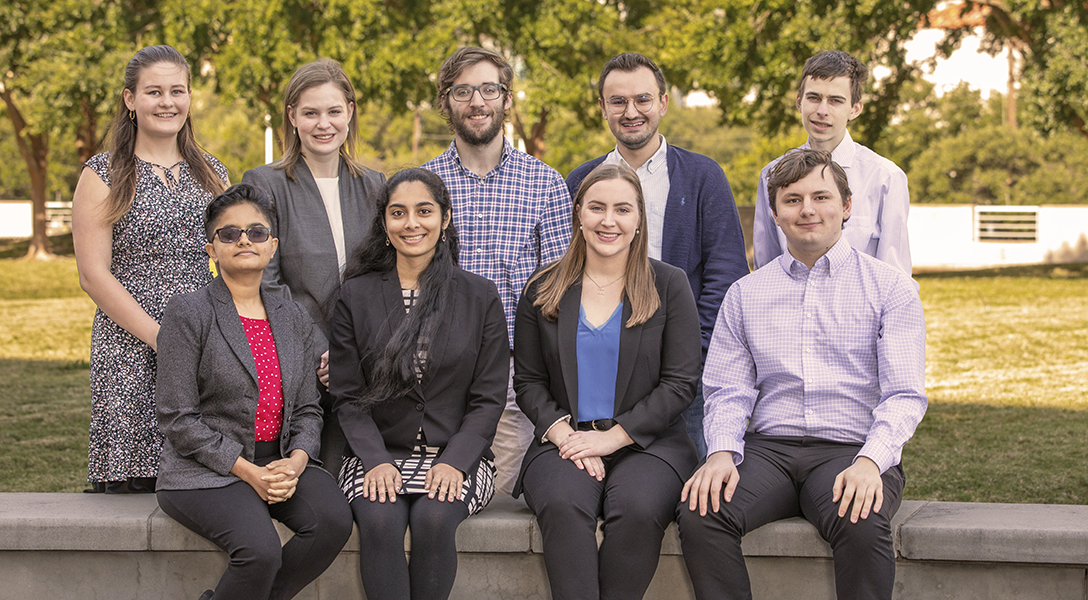 Why work at the Dallas Fed?
The Dallas Fed Research Department has unique expertise in energy economics, immigration, trade and tracking inflation. Texas is the top producer of crude oil and natural gas in the nation, making energy an integral part of the state's economy; the Dallas Fed has a group of economists focused on energy markets and their impact on overall economic activity. Texas also has the second-longest international border of all U.S. states, which the state shares with Mexico; several economists at the Dallas Fed focus on trade and immigration, and the Dallas Fed has a strategic partnership with Banco de Mexico. The Dallas Fed also developed and maintains the widely-followed Trimmed Mean PCE inflation rate.
Research Analysts (RAs) are assigned to one of the four groups. By working with the economists in one group, they develop specialized knowledge, skills and data expertise that wouldn't be possible if working in many areas. RAs typically work with two to three economists in a group, which means that they develop strong relationships with the economists rather than being just one in a pool of many. Our economists are interested in helping RAs understand the projects they work on, and RAs are encouraged to ask questions and discuss work with the economists.
While RAs are assigned to one group, the Dallas Fed Research Analyst community is very collegial, and RAs often share information and best practices across groups. Not only is the RA group highly collaborative at work, they also enjoy activities together outside of work.
The Dallas Fed Research Department gives RAs the opportunity to write articles for Bank publications, often publishing Bank articles as co-authors with economists. Additionally, there are some opportunities to co-author academic work with economists, giving RAs further insight into the research process.
The Dallas Fed hosts seminars and brownbag series that showcase works in progress by Dallas Fed economists and bring in economists from across the Federal Reserve System and from academia. Dallas Fed RAs are encouraged to attend these presentations and interact with the visiting scholars.
About the Dallas Fed
As one of twelve regional Reserve Banks in the Federal Reserve System, the Dallas Fed serves the Eleventh Federal Reserve District, which consists of Texas, northern Louisiana and southern New Mexico.
Our Mission is to serve the interests of the American public by informing and influencing our nation's monetary policy, fostering financial stability and delivering quality services to the United States government and the financial institutions in our region.
Our Core Values are honesty and integrity; diversity, inclusion and mutual respect; and outstanding public service. In addition to the head office in Dallas, the Dallas Fed has three branches: El Paso, Houston and San Antonio.
Diversity and inclusion
The Bank recognizes diversity and inclusion as core values that contribute to our success as an organization. Since our people are our most valuable asset, we are committed to maintaining a diverse workforce, furthering creativity and innovation and enhancing productivity. Our diverse perspectives reflect our unique qualities and experiences, add value to those we serve and build trusted relationships. We foster a community of commitment to each other by valuing each other and the contributions each of us makes to the organization, demonstrating mutual respect in all we do and offering opportunities for meaningful work.
Living in Dallas
The Dallas–Fort Worth metroplex is a richly diverse area, home to 7.2 million people, making it the fourth largest metro area in the country. With an affordable cost of living, Dallas is a great place to live, work and play, with 12,000 places to eat, the largest contiguous Arts District in the nation, sports, entertainment and more.
Dallas is globally connected and centrally located. Served by two airports (Dallas/Fort Worth International and Dallas Love Field) that combined provide more than 2,200 flights daily, Dallas is within a four-hour flight of most North American destinations.
Full of both Southern charm and global culture, Dallas' various neighborhoods offer something for everyone—breweries, concerts, urban art, a farmers market, vibrant nightlife, museums and fine arts performances, to name a few.
Six professional sports teams call Dallas home, including the Dallas Cowboys (NFL), Dallas Stars (NHL), Dallas Mavericks (NBA), Dallas Wings (WNBA), FC Dallas (MLS) and the Texas Rangers (MLB).
Outdoor activities are abundant with the city's more than 23,000 acres of parks (including the Klyde Warren Park next to the Bank with food trucks, live entertainment and free activities) and 125 miles of hike and bike trails, including the popular Katy Trail (3.5 miles in the heart of Dallas) and White Rock Lake (9.33 miles located approximately 5 miles northeast of downtown).
"The uptown area of Dallas is an amazing place for young professionals starting their careers. The area offers plenty of fine and casual dining venues as well as a great nightlife and happy hour environment. Walking distance from professional sporting events at the American Airlines Center and the arts in the museum district, you will surely have a copious amount of things to do. With BBQ in Deep Ellum and access to Fort Worth via the train (TRE), impressing visiting family members and friends is always easy."

—Arthur Hinojosa, Research Analyst
"Living downtown has energized me to explore Dallas, and I've been thrilled discovering both the city and its suburbs. Simply walking to work in the city makes me feel more at home within it. After work, whether I'm jogging on the Katy Trail or attending a late night Nasher Sculpture Museum event, I truly enjoy being among people. I find the same excitement venturing beyond the city proper, into the Bishop Arts District or even more suburban areas, because I uncover something new in each experience."

—Alex Abraham, Research Analyst
Meet an RA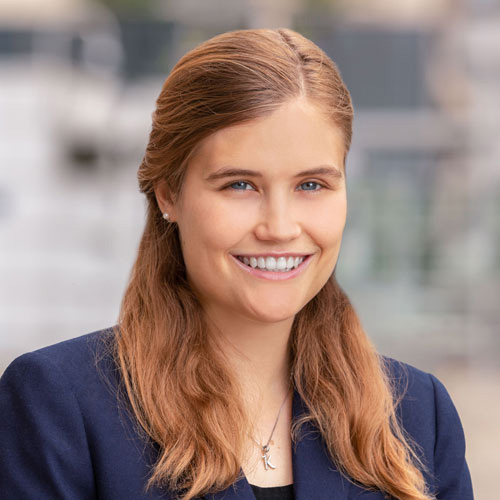 "As an RA for the energy team here at the Dallas Fed, I have been exposed to a sector that was brand new to me but has proven to be fascinating. I really enjoy learning about the fossil fuel industry and the energy transition, both of which are constantly in the news and of high importance for the Texas and U.S. economies. I like that I get to work with both business and research economists. I'm running MATLAB code to study stock returns for electric vehicle companies one day, and the next day I'm charting natural gas prices in Bloomberg. I feel grateful to be part of such a dynamic institution."
"As an RA at the Dallas Fed, I have had numerous opportunities to hone my research abilities and data analysis skills, as well as view firsthand the impact of economic research on central bank policy. RAs also work with many well-established PhD economists to write research-based publications. Working on these publications allows RAs to hone their analytical and coding skills, while also strongly showcasing their knowledge to future employers or graduate schools. Having the ability to learn on the job while also producing meaningful and public work is why I believe the RA position at the Dallas Fed is such a unique opportunity."
Selected publications
The following list showcases some of the publications that have been authored or co-authored by Research Analysts.
*Dallas Fed Research Analyst
Pia M. Orrenius, Madeline Zavodny and Emily Gutierrez*, 2017 "Do State Employment Eligibility Verification Laws Affect Job Turnover?" Contemporary Economic Policy, forthcoming.
Michael Plante and Navi Dhaliwal*, 2017 "Inventory Shocks and the Oil–Ethanol–Grain Price Nexus," Economics Letters, Vol. 156, pages 58-60.
Alan Armen* and Tyler Atkinson, 2017 "America's Missing Workers Are Primarily Middle Educated," Dallas Fed Economic Letter Vol. 12, No. 4.
Keith R. Phillips and Christopher Slijk*, 2017 "Texas Economy Shifting into Second Gear in 2017," Dallas Fed Southwest Economy First Quarter 2017.
Navi Dhaliwal*, 2016 "Spotlight: Texas Has 'All-of-the-Above' Energy Approach," Dallas Fed Southwest Economy Fourth Quarter 2016.
Michael Sposi and Kelvinder Virdi*, 2016 "U.S. Productivity Growth Flowing Downstream," Dallas Fed Economic Letter Vol. 11, No. 12.
Alexander Chudik and Arthur Hinojosa*, 2016 "Impact of Chinese Slowdown on U.S. No Longer Negligible," Dallas Fed Economic Letter Vol. 11, No. 5.
John V. Duca, Anthony Murphy and Elizabeth Organ*, 2016 "Increased Credit Availability, Rising Asset Prices Help Boost Consumer Spending," Dallas Fed Economic Letter Vol. 11, No. 4.
Enrique Martínez-García, Valerie Grossman* and Adrienne Mack*, 2015 "A Contribution to the Chronology of Turning Points in Global Economic Activity (1980–2012)," Journal of Macroeconomics, Vol. 46(C), pages 170-185.
Pia M. Orrenius, Madeline Zavodny and Melissa LoPalo*, 2014 "The Economics of U.S. Immigration Reform," Capitalism and Society, Vol. 9, No. 2, Article 3.
Enrique Martinez-Garcia, Adrienne Mack* and Valerie Grossman*, 2014 "A New Database of Global Economic Indicators," Journal of Economic and Social Measurement, Vol. 39(3), pages 163-197.
Christina English*, 2013 "For Hispanics, Border Wage Gap Reflects Education, English Divide," Dallas Fed Southwest Economy Third Quarter 2013.
Keith R. Phillips and Christina Daly*, 2010 "Improving the ACCRA U.S. Regional Cost of Living Index," Journal of Economic and Social Measurement, Vol. 35(1-2), pages 33-42.
Pia M. Orrenius and Michael Nicholson*, 2009 "Immigrants in the U.S. Economy: A Host-Country Perspective," Journal of Business Strategies, Vol. 26.
FAQs
The writing sample should be an analytical piece at least three pages in length, for example, an excerpt from a thesis or paper from an economics or political science course.
In the energy area, research centers on the market forces and policies that shape world energy prices and their effect on overall economic activity. Recent topics include the differential effects of demand and supply shocks on the economy and the implications for monetary policy.
Recent papers from this group:
"What Drives Commodity Price Booms and Busts?"
"Non-Renewable Resources, Extraction Technology, and Endogenous Growth"
International economists are responsible for studying international economies and global economic relationships. Research from this group focuses on better understanding how the process of deepening economic integration between the countries of the world alters the environment in which U.S. monetary policy decisions are made.
Recent papers from this group:
"Measuring the World Natural Rate of Interest"
"Good Policies or Good Luck? New Insights on Globalization and the International Monetary Policy Transmission Mechanism"
Macroeconomists and monetary policy specialists provide information and analysis to the Bank's president and directors to assist them in devising and implementing effective policy. This group also conducts long-term research to increase our understanding of the macroeconomy and the channels through which it is influenced by monetary policy and to develop improved methods for tracking and forecasting changes in macroeconomic conditions.
Recent papers from this group:
"Forward Guidance and the State of the Economy"
"Equity Regulation and U.S. Venture Capital Investment"
Dallas Fed regional and microeconomists monitor economic conditions in Texas and Mexico, manage several business outlook surveys, and engage in short- and long-term research on topics that are particularly relevant to the U.S. Southwest, including economic growth, immigration, trade, energy, housing, public finance, consumer finance and the border economy.
Recent papers from this group:
"New Findings on the Fiscal Impact of Immigration in the United States"
"Do Restrictions on Home Equity Extraction Contribute to Lower Mortgage Defaults? Evidence from a Policy Discontinuity at the Texas' Border"
Gather, organize and visualize economic and financial data; review academic and policy reports, present findings (compile background research)
Conduct statistical programming using packages such as Stata, Matlab, R, SAS or Eviews
Perform econometric and computational analytic research and run forecasting models
Write short articles for Bank publications and the website
Write memos or assist economists in developing memos, briefings and presentations for the Bank president and senior leadership
Collect survey data and anecdotal information and summarize for the Beige Book
RAs at the Dallas Fed move on to:
Graduate school: 59%
Federal Reserve Bank of Dallas: 19%
Private sector: 15%
Other research institution: 7%
Recent school placements:
PhD programs in economics

Boston College
Cornell
Rice University
University of Texas

PhD programs in public policy, political science

University of California – San Diego
Syracuse
Law School

Chicago
Columbia
Southern Methodist University
University of Texas

Master's in Business Administration

Carnegie Mellon
Columbia
Southern Methodist University
Stanford
Training in software like Stata and R
Tuition reimbursement up to $9,500 per year for Master's level economics classes after three months of service (other Bank benefits)
RA brownbag seminars
Seminars by Dallas Fed and visiting economists
RAs are expected to be in the office during normal business hours.
Regular schedules can be modified to accommodate class attendance.
Research Analysts typically stay at the Fed for two years. This is sufficient time to learn the research skills needed for the job and to prepare them for the next stage of their careers.
For a comprehensive listing of Bank benefits, view Our Benefits.
Highlights include:
Tuition reimbursement
Health, dental and vision insurance
401(k) savings plan with employer matching up to 6%
Commuting and parking benefits
Fitness center benefits