Economic Development and Human Capital
Dallas Faces a Gaping Digital Divide When It Comes to Economic Inclusion
December 20, 2019
In the city of Dallas, about 42 percent of households lack a fixed connection to the internet. What does this mean for our neighbors' economic future? How can we close the digital divide?
In today's world, digital inclusion drives economic inclusion. People need fast and affordable internet access, along with basic computer skills, to be able to search for housing, apply for jobs, get homework done, run small businesses, review bank transactions and perform other everyday tasks.  
Across the U.S., households without access to broadband face significant barriers to economic opportunity. The Dallas Fed began studying this digital divide in 2013 while researching colonias along the Texas­–Mexico border. Local residents told us that the lack of access to high-speed internet was one of their biggest obstacles. We learned that affordability and infrastructure are key challenges and not just in outlying areas. In many of the nation's urban centers, we find sizable gaps in broadband access—including right here in our own backyard.
The Digital Divide in Dallas
According to data from the U.S. Census Bureau's 2016 American Community Survey, 42.3 percent of Dallas households lack fixed internet access, meaning they have no internet service installed in their home that could augment access through a cellphone. That gives Dallas the worst household connection rate among the nation's 10 largest cities and among major Texas cities as well (Table 1). [1]
Table 1. Dallas Tops Lists for 'Worst Connection' Rate Among Major Cities
Ten Largest U.S. Cities
City
Households without fixed internet (%)
Dallas
42.3
Philadelphia
39.4
Houston
38.2
San Antonio
38.2
Chicago
35.9
Phoenix
33.6
Los Angeles
31.6
New York
30.7
San Diego
21.6
San Jose
18.2
Major Texas Cities (100,000+ households)
City
Households without fixed internet (%)
Dallas
42.3
Houston
38.2
San Antonio
38.2
El Paso
37.1
Corpus Christi
35.3
Arlington
34.7
Fort Worth
33.3
Austin
24.3
Plano
15.9
NOTE: "Fixed internet" includes installed internet services such as broadband, satellite or dial-up.
SOURCES: Census Bureau, American Community Survey, 2016; Federal Reserve Bank of Dallas.
The way this plays out within Dallas itself reveals stark geographic disparities. Along with affordability, infrastructure and service options are not consistent across the city. In a large swath of southern Dallas, many households have no broadband access at all.
What does that look like in real life? We visited with people in South Dallas, practically in the shadow of our downtown skyline. An entrepreneur told us many businesses in South Dallas suffer with no or slow internet service. She described having to step outside on the sidewalk to use her mobile phone to process a customer's credit card payment. For families, lack of broadband means children often can't complete school assignments, while their parents struggle to find jobs in a world where 80 percent of openings are posted online.
Working Together for Digital Inclusion: Our Dallas Summit
Many factors have contributed to our digital divide in Dallas, and it will take work on many fronts to resolve it. Local governments, businesses, educators, nonprofits and policymakers all play a role.
Bringing everyone together is the first step. Drawing on our experience working with other Texas communities, we held a Dallas Digital Inclusion Summit in August. Over 100 civic leaders gathered to launch a focused effort to make broadband a reality in every Dallas home.
@netinclusion's @angelasiefer and @NCLC4consumers's Olivia Wein, thank you for all of your work. Let's keep finding ways to connect disconnected communities. #DigitalInclusionSummit #DallasMagic pic.twitter.com/wdzlkP6VH6

— Francella Ochillo (@FranOchillo) August 6, 2019
Keynote speaker Francella Ochillo of Next Century Cities in Washington, D.C., set the tone. She emphasized the critical need for digital equity: "In a digital society, digital rights are civil rights. Access to the internet has changed everything."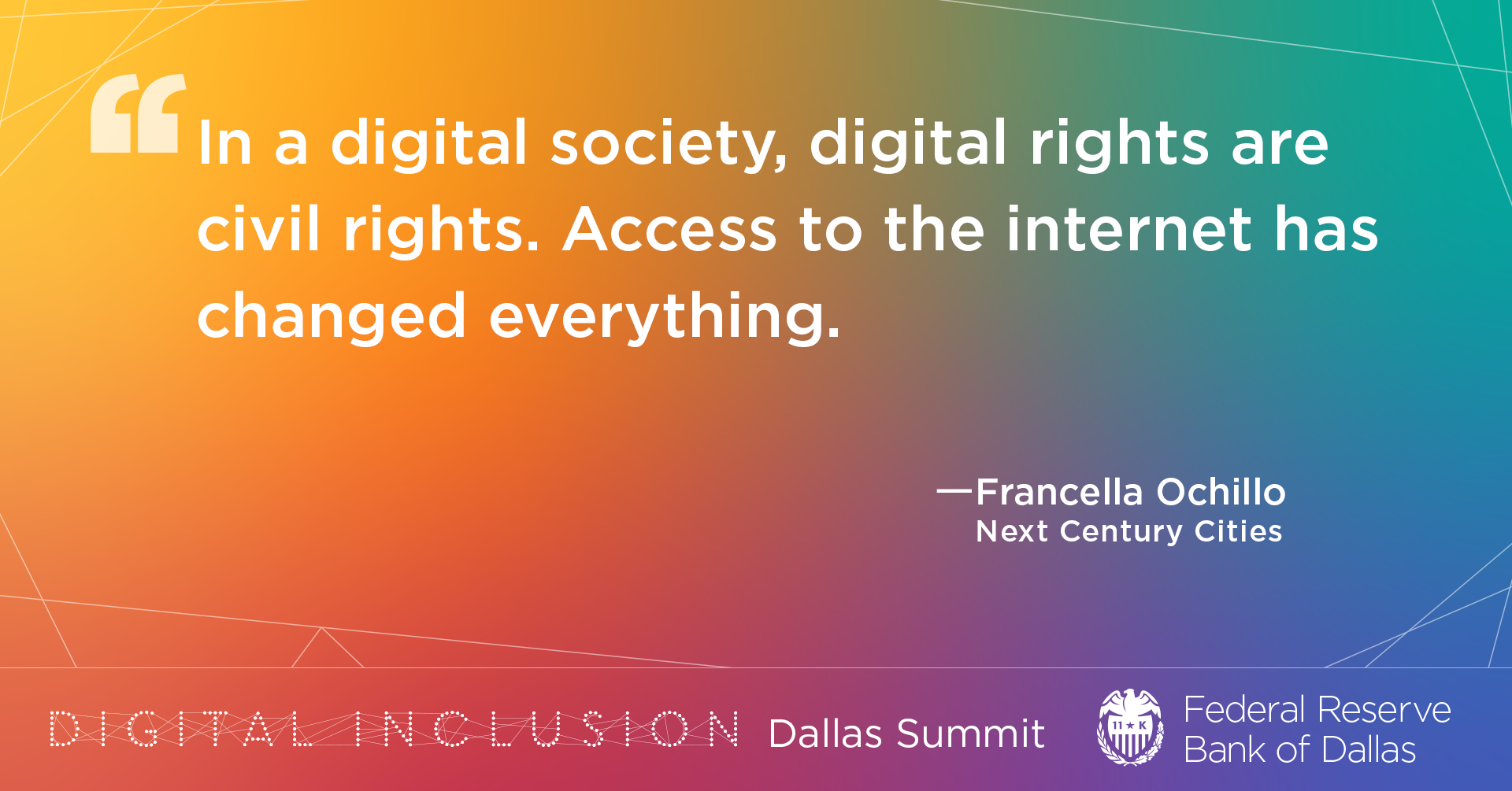 Ochillo framed access to broadband as an economic issue for everyone in Dallas. "Compare any two cities—one with high rates of connectivity and one without. The one with ubiquitous connectivity will have better educational outcomes, lower unemployment and higher home values. The disconnected community will be locked out of the benefits of emerging technologies, improved education, health and mobility for its residents," she said.
Susan Hoff from United Way of Metropolitan Dallas shared a client's story to illustrate the difference that internet access can make. "One mom was able to connect to a program and got middle-skills job training. She progressed from a low-level job at Parkland Hospital into a career path. She's now earning beyond a living wage for her and her children. She wouldn't have been able to do that without being able to connect to online training and study her coursework. Too many families face a barrier to that," Hoff said.
Other local speakers discussed gaps in broadband access, affordability and infrastructure. Leaders of initiatives elsewhere in Texas and the U.S. shared strategies for connection and lessons learned.
'No Reason We Can't Get This Job Done'
The summit was just the beginning. We're continuing to work with the city and community partners to help Dallas move forward with a digital inclusion plan.
Attendees are also taking steps within their own sphere of influence. Frances Smith-Dean leads the Zan Wesley Holmes Jr. Community Outreach Center, a workforce development program in South Dallas. Inspired by the summit, her organization has invited city council members on tours and hosted a meeting to set priorities around digital inclusion from a southern sector perspective. They've also conducted advocacy training for other local service providers.
Together, we're building a brighter economic future for the city we call home. Jennifer Sanders of the Dallas Innovation Alliance gave a call to action as she closed the summit. "We have the resources, and there's no reason we can't get this job done," she said.
More on the Summit
Partners: City of Dallas, Dallas County, Dallas County Community College District, Dallas Innovation Alliance, Paul Quinn College, United Way of Metropolitan Dallas and Workforce Solutions Greater Dallas.
Program: View agenda and presentations.
Videos: Watch participant comments.
Other Dallas Fed Resources
Note
About the Authors
The views expressed are those of the authors and should not be attributed to the Federal Reserve Bank of Dallas or the Federal Reserve System.
Digital InclusionWorkforce DevelopmentSmall BusinessEducationHealthy Communities