Dallas-Fort Worth Economic Indicators

March 27, 2019
Dallas–Fort Worth economic growth continued in February, with payroll employment expanding and unemployment staying low. Looking at the two-month period, employment performance has been healthy—above the metro's long-run average. The Dallas Business-Cycle Index expanded, but the Fort Worth Business-Cycle Index fell for the second straight month. Home sales rose strongly and home inventories remained tight in February.
Labor Market
Payrolls Expand Solidly in Dallas, Decline in Fort Worth
DFW employment continued to post solid growth in February, expanding an annualized 3.1 percent (9,600 jobs) following an upwardly revised 2.2 percent increase (6,900 jobs) in January (Chart 1). Payrolls rose by nearly 12,400 jobs in Dallas but fell by 2,800 in Fort Worth last month. In the first two months of the year, payrolls in Dallas increased 4.8 percent, while Fort Worth shed jobs.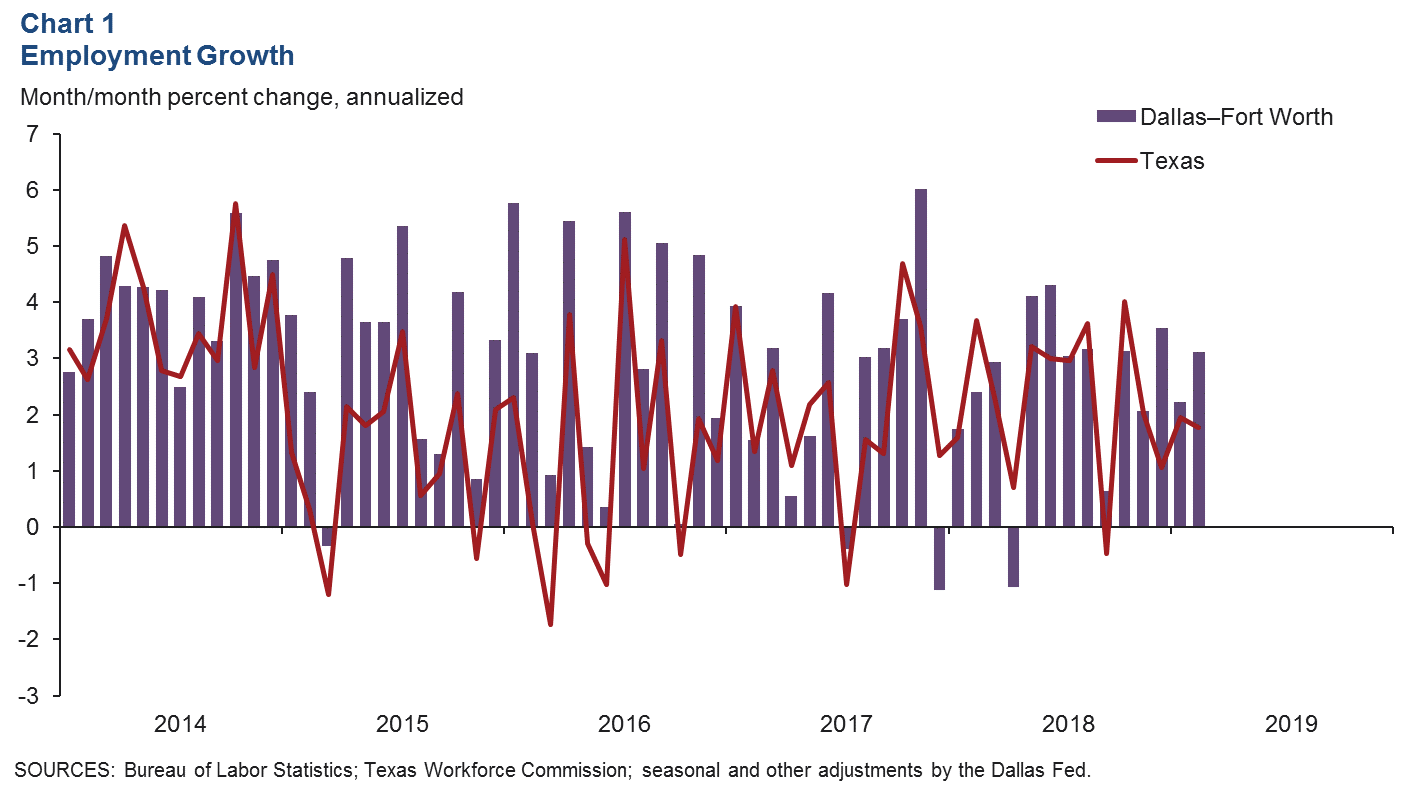 Employment Recedes in Goods Sector, Expands in Services
DFW employment expanded an annualized 2.7 percent in the first two months of 2019 (Chart 2). Payrolls in the goods-producing sector contracted following a robust performance in 2018. Gains in the service-providing sector remained broad based, with growth led by professional and business services, which also added the most jobs (14,000) during the two-month period. The financial services, leisure and hospitality, and education and health services industries also experienced healthy gains. Job growth in trade, transportation and utilities—the metro's largest sector—moderated in the first two months of the year.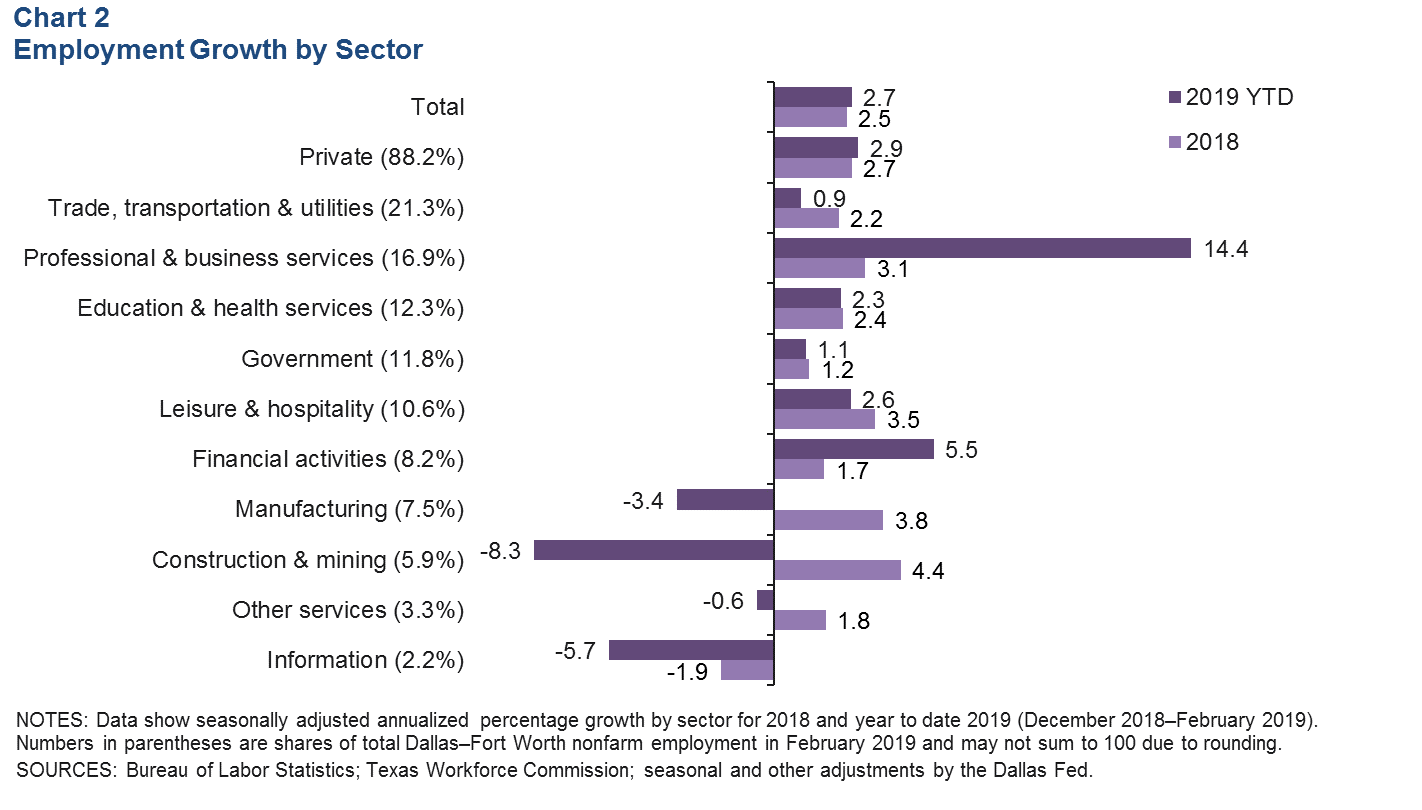 Unemployment Remains Low
The labor market remained tight, with unemployment close to multiyear lows. Unemployment in both Dallas and Fort Worth fell to 3.5 percent in February following an increase in January that was likely due to the partial government shutdown (Chart 3). The jobless rate in DFW remained below its postrecession average (January 2010–December 2018) as well as February's 3.8 percent rate in both the state and nation.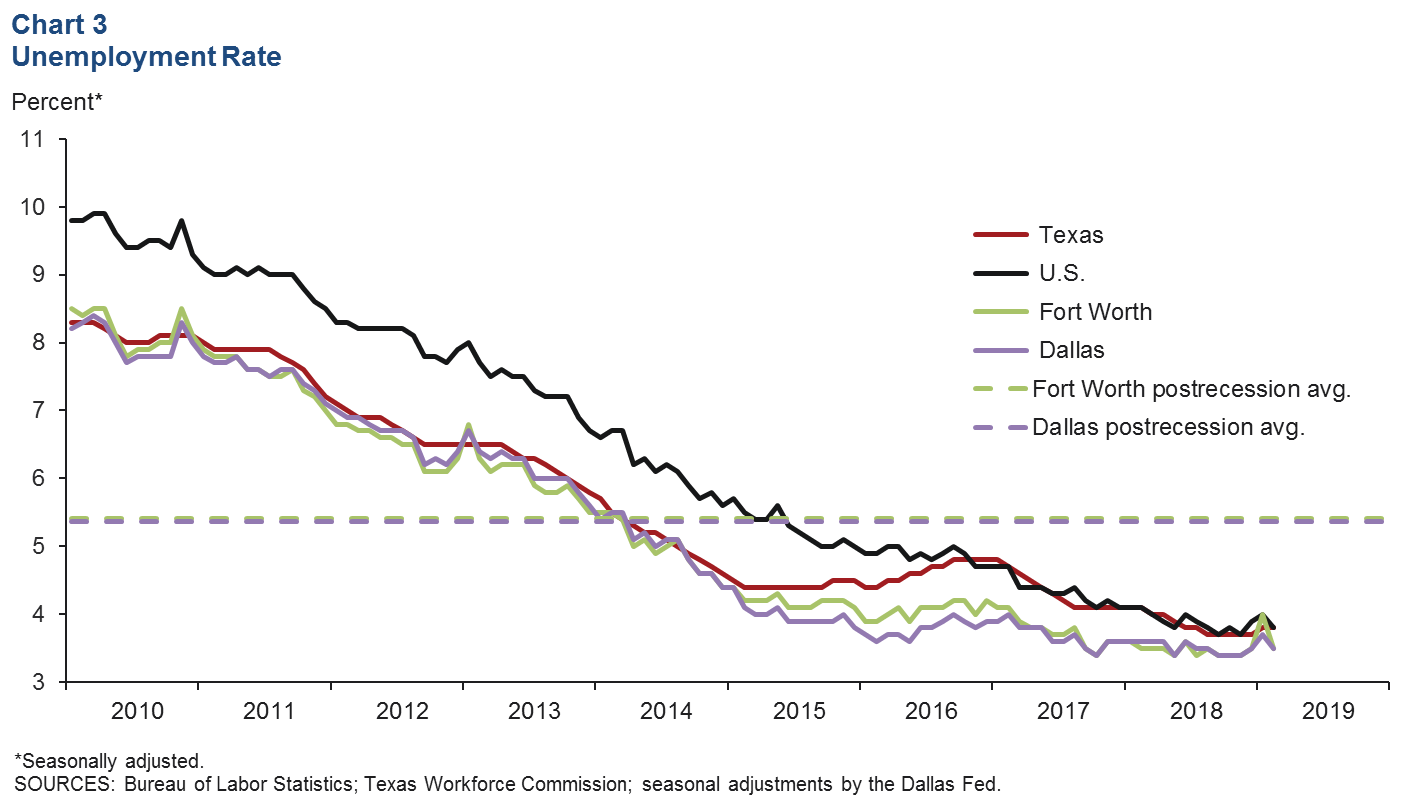 Business-Cycle Indexes
The Dallas Business-Cycle Index strengthened in February as job growth improved and unemployment fell (Chart 4). The Dallas index rose an annualized 6.7 percent in February, quicker than January's 5.4 percent rate. Due to declining payrolls, the Fort Worth index dipped in February for the second straight month. Before diverging recently, the two metro indexes had tracked each other closely from late 2017 to mid-2018.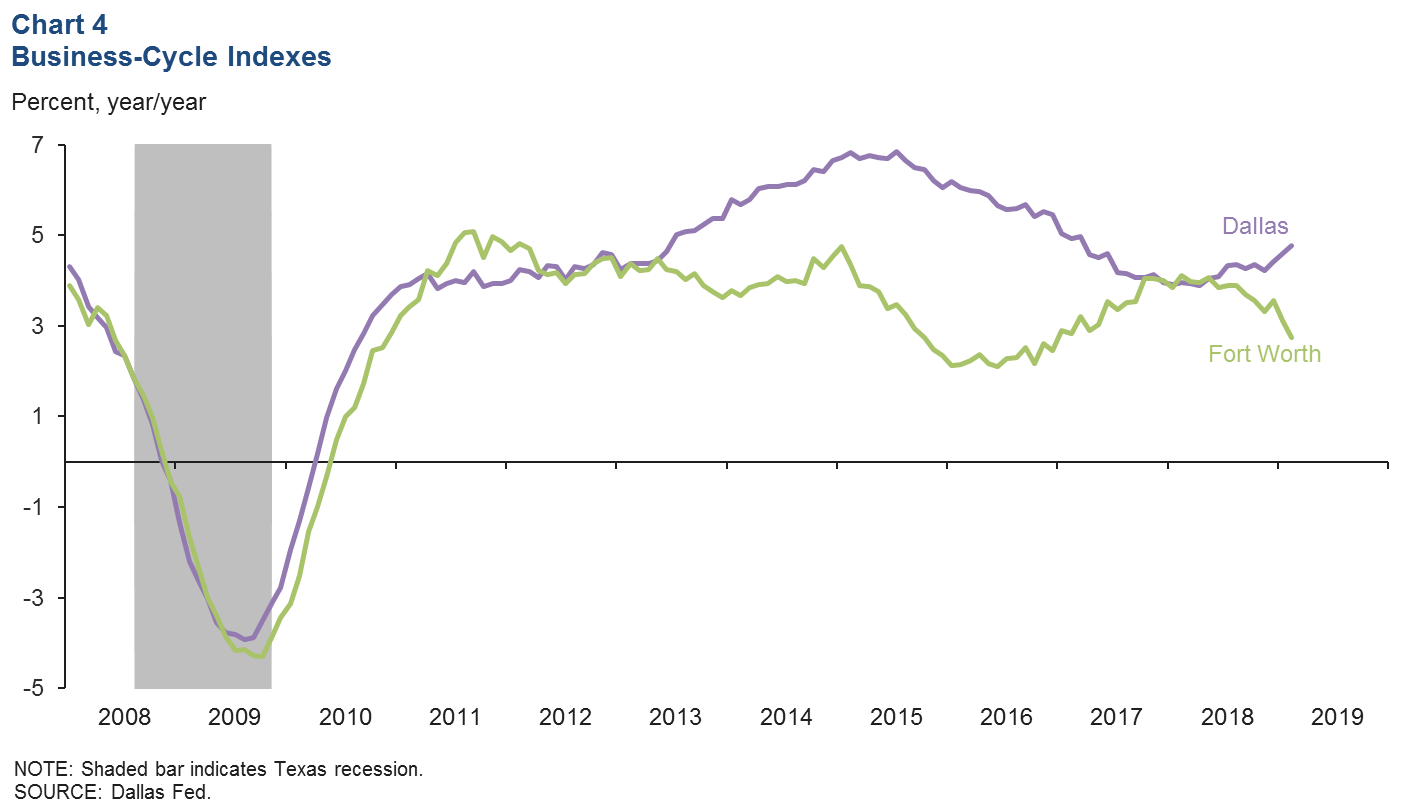 Housing
Home Sales Improve in February
DFW existing-home sales climbed in February following a decline the previous month. The three-month moving averages show broad-based increases across various price categories (Chart 5). Business contacts responding to the February Dallas Beige Book also noted an uptick in new-home sales since the start of the year relative to the end of 2018. Through February, total existing-home sales are trailing sales made over the same period in 2018. Sales of homes priced $200,000-plus softened last year after posting double-digit growth in 2012–17. Sales of homes priced below $150,000 have been sliding since mid-2013, and sales of homes priced $150,000–$199,999 dipped during 2017–18 due to lack of inventory.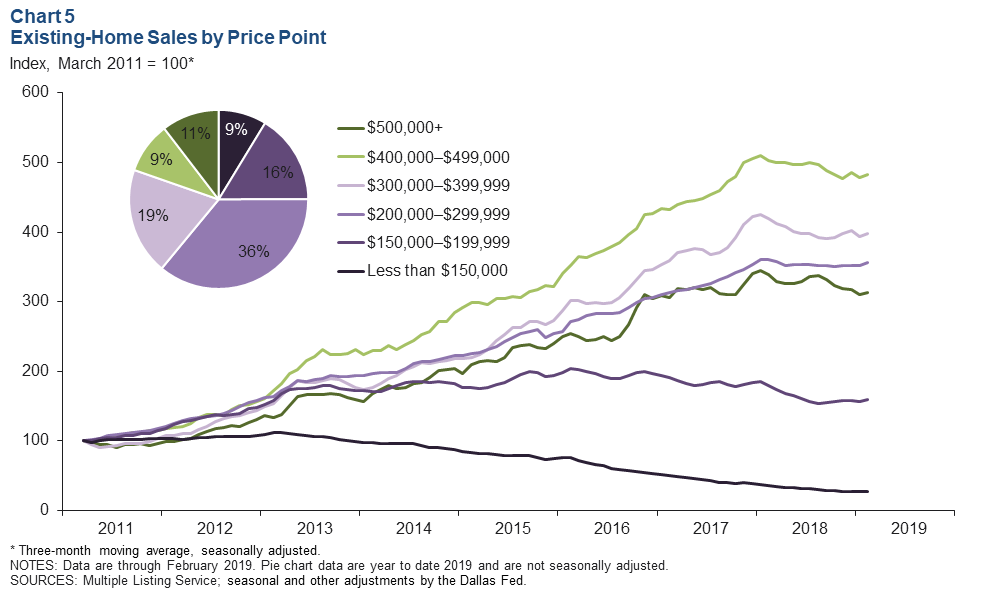 Inventories Tight at Lower End
DFW existing-home inventories remained tight and well below the six months' supply typically associated with a balanced market. In February, overall inventories were at 3.5 months in Dallas and 2.7 months in Fort Worth. Inventories of entry-level homes (priced below $200,000) were the tightest at just over one month of supply, a level that has changed little over the past three years (Chart 6). Inventories of homes priced above $200,000 have been steadily rising since early 2018 and are above the six-month mark for homes priced $500,000 or more.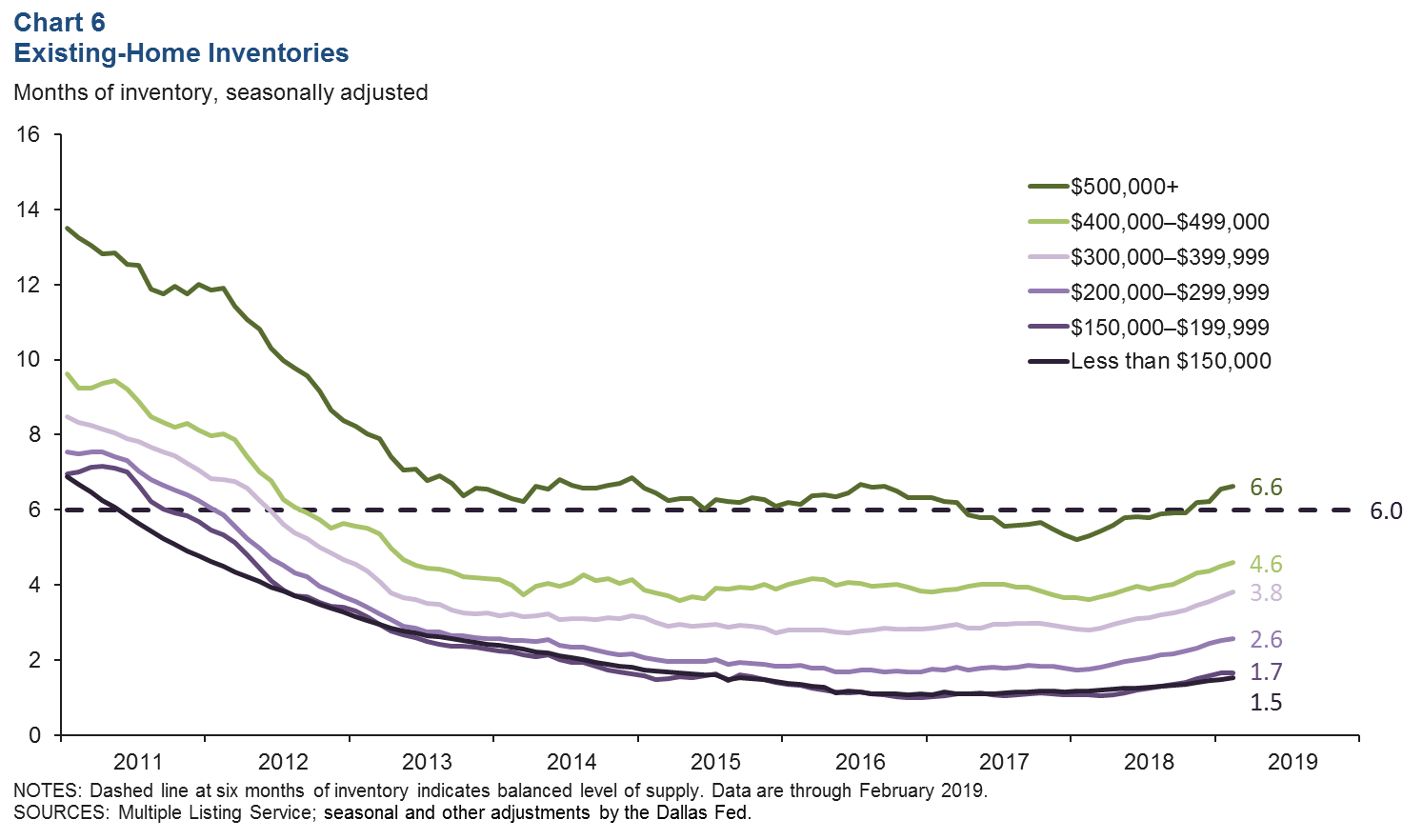 NOTE: Data may not match previously published numbers due to revisions.
About Dallas–Fort Worth Economic Indicators
Questions can be addressed to Laila Assanie at laila.assanie@dal.frb.org. Dallas–Fort Worth Economic Indicators is published every month on the Tuesday after state and metro employment data are released.