Energy Indicators

January 28, 2022
Eroding inventories, heighted political tensions and uncertainty regarding spare production capacity from OPEC+ member countries kept global energy prices elevated through the end of 2021. U.S. crude oil output is projected to increase in 2022. Natural gas and hydrocarbon gas liquids (HGLs) saw significant export growth in 2021, but exports of crude oil, gasoline and distillates remained well below prepandemic levels.
Prices
Global Gas Prices Still Extremely Elevated
Natural gas prices remained elevated in Europe at $28 per million British thermal units (MMBtu) over the first 20 days of the year—despite a relatively mild winter thus far (Chart 1). This is due in part to tight inventories and geopolitical tensions with Russia, which has elected to keep supplies into the region minimal. As a result, European consumers continued to support global liquefied natural gas (LNG) prices as they bid for waterborne cargos amid still-healthy demand in Asian economies. Japan–Korea LNG averaged $33 per MMBtu in January. To put that in context, the energy-equivalent price for a barrel of Brent crude was nearly $15. U.S. natural gas increased modestly to $4.26.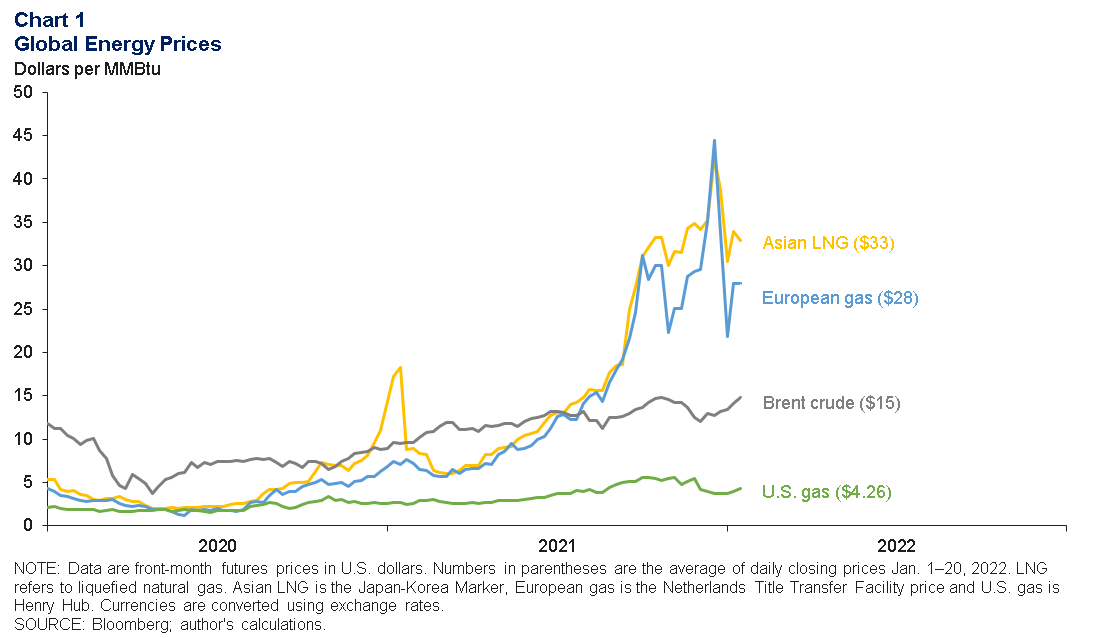 Crude Oil Prices Increase to Mid-$80s
Benchmark Brent crude futures rose to average $85 per barrel over the first 20 days of 2022—their highest level since October 2014 (Chart 2). U.S. crude prices rose in-kind as oil priced in Houston (near the port and a refining hub) and Midland, Texas (closer to the wellhead prices Permian Basin producers receive) both traded near $82.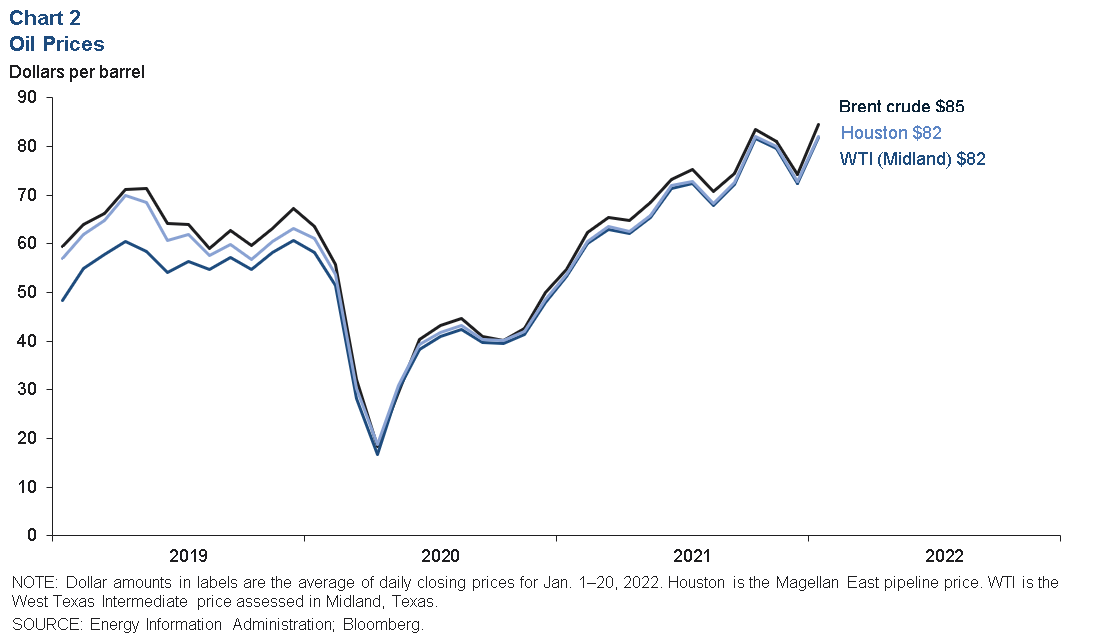 Inventories
U.S. Natural Gas Inventories Rise; European Stocks Fall
Seasonally adjusted U.S. natural gas inventories ended December 2021 at nearly 2.8 million cubic feet (mcf), a slight increase from the prior month (Chart 3). While still low relative to most of the pandemic period, stocks remain comfortably above levels seen from early 2018 through mid-2019.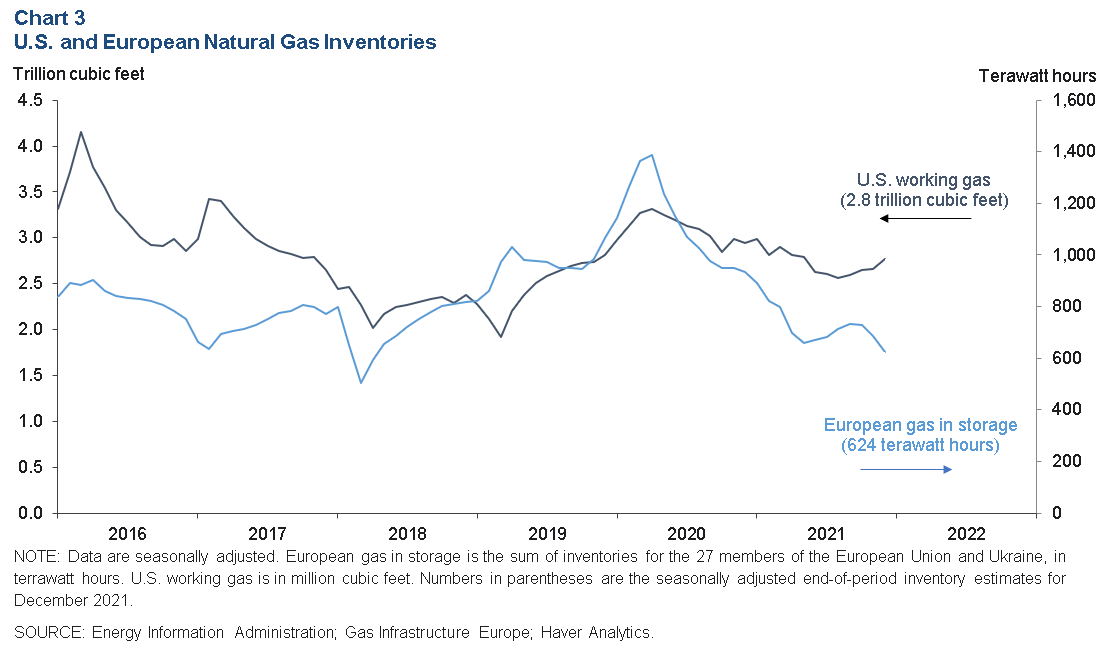 Seasonally adjusted European gas inventories fell to the equivalent of 624 terawatt hours, their lowest level since early 2018, when severe winter weather caused a spike in heating demand. With LNG import capacity limited in the near term, the continent is largely dependent on increased pipeline flows from Russia to meet high prices—flows which have not materialized over the past year. As Russia menaces an invasion of Ukraine territory, energy markets weigh the risk that a further escalation may result in economic sanctions or even military interventions that disrupt supply.
Oil Inventories Expected to Tick Up, but Uncertainty Is High
In 2022, global crude oil production is expected to modestly outstrip consumption for the first time since the start of the pandemic. An average of several projections for implied changes in global inventories suggests global crude oil stocks will grow about 0.4 mb/d in 2022—a nearly balanced market (Chart 4). However, the uncertainty around global inventory changes is high.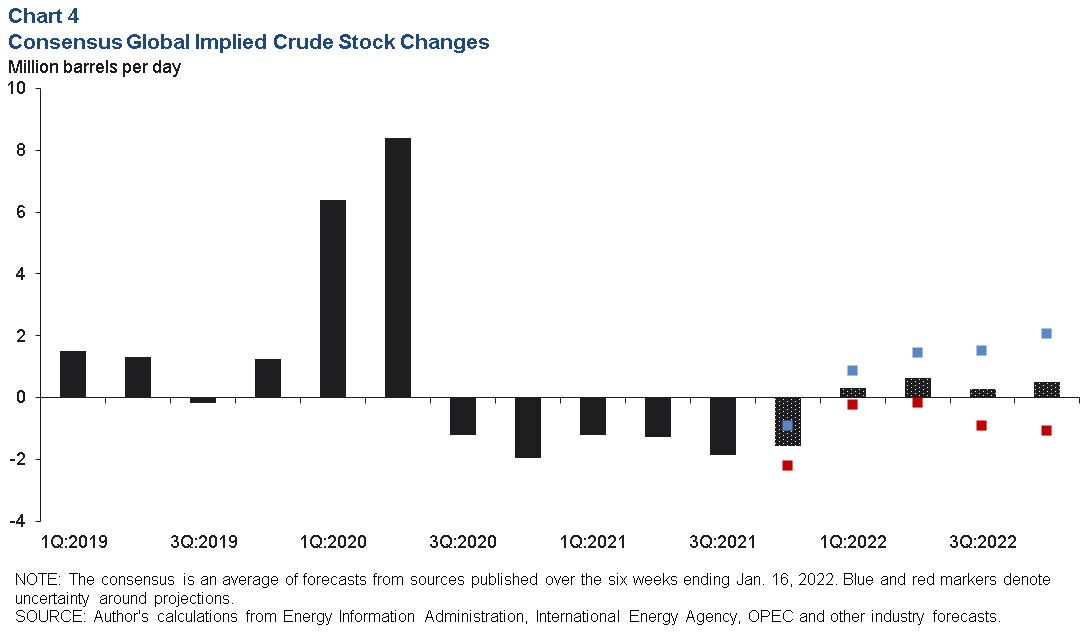 There is also doubt regarding whether several OPEC+ members have the capacity to meet the group's planned production increases this year. Several countries, including Russia, Libya, Nigeria and Angola, have contributed to shortfalls in planned OPEC+ production increases in recent months. The International Energy Agency estimates that the group together produced nearly 0.8 mb/d less crude than the stated target in December, contributing to higher prices.
U.S. Energy
Oil Production Growth Likely to Remain Modest
A consensus of U.S. production growth forecasts implies measured oil production growth of over 0.5 mb/d from fourth quarter 2021 to fourth quarter 2022 (Chart 5). That is slightly below the pace of 0.7 mb/d over the past year.
U.S. producers are not projected to respond aggressively to elevated oil prices in 2022. Still bound by capital discipline, firms are expected to prioritize returns for investors and lenders over drilling and completion expansion. Even if that changes, U.S. producers face obstacles to significantly increasing output. Difficulties attracting capital, a challenging labor market, strains on international supply chains for equipment makers, and time lags between price movements, drilling and marketing all argue against a surge in domestic production in 2022.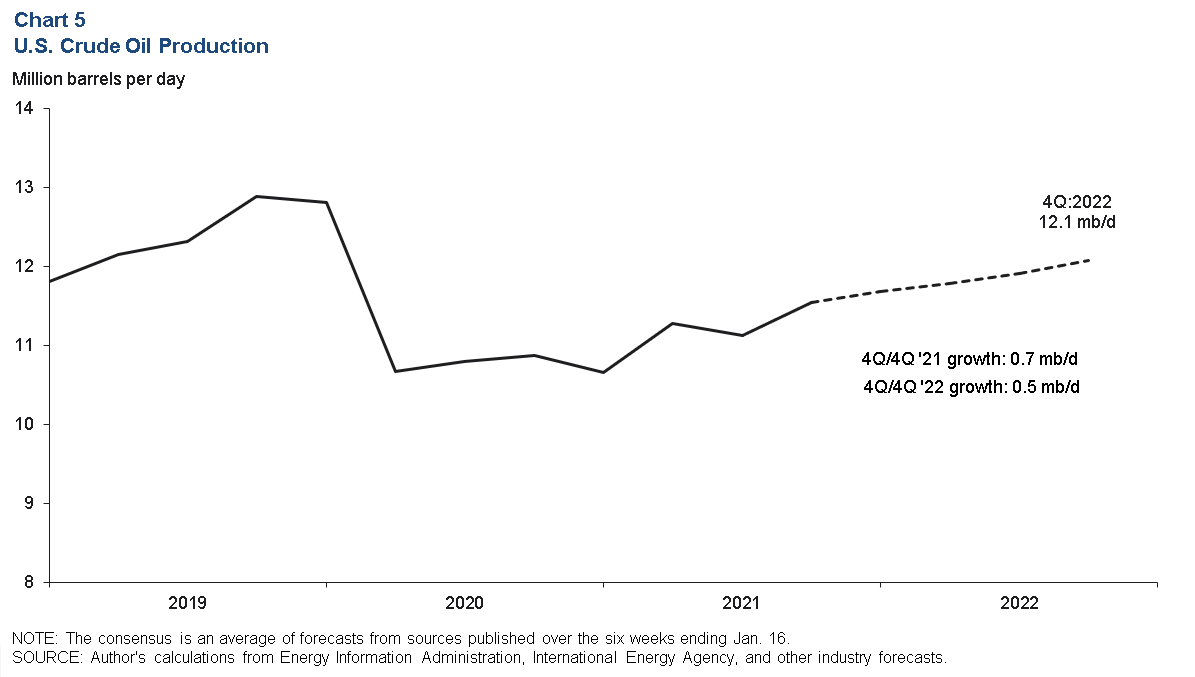 Exports of Natural Gas Near Capacity Limits
Exports of LNG were at record levels heading into 2022 at 11.2 billion cubic feet per day (bcf/d). Pipeline exports to Mexico and Canada were also near records at a combined 8.8 bcf/d. Increases over the past 14 months have been driven in part by new LNG capacity on the Gulf Coast, new pipeline capacity to Mexico and large price spreads between domestic and international gas hubs. Total natural gas export volumes were up 30 percent from December 2019 to December 2021 (Chart 6).
Exports of all petroleum products amounted to nearly 5.8 mb/d in December 2021—below December 2019 and December 2018 volumes. Within that total, exports of finished motor gasoline were down nearly 8 percent from December 2019, and distillate exports were down nearly 7 percent. In contrast, hydrocarbon gas liquids saw exports rise about 19 percent from December 2019. HGLs consist mainly of propane, ethane and butane. Propane surpassed distillates as the largest volume category of U.S. petroleum product exports in late 2020. U.S. crude oil exports were nearly 3.1 mb/d in December 2021—a drop of nearly 13 percent, or 0.4 mb/d, from December 2019.
About Energy Indicators
Questions can be addressed to Jesse Thompson at jesse.thompson@dal.frb.org. Energy Indicators is released monthly and can be received by signing up for an email alert. For additional energy-related research, please visit the Dallas Fed's energy home page.