Energy Indicators

April 26, 2023
In a surprise move at the beginning of the month, the Organization of the Petroleum Exporting Countries and its allies (OPEC+) announced a voluntary reduction in production quotas of nearly 1.7 million barrels per day (mb/d). The actual decline in output will be more muted, but oil prices shifted up in the wake of the announcement. Meanwhile, U.S. weekly retail gasoline prices have been increasing since the start of the year, while retail diesel prices are coming down.
OPEC+
OPEC+ falls short of production target again
OPEC+ produced 37.9 mb/d of crude oil in March, a slight decrease from February (Chart 1). Most of the decrease came from Angola, Iraq and Nigeria, which together slipped a combined 0.17 mb/d. The group was short of its March production target by 2.16 mb/d—the largest miss since October 2022. Russia was the largest contributor to the underproduction, accounting for 0.9 mb/d of the shortfall.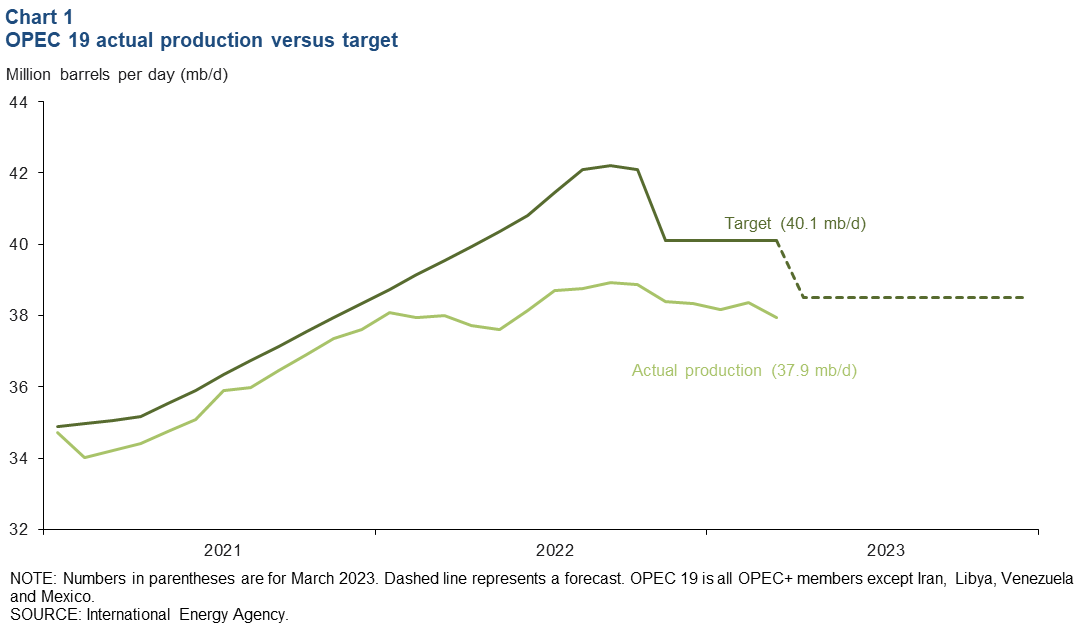 With OPEC+'s 1.7 mb/d production cut announcement, the group's new target from May until the end of the year is 38.5 mb/d. With many countries already producing below their individual quotas, the expected drop in production is less than advertised.
OPEC+ agreement only binding for some
The recently announced cuts to production quotas for OPEC+ amount to just over 1 mb/d of oil. In addition, Russia's recent production was already well below its previous target, so compliance with its new target may amount to between 0 and 0.2 mb/d. In contrast, the United Arab Emirates (UAE) had been producing above its quota, and full compliance would mean a much larger production cut for that country than the 0.14 mb/d decline in their target.
Looking across member-country production levels in March, the new targets would be binding on Algeria, Kuwait, Saudi Arabia, the UAE, Kazakhstan, Oman, Iraq and Gabon (Chart 2). However, it is not clear whether OPEC+ countries will fully comply with their new targets. Rolling in a variety of assumptions for each country, many industry analysts put the likely decline at around 0.8 to 0.9 mb/d.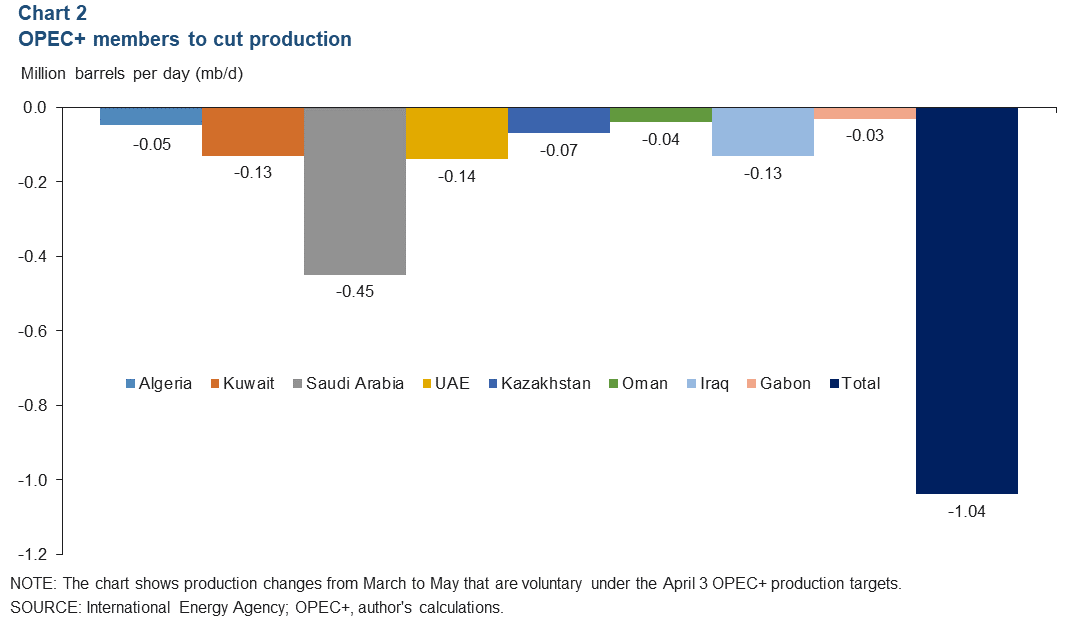 Crude oil and fuel prices
Price of oil rises with OPEC+ announcement
Brent and West Texas Intermediate (WTI) crude oil prices averaged $78 and $73 a barrel, respectively, the week ending Friday, March 31, 2023 (Chart 3). That weekend, OPEC+ announced the voluntary quota reduction of 1.7 mb/d through year-end. Oil prices shifted upward the following week, averaging $85 for Brent and $80 for WTI. As of April 24, Brent closed at $83 and WTI closed at $79.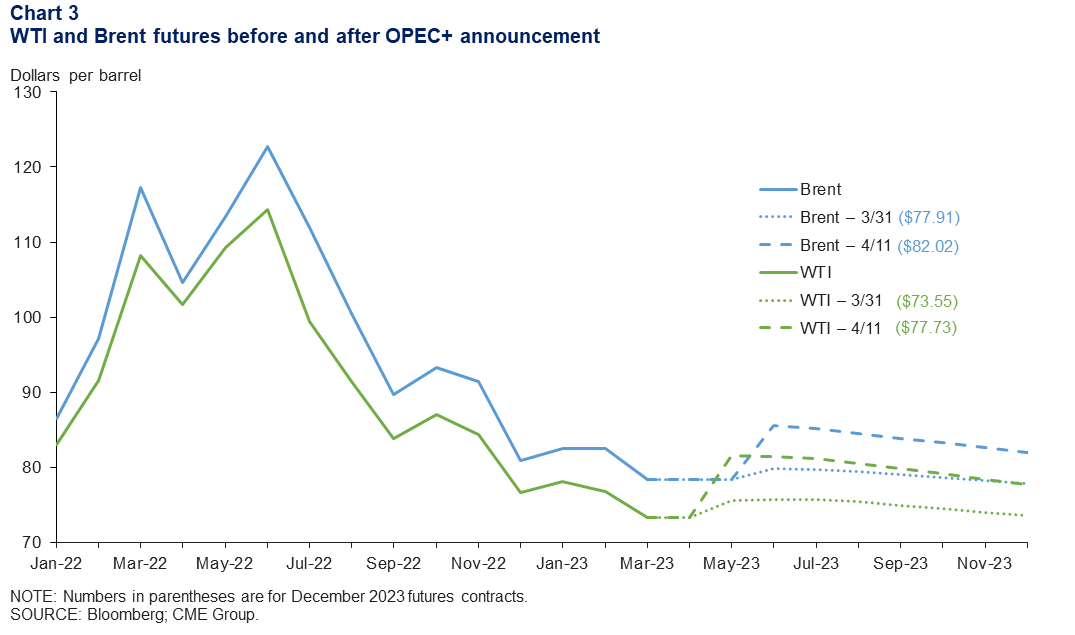 The step-up in oil futures translated into an implied December 2023 Brent price of $82 and a WTI price of $78. That is roughly in line with U.S. oil producers' expectations in late March.
Price of diesel eases as gasoline ticks up
The difference between retail diesel and gasoline prices has been narrowing since the start of the year. On-highway diesel fell to $4.08 per gallon the week of April 24, down 11 percent (Chart 4). Regular gasoline rose to $3.77 per gallon for the same week, up 16.8 percent. Additionally, refiners exiting maintenance will switch over to summer-blend production, putting upward pressure on prices.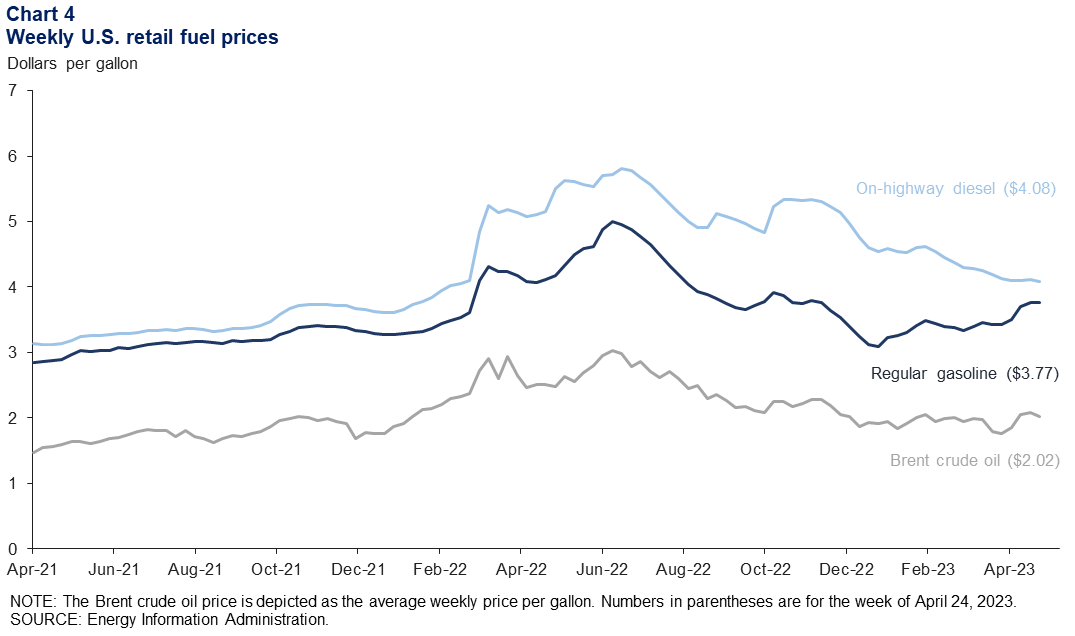 About Energy Indicators
Questions can be addressed to Kenya Schott at kenya.schott@dal.frb.org. Energy Indicators is released monthly and can be received by signing up for an email alert. For additional energy-related research, please visit the Dallas Fed's energy home page.