Energy in the Eleventh District
Barnett Shale
The urban counties of Barnett Shale are the home of the shale revolution. Modern hydraulic fracturing was developed here, and combining this technology with horizontal drilling created a boom in natural gas production that continued for more than a decade. Using the tabs below, learn more about the history of Barnett Shale and the impact of energy markets on the region's diverse economy.
The Region
Highlights
According to the Railroad Commission of Texas,the currently defined boundaries of the Barnett Shale formation fall within a 25-county region in north Texas. The Railroad Commission (TRRC) identifies four core counties in Barnett: Denton, Johnson, Tarrant, and Wise. Each of these counties produced over 350 million cubic feet of dry natural gas per day in fourth quarter 2021, and together they accounted for more than 80 percent of the region's output. Parker and Hood counties also produced a substantial amount of natural gas. Adding these areas to the TRRC's core counties yields a set of six extended core counties that accounted for over 90 percent of the region's output in fourth quarter 2021. The analysis of labor markets and business activity in Barnett therefore focuses on these extended core counties.
Compared with other shale formations in the 11th District, Barnett is uniquely urban. In fact, all four core counties identified by the TRRC lie within the boundaries of the Dallas–Fort Worth–Arlington metropolitan area. As a result, while the growth in natural gas production has contributed to the region's vitality, it's not the primary driver of economic activity.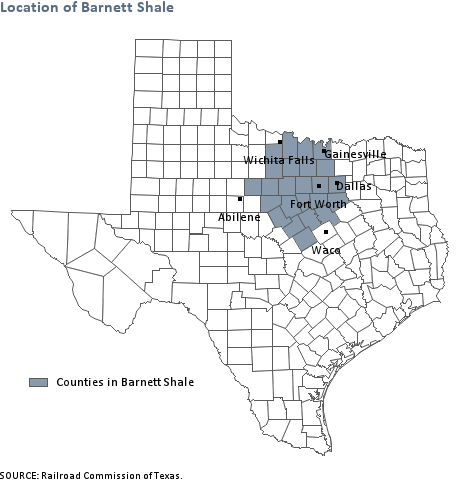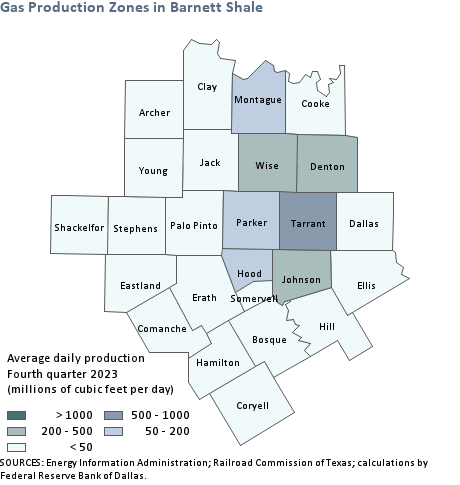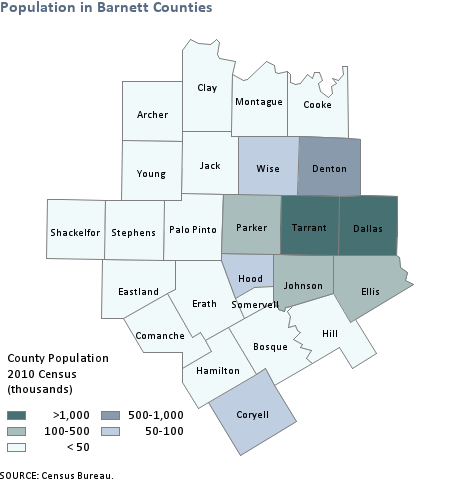 History
Geologists discovered the Barnett Shale Formation in the early 20th century, but drilling in the region did not begin until 1981. This is when George Mitchell of Mitchell Energy began his nearly two-decade-long search for an economical way to remove gas from shale.
Conventional gas fields form over thousands of years, as gas seeps out of the source rock into reservoirs close to the surface (Figure 1). Because this gas has already escaped from the source rock, it's easily accessible with a traditional vertical well.
In contrast, the gas in Barnett remains trapped in dense source rock over 1.5 miles below the earth's surface. To extract the gas, Mitchell Energy experimented with a process known as hydraulic fracturing. This involves pumping millions of gallons of water mixed with sand and chemicals into the shale. The pressure from the water causes the shale to fracture, and the sand keeps these newly formed cracks propped open, releasing the gas.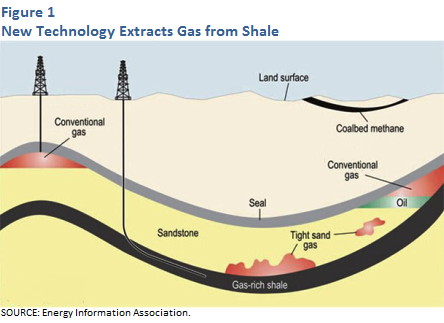 By the late 1990s, Mitchell Energy had made hydraulic fracturing cost-effective. This development paired with rising gas prices led to growing interest in the Barnett Shale, and the number of wells in the region expanded rapidly (Chart 1). Applying another technological development in the early 2000s further bolstered development: horizontal drilling. Horizontal drilling can make a 90 degree turn in just a few feet while traditional vertical wells can only go straight down from the well and traditional directional, or slant, drilling can take up to 2,000 feet to bend from a vertical to horizontal. Shale formations tend to be much longer than they are deep, so the combination of horizontal drilling and hydraulic fracturing creates more fractures in the shale, which allows more gas to escape. Since this technology was first used in Barnett in 2002, the number of wells has skyrocketed.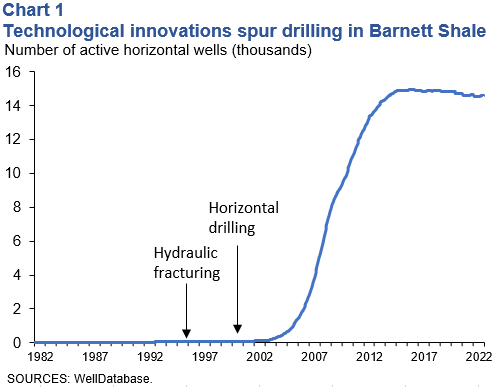 Since Mitchell Energy drilled its first well in Wise County, Barnett Shale has produced more than 13 trillion cubic feet of natural gas. Drilling activity has brought thousands of jobs and billions of dollars in tax revenue to the region, and this flow of wealth is poised to continue for years to come. A recent study by the Bureau of Economic Geology at the University of Texas estimates that Barnett still contains 44 trillion cubic feet of recoverable gas resources, and while annual production may decline from its current peak of 2 trillion cubic feet per year, substantial output is expected to continue through 2030.
Sources
Natural Gas from Shale: Texas Revolution Goes Global, Southwest Economy, Third Quarter 2010.
A History and Overview of the Barnett Shale, Will Brackett, Powell Barnett Shale Newsletter.
History and Development of the Barnett Shale: Lessons Learned, Ed Ireland, Barnett Shale Energy Education Council.
Barnett Shale Information, Railroad Commission of Texas.
A Decade of Drilling, August 2011, The Perryman Group.
New, Rigorous Assessment of Shale Gas Reserves Forecasts Reliable Supply from Barnett Shale Through 2030, The University of Texas at Austin.
Natural Gas Production
Highlights
Natural gas production in Barnett Shale began increasing in the early 2000s. Production started to decline in 2012, but in April 2022, Barnett still accounted for 6.1 percent of Texas's natural gas production and 1.8 percent of the U.S.'s supply.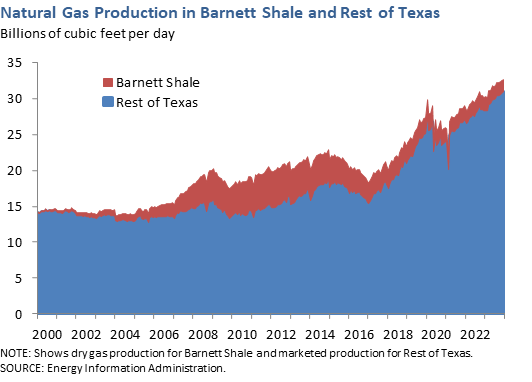 Production
April 2022
Cubic feet
per day
(billions)
Year/year change
(percent)
Barnett Shale
1.7
–11.2
Rest of Texas
25.9
8.3
SOURCE: Energy Information Administration.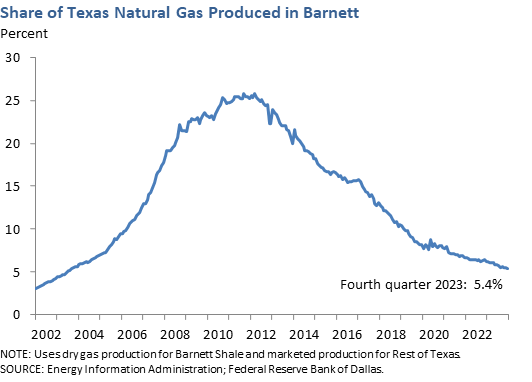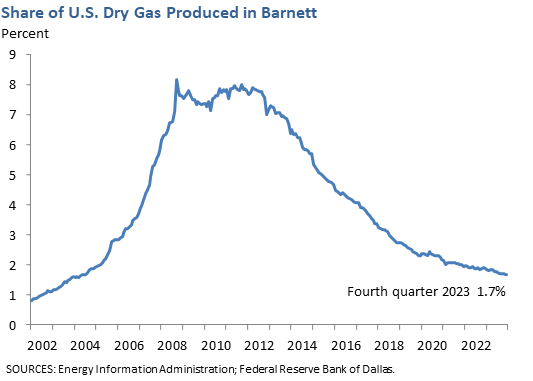 Drilling Activity
Highlights
The rig count in Barnett Shale has been declining since the start of 2011. The number of wells per rig increased in 2012, but ticked down in 2013. Still, in fourth quarter 2014, each rig in Barnett averaged 10.6 wells, up from 9 wells in first quarter 2012.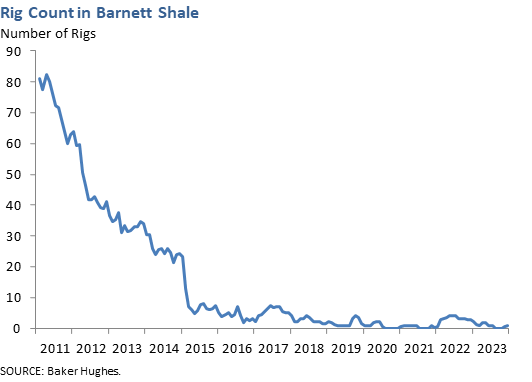 Rig Count in Barnett Shale
June 2022

Number of rigs

Year/year change
(rigs)
Extended core counties
2
1
Rest of Barnett counties
1.25
1
SOURCE: Baker Hughes.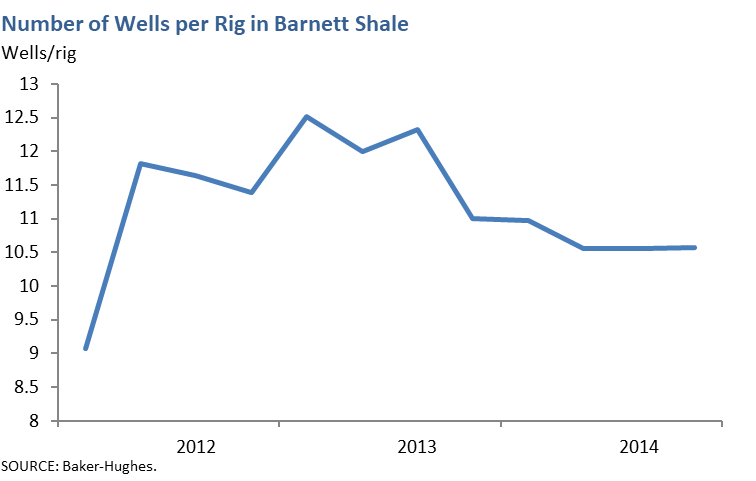 Labor Markets
Highlights
Since the start of the drilling boom in the early 2000s, employment growth in all but one of the extended core counties has exceeded growth in the rest of Texas. Five of the six extended core counties experienced faster wage growth than the rest of Texas, with growth almost 4.0 percent in some counties.[1]
The uniquely urban nature of Barnett Shale means that employment related to oil and gas extraction is but one of many types of jobs in the area. Nevertheless, mining's share of total employment in the extended core grew in the first decade of the century. The share ticked down in 2013, but the six-county area still accounts for 4.8 percent of all mining jobs in the state of Texas.[2]
Since 2002, most counties in the extended core have witnessed substantial growth in mining employment. The industry is particularly important in Hood county and in Wise county, the home of George Mitchell's first gas well. As of 2018, more than 10 percent of workers in both counties are employed in mining.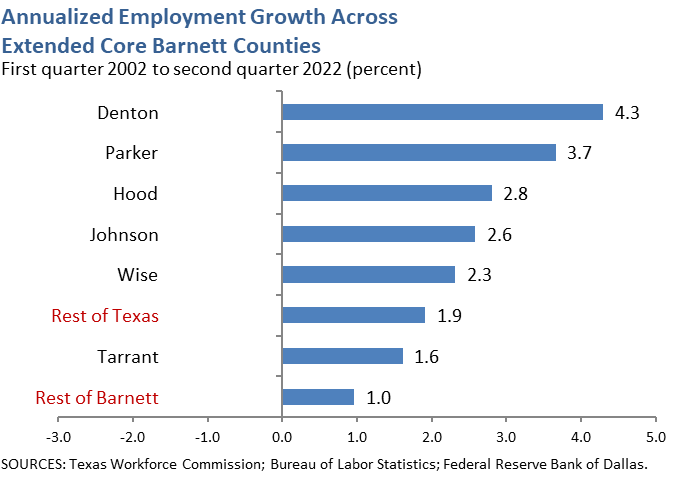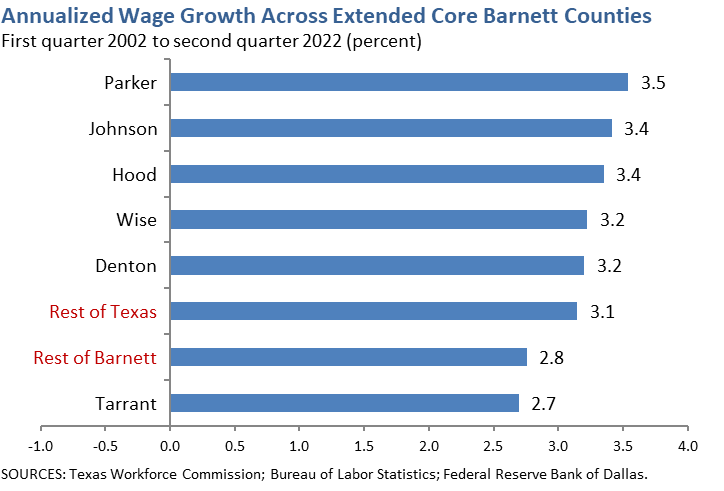 Employment
Fourth quarter 2021
Employment
(thousands)
Year/year change
(percent)
Extended core counties
1,363.0
5.6
Rest of Barnett
1,958.7
5.6
Rest of Texas
9,627.4
6.2
SOURCE: Bureau of Labor Statistics.
Wages
Fourth quarter 2021

Average weekly wage (dollars)

Year/year change
(percent)
Extended core counties
$1,288
6.0
Rest of Barnett
$1,584
5.6
Rest of Texas
$1,346
6.6
SOURCE: Bureau of Labor Statistics.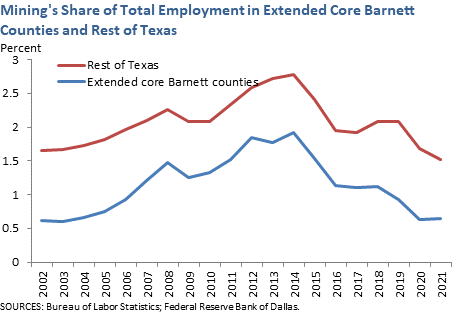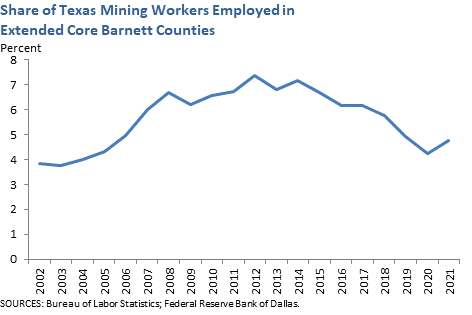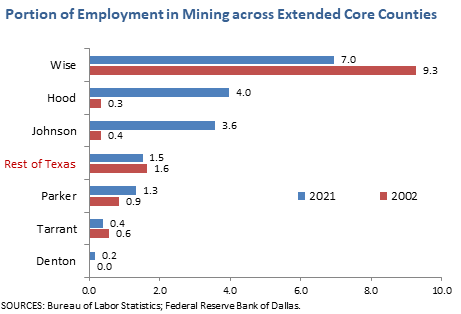 Notes
For the extended core counties, the rest of Barnett, and the rest of Texas, average weekly wages for these regions are a weighted average of the average weekly wages in each county in the region, where the weights are proportional to that county's contribution to the region's total employment.
Mining employment refers to all employment in NAICS 21, which includes mining, quarrying, and oil and gas extraction. The Bureau of Labor Statistics offers more information on this employment category.
Business Activity
Highlights
Since 2002, growth in taxable sales in the extended core counties far surpassed growth in the rest of the Barnett counties. Most counties in this region have grown more than 6 percent per year on average since 2002.
Taxable Sales
Fourth quarter 2015
Sales
($ billions)
Year/year change
(percent)
Extended core counties
10.3
1.2
Rest of Barnett
13.7
–4.0
Rest of Texas
72.6
–5.7
SOURCE: Texas Comptroller of Public Accounts.