Regional
Texas Economic Activity Stabilizes, but Slower Job Growth Is Ahead
Output growth in Texas has stabilized after a relatively robust 2018, the Federal Reserve Bank of Dallas' Texas Business Outlook Surveys suggest. However, a tight labor market, slowing energy activity and weakening global demand will restrain Texas growth during 2019, an assessment consistent with the Dallas Fed's outlook for the year.
Texas added jobs at a moderate 1.9 percent annualized pace in the first two months of the year, down slightly from 2.4 percent in fourth quarter 2018. Employment growth during the first quarter has been close to Texas' long-term trend and above the nation's 2019 year-to-date growth of 1.3 percent (Chart 1).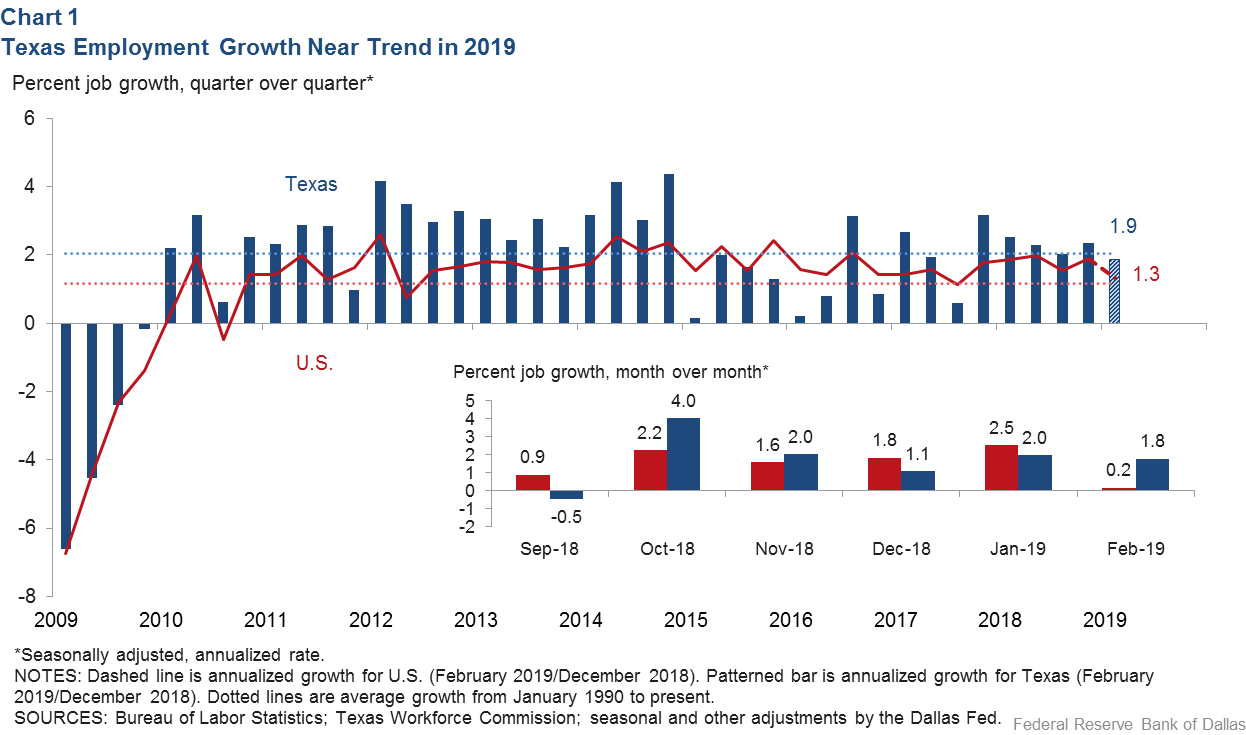 The Texas employment forecast suggests the number of jobs will grow 1.5 percent this year (December over December), below the 2.3 percent rate in 2018. Employment expansion during the first two months of 2019 was in line with our expectations.
Texas Business Outlook Surveys (TBOS) data suggest economic growth remains steady but at lower levels than last year when TBOS indexes of economic activity were higher. While growth in manufacturing production and service sector revenue are at long-term averages, retail sales are well below average.
Tight Labor Markets Likely to Restrain Hiring
There has been improvement in economic expectations for 2019, following a dramatic deterioration in company outlooks in December. Among TBOS firms, 48 percent plan to increase employment over the next six to 12 months. Manufacturers are the most bullish on employment expectations, with 57 percent planning to increase headcounts this year, compared with 44 percent of services firms and 36 percent of retailers planning to hire more people.
However, plans to increase payrolls may not fully materialize due to tight labor conditions; 65 percent of surveyed firms said finding qualified employees is a problem.
Small firms, which reported difficulty finding workers at all skill levels, appear particularly affected (Chart 2). For both small and large firms, the mid-skill labor market—defined as typically requiring some college or technical training—appears to be the tightest.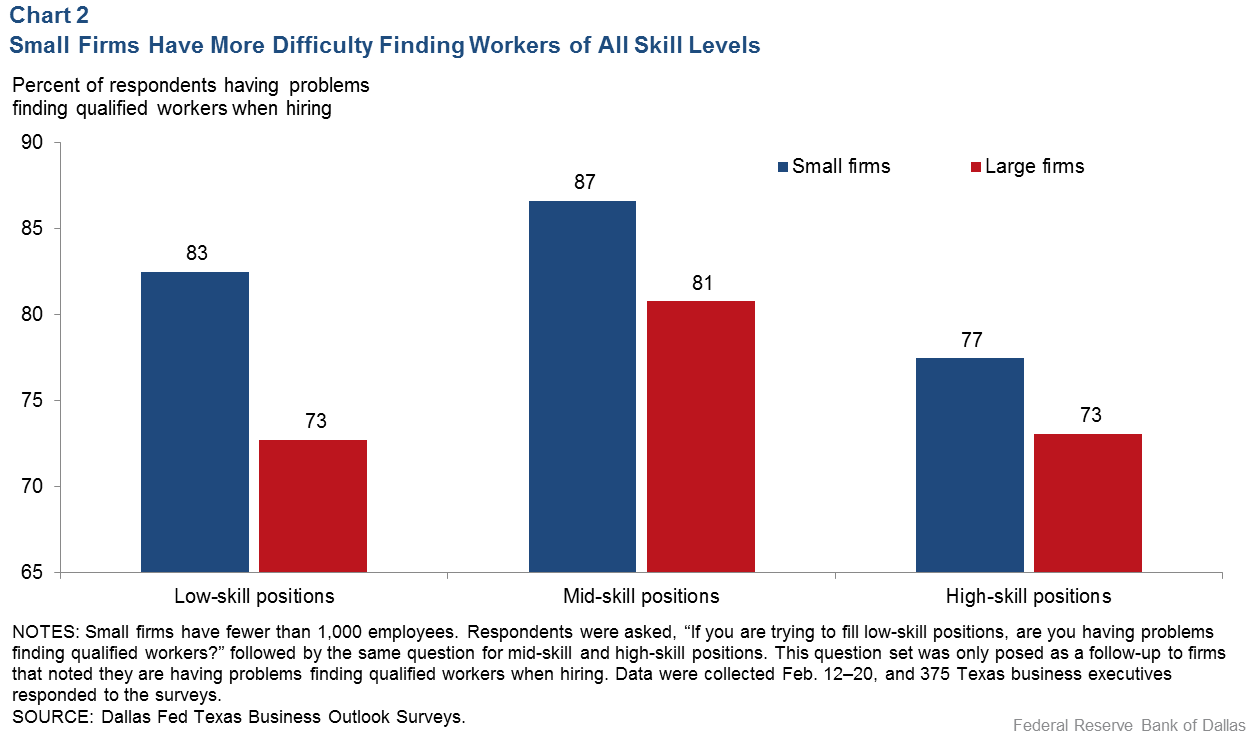 Exports Challenged, Housing Picks Up
The real (inflation-adjusted) value of Texas exports reached $315 billion in 2018. Energy-related products, including oil, gas, petroleum products (mainly gasoline) and petrochemicals led the way. While energy-related exports grew 32 percent last year, Texas exports absent energy-related products only grew 2.3 percent.
The overall export outlook may weaken in the near term as Texas business contacts continue noting a negative impact from trade policy, a strong dollar (which makes U.S. products more expensive in foreign local markets) and slower global growth.
Trade policy uncertainty could spike again this year as ratification of the United States–Mexico–Canada Agreement (the successor to the North America Free Trade Agreement) works its way through the three countries' legislative processes. Additionally, U.S. authorities face a May 20 deadline to decide whether to impose tariffs on imports of passenger vehicles and automotive parts. Such a determination—following a "Section 232 Investigation" by the U.S. Commerce Department at the direction of the Trump administration—must determine if such imports are weakening the U.S. economy and impairing national security.
Existing-home sales rebounded in February, following sluggish activity in the fourth quarter and a dip in January. A lack of inventory at lower price points (under $300,000) is restraining sales.
By contrast, housing contacts noted a pickup in traffic and new-home sales in the first two months of 2019, following a slowdown at year-end. Sales notably ticked higher in Austin and Dallas–Fort Worth. Outlooks have largely improved, although a few contacts said it is too early to tell whether the recent uptick would translate into a good spring market.
About the Authors
The views expressed are those of the authors and should not be attributed to the Federal Reserve Bank of Dallas or the Federal Reserve System.