Regional
Texas Economy Keeps Growing Despite More Pessimistic Outlook
September 26, 2019
The regional economy is growing at a moderate pace, and labor markets remain tight. Construction activity is rising, and the housing industry remains a bright spot, with higher sales and a pickup in prices. Against this robust backdrop, however, the outlook among Texas firms has deteriorated due to concern about tariffs, trade policy uncertainty and slowing global growth.
While the unemployment rate remains at a historic low of 3.4 percent, an uptick in initial jobless claims may be a sign of slight labor market cooling. Oil and gas drilling activity is flat to down, and export growth is slowing.
Job Growth Remains Healthy
Texas employment growth has eased over the past two months but remains healthy, with job gains of 3.0 percent in July and 1.8 percent in August. This follows a 2.3 percent annualized growth rate over the first six months of the year and reflects a continued growth premium relative to U.S. employment, which is expanding more slowly.
State employment growth is depicted on a quarter-over-quarter basis in Chart 1.
The Dallas Fed's Texas Employment Forecast calls for job growth of 2.3 percent in 2019. It has been adjusted lower due to early benchmark revisions to first-quarter Texas employment.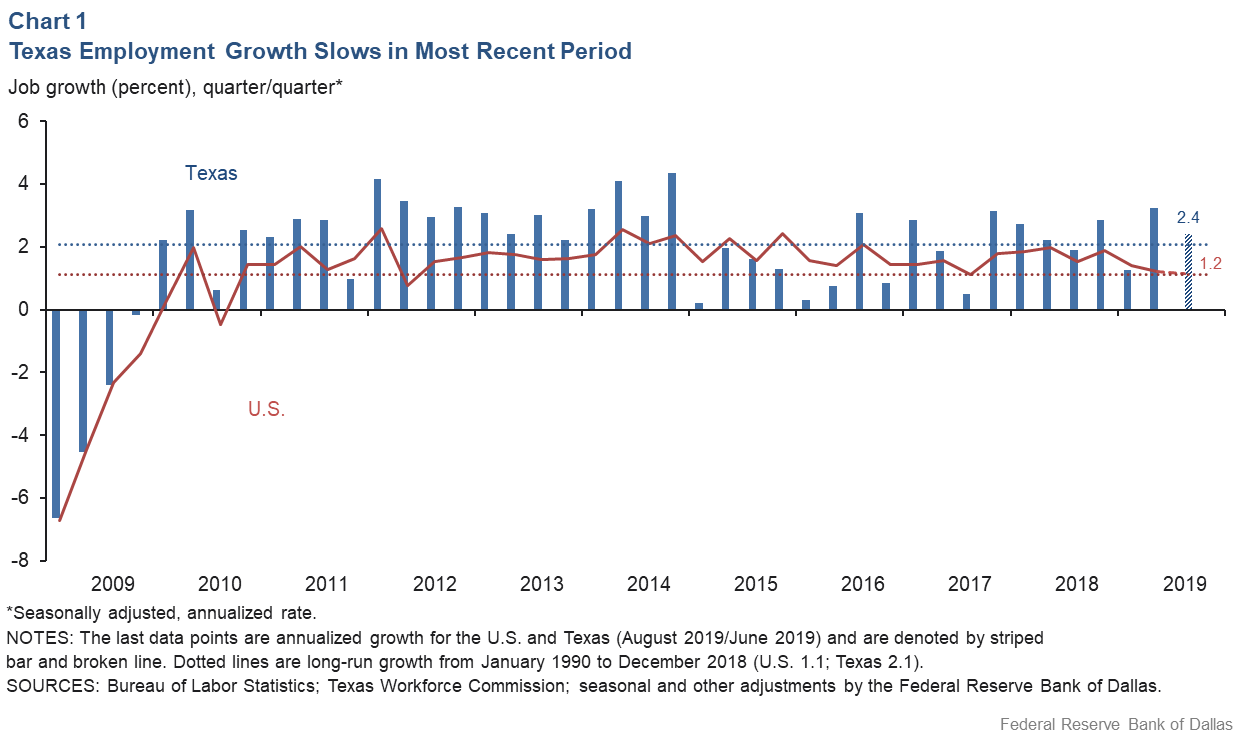 Expansion Apart from Energy
Texas employment growth has been broad based, except for energy, and has outperformed U.S. growth year to date across most sectors. Construction job growth stands out, increasing at more than twice the national rate at 6.0 percent this year. Residential housing has been an additional source of strength, with sales increasing and median prices rising 0.8 percent from June to August.
Manufacturing employment growth has also been healthy this year at 2.7 percent, down from 3.5 percent in 2018 but well ahead of the national pace. Most service sectors are either growing significantly faster than in the U.S.—financial services, and leisure and hospitality are prominent examples—or roughly keeping pace.
Energy employment has declined at an annualized rate of 1.6 percent year to date and at a nearly 7.3 percent rate over the past two months. This is most visible in support activity as rig counts continue to decline and exploration and production firms report little appetite for further hiring given oil price uncertainty and financial constraints within the industry.
Signs of Emerging Labor Slack
The state unemployment rate remained at a record low of 3.4 percent in August, due in part to sluggish labor force growth.
The reduction in labor market slack has shown signs of slowing or even reversing in recent months. Initial claims for unemployment, though still very low, have ticked up in Texas. In particular, Texas and U.S. initial claims began to diverge in early summer—Texas claims rose beginning in May and have remained slightly elevated over the past four months.
Uncertainty at New High; Company Outlook Turns Negative
Despite strong growth in manufacturing production and moderate expansion of service sector revenue in August, the aggregate Texas Business Outlook Survey (TBOS) uncertainty index reached a series high, and the company outlook index turned negative (Chart 2). Interestingly, the sources of uncertainty are more diverse than in recent surveys. Many contacts continue to mention trade policy, but others increasingly note political uncertainty.
One concern about rising uncertainty is its impact on capital expenditures. Both manufacturing and service sector capital expenditures indexes have retreated sharply since fourth quarter 2018, though they remain positive and at or above average levels.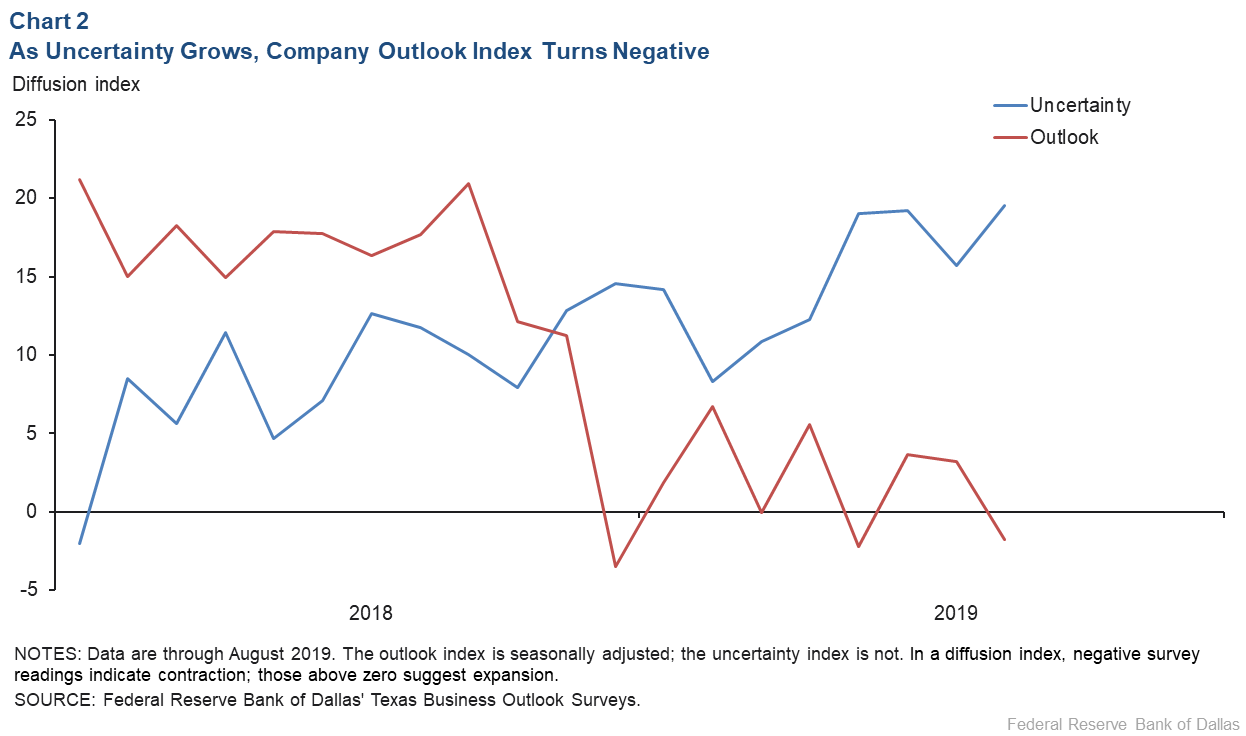 Texas Exports to China Fall Sharply
Texas exports have grown at a much slower pace this year (5.6 percent) compared with last year (16 percent). Part of the problem is a dramatic decline in exports to China. Due partly to retaliatory tariffs, state exports to China are down 45.5 percent in the first seven months of 2019 relative to the same period in 2018 (January through July). Export increases to the rest of Asia (up 23.1 percent) and other world regions likely offset some of the China decline.
Texas exports to China are primarily oil and gas, followed by chemicals, computers and electronics, nonelectrical machinery, agricultural products, and petroleum and coal products.
Overall, China is not an outsized state export destination. Even at its peak, the share of Texas exports to China did not exceed 6 percent. Nevertheless, some industries have a larger exposure to China. The share of Texas agriculture exports—particularly sorghum and cotton—to China fell from 19.2 percent in 2017 to 7.0 percent in 2019. The share of oil and gas exports to China has fallen 13.8 percentage points, while the share of chemicals exports has declined 2.9 percentage points.
Mexico Growth Continues to Disappoint
Mexico is Texas' No. 1 trading partner; about 33 percent of Texas exports go south of the border. Of particular concern is Mexico's gross domestic product (GDP) performance in the first half of the year, which at -0.5 percent is the weakest in six years. GDP grew only 0.1 percent in the second quarter after declining 1.0 percent in the first. The consensus GDP growth forecast for 2019 fell from 0.8 percent in July to 0.5 percent in August.
The biggest contributor to the weakness is construction activity, with construction GDP down 5.7 percent in the first half. The decline in construction activity is also apparent in Mexico's industrial production index, with manufacturing continuing to grow even as construction turned down sharply in early 2019 (Chart 3).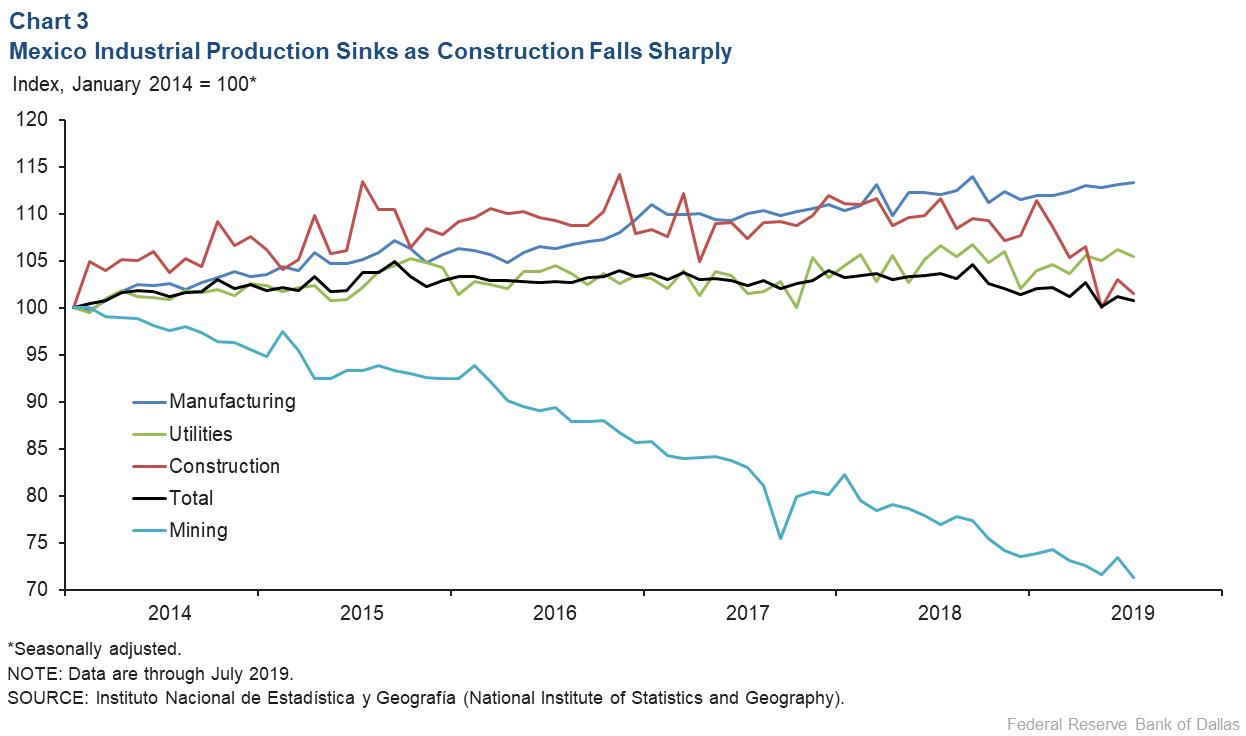 Outlook for Steady Growth; Downside Risks Increase
The outlook for the Texas economy remains positive, and the employment forecast still calls for above-trend growth through year-end. Nonetheless, the energy sector is likely to remain weak. Businesses expressed that their uncertainty has increased and their outlooks have dimmed slightly. Thus, while job growth is forecast to roughly match 2018's performance, downside risks to the outlook appear to outweigh potential upside surprises.
About the Authors
The views expressed are those of the authors and should not be attributed to the Federal Reserve Bank of Dallas or the Federal Reserve System.