Regional
Texas Economy Picks Up in October; Data Revisions Show Weaker 2019 Growth
December 19, 2019
Texas job growth picked up in October, although the energy sector continued to slip and manufacturing activity weakened. Trade, transportation and health care activity accelerated, and housing remained strong.
Overall, Texas job growth this year is slower than previously estimated due to a downward benchmark revision of employment activity during second quarter 2019. The revised data are more consistent with the Dallas Fed Energy Surveys, which showed a sharp weakening in the oil and gas industry. Labor markets remain historically tight, although wage and price pressures have eased.
Despite continued energy weakness, job growth and the Texas unemployment rate will likely remain stable next year. The state economy remains vulnerable to changes in trade policies and to significant swings in oil prices.
Second-Quarter Benchmark Revised Lower
While Texas job growth increased at an annualized rate of 2.5 percent in October from an average of 1.9 percent in the prior three months, the second-quarter early benchmark released in mid-November significantly revised job growth lower. Benchmarking takes into account revisions to previously released and subsequently updated source data.
Houston experienced the largest downward revision in the second quarter (3.8 percent to 0.4 percent) among metropolitan areas, representing approximately 35 percent of the state's revision. During the first 10 months of 2019, Austin led growth at 3.1 percent, followed by San Antonio at 2.5 percent and Dallas at 1.9 percent. The state's October unemployment rate was 3.4 percent, unchanged since June.
At the industry level, the biggest revisions in the second quarter occurred in the mining sector (5.5 percent growth to 2.8 percent contraction). Growth rates decreased but remained positive for the construction (9.3 percent to 2.6 percent) and trade, transportation and public utilities sectors (3.2 percent to 0.54 percent). Year to date, Texas job growth was revised from 2.1 percent to 1.7 percent—a still-healthy pace given historically low unemployment rates and tight labor markets.
Wage and Price Pressures Easing
While wage gains continued increasing above the long-term average rate, those gains have eased this year (Chart 1).
Experimental data from the Bureau of Labor Statistics' Job Openings and Labor Turnover Survey for Texas indicated a decline in hirings and quits during the second quarter—the most recently available data. In general, if workers are concerned about the economy, they tend to remain in their current job and not bargain hard for wage increases. This, along with the slowdown in job growth, helps explain the easing wage pressures.
Overall price gains in manufacturing and services remain weak, although more retailers on net have reported increasing their prices, according to the Dallas Fed Texas Business Outlook Survey (TBOS). Inflation as measured by the Dallas–Fort Worth and Houston combined Consumer Price Index (CPI) through October has mirrored U.S. activity, with core inflation (excluding food and energy) running at 2.2 percent, compared with 2.3 percent in the U.S.
Housing has been a significant driver of inflation in the U.S. and Texas during the past year, with the CPI excluding shelter increasing 0.7 percent in Texas and 1.0 percent in the U.S. year over year in October.
Housing Activity Indicates Sector Strength
Texas home sales continue to show healthy gains, with sales during the three months ended in October up 7.4 percent from the prior-year period. A low unemployment rate, a significant decline in mortgage rates and a reduced pace of house-price appreciation helped drive sales.
Single and multifamily housing construction permits, prime indicators for future building activity, increased in October 12.3 and 8.8 percent, respectively, year over year. While such rises suggest continued gains in building activity, a recent flattening of mortgage rates may restrain growth.
Energy Paces Exports Though Still Sluggish
Texas energy-related exports of oil, natural gas, refined products and petrochemicals increased 10.0 percent during the first 10 months of 2019, compared with the year-ago period. By comparison, non-energy-related exports rose 2.1 percent, with the growth rate picking up in recent months. The strong dollar—which makes Texas exports more expensive abroad—tariffs and a weakening world economy have suppressed export growth.
Meanwhile, large swings in the real oil price tend to affect Texas job growth with a lag of about six months (Chart 2).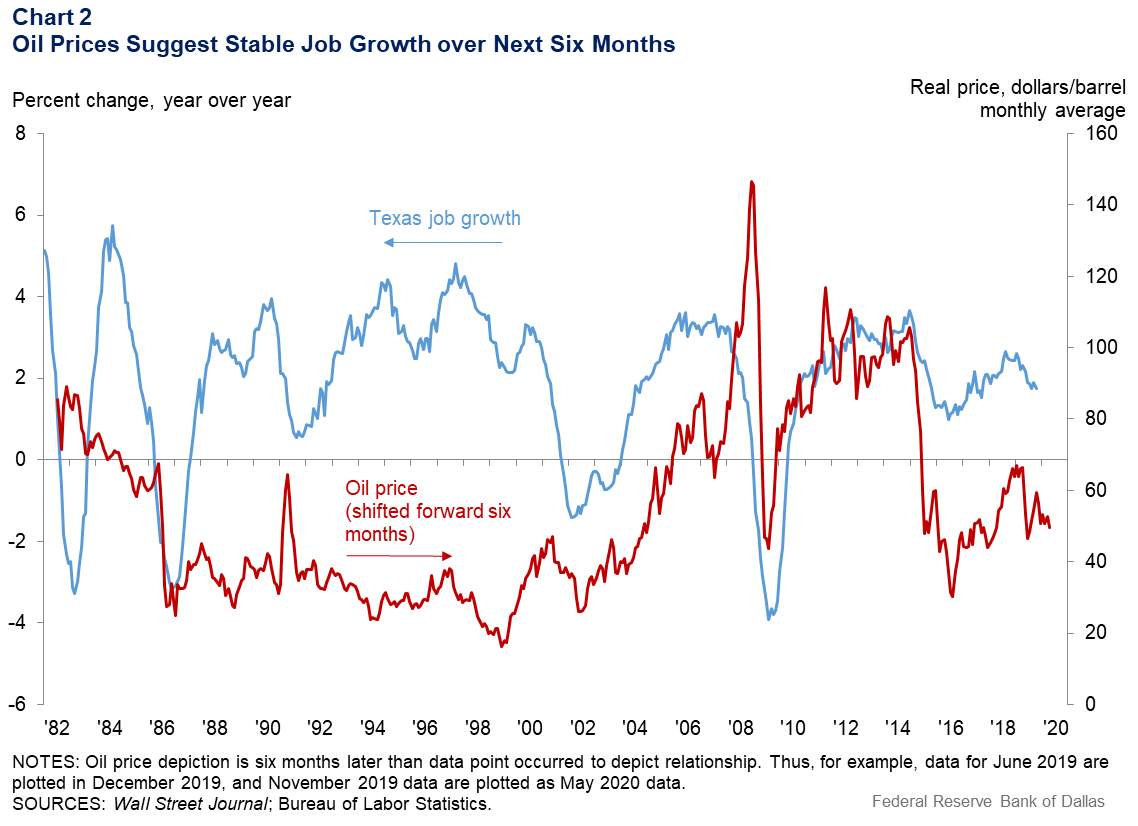 Oil price declines in October and November 2018 were followed by sluggish job growth of 1.1 percent in second quarter 2019. Thus, overall flatness of oil prices at about $55 per barrel since June of this year suggest that the slowing energy sector will play a neutral role in Texas job growth during the first half of 2020.
Economic Growth Likely to Change Little in 2020
Leading indicators and TBOS point to job growth in 2020 that is likely to remain near the moderate pace of 2019, while the unemployment rate will tend to linger near its current historical low of 3.4 percent. Downside risks to the Texas economy include slowing U.S. and global economies, trade uncertainty and a significant oil-price decline.
About the Authors
The views expressed are those of the authors and should not be attributed to the Federal Reserve Bank of Dallas or the Federal Reserve System.