Energy Indicators

November 20, 2020
Choppy oil prices have averaged near $40 per barrel the past three months, and oilfield activity has risen from summer lows. Inventories of distillate improved sharply over the past two months as consumption improved, but refiner margins remain challenged.
Oil Prices
Despite week-to-week volatility, closing prices for crude oil have averaged near $40 per barrel since September (Chart 1). International benchmark Brent crude averaged $41 in the first half of November. West Texas Intermediate crude oil priced in Midland, Texas—closer to the wells of the Permian Basin—averaged $39. Houston averaged $40.
Drilling and Completion
The U.S. oil and gas rig count rose to 312 by mid-November as producers continued to put inactive equipment back to work (Chart 2). Drilling rigs had fallen 69 percent from their high point in early January to a low of 244 in early August. Similarly, the number of active frac crews (or frac spreads—the crews that bring a drilled well into production) increased to 130. The frac crew count fell 87 percent from peak to trough, falling as low as 45 in mid-May.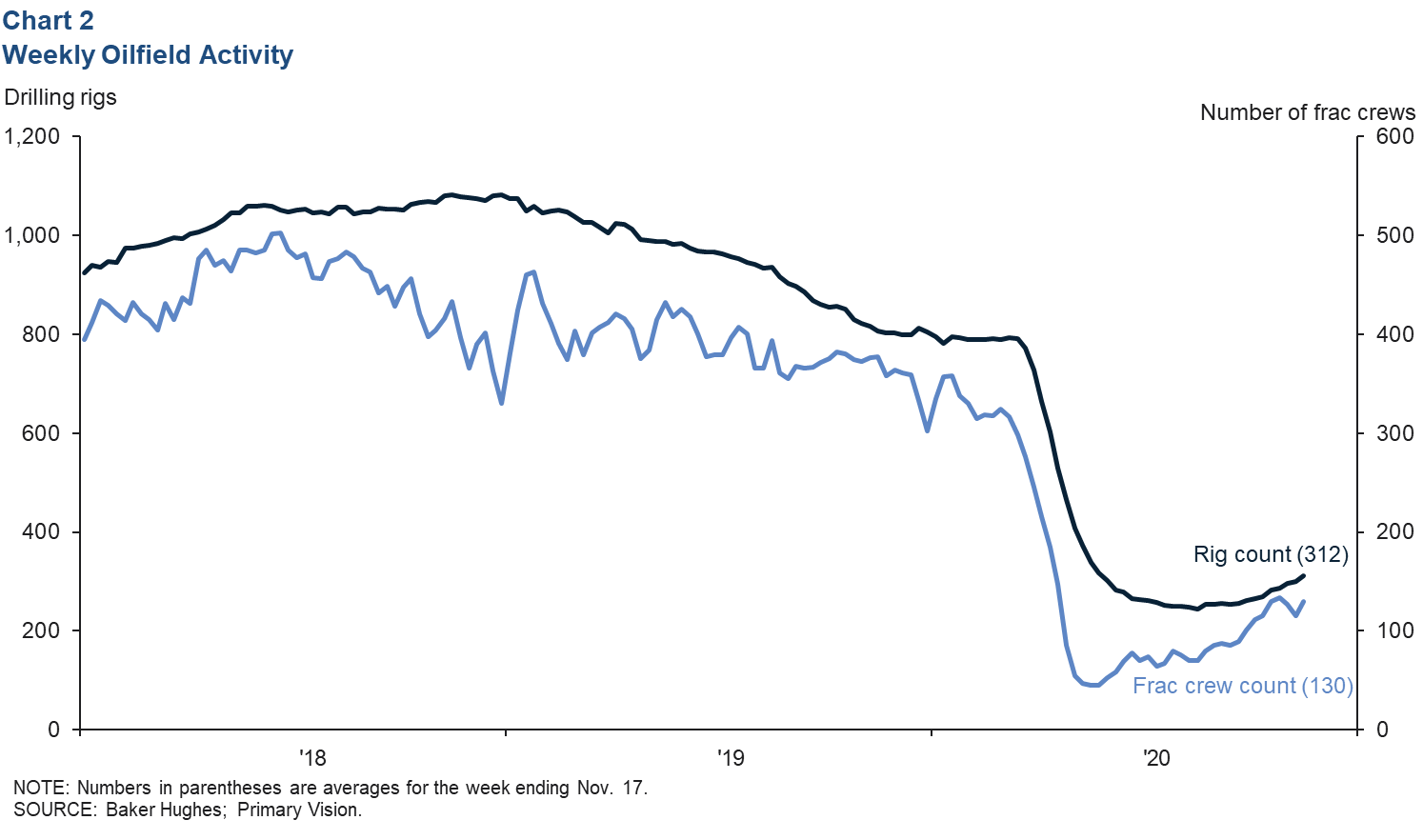 The bulk of the declines in both rigs and frac crews occurred between March and June as an ill-timed price war and curtailed demand from the pandemic crushed oil prices and risked overflowing the available storage for crude oil. The difference in the severity and pace of declines between drilling and completion created a large inventory of drilled but uncompleted wells (DUCs). The accelerated pace of recovery in completions relative to drilling since the summer is attributable, at least in part, to producers bringing those DUCs into production.
Days of Supply
The number of days that inventories of key petroleum products in the U.S. would be able to sustain current consumption—days of supply—continued to drift down in October relative to highs reached in late spring when global lockdowns due to COVID-19 were first initiated. Crude oil days of supply (commercial inventories divided by refinery consumption) were steady from October until the first half of November at 36.4 days of supply—7.3 days above their trailing five-year average (Chart 3).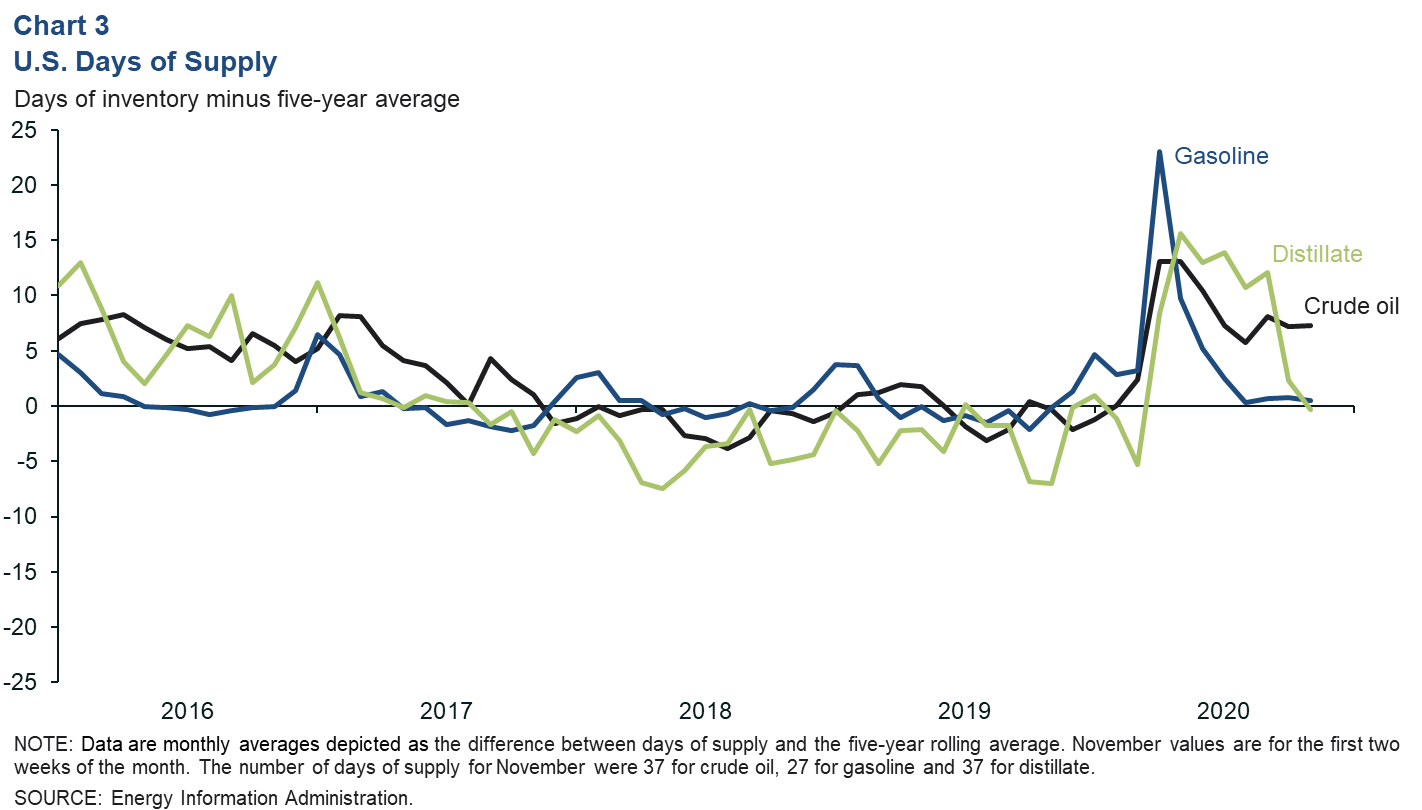 The gasoline days of supply fell to near their five-year average in September (32 days), substantially lower than the peak in May when there was an extra 15 days of stock. The recovery of gasoline consumption to near 90 percent of year-ago levels and low refinery utilization rates have helped tighten domestic supplies.
Despite improvements over the summer, distillate days of supply remained elevated near 49 days in September, nearly 12 days above their five-year average. That collapsed quickly as consumption measures improved and refinery utilization eased due to record-breaking tropical weather on the U.S. Gulf Coast, very low margins, and the temporary and permanent shutdown of some unprofitable refinery units.
Refiner Margins
Refiner margins have been significantly challenged throughout the pandemic. Cash margins barely averaged above $0 per barrel from April to September in the U.S. and have been below $0 for most of southeast Asian and northwest European refiners (Chart 4). Weekly U.S. refinery utilization rates have averaged over 75 percent since the summer, owing in part to hurricane-related outages. Muted refinery utilization, stronger consumption and easing inventories helped refining margins improve modestly in October; however, they remain well below the levels of recent years. Margins near this level leave little incentive to increase utilization rates near term.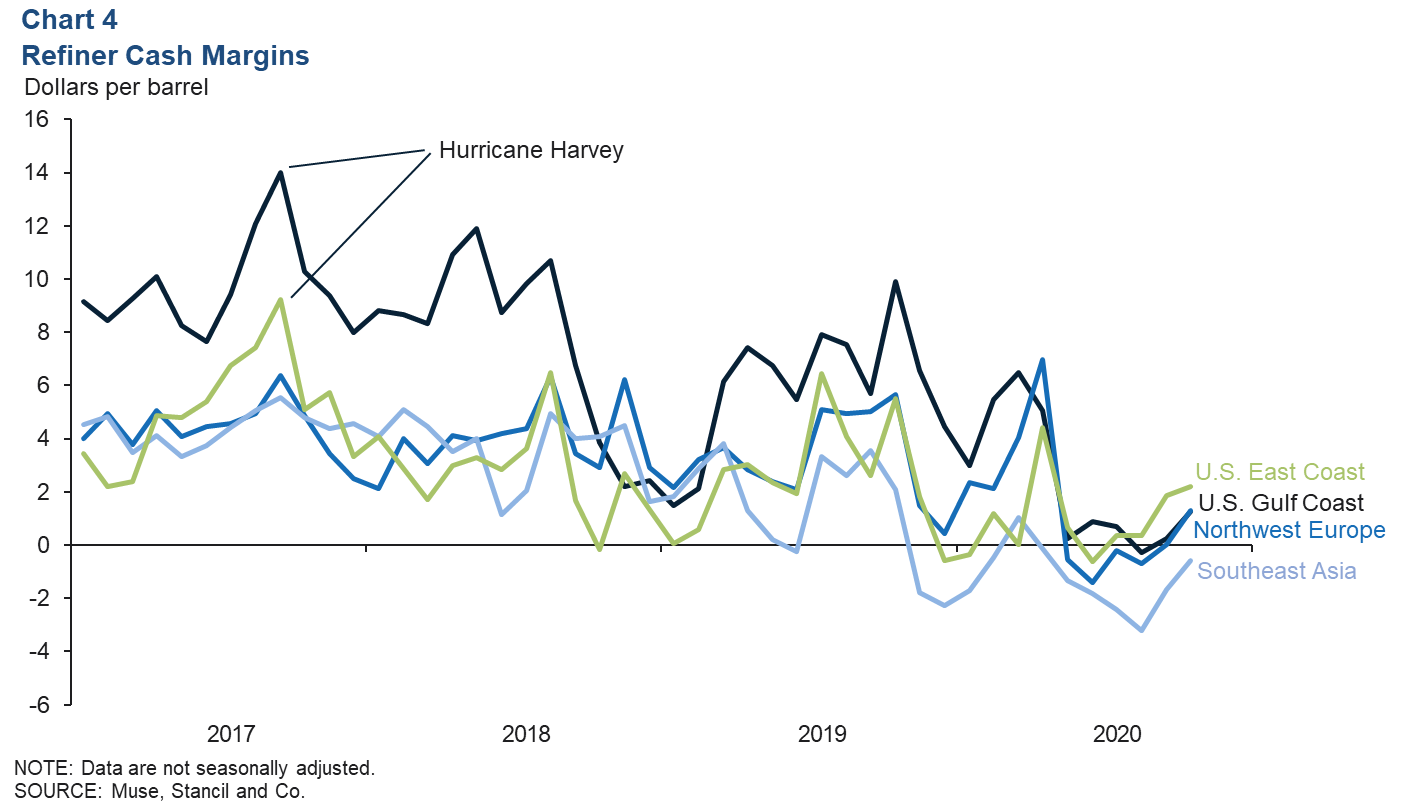 About Energy Indicators
Questions can be addressed to Jesse Thompson at jesse.thompson@dal.frb.org. Energy Indicators is released monthly and can be received by signing up for an email alert. For additional energy-related research, please visit the Dallas Fed's energy home page.