Energy Indicators

May 10, 2021
Natural gas prices increased modestly in April after falling from February highs that were driven by Winter Storm Uri. The freezing temperatures slowed natural gas exports, pushing up heating and electricity demand—including from coal—and contributed to a historic spike in electricity prices in Texas.
Natural Gas
Prices Back to Moderate Levels
U.S. natural gas prices were a healthy $2.66 per million British thermal units in April, a slight increase from March (Chart 1). This came after a sharp rise in February when freezing weather triggered a series of events that saw Texas demand soar as supplies were curtailed. Texas daily natural gas production fell by 45 percent at its low point but quickly recovered once the state thawed.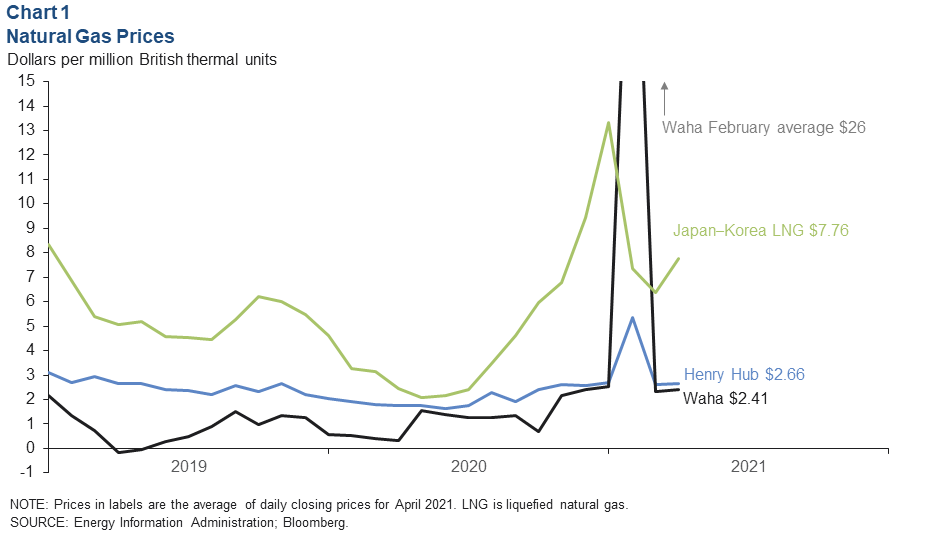 West Texas benchmark natural gas, Waha, averaged $2.41 per million British thermal units (MMBtu) in April—its highest level outside of a natural disaster since January 2021 and January 2018 before that. During the disastrous February freeze, the Texas benchmark traded well over $200 per MMBtu in daily spot markets, ultimately averaging $26 for the month.
The Japan–Korea front-month contract for liquefied natural gas (LNG) rose to $7.76 per MMBtu on improving demand in Asian markets.
Freeze Blunts February Exports
Monthly pipeline exports to Mexico were down by 0.7 billion cubic feet per day (bcf/d) to 4.9 bcf/d in February due to the freeze, which affected gas consumers in northern Mexico (Chart 2). LNG exports fell to 7.6 bcf/d in February from 9.9 bcf/d the prior month. This again was due to the temporary supply and operational disruptions from Winter Storm Uri along the Gulf Coast. Canadian exports slipped to 2.5 bcf/d.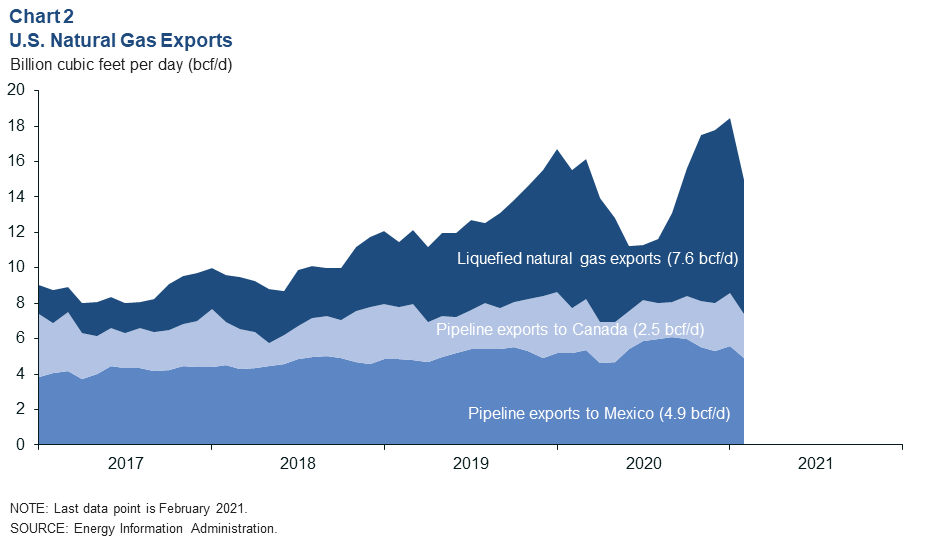 Natural Gas Consumption Up
U.S. natural gas volumes delivered to consumers increased in February on a seasonally adjusted basis. Deliveries to electric utilities rose to 33.4 bcf/d, and "other" surged to 37.7 bcf/d due to residential heating demand (Chart 3). Industrial demand increased to a seasonally adjusted 23.6 bcf/d.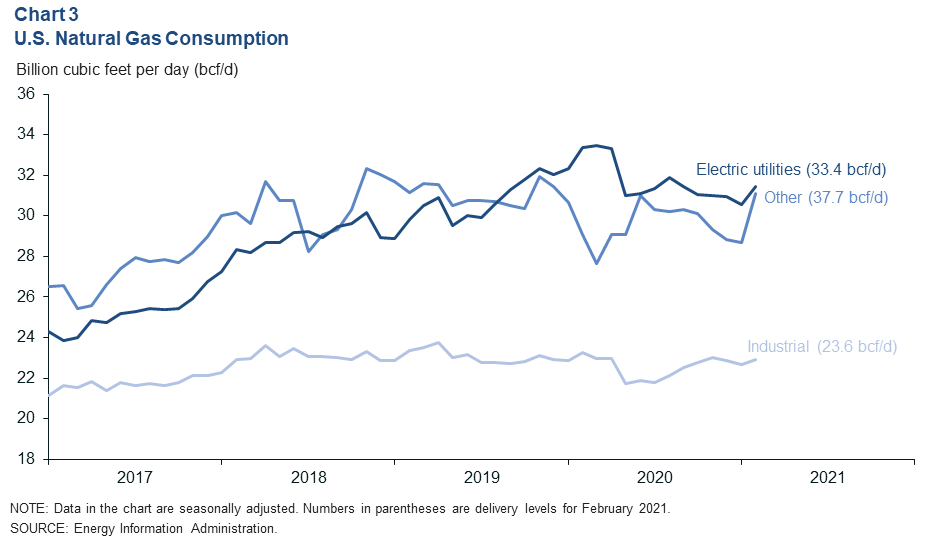 Electricity
Power Generation from Fossil Fuels Rises in February
The nation's power demand rose to over 350 terawatt hours (tWh) in February, the highest level since September 2019 on a seasonally adjusted basis (Chart 4). Coal-fired power rose from 76 tWh in January to 97.8 tWh in February, its highest level since November 2018. This was driven in part by the strong demand for heating during Winter Storm Uri, the loss of natural-gas-driven production and diminished wind output for the month. U.S. solar production increased slightly in February.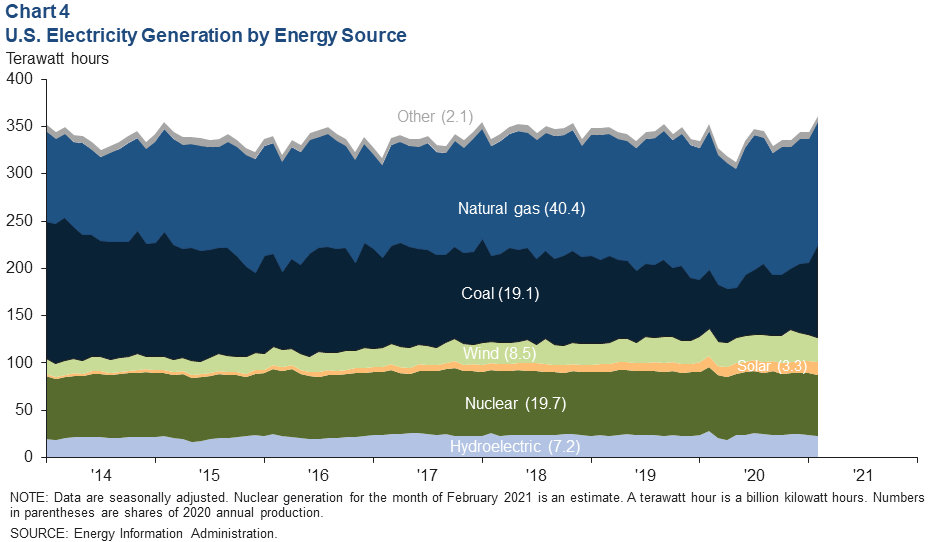 On an annual basis, natural gas was 40.4 percent of total U.S. power generation in 2020, a new high as the lower-cost fuel has steadily displaced aging coal-based generation over the past decade. Coal's share fell to 19.1 percent, less than nuclear. Wind and solar were a combined 11.8 percent of generation and are projected to be the driving force underpinning future generation and capacity growth.
Freeze Spikes February Electricity Rates in Texas
Texas has seen lower real electricity rates over the past decade than the rest of the U.S. (Chart 5). This was due in part to the large share of natural gas generation capacity, which has benefited from sharply lower fuel prices since the start of the shale boom. However, the state saw the rate per kilowatt hour rocket from a January average of 8.3 cents per kilowatt hour (kWh) to an average of 13.7 cents in February, a 65 percent increase. Prices outside of Texas rose from 10.9 cents per kWh to 11.4 cents, a 5.2 percent increase.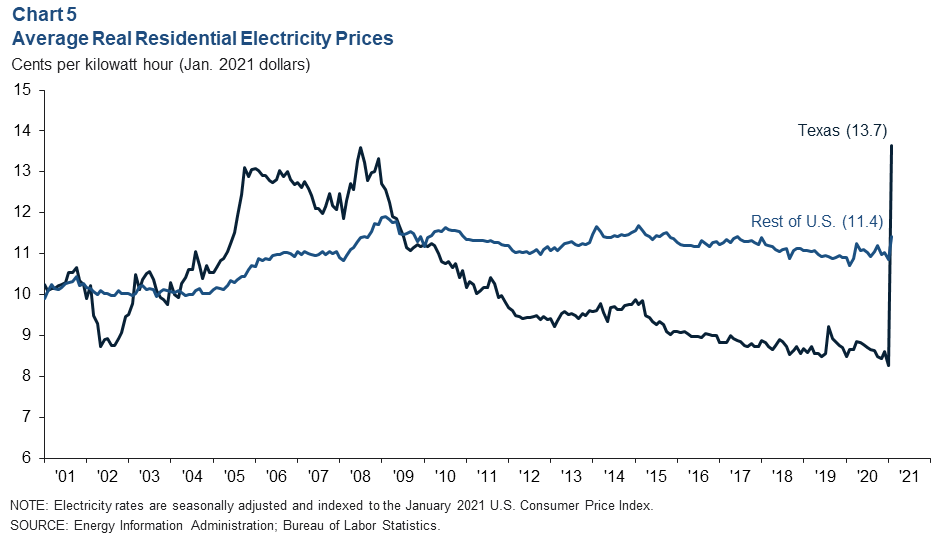 About Energy Indicators
Questions can be addressed to Jesse Thompson at jesse.thompson@dal.frb.org. Energy Indicators is released monthly and can be received by signing up for an email alert. For additional energy-related research, please visit the Dallas Fed's energy home page.
Energy Research
Economic Indicators