Energy Indicators

October 21, 2022
Deteriorating global economic conditions have reduced expectations for oil consumption growth. OPEC+ has elected to cut production quotas in November, but underproduction by member countries is likely to mute the total impact. Inventories in the Organization for Economic Cooperation and Development (OECD) are near record lows and are projected to remain low. Thus, while futures imply further easing in oil prices over the next year, recent data imply that the physical market remains tight, with little in the way of a buffer against further negative supply shocks.
OPEC+
Output Has Consistently Underproduced Quotas
OPEC+ produced 38.7 mb/d of crude oil in August, increasing only slightly in September (Chart 1). The most recent reading is 3.4 mb/d below the group's target. That is the largest the shortfall has been the past two years. Of the largest contributors, Russia accounted for nearly 1.3 mb/d of the underproduction. Nigeria and Angola combined accounted for another 1.3 mb/d. Kazakhstan's output accounted for another 0.5 mb/d, but this was due to maintenance. In contrast, the United Arab Emirates (UAE) produced over 0.2 mb/d above its target.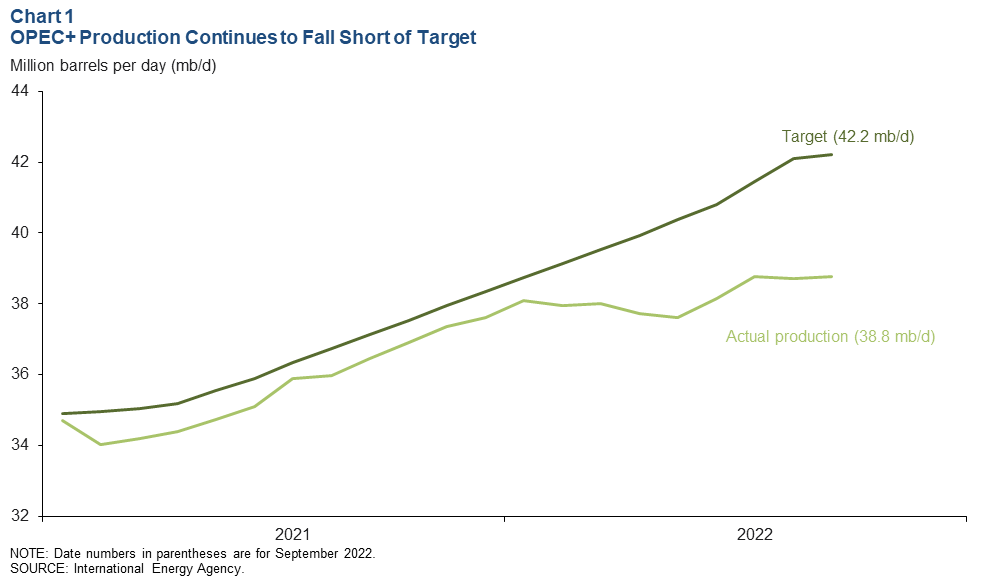 The underperformance of OPEC+ members not currently under political or economic sanction over the past year has strengthened the industry's belief that spare production capacity in the group is substantially lower than the roughly 1.2 mb/d in Saudi Arabia and the 0.7 mb/d in the UAE estimated by the International Energy Agency for September 2022.
OPEC+ to Cut Production
OPEC+ members agreed at their Oct. 5 ministerial meeting that production quotas for November and December would together be 2.0 mb/d below August quota levels. However, due to underproduction by many members, the new quotas are only expected to be binding on subset of OPEC+; Saudi Arabia and the UAE combined plan to cut 0.9 mb/d of production relative to their August output. Additionally, Iraq and Kuwait will together have to cut 0.2 mb/d for a total reduction in supply from the subset of countries of 1.1 mb/d, assuming full compliance with the cuts (Chart 2).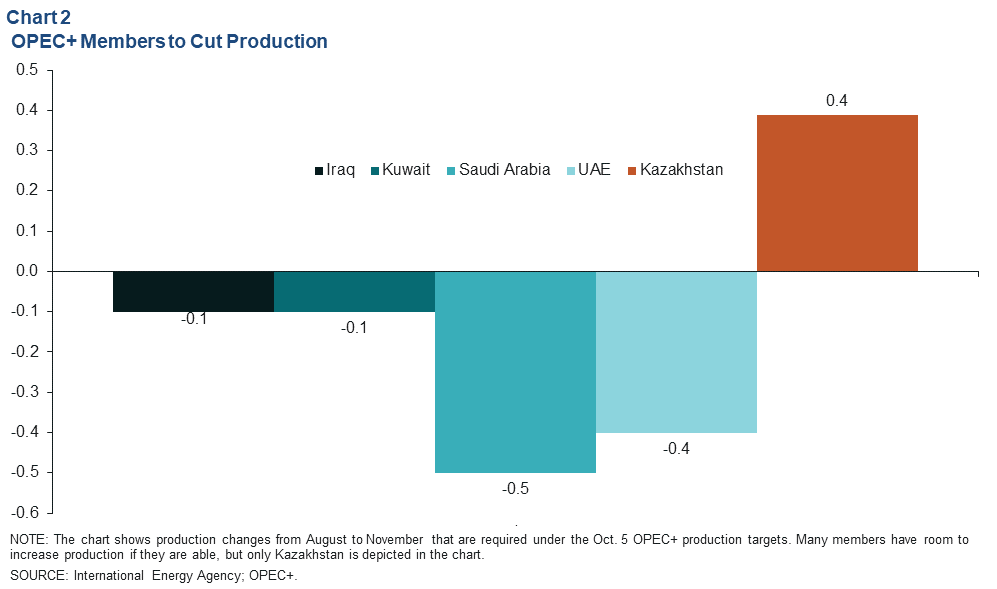 However, many countries will have room to increase production under the new quotas, though most may not be able. Kazakhstan will be able to increase production nearly 0.4 mb/d in November compared with August production as that country exits maintenance and repairs for its Kashagan, Tengiz and Karachaganak oil fields. Also, over 0.2 mb/d of the UAE's total contribution to the cut was already expected due to overproduction in August.
Consumption Projections
The energy crisis, soft economic data out of China and likely recession in Europe have put downward pressure on the International Energy Agency's projections for oil consumption growth through 2023. Year-end 2022 consumption was revised down 0.3 mb/d in October from September, and first quarter 2023 consumption was revised down 0.7 mb/d (Chart 3). Demand is projected to recover in the second half of 2023 and finish the year at 102.9 mb/d, lower than previously forecast. The IEA still sees demand growing a robust 2.3 mb/d from the end of 2022 to the end of 2023.
OECD Inventories
Implied inventories may have risen over the third quarter, but total OECD inventories of crude and other liquids, including strategic petroleum reserves (SPR), were at a low 3.6 billion barrels in August 2022 (Chart 4). OECD crude oil inventory levels (including the SPR) are projected to fall through early 2023, based on projections from the Energy Information Administration for OECD commercial stocks and the U.S. Strategic Petroleum Reserve.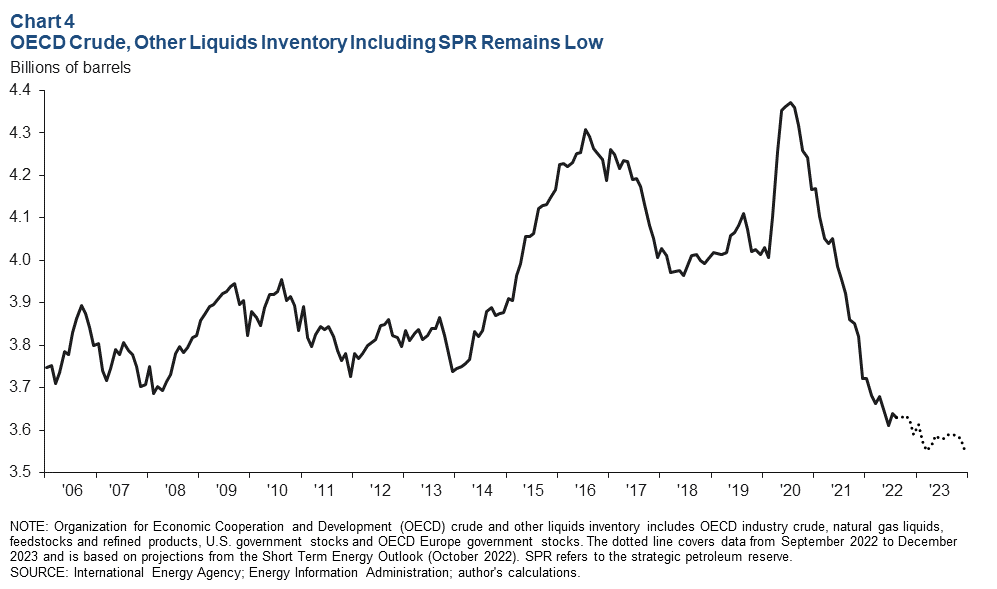 Inventories outside the OECD are more opaque. The levels of crude stocks in OPEC and China, for example, are not readily available.
Oil Prices
The slide in monthly average crude oil prices arrested from September to the first half of October. Brent crude fell from an average of $123 in June 2022 to $90, while West Texas Intermediate (WTI) fell from $115 to $85 (Chart 5). As of Oct. 18, crude oil futures implied that Brent would ease lower to $80 by year-end 2023. WTI futures imply a 2023 year-end price near $74.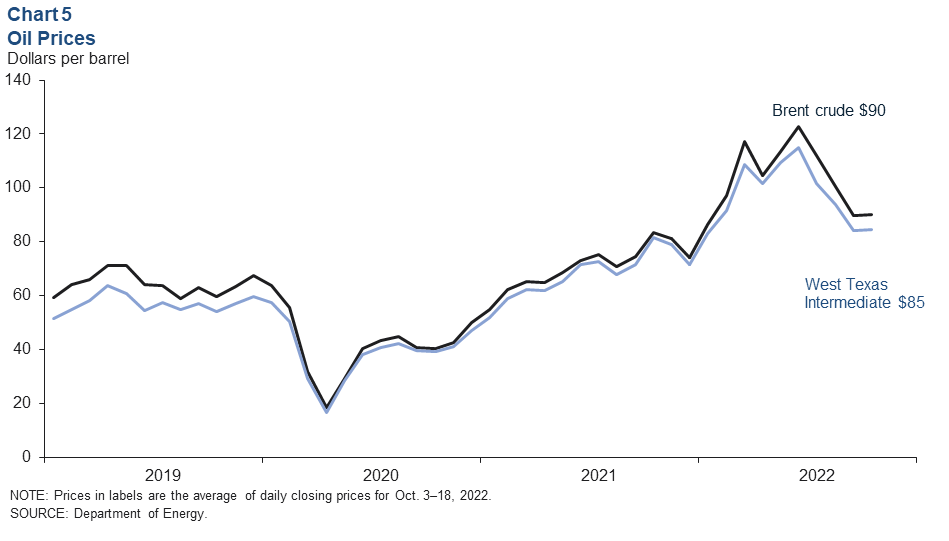 About Energy Indicators
Questions can be addressed to Jesse Thompson at jesse.thompson@dal.frb.org. Energy Indicators is released monthly and can be received by signing up for an email alert. For additional energy-related research, please visit the Dallas Fed's energy home page.