Dallas-Fort Worth Economic Indicators

August 5, 2022
The Dallas–Fort Worth economy expanded broadly in June. Payroll employment grew at a 3.2 percent annualized pace, bolstering growth in the Dallas and Fort Worth business-cycle indexes. In late July, dining out was slightly below prepandemic levels, and COVID-19 cases were trending upward. Activity in the office market continued to recover in the second quarter, pushing down vacancy rates, and industrial leasing and construction remained remarkably strong.
Labor market
Payrolls in DFW expanded an annualized 7.9 percent (77, 100 jobs) in the second quarter, in line with gains seen in the first quarter (Chart 1). Growth was broad based across sectors. Goods-sector employment expanded 5.7 percent as payrolls rose in both manufacturing (6.9 percent, or 5,000 jobs) and construction and ining (4.3 percent, or 2,400). On the services side, leisure and hospitality led growth (17.3 percent, or 15,900 jobs), followed closely by professional and business services (14.4 percent, or 25,100). Payrolls in the "other services" sector rebounded after contracting the previous quarter.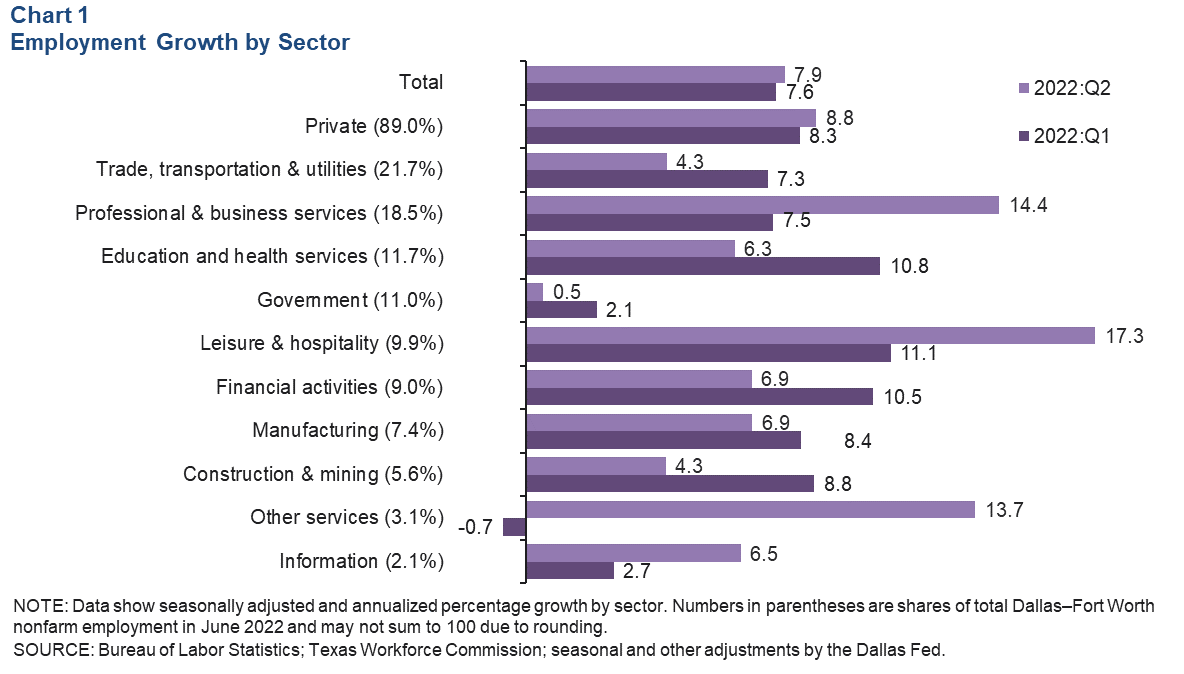 Business-cycle indexes
The Dallas and Fort Worth business-cycle indexes continued to expand strongly in June, buoyed by sustained job growth and low unemployment. The Dallas index climbed an annualized 10.8 percent—marking the 25th straight month of growth—and was up 16.9 percent from its prepandemic peak (Chart 2). The Fort Worth index rose an annualized 4.1 percent, surpassing its prepandemic high by 6.3 percent.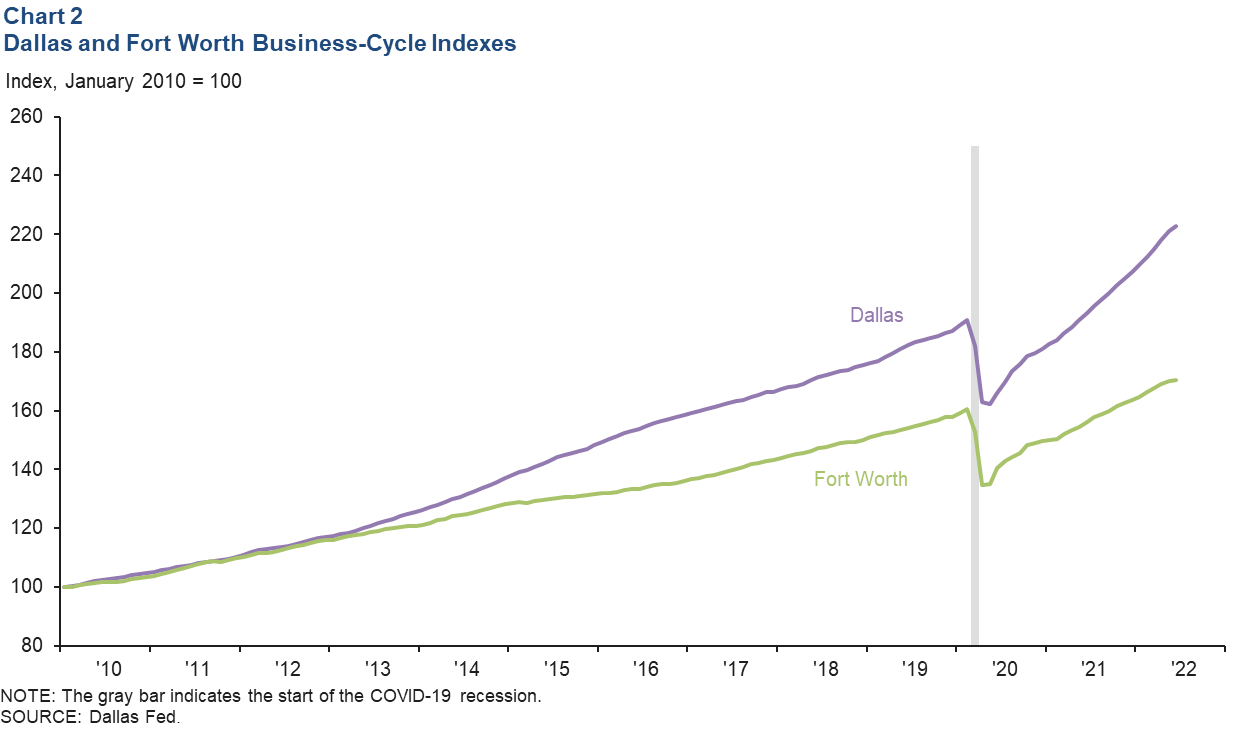 COVID-19 trends
Following a decline in cases in spring 2022, the seven-day average of daily new COVID-19 cases in DFW began inching upward in May and climbed further in June and July (Chart 3). Community spread has increased recently due to the highly contagious BA.5 subvariant. As of July 21, the number of cases were 29 per 100,000 residents. COVID hospitalizations are also on the rise and are expected to return to elevated levels by late August if current trends persist, according to projections by the University of Texas Southwestern Medical Center.
Dining out
As the COVID-19 omicron variant surged at the start of the year, the number of seated-diner reservations at restaurants in Dallas turned negative—falling below prepandemic levels to a low of -33.9 percent in early February. As the initial omicron wave receded, seated-diner reservations climbed and largely tracked 2019 levels from March through May. Since then, activity in Dallas has seen larger swings and was 10.5 percent below 2019 levels as of July 20, based on a seven-day moving average (Chart 4). Texas dining-out activity was strong at 12.3 percent above 2019 levels, while the U.S. was 4.1 percent below.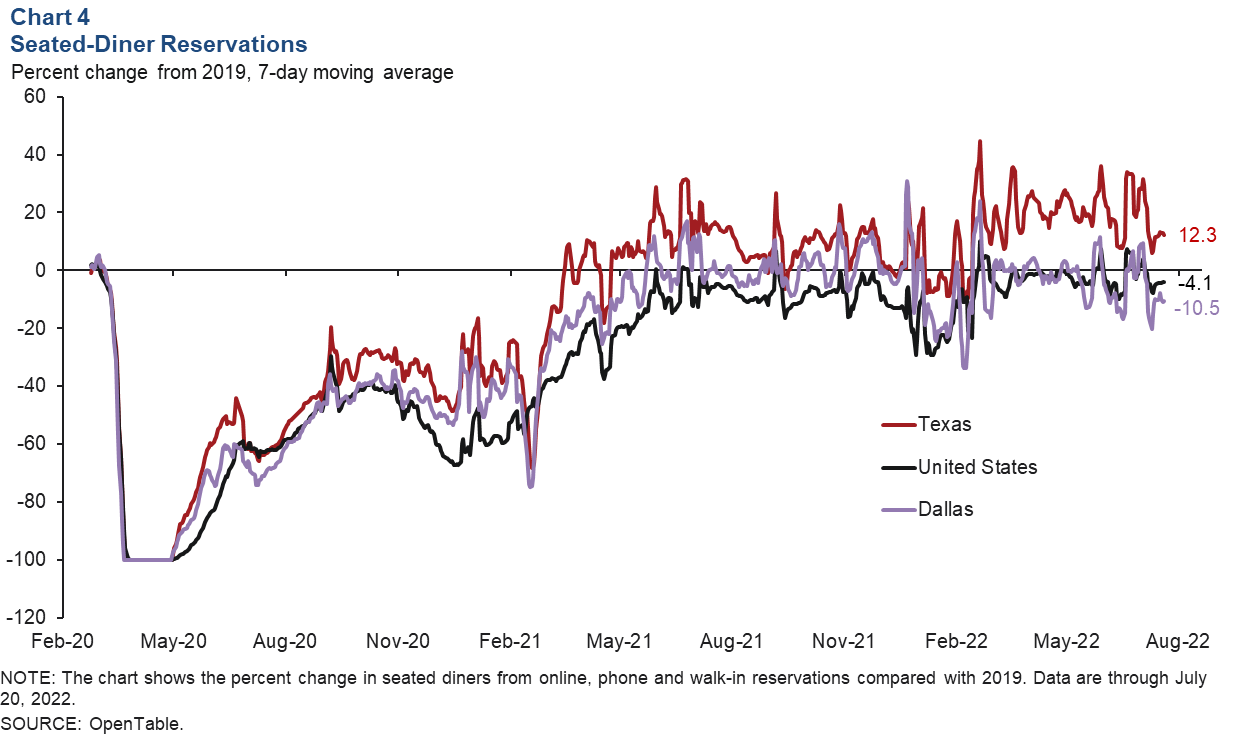 Commercial real estate
Office space demand slows; vacancy rate declines
Demand for office space in DFW slowed in the second quarter but remained positive. Net absorption was 556,000 square feet—a third of the first-quarter total, according to data from CBRE Research (Chart 5). The vacancy rate ticked down again, from 24.6 percent in the first quarter to 24.0 percent in the second. Availability of sublease space edged up to 9.4 million square feet, or 14.7 percent of total available space, with Class A properties accounting for well over 70 percent of sublease listings. The volume of space under construction rose to 5.9 million square feet in the second quarter. Business contacts expect demand to continue recovering this year given a positive outlook for the DFW labor market.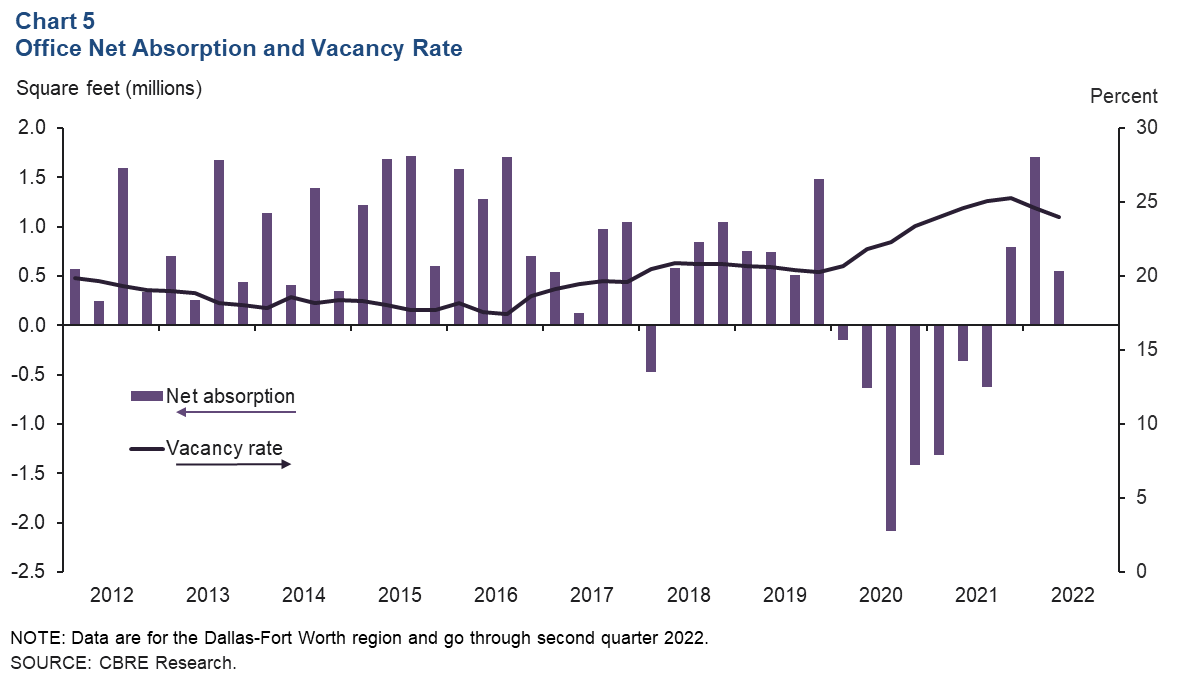 Industrial leasing stays robust
Industrial leasing's strong momentum continued in the second quarter, driven by demand from wholesalers, retailers, manufacturing and logistics firms. Net absorption was 9.7 million square feet—marking the 47th straight quarter of positive absorption, according to CBRE (Chart 6). The vacancy rate edged up to 5.1 percent due in part to an increase in square footage from new construction. The pandemic has boosted online sales growth, which has been a boon to distribution hubs such as DFW. Industrial construction continued to expand in the second quarter, reaching a new high of 62.8 million square feet, with just over a quarter of the space preleased. DFW ranks No. 1 among U.S. metros in square footage under construction.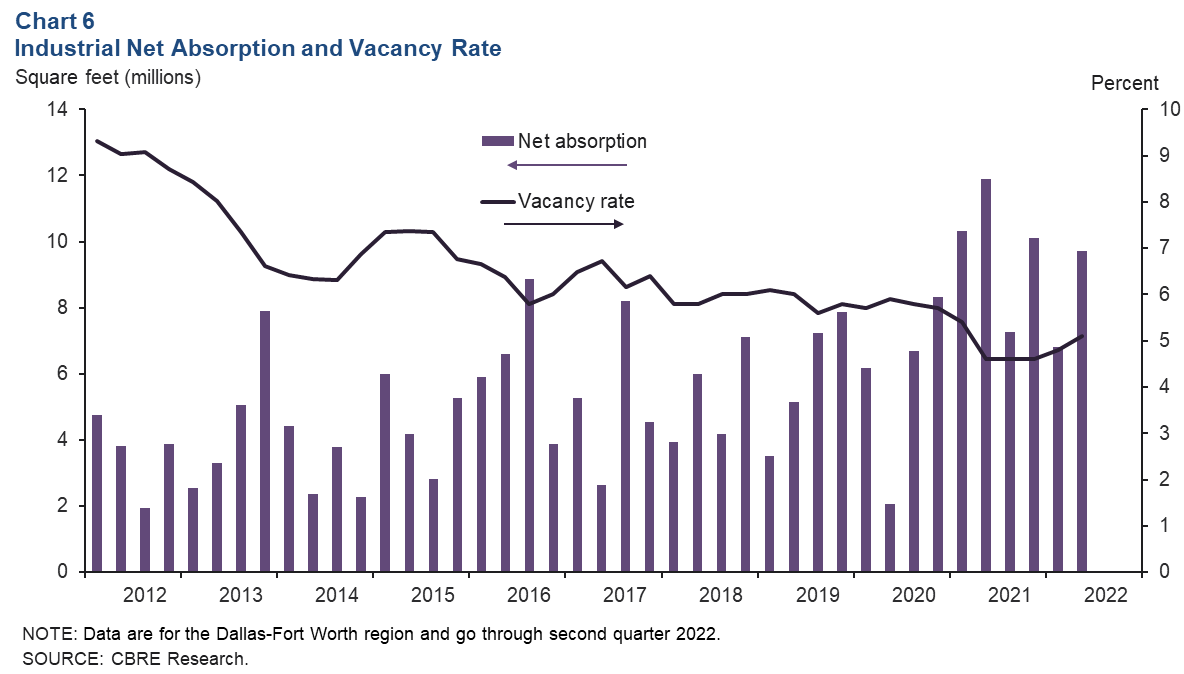 NOTE: Data may not match previously published numbers due to revisions.
About Dallas–Fort Worth Economic Indicators
Questions can be addressed to Laila Assanie at laila.assanie@dal.frb.org. Dallas–Fort Worth Economic Indicators is published every month after state and metro employment data are released.