El Paso Economic Indicators

May 26, 2022
El Paso's economic growth was relatively flat in April. The metro's business-cycle index expanded slightly. Employment was little changed, and the unemployment rate ticked up. While still above prepandemic levels, growth in job postings decelerated. Both weekly closed and pending home sales suggested a cooling housing market. U.S. industrial production and manufacturing output increased.
Business-Cycle Index
The El Paso Business-Cycle Index rose an annualized 0.7 percent in April after expanding 1.7 percent in March (Chart 1). Compared with April 2021, the index is up 5.2 percent.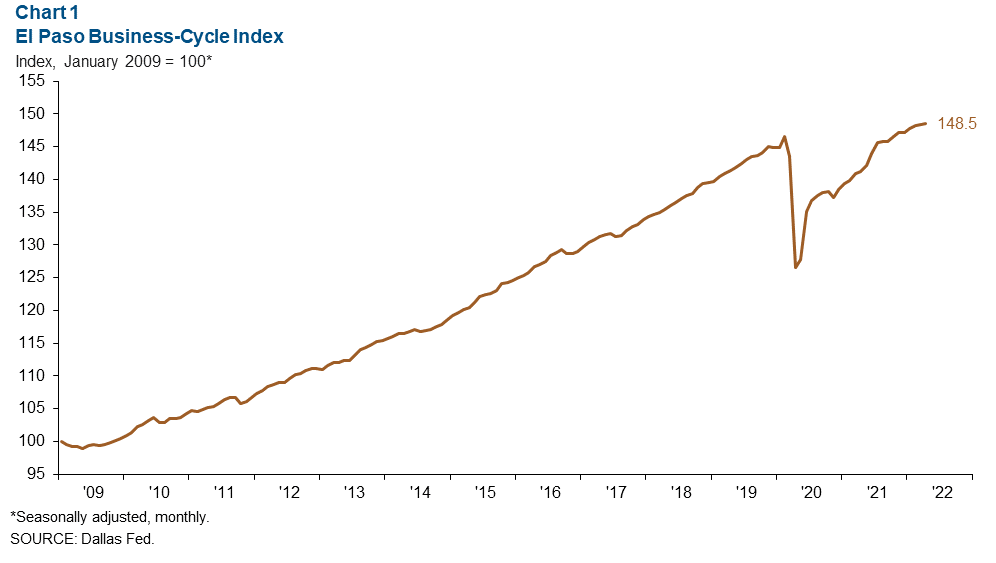 Labor Market
Payrolls Dip Again
El Paso's total nonfarm employment was essentially flat in April, down 0.1 percent (34 jobs) after dipping in March (Chart 2 ). Sectors that lost jobs included trade, transportation and utilities (290 jobs), leisure and hospitality (90), manufacturing (60) and government (50). The declines were nearly offset by employment gains in the professional and business services (300 jobs) and construction and mining (80) sectors.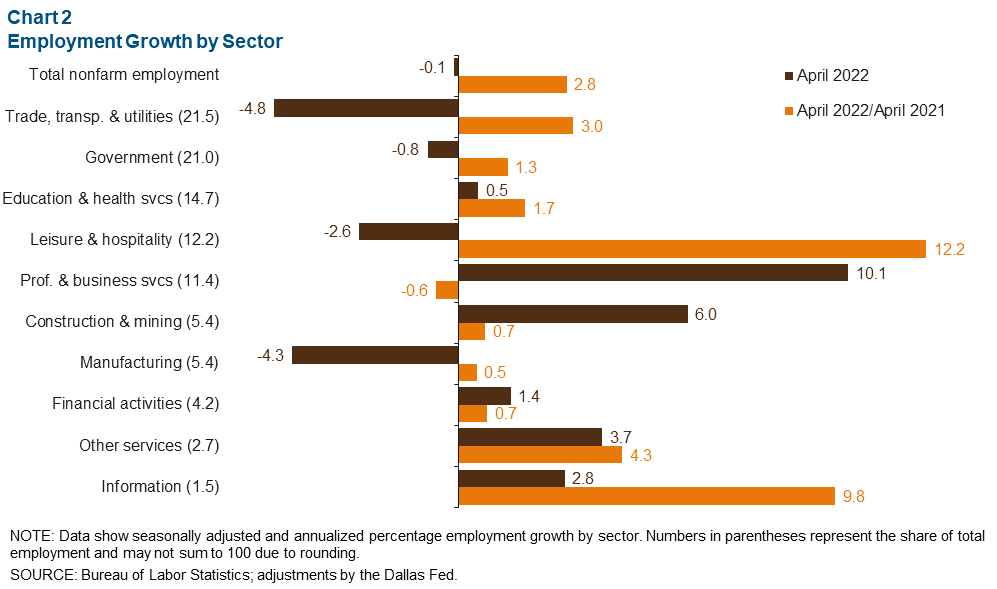 Compared with the same month last year, metro employment is up 2.8 percent, or by 8,830 jobs. Payroll gains were broad based over the period, with large gains seen in the leisure and hospitality (4,290 jobs), trade, transportation and utilities (2,010), government (850) and education and health services (810) sectors. Professional and business services was the only sector with employment below April 2021 levels—down 220 positions.
El Paso's unemployment rate ticked up from 4.4 to 4.5 percent in April. In contrast, the Texas figure dipped to 4.3 percent, while the U.S. rate remained at 3.6 percent in April.
Job Postings Trend Down but Remain High
Job-postings data from Indeed.com illustrate that openings remain well above prepandemic levels in the El Paso area, although they have been trending down since the end of 2021 (Chart 3). As of May 13, local job postings were 47.8 percent higher than on Feb. 1, 2020. However, this figure is 17.1 percentage points lower than on Dec. 31, 2021, when job postings in the metro peaked. Job postings relative to Feb. 1, 2020, for Texas and the U.S. were 59.0 percent and 55.6 percent higher, respectively.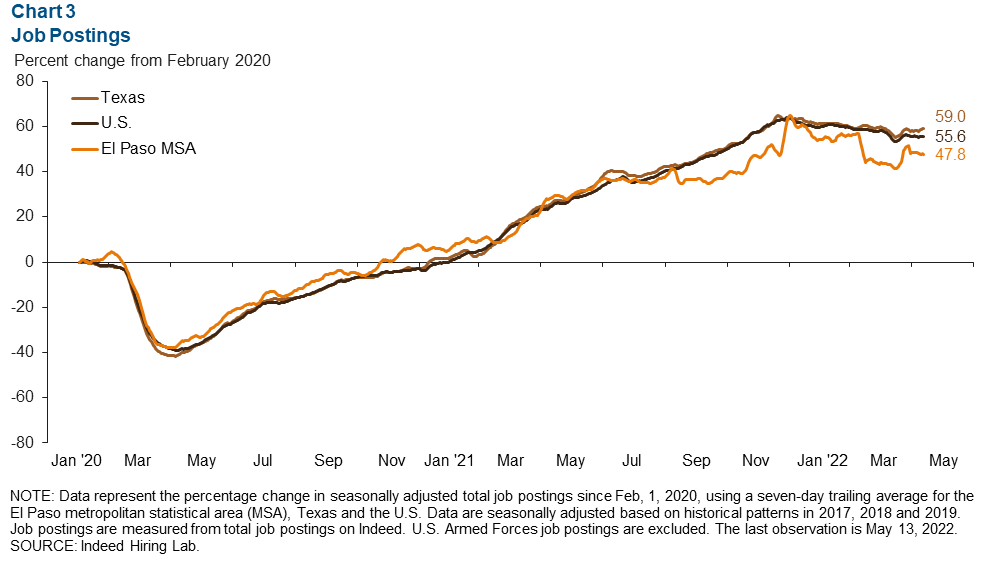 Housing
El Paso's housing market slowed in mid-May, largely due to tight inventories and rising prices and mortgage rates. According to high-frequency data from Redfin, the four-week moving average of homes sold fell 2.1 percent to 191 units from the weeks ending April 17 to May 15 (Chart 4). Compared with a year prior, the homes sold total was down 2.7 percent. Pending home sales fell 7.5 percent to 163 units from the weeks ending April 17 to May 15. Year over year, pending home sales are down 2.6 percent. Active listings in the metro totaled 1,161 units as of May 15, or 3.2 percent below the April 17 level and 33.2 percent less than a year ago.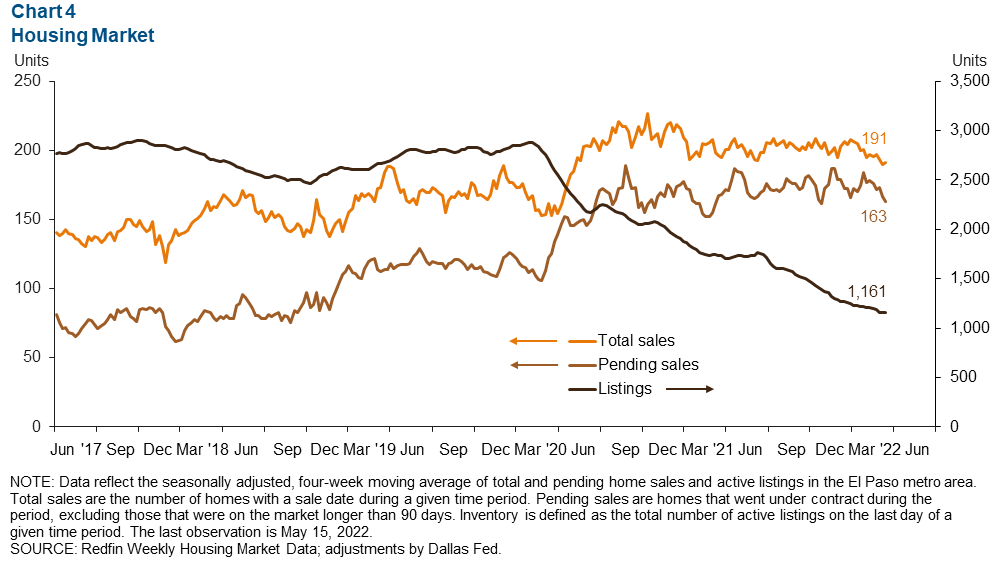 Industrial Production and Maquiladora-Related Activities
The monthly U.S. industrial production (IP) index rose from 104.5 in March to 105.6 in April and was up 6.4 percent from a year ago (Chart 5). Mexico's IP index edged up from 100.2 in February to 100.6 in March and was 2.4 percent higher than a year ago. The Institute for Supply Management (ISM) manufacturing index fell from March's 57.1 to 55.4 in April and was down 5.2 percentage points from a year ago. Though the ISM index reached its lowest level since July 2020, the figure remains above 50, indicating expansion in the manufacturing sector. Comments from ISM panelists indicated that supply constraints continued to impede growth and that improvements in labor availability slowed. While a slight easing in price pressures was observed, the panelists noted that energy market volatility continued.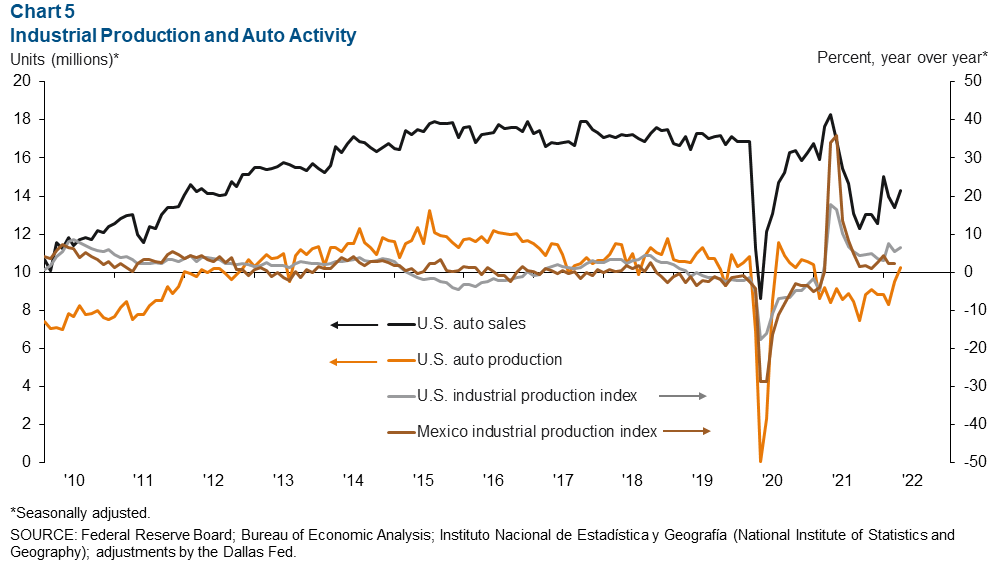 U.S. auto and light-truck production rose from 9.5 million units in March to 10.3 million in April. Monthly auto sales also rose, from 13.4 million in March to 14.3 million in April. Industrial and auto activity are closely linked to the El Paso-area economy because of cross-border manufacturing relationships. Roughly half of maquiladoras in Juárez are auto related.
NOTE: Data may not match previously published numbers due to revisions. The El Paso metropolitan statistical area includes El Paso and Hudspeth counties.
About El Paso Economic Indicators
Questions can be addressed to Keighton Hines at keighton.hines@dal.frb.org. El Paso Economic Indicators is published every month after state and metro employment data are released.