Houston Economic Indicators

May 29, 2018
Overall, the outlook for Houston remains positive. Recent job growth has been very strong and broad based, and the region is likely to receive a tailwind from continued strength in the U.S. and Texas economies. Local leading economic indicators suggest continued positive job gains the remainder of the year but at a somewhat slower pace.
Business-Cycle and Leading Indexes
Growth in the Houston Business-Cycle Index was a roaring 7.6 percent during the three months ending in April 2018—above its longer-run average of 3.2 percent (Chart 1). Annualized growth in the index since September 2017 has been a robust 7.5 percent, likely buoyed in part by a strong post-Harvey stimulus and higher oil prices.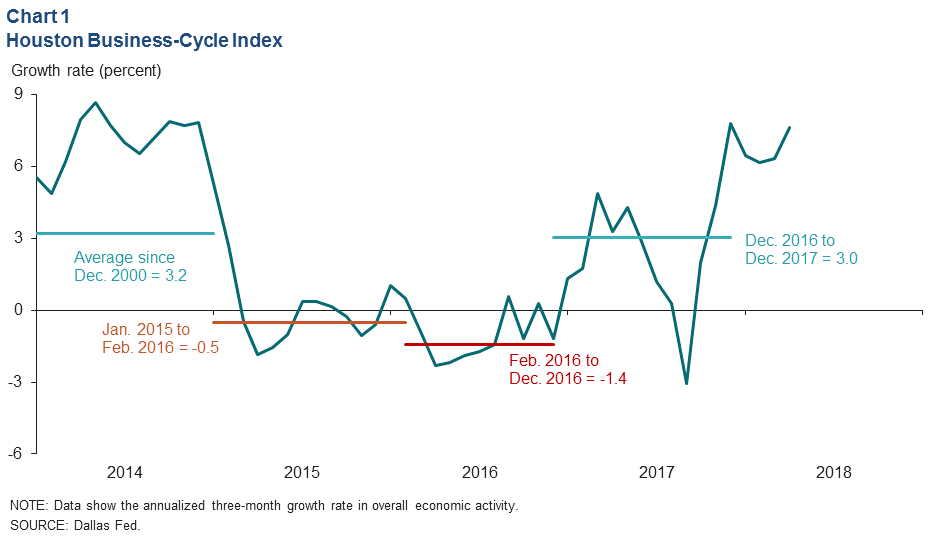 Employment
Payroll Expansion Remains Solid
Houston jobs grew at a strong annualized pace of 4.7 percent over the three months ending in April (about 35,400 jobs) (Chart 2). The biggest job gains were in professional and business services (11,000), while manufacturing (5,400)—propelled in part by rising oil and gas activity—logged the fastest growth rate. Education and health services (5,000) rounded out the top three contributions to job growth. Job losses over that same period were focused in government jobs (1,400), particularly local government.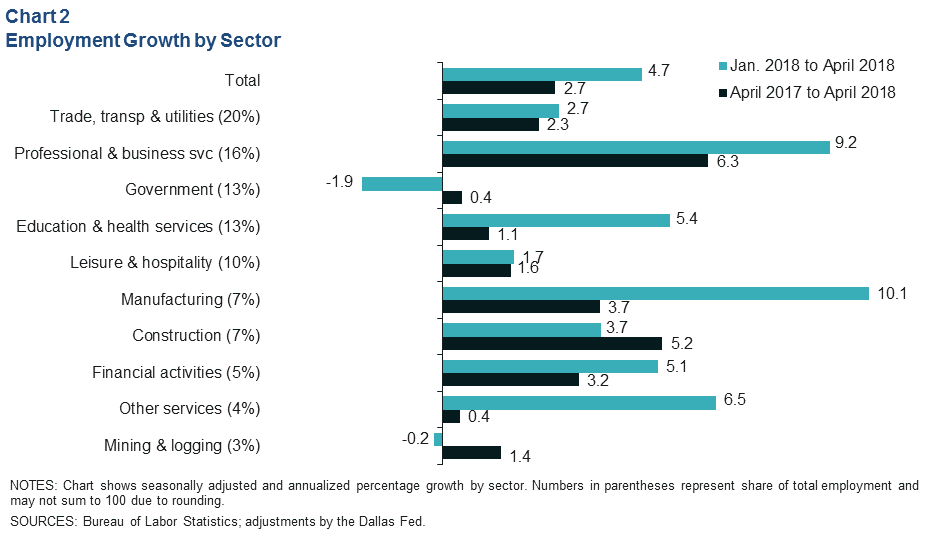 Year-over-year job growth was 2.7 percent in April (80,400), well above the metro's growth rate trend of about 2.1 percent. Professional and business services was far and away the growth leader over that time (30,000), followed by trade, transportation and utilities (14,000).
The unemployment rate in Houston was 4.6 percent in April, down 0.1 percentage points from March. This occurred amid healthy labor force growth, which has been trending up since January. In comparison, the April unemployment rate in Texas and the U.S. was 4.1 and 3.9 percent, respectively.
Service Sector Gains Stay Broad Based
Focusing on select subsectors within services, recent strong growth has come from three categories (Chart 3). The administrative, waste management, remediation and related subsector grew 11.3 percent (6,000) from January to April, driven mostly by employment services, which includes staffing firms. The next biggest additions came from wholesale trade (3,900) and the professional, scientific and technical (3,900) subsectors. The latter was driven mostly by architectural, engineering and related services, which is highly correlated with oil and gas activity.
Minor job losses in the selected services were concentrated in retail trade (280) and food services and drinking places (160).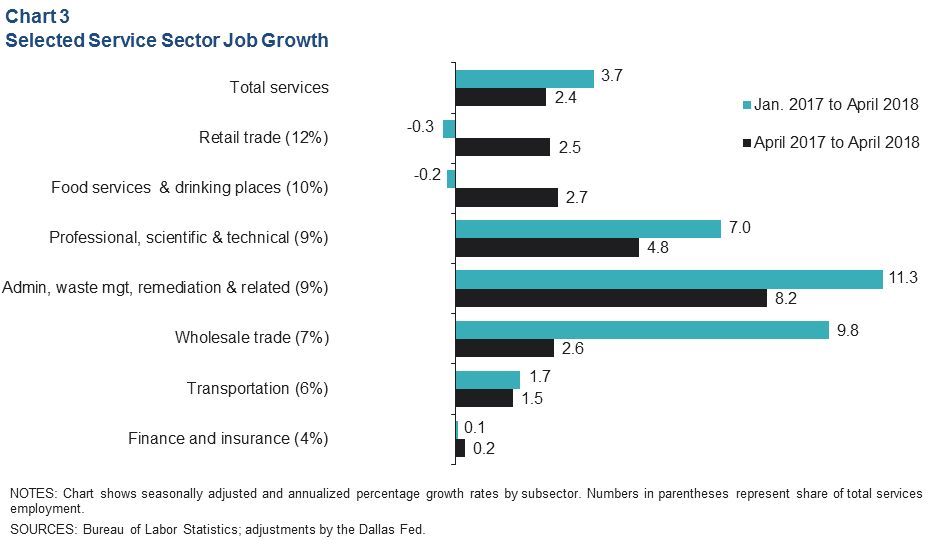 Leading Economic Indicators
U.S. and Texas Leading Indexes Point to Growth
The U.S. index of leading economic indicators produced by the Conference Board continued to increase in April, suggesting a healthy national growth outlook and a tailwind for Houston jobs through the rest of 2018 (Chart 4). However, recent growth in the index has slowed, decreasing the likelihood of acceleration in the national economy through the end of the year. As Houston's economy became increasingly diversified over the last 30 years, the importance of the national economy—independent of oil and gas—has increased.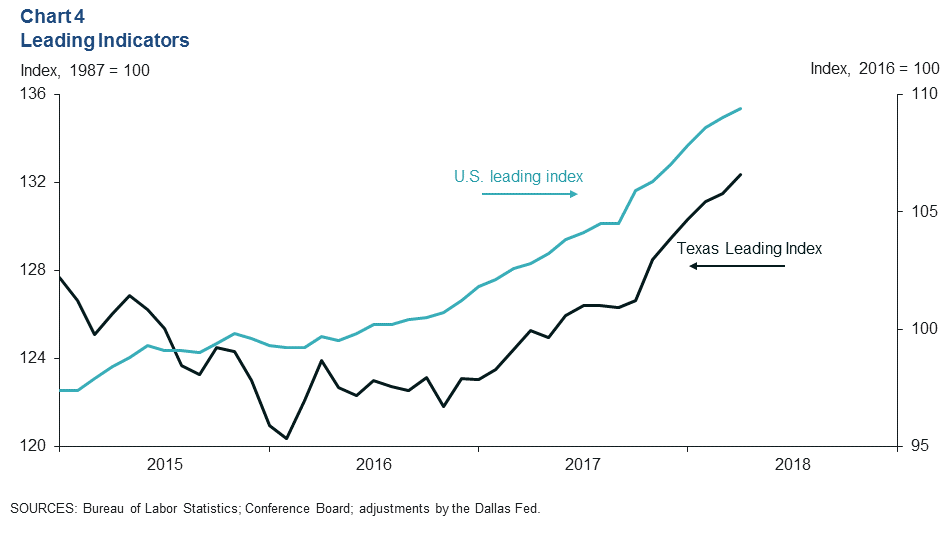 The Texas Leading Index also extended its upward trend, which is supportive of continued strong job expansion through the end of the year in the state and in Houston over the next several months. This index is used to produce the Dallas Fed's Texas Employment Forecast.
Houston Survey Indicates Continued Expansion
The Houston Purchasing Managers Index registered 56.6 in April, its highest reading since October 2014, and its sixth consecutive month above 50—indicating an expanding economy (Chart 5). The index has a strong correlation with current job growth and job growth over the next three to four months. Strength among the eight-component series in the index has been broad based, with employment being the highest-scoring component. The May report indicated wholesale trade, health care, professional services, manufacturing and midstream oil and gas (transportation and storage) as the industries driving the recent improvements in the index.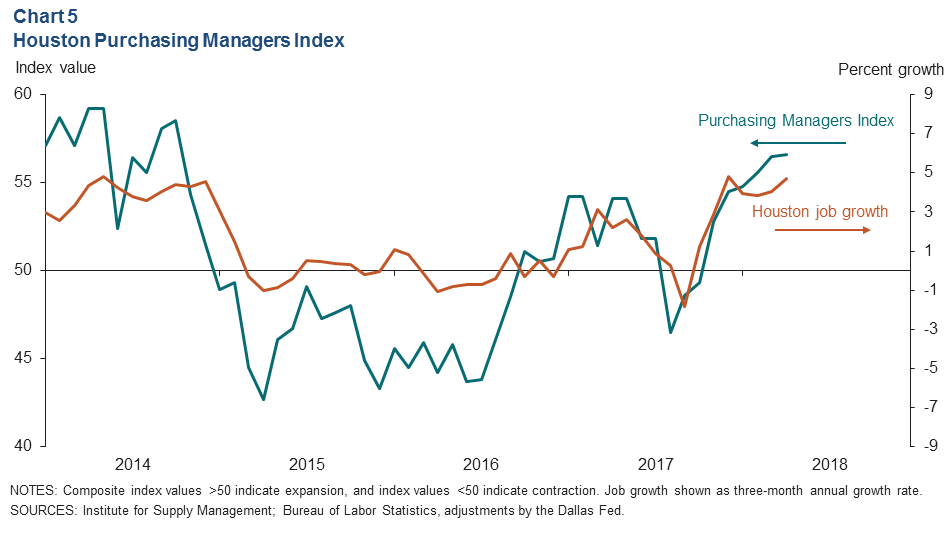 Houston Leading Index Signals Slower Growth
Growth in an index of 11 leading indicators for Houston continued to slow in April, with seven of the components improving over that period (Chart 6). This implies that job growth in Houston will likely remain positive but slow somewhat the remainder of the year. The index surged after Hurricane Harvey, but recent numbers suggest that storm-generated stimulus may be fading.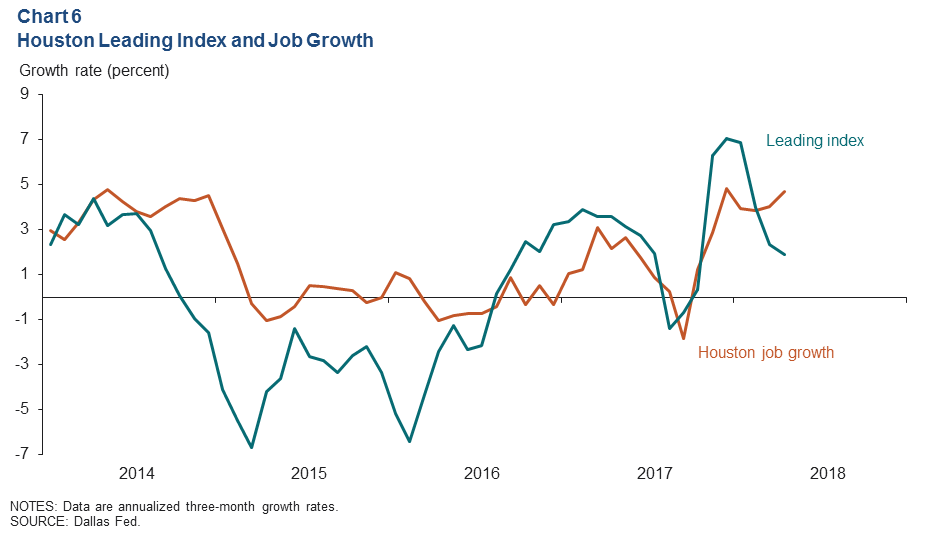 NOTE: Data may not match previously published numbers due to revisions.
About Houston Economic Indicators
Questions can be addressed to Jesse Thompson at jesse.thompson@dal.frb.org. Houston Economic Indicators is posted on the second Monday after monthly Houston-area employment data are released.