Houston Economic Indicators

March 25, 2022
The Houston economy ended 2021 with momentum and is on pace to recover jobs lost during the pandemic by June 2022. The burden of COVID-19 has again receded. The mining sector accelerated to its fastest growth rate since 1981. Other mining-related industries were ramping up as well after nearly a year of strong oil and gas prices. However, record-setting fuel prices will be a burden to area consumers even as the region benefits from a reviving oil and gas sector. Taken together, the trends suggest the outlook for Houston is positive.
Local COVID-19 data
The highly contagious omicron variant drove record numbers of identified infections, but the subsequent surges in hospitalizations and fatalities were more muted than in prior waves. As of March 19, the seven-day average number of COVID-19-positive patients in the Houston and Galveston Trauma Service Areas had fallen to 472 (Chart 1).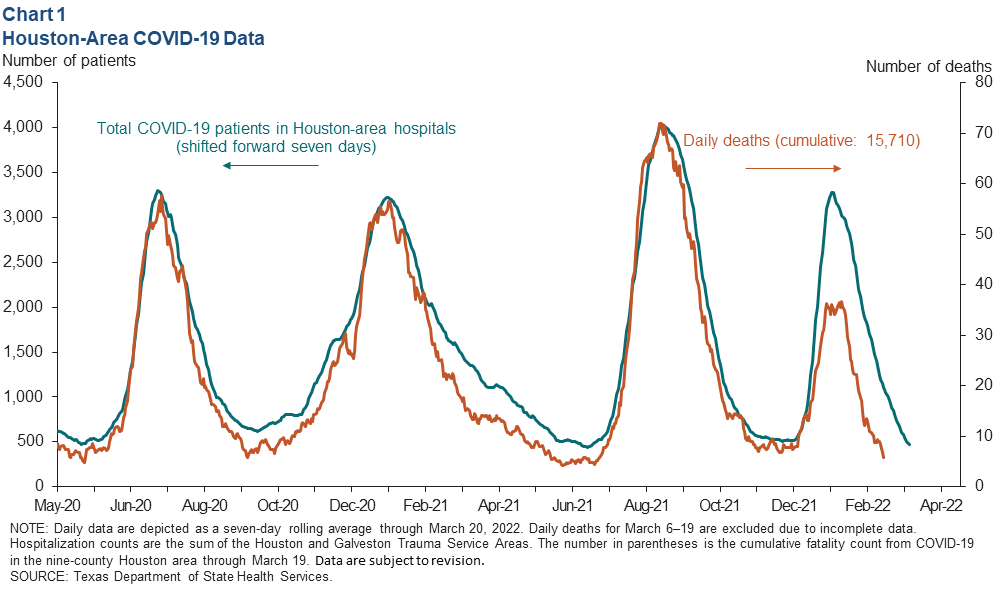 The seven-day average number of daily fatalities had fallen to nine at the start of March. Recent tabulations of daily deaths are revised substantially due largely to administrative lags.
Out of the vaccine-eligible population in the metro area, 60.5 percent had received at least two vaccinations as of March 20, and those with three shots reached 27.1 percent. The rising immunity from both vaccinations and prior infections could help mute the health and economic impacts of newer versions like the omicron BA.2 subvariant.
Employment
Houston outpaces U.S. in jobs in 2021
In 2021, Houston added 148,227 jobs, and payrolls slightly outpaced the U.S. outside of Texas. The metro had recovered over 98 percent of prepandemic jobs in January 2022 (Chart 2). The rest of Texas fully recovered last year, led by stellar growth in Austin and Dallas–Fort Worth.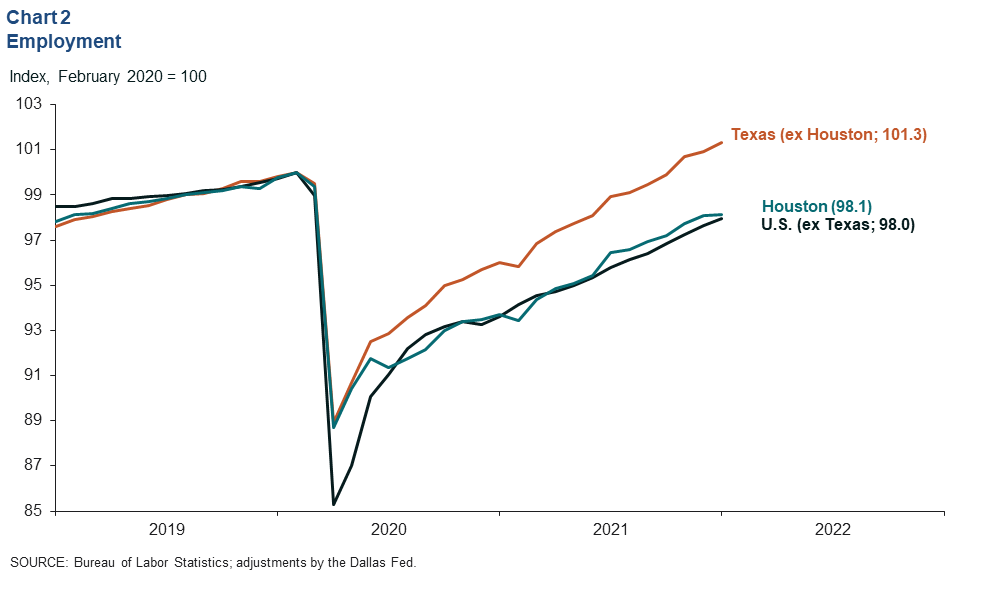 Houston enters 2022 with momentum
Over the three months ending in January 2022, Houston employment grew at a 3.9 percent annual pace, or by more than 29,700 jobs (Chart 3). At that pace, Houston will recover to prepandemic levels of employment by June 2022. The individual industry groups that have surpassed pandemic losses are trade, transportation and utilities; government; education and health services; and financial activities.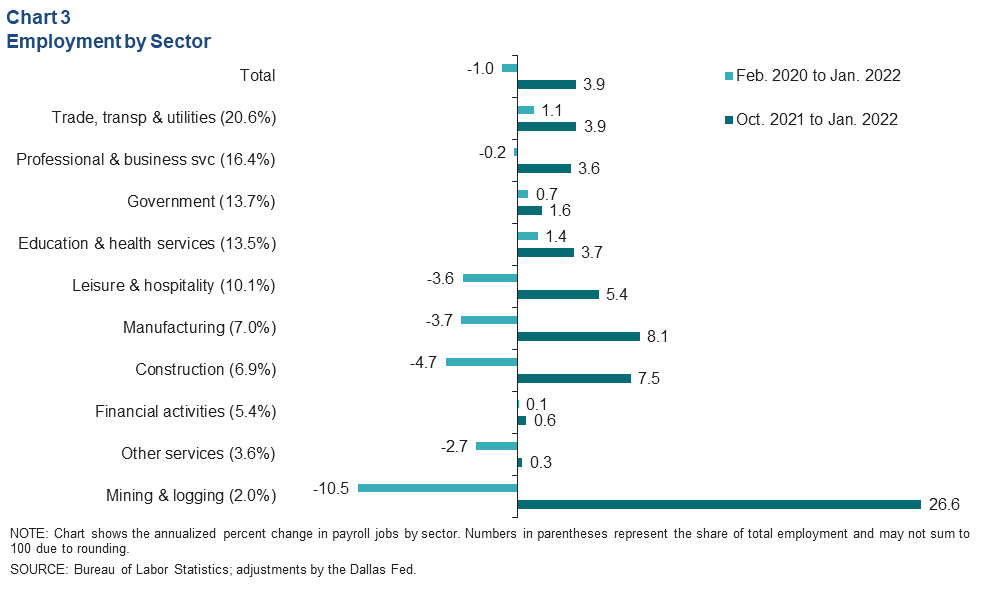 The small mining sector (oil and gas) saw the fastest annual growth rate over the three months ending in January at 26.6 percent, or 3,600 jobs. That's the sector's fastest three-month pace since November 1981, when the category was nearly twice as large. However, the sector that added the most jobs—6,140—in the recent three-month period was trade, transportation and utilities.
Energy indicators
Local energy job growth picking up
The acceleration in mining employment is remarkable, though still subject to revision. However, a large part of the oil and gas supply chain runs through Houston's manufacturing firms. Fabricated metals manufacturing, and agriculture, construction and mining machinery are highly correlated with drilling activity. The mining sector also factors heavily into engineering and related services activity. These related sectors—particularly manufacturing—added or lost as many or more jobs as the mining sector in Houston during past oil cycles.
While still an imperfect representation of the oil and gas industry's larger footprint in Houston, these selected mining-related sectors collectively added nearly 7,200 jobs to payrolls over the three months ending in January 2022 (Chart 4). This was led by support activities for mining, with 1,950 jobs, and fabricated metals manufacturing, with 1,660. These are both traditionally the first sectors to respond to changes in rig counts and oil prices.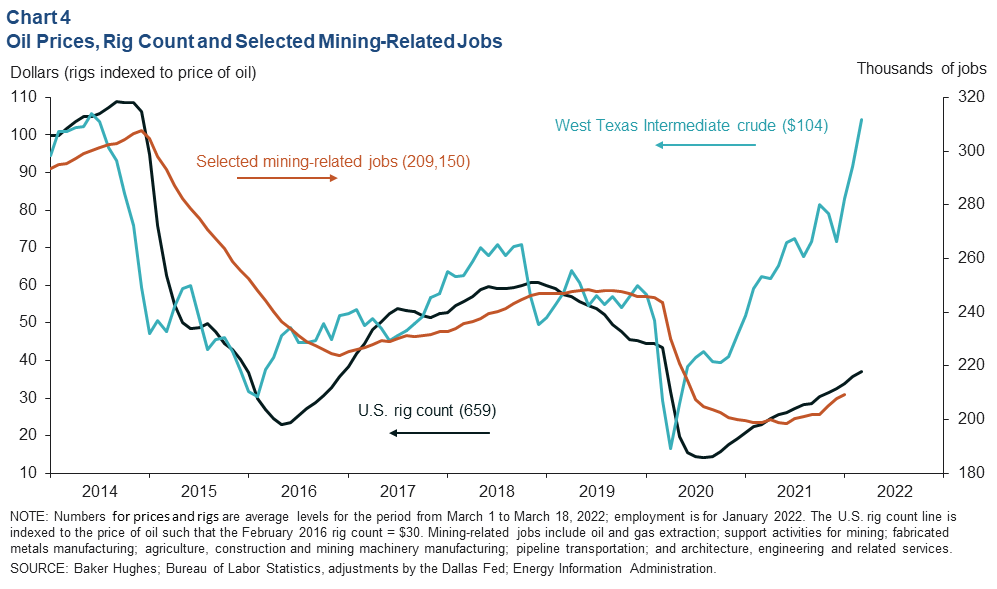 Despite the diversification that has occurred in the metro, energy remains a significant factor in the difference between growth rates in the local economy and the national economy. With oil prices averaging $104 in March so far, there is ample room for the sector to ramp up activity, which would be a significant boost to the local economy. However, it is unclear to what extent the sector will be willing to deviate from the capital discipline that has kept oilfield activity muted over the past year of elevated prices.
Local fuel prices surge
Higher oil prices may be a boon for the Houston region, but rising motor fuel prices are a challenge for consumers. The average price of a gallon of regular retail gasoline in Houston reached a high of $3.97 on March 14, building on prior sharp increases tied to Russia's invasion of Ukraine (Chart 5).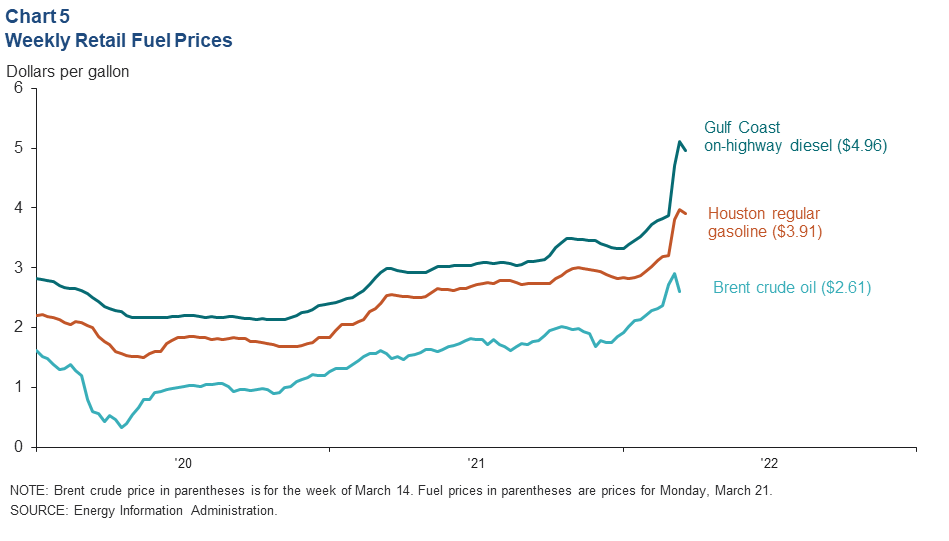 Gulf Coast on-highway diesel rose to $5.10 last week. That is the highest nominal retail price since the Energy Information Administration started tracking it in 1994, and the highest inflation-adjusted price since the summer of 2008. At that time, Brent crude oil soared as high as $146 per barrel, or nearly $3.48 per gallon. The average price of Brent eased slightly from $2.91 per gallon to $2.61 the week of March 14. Retail fuel prices followed suit on March 21.
NOTE: Data may not match previously published numbers due to revisions.
About Houston Economic Indicators
Questions can be addressed to Jesse Thompson at jesse.thompson@dal.frb.org. Houston Economic Indicators is posted on the second Monday after monthly Houston-area employment data are released.