San Antonio Economic Indicators

January 4, 2019
Growth in the San Antonio economy was moderate in November. The San Antonio Business-Cycle Index continued to accelerate, and the unemployment rate was unchanged. Employment growth ticked up from October, and the leisure and hospitality, manufacturing, and mining industries added a substantial number of jobs during the three months ending in November. Housing prices continue to rise, and stock prices of San Antonio companies declined sharply.
Business-Cycle Index
The San Antonio Business-Cycle Index expanded at a 3.7 percent annualized rate in November, almost 1 percent above October's rate and above its long-term average of 3 percent (Chart 1). The unemployment rate remained near historical lows, and job growth accelerated.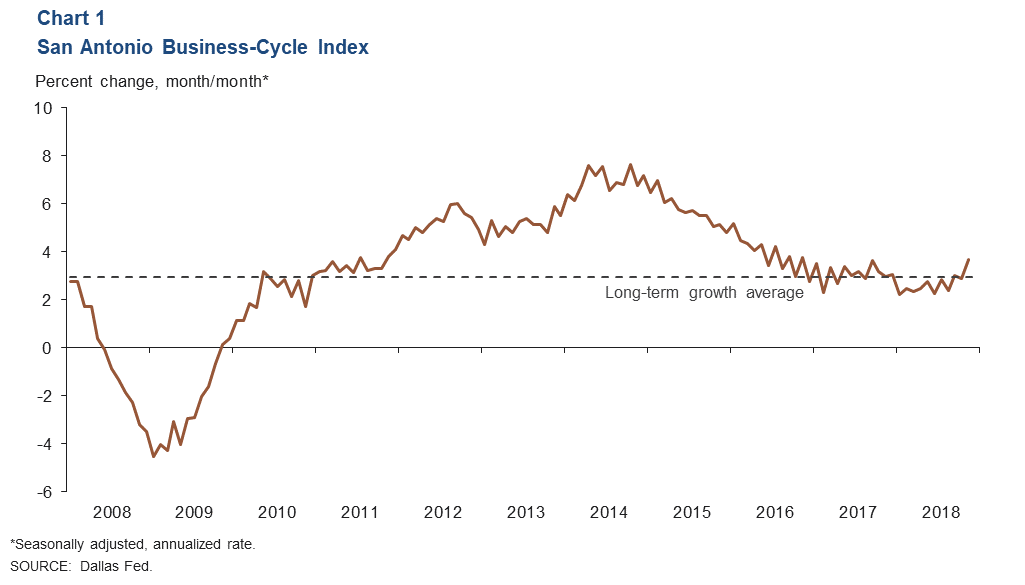 Labor Market
Unemployment Rate Holds Steady
The San Antonio unemployment rate remained at 3.2 percent in November, significantly lower than the Texas and U.S. rates of 3.7 percent (Chart 2). The San Antonio labor force expanded at a 1.4 percent annualized rate over the first 11 months of the year, while the state's growth was 2.4 percent and the nation's was 1.7 percent for that period.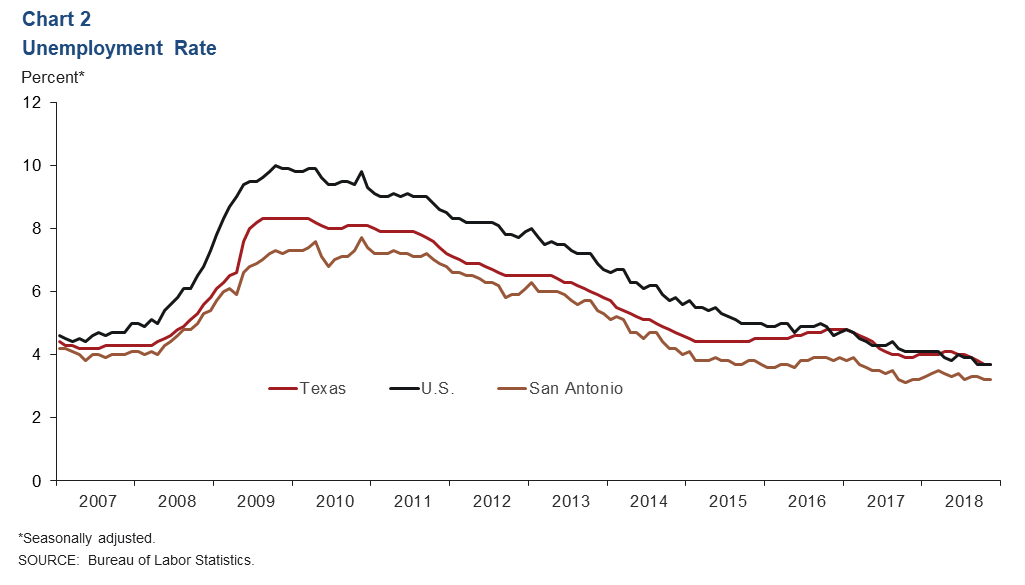 Job Growth Strengthens
Jobs in San Antonio grew 2.7 percent during the three months ending in November and 1.4 percent year to date (Chart 3). Growth by sector was mixed. Mining continued to add jobs at a strong rate, increasing by 7.1 percent in the past three months. The manufacturing and leisure and hospitality industries also experienced sizable job increases, adding approximately 900 and 3,150 jobs, respectively. Employment growth in construction, information and other services sectors contracted during this period.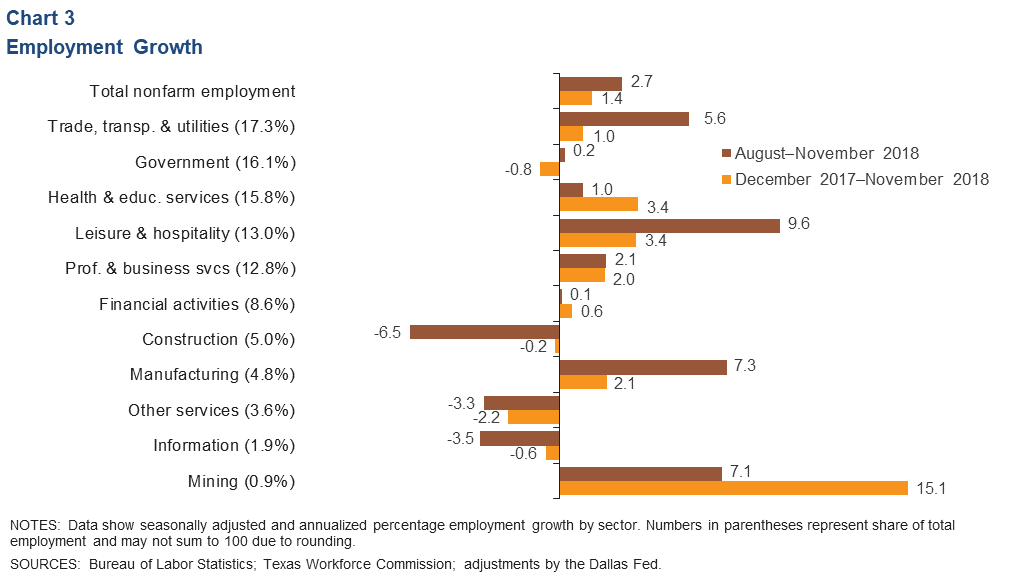 Hourly Wages
The three-month average of the private sector hourly wage in San Antonio dipped to $23.71 in November (Chart 4). Year-to-date growth was an annualized 0.8 percent, slightly slower than the state's 1.3 percent and well behind the nation's 2.9 percent.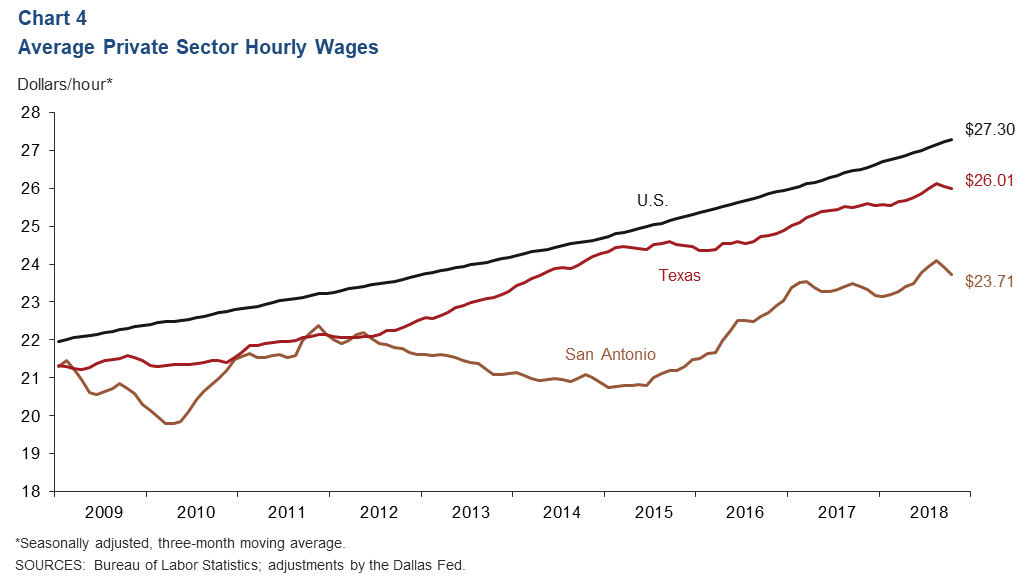 Real Estate
The median home price in San Antonio was $227,342 in November, an increase of 2.4 percent year over year (Chart 5). This is slightly higher than Texas' 1.8 percent increase. Home inventories were at 3.5 months' supply in November, significantly below the six months considered a balanced market.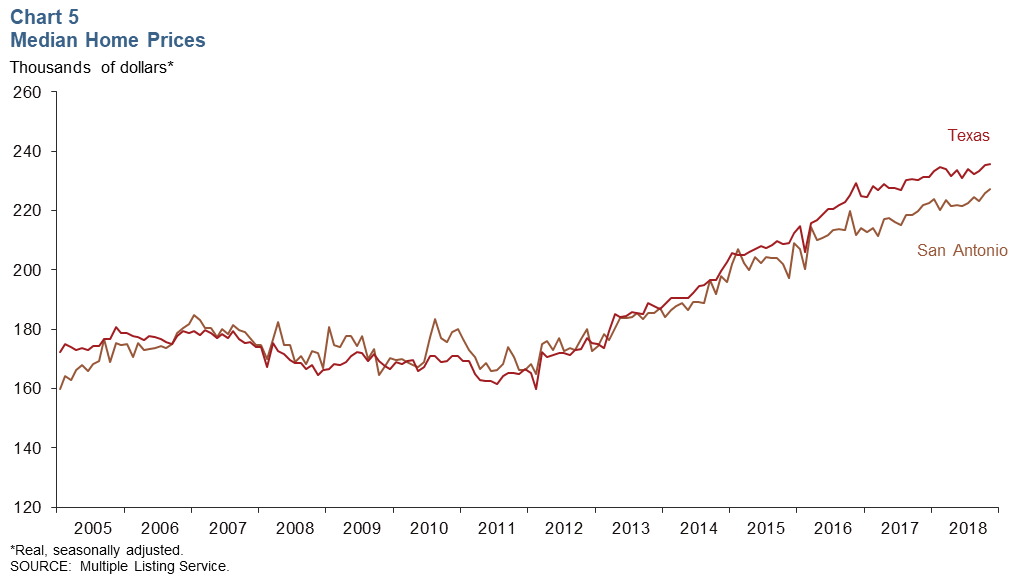 Stock Prices
Stock prices of companies with a notable presence in San Antonio fell a staggering 20 percent from Nov. 19 to Dec. 21, while the S&P 500 decreased a hefty 10 percent (Chart 6). All sectors were influenced by the stock market downturn, though at differing magnitudes. Finance and downstream-energy-related firms experienced considerable losses, whereas manufacturing and food service companies saw moderate declines. Companies in the communication industry encountered mild dips in stock prices.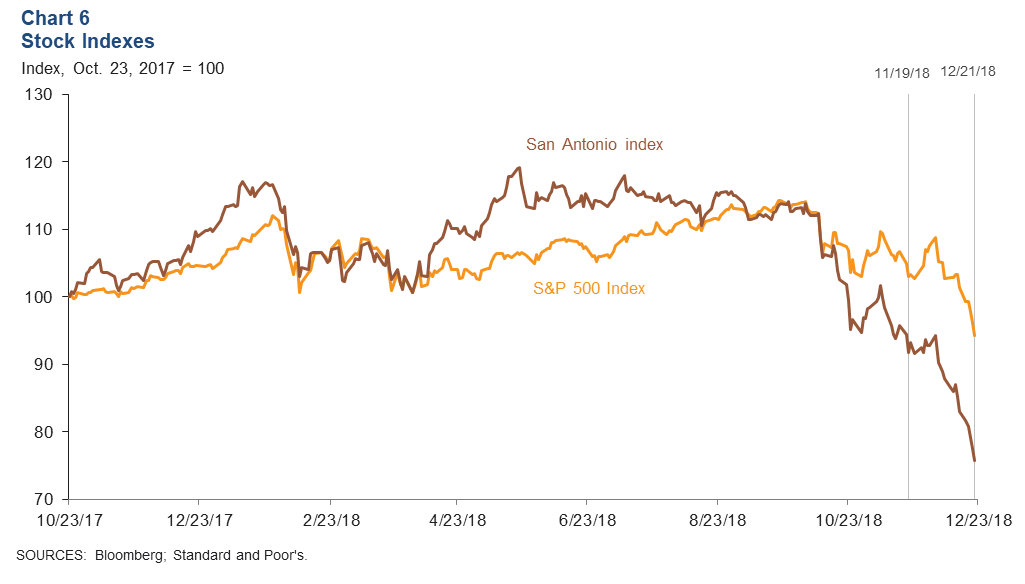 NOTE: Data may not match previously published numbers due to revisions.
About San Antonio Economic Indicators
Questions can be addressed to Judy Teng at judy.teng@dal.frb.org. San Antonio Economic Indicators is published every month on the Thursday after state and metro employment data are released.