San Antonio Economic Indicators

April 22, 2022
Broad measures of the San Antonio economy remained positive in March. The San Antonio Business-Cycle Index grew as the unemployment rate fell. Annualized net job growth over the first quarter was positive, though the pace of growth slowed from 2021's rate. Mobility continued to increase, house prices climbed to record levels, and office vacancy rates continued to rise.
Business-cycle index
The San Antonio Business-Cycle Index—a broad measure of economic activity in the metro— grew at an annualized rate of 6.6 percent in March after rising 7.2 percent in February (Chart 1).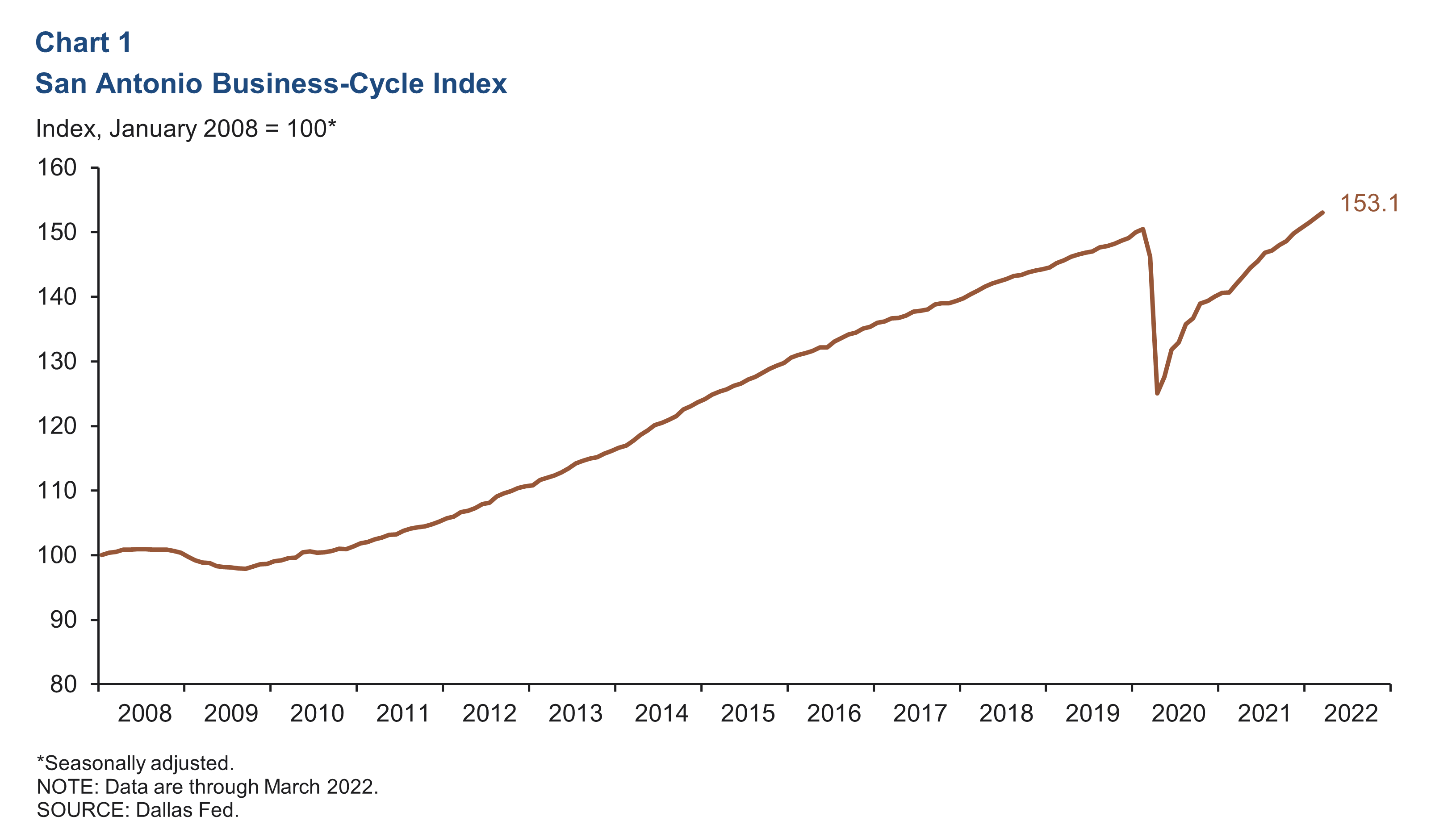 Labor market
Unemployment rate dips
The metro's unemployment rate fell in March to 3.6 percent, the lowest rate since the start of the pandemic (Chart 2). However, this decline can be attributed to a drop in the labor force, which fell an annualized 3.2 percent in March. In Texas and the U.S., the jobless rates dropped to 4.4 percent and 3.6 percent, respectively. Meanwhile, the labor force grew an annualized 3.5 percent in Texas and 3.1 percent in the U.S.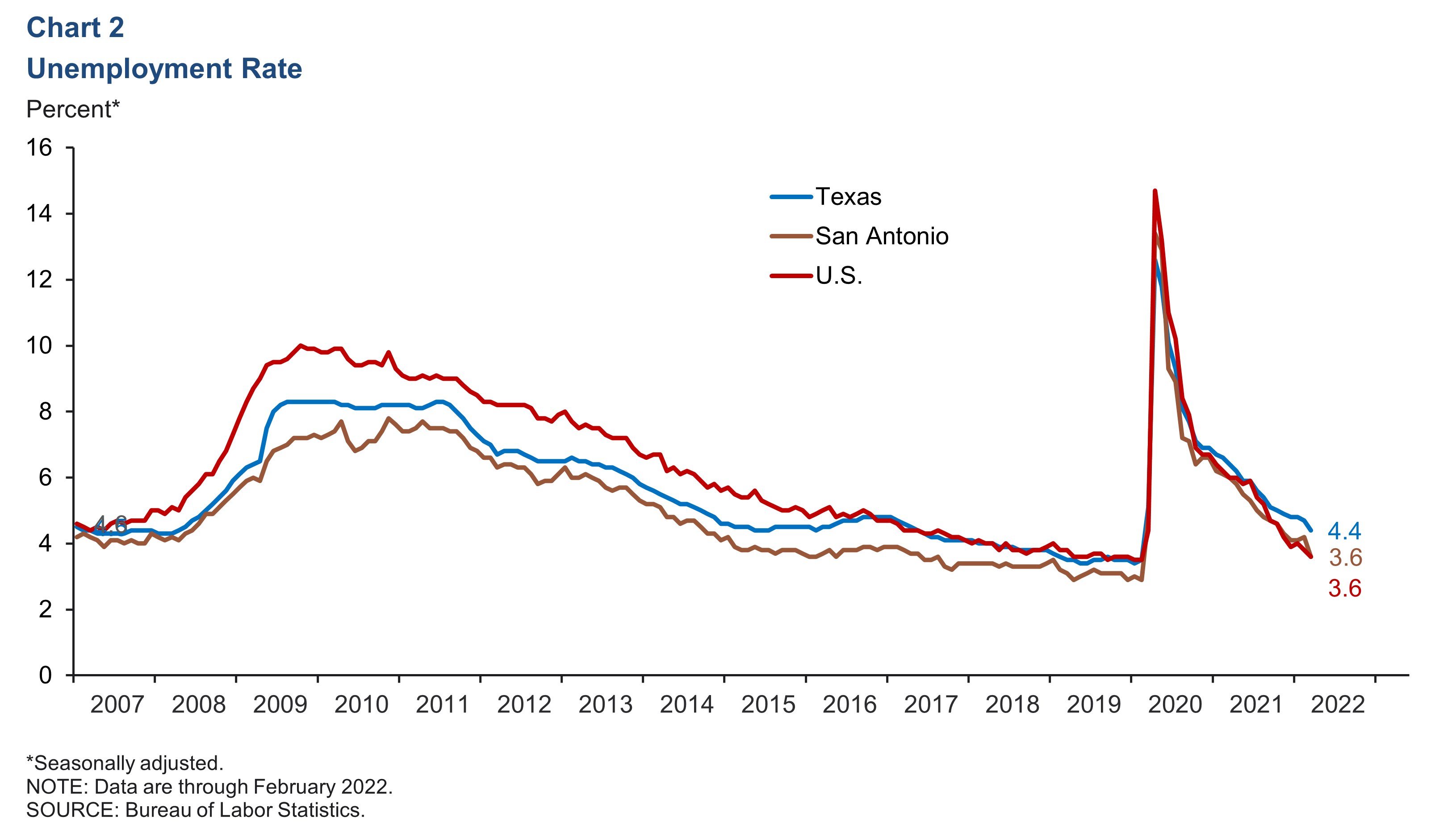 Recent job gains mostly positive
San Antonio payrolls expanded an annualized 3.9 percent (10,317 jobs) in the first quarter of the year (Chart 3). Among the major sectors, health and education services (11.0 percent, or 4,366 jobs) led three-month growth, followed closely by leisure and hospitality (8.9 percent, or 2,830 jobs). Industries that posted contractions were government (-2.0 percent, or 868 jobs) and manufacturing (-4.0 percent, or 530 jobs). In March and April 2020 combined, 137,946 jobs were lost in the metro as the pandemic hit. As of February 2022, all jobs had been recovered.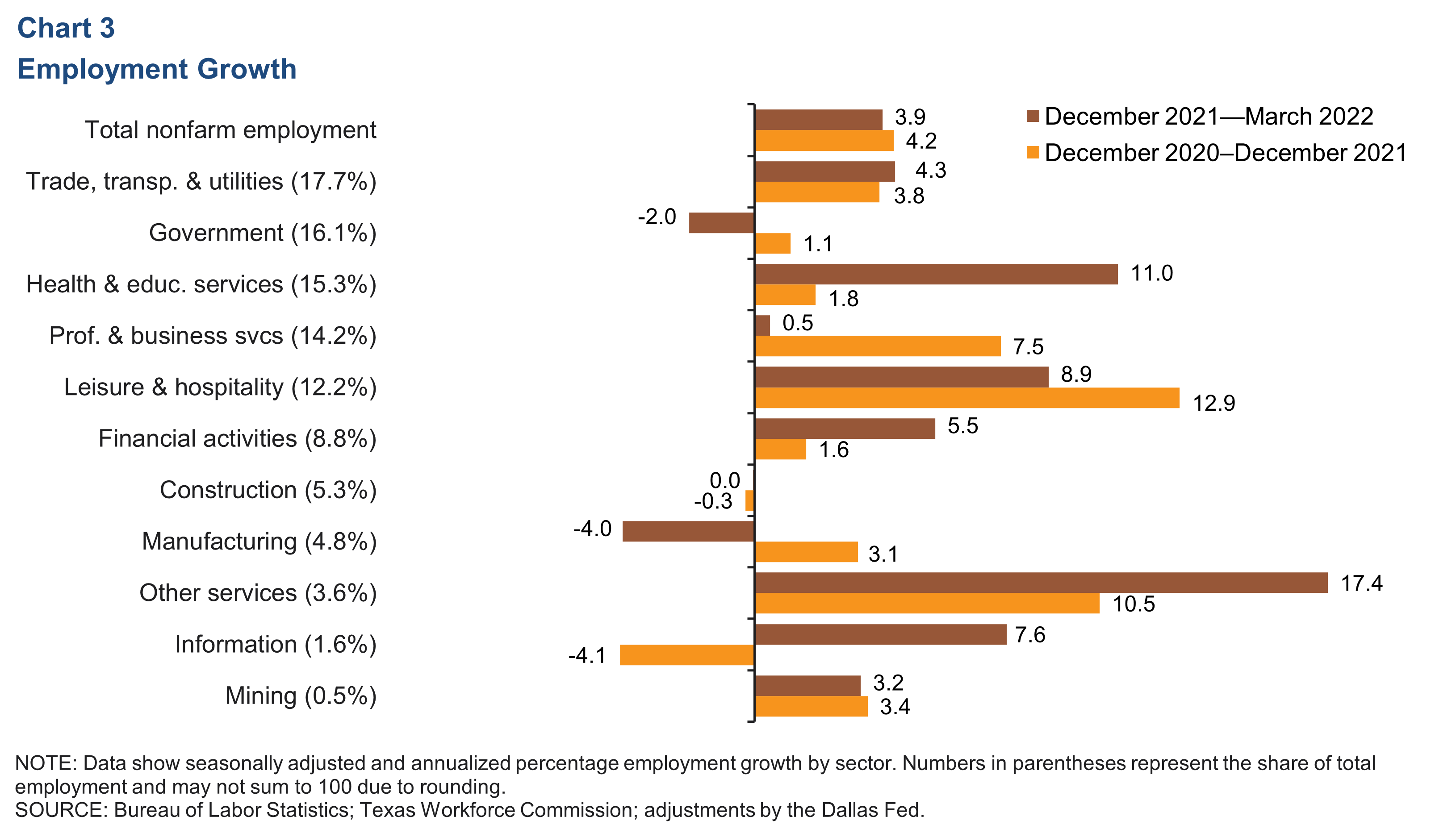 Mobility
San Antonio mobility has increased significantly after falling toward the end of 2021. While it was down as much as 15.0 percent compared with January 2020 levels, activity has increased 11.3 percentage points over the past four months to -3.7 percent as COVID-19's omicron cases eased (Chart 4). This level is slightly below the Texas and U.S. levels of -3.0 and -3.4 percent, respectively.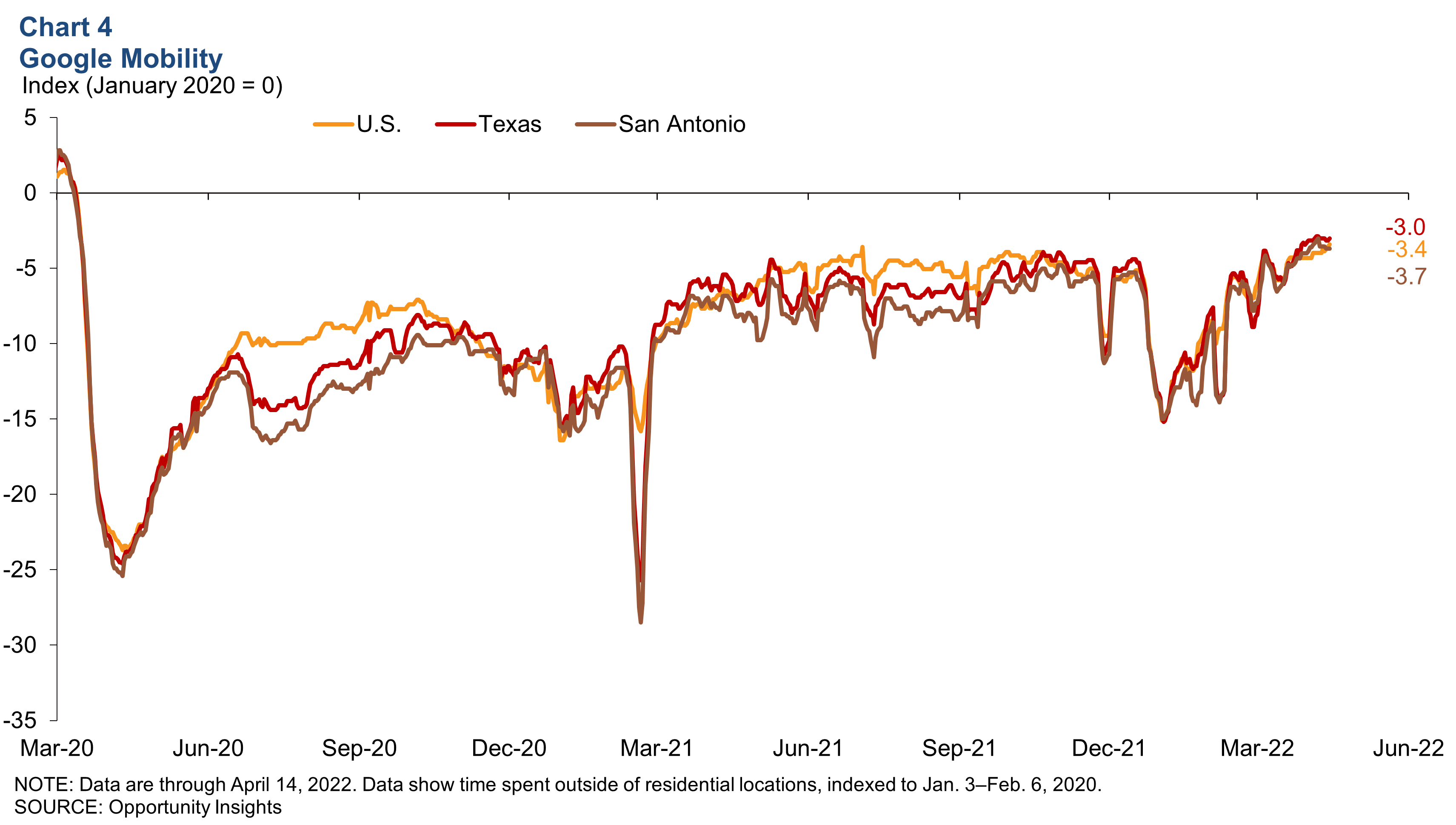 Real estate
Home prices continue to soar
San Antonio's home prices continued to reach record highs in the first quarter, according to data from CoreLogic's Home Price Index (Chart 5). Over the past 12 months, prices have increased 18.3 percent. While less than Texas' rate of 21.2 percent and the nation's rate of 20.0 percent, this still puts San Antonio's home price appreciation well above its 10-year average of 9.0 percent. According to data from the Multiple Listing Service, median home prices in San Antonio stood at $322,547 as of March 2022.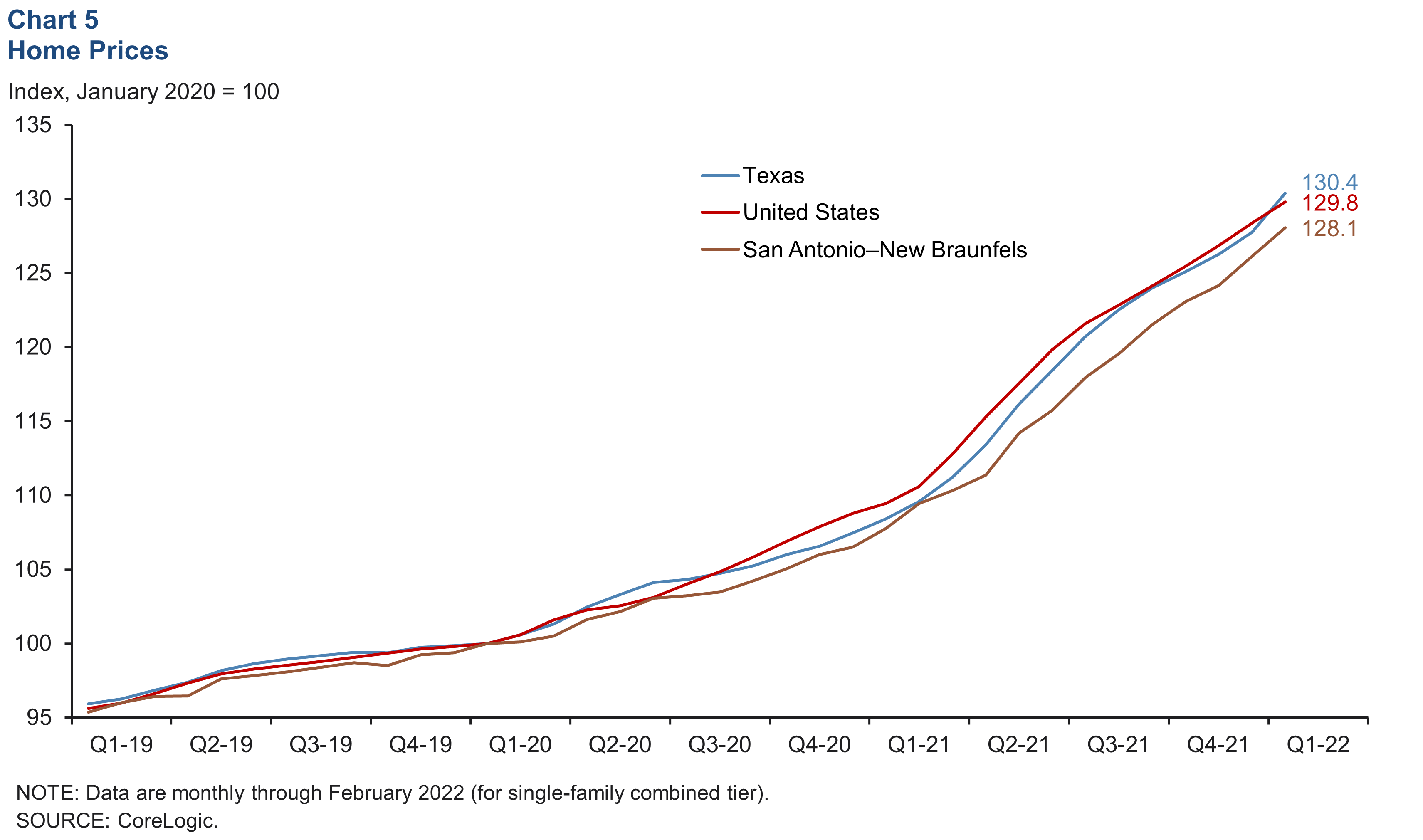 Office vacancy rates continue to climb
San Antonio office vacancy rates continued to rise in the first quarter. While net absorption increased by 132,122 square feet, vacancy rates climbed to 17.8 percent, according to data from CBRE Research (Chart 6).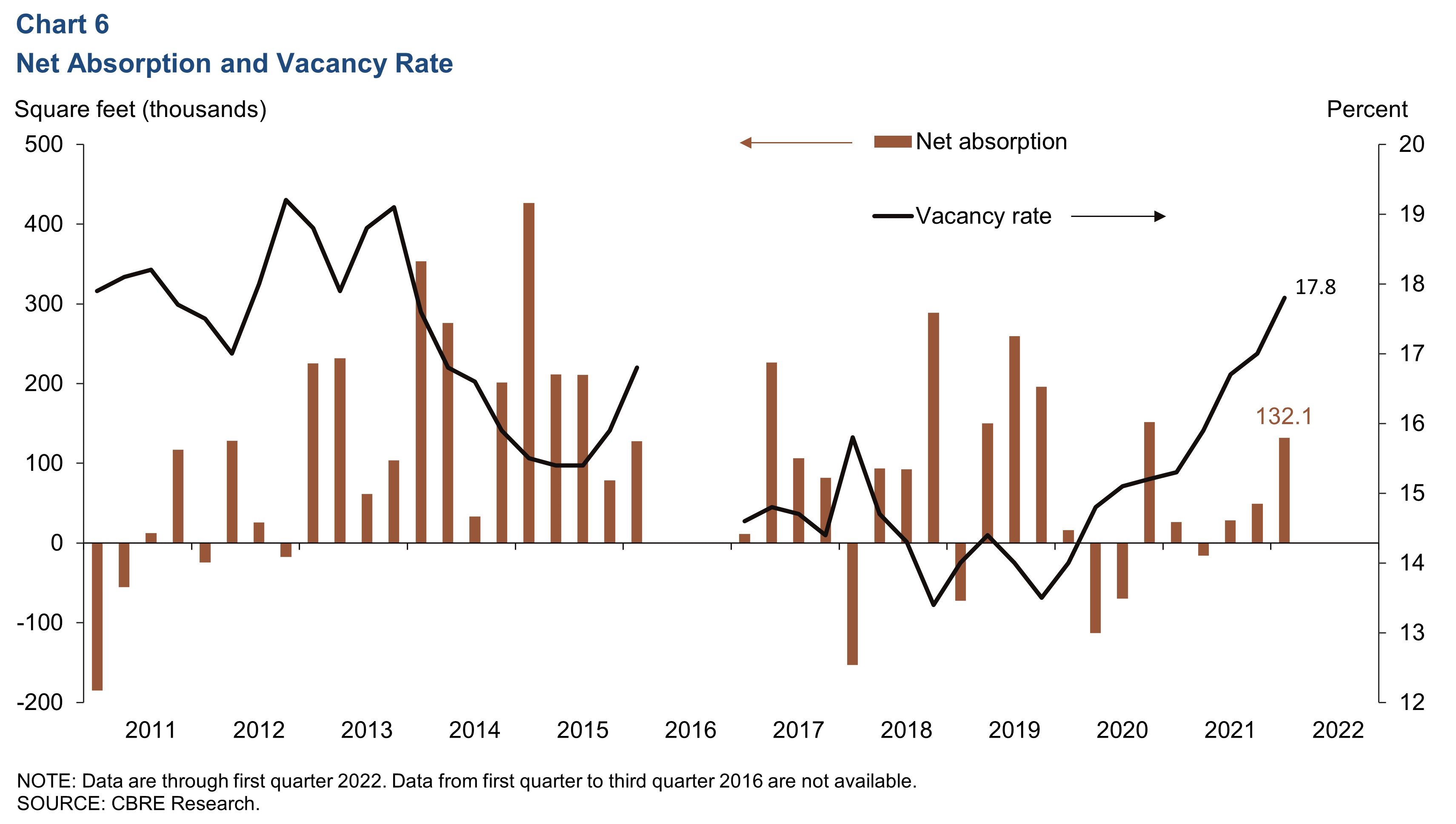 NOTE: Data may not match previously published numbers due to revisions.
About San Antonio Economic Indicators
Questions can be addressed to James Lee at James.Lee@dal.frb.org. San Antonio Economic Indicators is published every month during the week after state and metro employment data are released.