Texas Economic Indicators

April 1, 2020
Note: Some of the data included in this release precede the coronavirus outbreak in the U.S.
The Texas economy continued to expand in February, as evidenced by solid job growth. The unemployment rate held steady in February, but unemployment claims saw their greatest one-week increase in mid-March, resulting from business interruptions due to the coronavirus (COVID-19) outbreak. The Texas Leading Index slipped in February. Results of the Dallas Fed's Texas Business Outlook Survey in March suggested a significant increase in uncertainty among respondents. Oil prices have fallen, and the rig count has ticked down. Texas existing-home sales increased in all major metros in February.
Labor Market
Energy Job Growth Solid in February
Texas employment grew an annualized 3.4 percent in February following upwardly revised growth of 3.7 percent in January (Chart 1). Both readings are well above the state's long-run average of 2.1 percent. Most industries grew in February, especially oil and gas, which expanded an annualized 32.5 percent. Trade, transportation and utilities remained flat, while government and financial activities shed jobs.
According to a 2006 Congressional Budget Office study, the industries expected to experience the largest drop in demand during a pandemic are air, rail, transit and ground transportation, arts, entertainment and recreation, and accommodation and food services.[1] These industries fall within two sectors—trade, transportation and utilities, and leisure and hospitality—which make up almost one-third of current Texas employment.
Initial Unemployment Claims Spike in March
Texas unemployment held steady at 3.5 percent in February. U.S. unemployment inched up 0.1 percentage points in January and was back down in February to 3.5 percent.
Initial unemployment claims spiked in Texas and the nation in mid-March (Chart 2). From March 14 to March 21, Texas claims rose 690 percent to 146,000, the largest one-week increase ever recorded in the state. This is equivalent to 10.3 initial claims for every 1,000 workers in the labor force.
In the nation, 19.9 initial claims were filed within the week ending March 21 for every 1,000 workers, for a total of 3.3 million claims.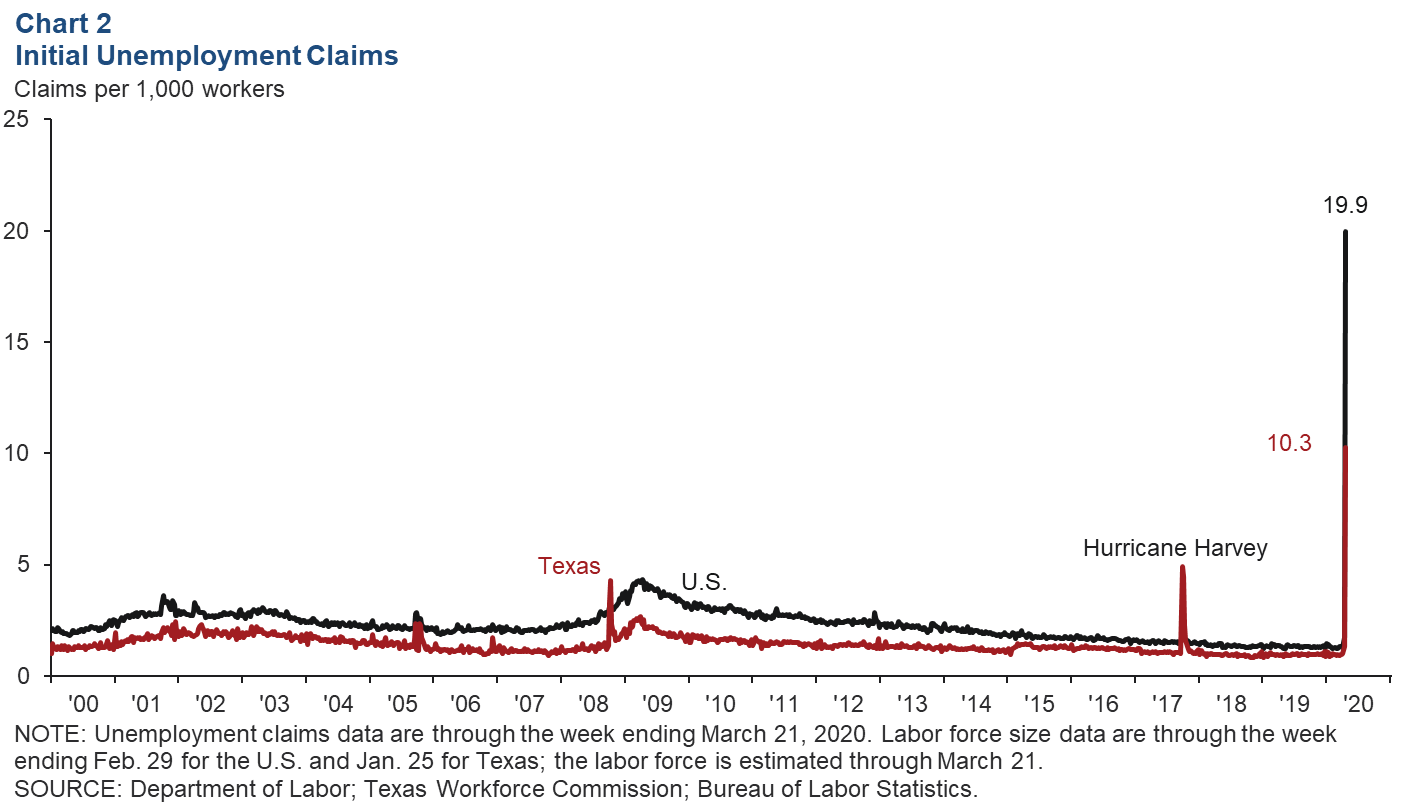 Texas Leading Index
The Texas Leading Index, which is used to estimate the Dallas Fed's Texas Employment Forecast, sheds light on the future of the state's economy. After increasing slightly in January, the index fell 1.5 percent in February (Chart 3). All components contributed to the drag on the index except for the U.S. leading index, which saw slight growth. The three-month percent change also showed negative growth, due in large part to declines in the Texas stock index, average weekly hours and real oil price.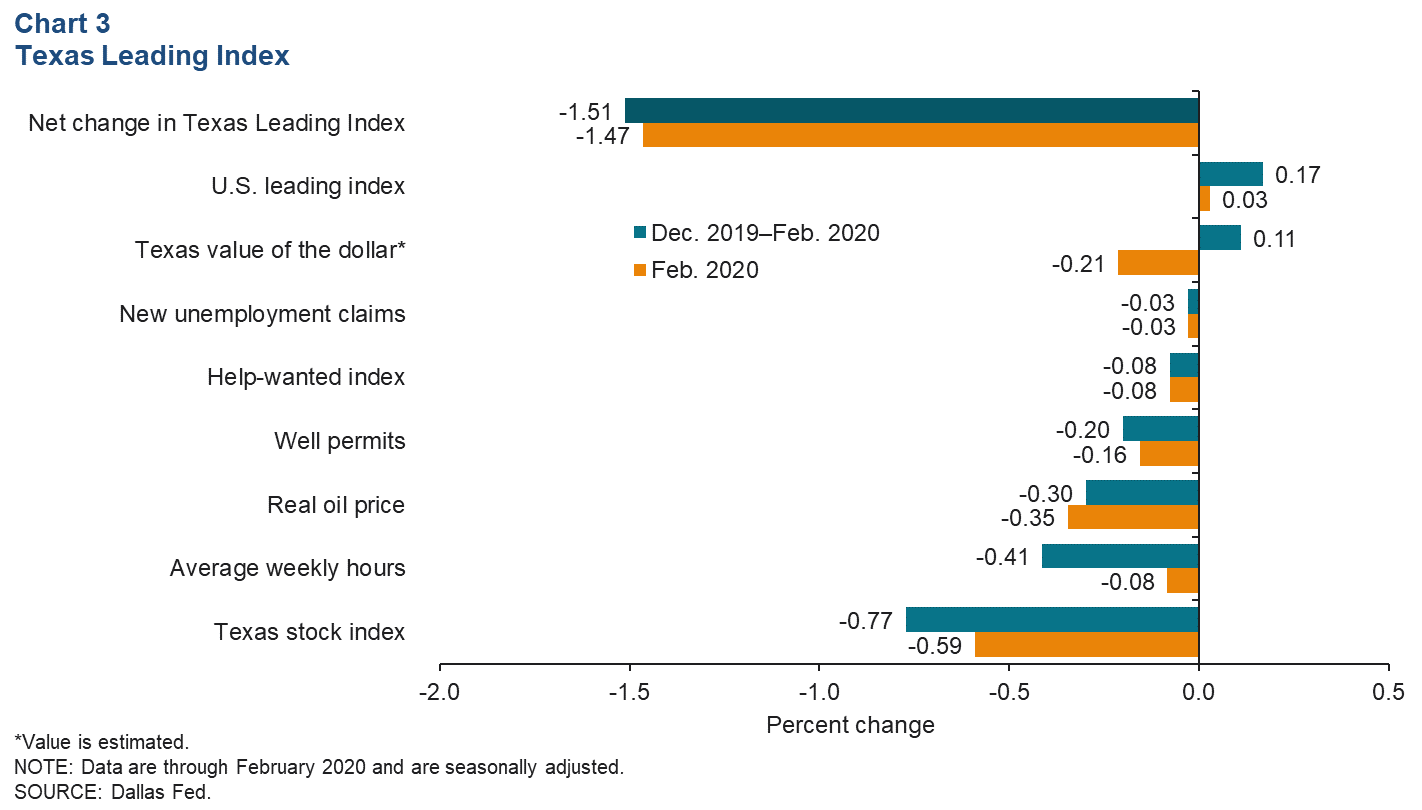 Texas Business Outlook Surveys
The uncertainty index jumped in March for firms in all sectors, according to the Texas Business Outlook Surveys (Chart 4). The indexes for all three sectors spiked to their highest reading since the surveys began asking about outlook uncertainty in January 2018. A positive reading means that more survey respondents reported an increase in uncertainty than a decrease, indicating that a substantial number of businesses grew more uncertain in their outlooks in March. Firms in their comments pointed mostly to the coronavirus outbreak as the driving factor behind heightened uncertainty.
Energy
Oil prices fell in the week ending March 27 to $19 a barrel, the lowest level in 18 years (Chart 5). This is well below the breakeven range of $46 to $52 per barrel needed to profitably drill a new well, as suggested by the first quarter 2020 Dallas Fed Energy Survey. As oil prices have slumped, exploration and production firms have cut drilling, causing the rig count to dip in the two weeks ended March 27 after a month of gradual gains.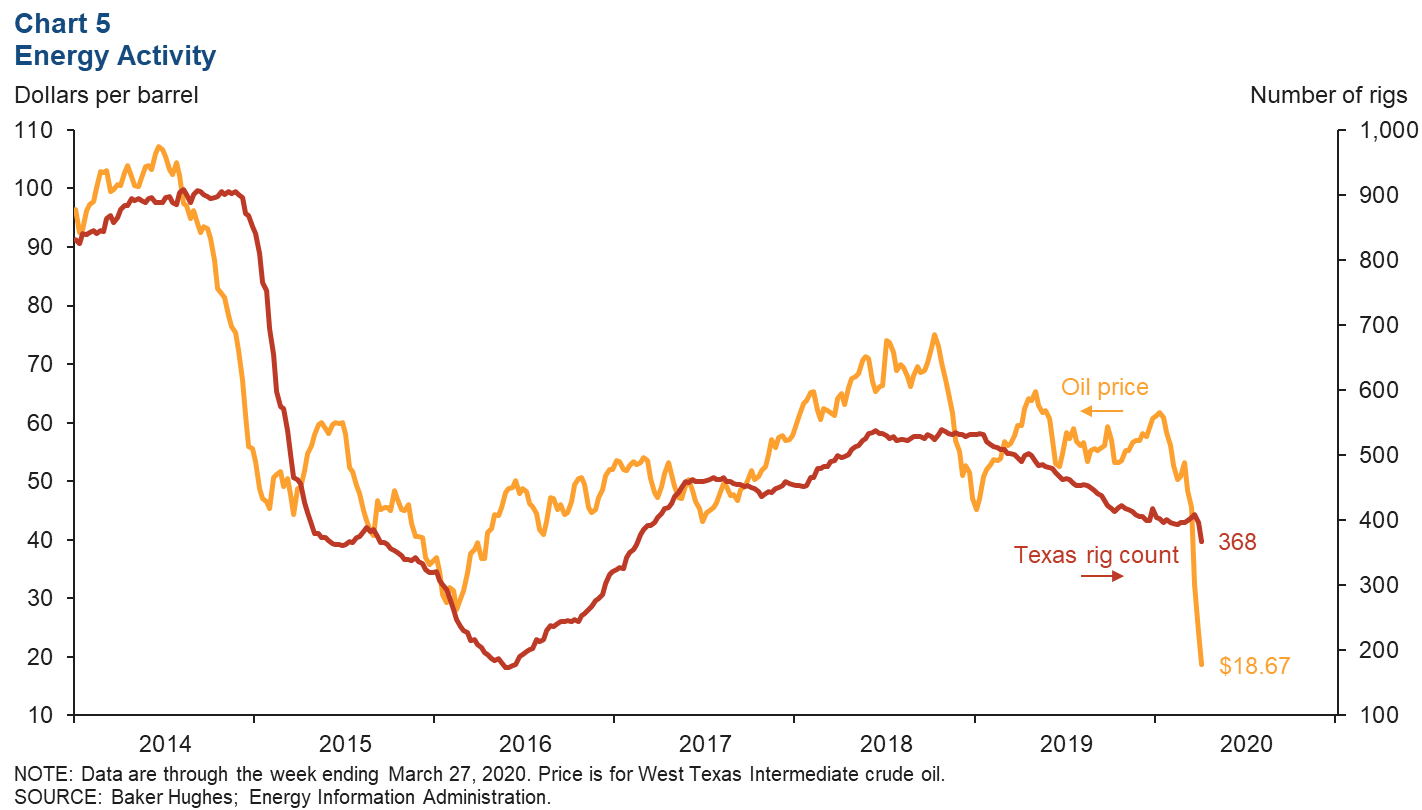 Home Sales
The five-month moving average of Texas existing-home sales ticked up in February, both statewide and in all major metros (Chart 6). The largest increase was in San Antonio, where sales climbed 2.1 percent, followed by Dallas and Houston, both with 1.6 percent growth. Through February, sales in the state are 10.1 percent higher than in the same period last year. All major metros have similarly seen year-over-year growth through February, with Dallas being the strongest at 16.8 percent.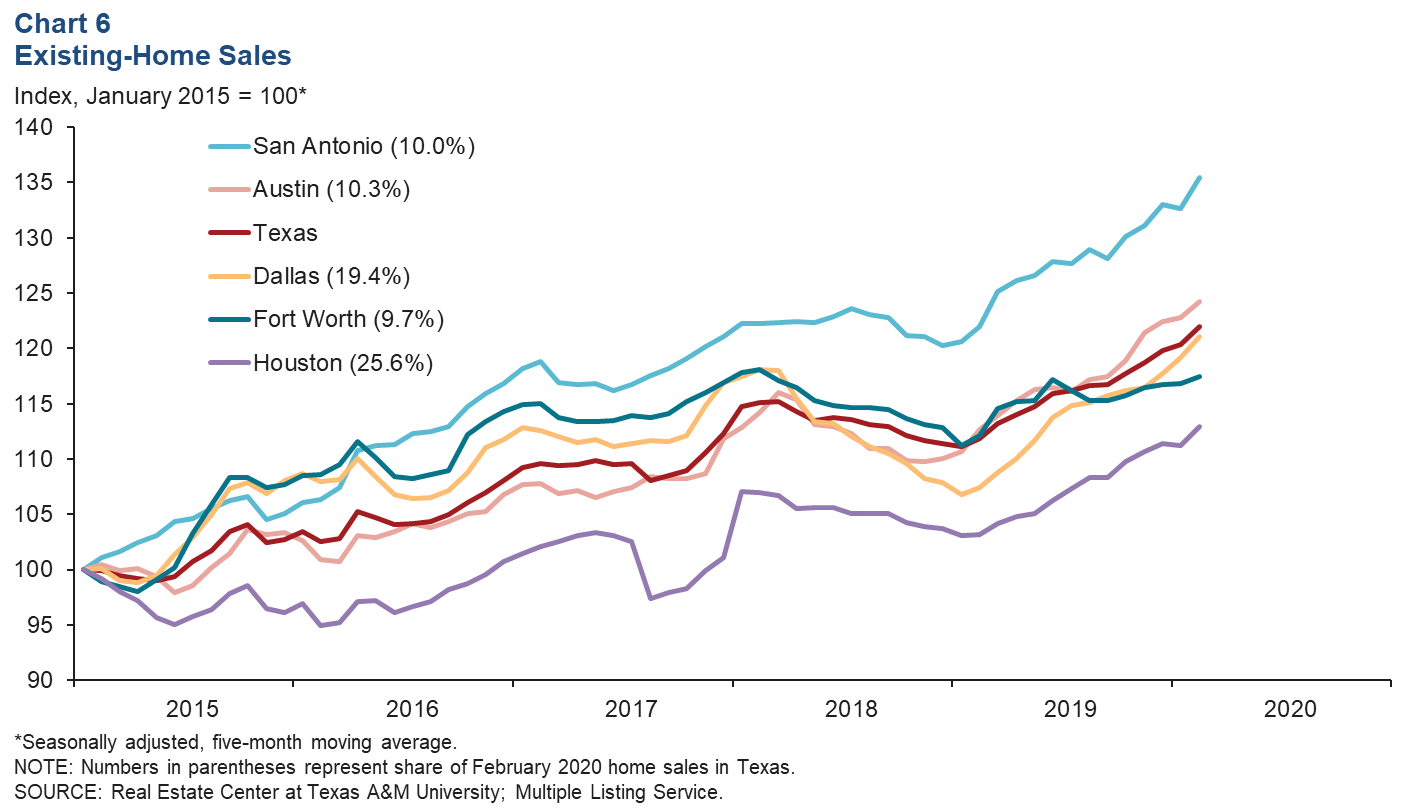 Note
NOTE: Data may not match previously published numbers due to revisions.
About Texas Economic Indicators
Questions can be addressed to Carlee Crocker at carlee.crocker@dal.frb.org. Texas Economic Indicators is published every month on the Monday after Texas employment data are released.