Texas Economic Indicators

June 23, 2022
The Texas economy remained strong in May. Payroll employment increased statewide and in most Texas major metros. The May Texas Business Outlook Surveys (TBOS) indicated that wage growth remained highly elevated in the manufacturing and service sectors. In April, Texas exports rose, while existing-home sales were flat, and construction contract values declined.
Labor Market
Employment Growth Increases
Texas employment expanded an annualized 6.2 percent (66,360 jobs) in May after growing a downwardly revised 5.2 percent in April (Chart 1). Job gains accelerated in most major sectors, with construction posting the fastest employment growth. In May, Texas payroll employment was up 2.9 percent from prepandemic levels, while the U.S. remained 0.5 percent below those levels. The Dallas Fed's Texas Employment Forecast is for 4.0 percent job growth this year (December/December).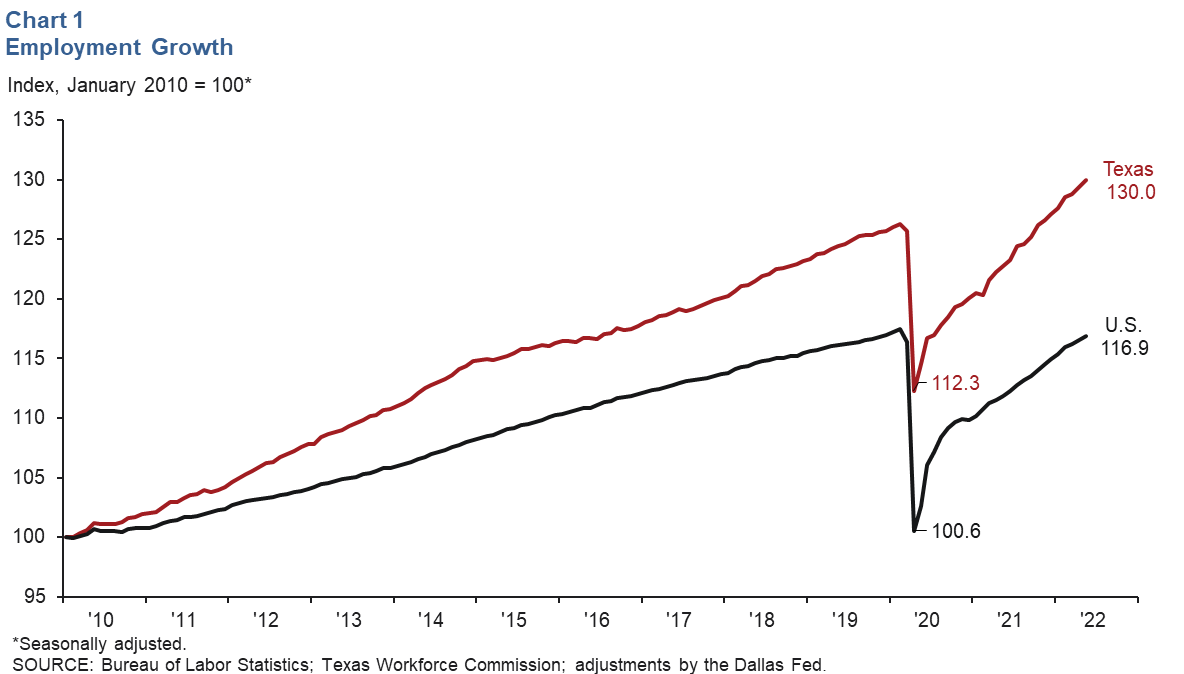 Payrolls Expand in Most Major Metros
May employment growth showed solid gains across the major Texas metros, except for El Paso (Chart 2). Fort Worth led job growth, with payrolls increasing an annualized 9.0 percent. Dallas followed closely, posting an annualized 8.0 percent job growth. Payrolls climbed an annualized 7.6 percent in Houston, 5.5 percent in San Antonio, 5.2 percent in McAllen and 2.6 percent in Austin. Employment fell in El Paso by 2.2 percent but was up compared with December 2021 levels.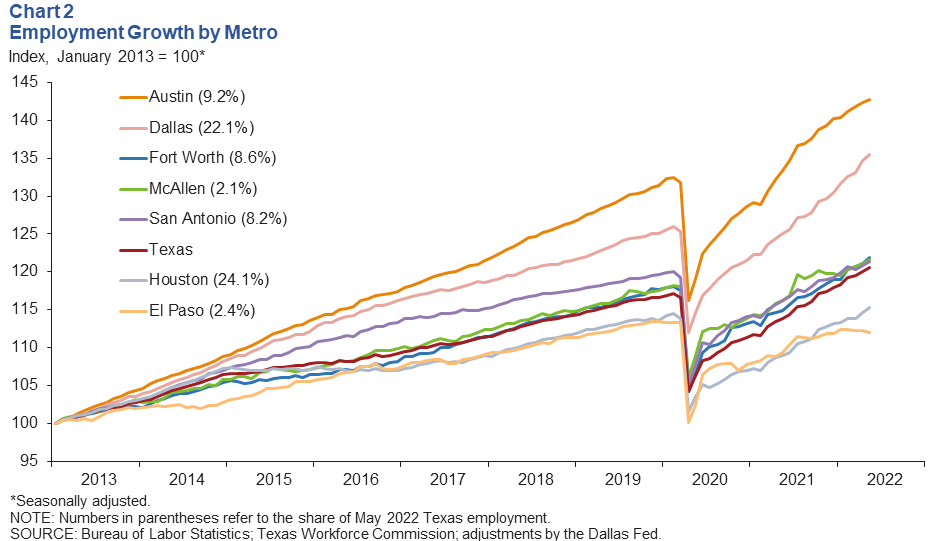 Texas Business Outlook Surveys
The Texas Business Outlook Surveys indicate that wage growth remained elevated (Chart 3). In May, the three-month moving average of the manufacturing survey's wages and benefits index moved up from 50.0 to 52.2. The service sector wages and benefits index remained relatively flat at 34.8, based on a three-month moving average. Wage pressures eased in the retail sector as the index dipped from 34.3 to 33.0.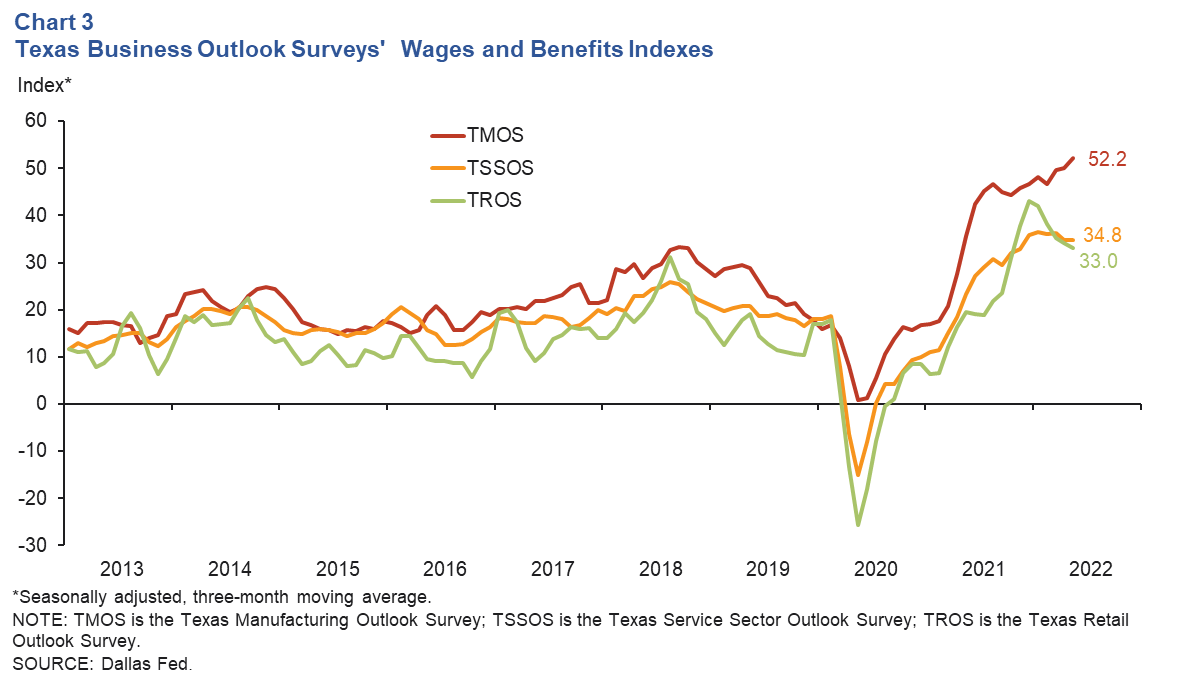 Texas Exports
Texas exports expanded 2.0 percent in April (Chart 4). On a smoothed basis, exports to most of Texas' largest trading partners grew. Exports to these areas rose: Latin America excluding Mexico (8.2 percent), Europe (8.0 percent), Canada (5.8 percent) and Mexico (3.4 percent). Exports to China and the rest of Asia fell 6.4 percent and 2.9 percent, respectively. Meanwhile, U.S. exports were up 6.1 percent in April.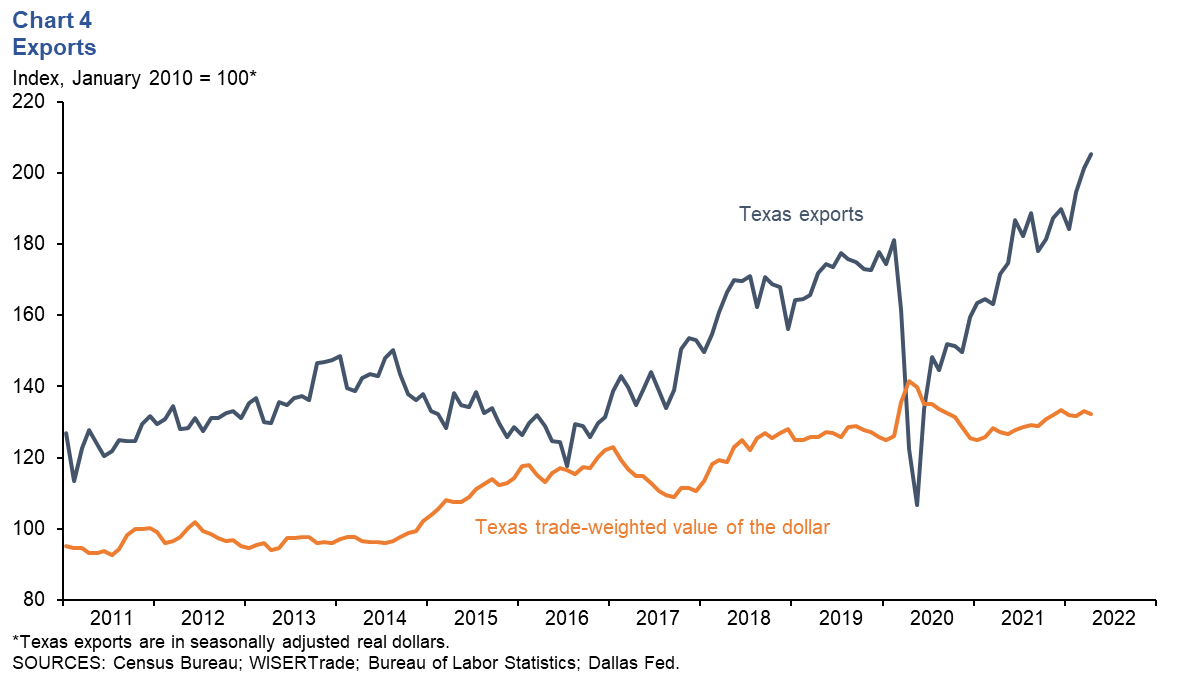 Housing
Texas existing-home sales were flat in April, and the three-month moving average dipped (Chart 5). Sales totaled nearly 35,000 homes in April, little changed from March's figure and up 1.1 percent year over year. Rising mortgage rates and record-high prices have slowed home sales. Mortgage rates have increased by more than 200 basis points since the beginning of the year and are at their highest level since January 2009. Meanwhile, single-family housing permits fell 1.1 percent in April.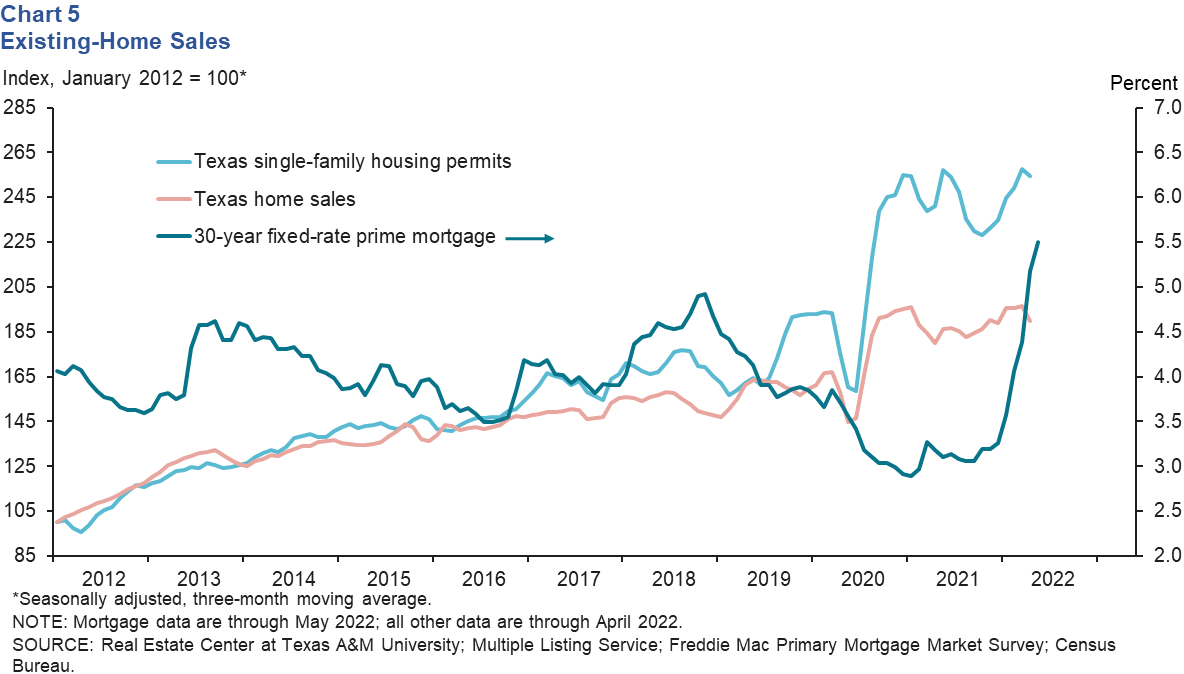 Construction Contracts Decline
Construction contract values fell 4.8 percent in April, while the five-month moving average edged up (Chart 6). Nonbuilding contract values dropped 38.0 percent in April and were down 2.7 percent based on the five-month moving average. On a smoothed basis, nonresidential building construction edged up 1.5 percent to $3.0 billion, and residential building construction rose 1.9 percent to $4.9 billion. Year to date through April, total construction contract values were above 2021 levels by 0.6 percent.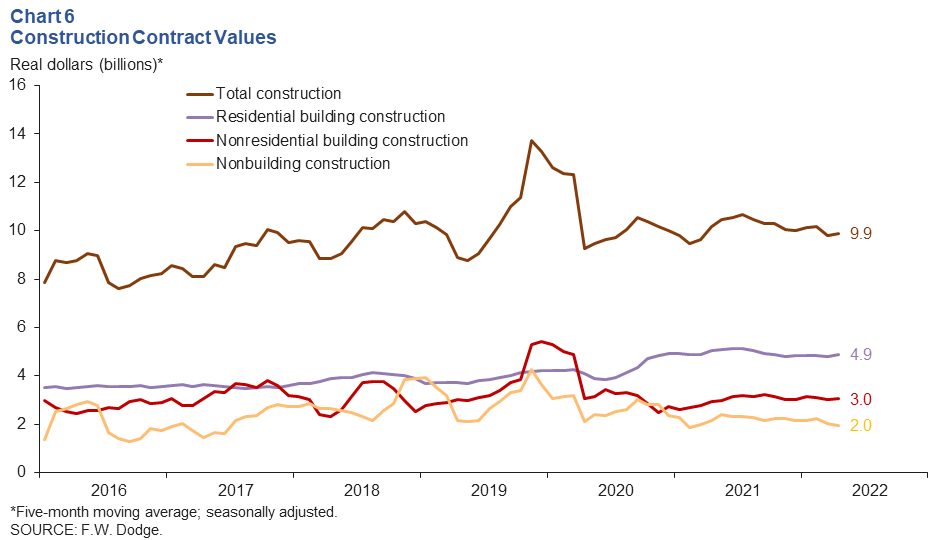 NOTE: Data may not match previously published numbers due to revisions.
About Texas Economic Indicators
Questions can be addressed to Mytiah Caldwell at Mytiah.Caldwell@dal.frb.org. Texas Economic Indicators is published every month during the week after state and metro employment data are released.