Texas Economy
Sharp Contraction Continues in Texas Service Sector
Texas Service Sector Outlook Survey
April 28, 2020
Sharp Contraction Continues in Texas Service Sector
What's New This Month
For this month's survey, Texas business executives were asked supplemental questions on the impacts of the coronavirus (COVID-19). Results for these questions from the Texas Manufacturing Outlook Survey, Texas Service Sector Outlook Survey and Texas Retail Outlook Survey have been released together. Read the special questions results.
This month's data release does not include annual seasonal factor revisions, which have been postponed to May. Read more information on seasonal adjustment.
The Texas service sector continued to see a dramatic contraction in April amid the coronavirus (COVID-19) pandemic and mitigation measures, according to business executives responding to the Texas Service Sector Outlook Survey. The revenue index, a key measure of state service sector conditions, inched up just slightly from an all-time low of -67.0 in March to -65.4 in April.
Labor market indicators reflected steeper declines in employment and further shortening of workweeks. The employment index fell from -23.8 to -35.2, its lowest reading on record. The hours worked index dropped over five points to -48.2, with over half of respondents now noting cuts in employee hours.
Perceptions of broader business conditions remained extremely pessimistic in April, while uncertainty continued to escalate. The general business activity index declined nearly three points to a new low of -81.7, while the company outlook index improved nearly six points but remained deeply in negative territory at -69.5. Meanwhile, the outlook uncertainty index rose from 37.6 in March to a new high of 43.2.
Wages and prices saw significant downward pressures in April. The wages and benefits index declined over nine points to -21.7, a record low. The input prices index fell from 0.1 to -3.8, its lowest reading on record and first negative reading since 2009. The selling prices index further declined into negative territory, from -44.5 to -47.8.
Respondents' expectations regarding future business conditions remain very pessimistic, though somewhat less so than in March. The future company outlook index, though still negative, improved nearly 18 points to -31.3. The future general business activity index rose over 23 points to a reading of -27.1, though nearly half of respondents expected worsened conditions. Other indexes of future service sector activity, such as revenue and employment, remained starkly negative but were slightly above last month's all-time lows, suggesting some tempering in expectations of weakness over the next six months.
Texas Retail Outlook Survey
April 28, 2020
Texas Retail Sales Extend Declines
Retail sales continued to fall sharply in April, according to business executives responding to the Texas Retail Outlook Survey. The sales index, a key measure of state retail activity, edged up from an all-time low of -82.6 in March to -78.5. Inventories continued to decline sharply, with the inventories index weakening from -42.6 to -45.5.
Retail labor market indicators continued to reflect sharp cuts in employment and workweek hours in April. The employment index shed over 20 points to hit an all-time low of -48.8. The hours worked index declined further from -58.1 to -64.9, with nearly 70 percent of respondents noting a cut in hours compared with March.
Retailers' perceptions of broader business conditions remained bleak in April. The general business activity index was largely unchanged at -83.8, while the company outlook index remained near March levels, hitting a new low of -84.0. The outlook uncertainty index fell over five points, although at a reading of 41.0, it remains extremely elevated.
Retail prices and wages continued to fall in April. The input prices index fell from -12.0 to -24.4, while the selling prices index weakened three points to -38.5, a new low. The wages and benefits index similarly fell to an all-time low reading of -35.4, shedding nearly 15 points.
While retailers' perceptions of future conditions remain starkly negative, there was a notable moderation in the expectations of decline this month. The future general business activity index gained over 45 points for a reading of -20.9, while the future company outlook index increased from -62.4 to -22.6. Other indexes of future retail activity, such as sales and employment, were significantly less negative and, compared with March's readings, suggest a less-negative outlook over the next six months.
The Texas Retail Outlook Survey is a component of the Texas Service Sector Outlook Survey that uses information only from respondents in the retail and wholesale sectors.
Next release: May 27, 2020
Data were collected April 14–22, and 250 Texas service sector and 61 retail sector business executives responded to the survey. The Dallas Fed conducts the Texas Service Sector Outlook Survey monthly to obtain a timely assessment of the state's service sector activity. Firms are asked whether revenue, employment, prices, general business activity and other indicators increased, decreased or remained unchanged over the previous month.
Survey responses are used to calculate an index for each indicator. Each index is calculated by subtracting the percentage of respondents reporting a decrease from the percentage reporting an increase. When the share of firms reporting an increase exceeds the share reporting a decrease, the index will be greater than zero, suggesting the indicator has increased over the prior month. If the share of firms reporting a decrease exceeds the share reporting an increase, the index will be below zero, suggesting the indicator has decreased over the prior month. An index will be zero when the number of firms reporting an increase is equal to the number of firms reporting a decrease. Data have been seasonally adjusted as necessary.
Texas Service Sector Outlook Survey
April 28, 2020
---
Historical data are available from January 2007 to the most current release month.
Business Indicators Relating to Facilities and Products in Texas
Current (versus previous month)
Indicator
Apr Index
Mar Index
Change
Series
Average
Trend*
% Reporting Increase
% Reporting
No Change
% Reporting Decrease

Revenue

–65.4

–67.0

+1.6

11.2

2(–)

8.1

18.3

73.5

Employment

–35.2

–23.8

–11.4

6.2

2(–)

3.5

57.8

38.7

Part–Time Employment

–33.0

–21.4

–11.6

1.4

2(–)

3.6

59.8

36.6

Hours Worked

–48.2

–43.0

–5.2

2.2

2(–)

7.9

36.0

56.1

Wages and Benefits

–21.7

–12.4

–9.3

14.3

2(–)

8.5

61.3

30.2

Input Prices

–3.8

0.1

–3.9

25.1

1(–)

18.0

60.2

21.8

Selling Prices

–47.8

–44.5

–3.3

4.9

2(–)

1.1

50.0

48.9

Capital Expenditures

–45.6

–22.7

–22.9

10.2

2(–)

5.4

43.7

51.0
General Business Conditions
Current (versus previous month)
Indicator
Apr Index
Mar Index
Change
Series
Average
Trend**
% Reporting Improved
% Reporting
No Change
% Reporting Worsened

Company Outlook

–69.5

–75.3

+5.8

5.2

2(–)

3.5

23.6

73.0

General Business Activity

–81.7

–78.8

–2.9

3.0

2(–)

0.2

17.9

81.9
Indicator
Apr Index
Mar Index
Change
Series
Average
Trend*
% Reporting Increase
% Reporting
No Change
% Reporting Decrease

Outlook Uncertainty†

43.2

37.6

+5.6

13.1

27(+)

64.3

14.6

21.1
Business Indicators Relating to Facilities and Products in Texas
Future (six months ahead)
Indicator
Apr Index
Mar Index
Change
Series
Average
Trend*
% Reporting Increase
% Reporting
No Change
% Reporting Decrease

Revenue

–16.3

–40.3

+24.0

37.1

2(–)

39.2

5.3

55.5

Employment

–13.0

–32.3

+19.3

21.7

2(–)

21.8

43.4

34.8

Part–Time Employment

–15.1

–23.4

+8.3

6.4

2(–)

13.5

58.0

28.6

Hours Worked

–3.3

–18.2

+14.9

5.3

2(–)

23.0

50.7

26.3

Wages and Benefits

3.6

1.7

+1.9

36.1

160(+)

28.5

46.6

24.9

Input Prices

2.5

9.6

–7.1

43.9

160(+)

24.3

53.8

21.8

Selling Prices

–17.5

–16.7

–0.8

23.0

2(–)

17.7

47.1

35.2

Capital Expenditures

–27.5

–23.4

–4.1

23.6

2(–)

13.9

44.7

41.4
General Business Conditions
Future (six months ahead)
Indicator
Apr Index
Mar Index
Change
Series
Average
Trend**
% Reporting Improved
% Reporting
No Change
% Reporting Worsened

Company Outlook

–31.3

–49.1

+17.8

16.3

2(–)

26.6

15.6

57.9

General Business Activity

–27.1

–50.4

+23.3

13.0

2(–)

23.7

25.5

50.8
Texas Retail Outlook Survey
April 28, 2020
---
Historical data are available from January 2007 to the most current release month.
Business Indicators Relating to Facilities and Products in Texas
Retail (versus previous month)
Indicator
Apr Index
Mar Index
Change
Series
Average
Trend*
% Reporting Increase
% Reporting
No Change
% Reporting Decrease

Retail Activity in Texas

Sales

–78.5

–82.6

+4.1

5.7

3(–)

7.0

7.5

85.5

Employment

–48.8

–28.4

–20.4

1.9

3(–)

2.8

45.6

51.6

Part–Time Employment

–40.7

–25.5

–15.2

–2.0

2(–)

5.1

49.2

45.8

Hours Worked

–64.9

–58.1

–6.8

–2.0

3(–)

4.1

26.9

69.0

Wages and Benefits

–35.4

–20.6

–14.8

9.4

2(–)

4.5

55.6

39.9

Input Prices

–24.4

–12.0

–12.4

18.7

2(–)

5.7

64.2

30.1

Selling Prices

–38.5

–35.5

–3.0

10.0

2(–)

1.4

58.7

39.9

Capital Expenditures

–60.7

–37.5

–23.2

8.3

2(–)

0.0

39.3

60.7

Inventories

–45.5

–42.6

–2.9

3.2

3(–)

12.2

30.1

57.7

Companywide Retail Activity

Companywide Sales

–75.1

–83.0

+7.9

7.4

3(–)

5.9

13.1

81.0

Companywide Internet Sales

–30.4

–45.6

+15.2

6.5

2(–)

14.7

40.2

45.1
General Business Conditions, Retail
Current (versus previous month)
Indicator
Apr Index
Mar Index
Change
Series
Average
Trend**
% Reporting Improved
% Reporting
No Change
% Reporting Worsened

Company Outlook

–84.0

–83.8

–0.2

3.2

3(–)

0.5

15.0

84.5

General Business Activity

–83.8

–84.2

+0.4

–1.1

4(–)

0.7

14.8

84.5
Outlook Uncertainty
Current (versus previous month)
Indicator
Apr Index
Mar Index
Change
Series
Average
Trend*
% Reporting Increase
% Reporting
No Change
% Reporting Decrease

Outlook Uncertainty†

41.0

46.4

–5.4

11.8

4(+)

62.3

16.4

21.3
Business Indicators Relating to Facilities and Products in Texas, Retail
Future (six months ahead)
Indicator
Apr Index
Mar Index
Change
Series
Average
Trend*
% Reporting Increase
% Reporting
No Change
% Reporting Decrease

Retail Activity in Texas

Sales

–12.3

–49.8

+37.5

31.8

2(–)

34.4

18.9

46.7

Employment

–10.7

–46.1

+35.4

11.8

3(–)

20.5

48.3

31.2

Part–Time Employment

–18.2

–23.2

+5.0

0.5

2(–)

13.3

55.2

31.5

Hours Worked

–2.4

–24.7

+22.3

2.5

3(–)

29.1

39.4

31.5

Wages and Benefits

–3.4

–3.5

+0.1

27.0

2(–)

24.3

48.0

27.7

Input Prices

–12.5

–7.3

–5.2

32.6

2(–)

14.3

58.9

26.8

Selling Prices

–10.9

–10.7

–0.2

28.7

2(–)

16.4

56.4

27.3

Capital Expenditures

–23.2

–34.5

+11.3

17.3

2(–)

17.9

41.1

41.1

Inventories

–24.8

–31.4

+6.6

7.8

3(–)

21.2

32.8

46.0

Companywide Retail Activity

Companywide Sales

–15.1

–36.5

+21.4

30.4

2(–)

30.8

23.3

45.9

Companywide Internet Sales

5.2

–6.5

+11.7

21.6

1(+)

26.3

52.6

21.1
General Business Conditions, Retail
Future (six months ahead)
Indicator
Apr Index
Mar Index
Change
Series
Average
Trend**
% Reporting Improved
% Reporting
No Change
% Reporting Worsened

Company Outlook

–22.6

–62.4

+39.8

16.5

2(–)

27.7

22.0

50.3

General Business Activity

–20.9

–66.0

+45.1

12.3

3(–)

29.1

20.9

50.0
*Shown is the number of consecutive months of expansion or contraction in the underlying indicator. Expansion is indicated by a positive index reading and denoted by a (+) in the table. Contraction is indicated by a negative index reading and denoted by a (–) in the table.
**Shown is the number of consecutive months of improvement or worsening in the underlying indicator. Improvement is indicated by a positive index reading and denoted by a (+) in the table. Worsening is indicated by a negative index reading and denoted by a (–) in the table.
†Added to survey in January 2018.
Data have been seasonally adjusted as necessary, with the exception of the outlook uncertainty index which does not yet have a sufficiently long time series to test for seasonality.
Texas Service Sector Outlook Survey
April 28, 2020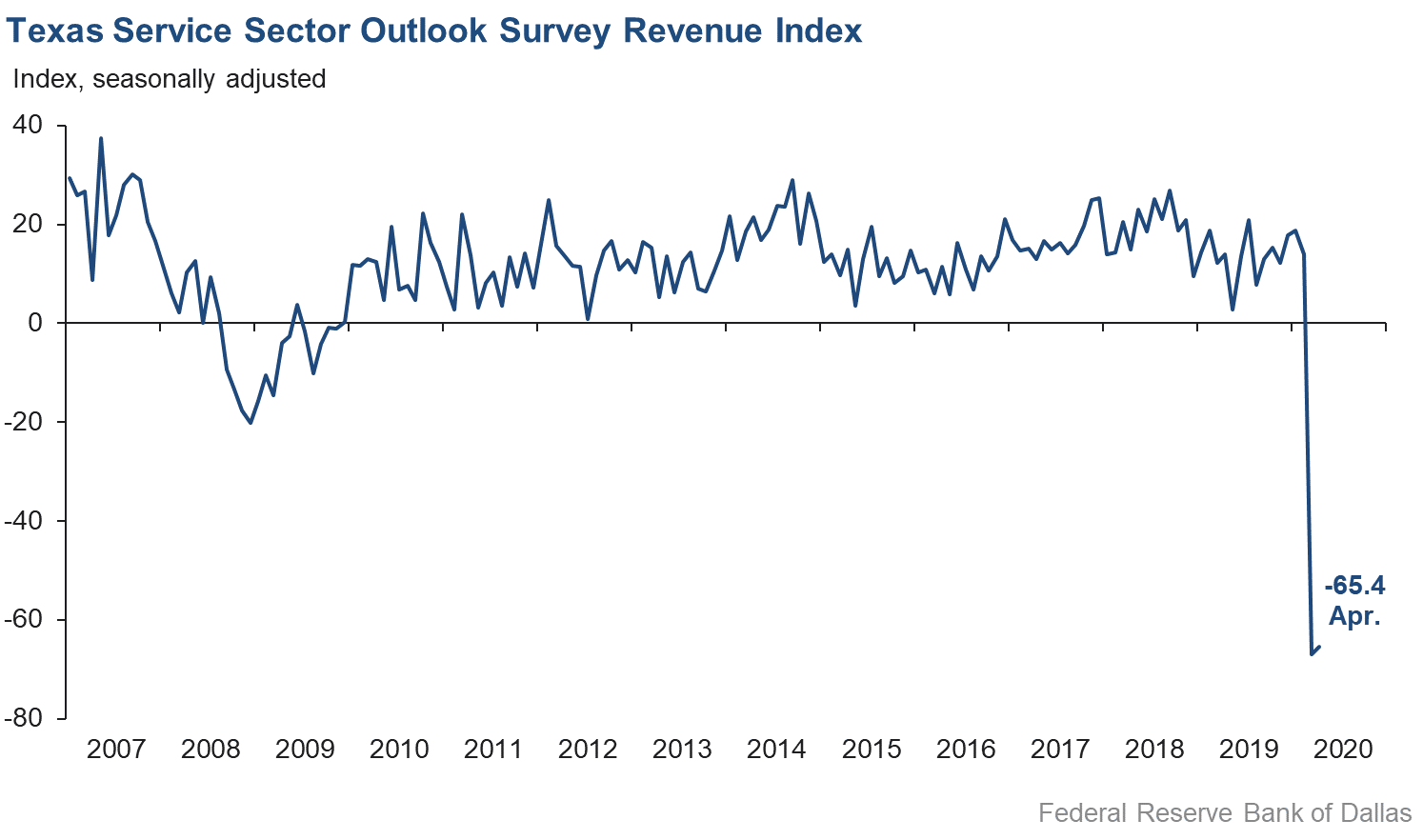 Texas Retail Outlook Survey
April 28, 2020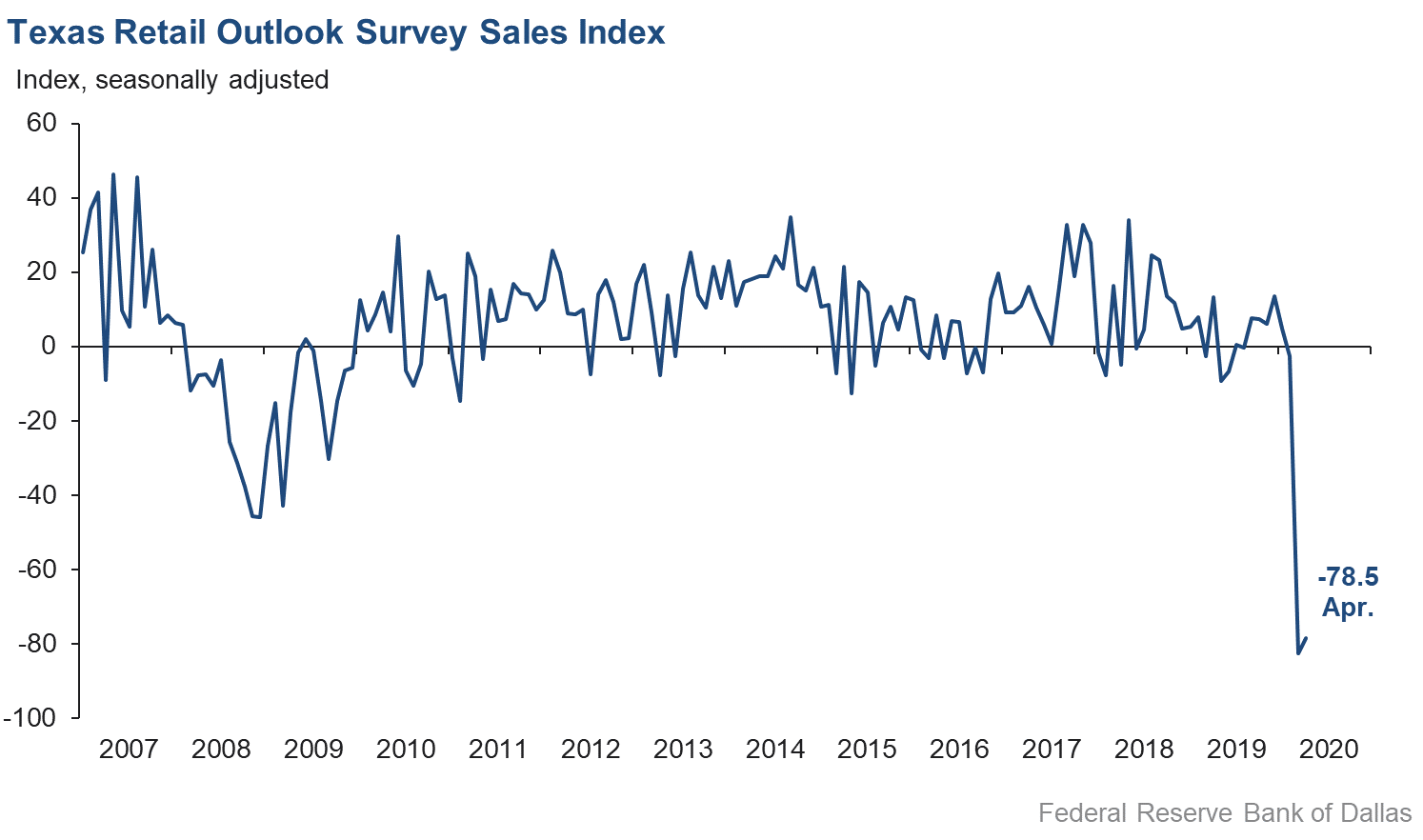 Texas Service Sector Outlook Survey
April 28, 2020
Comments from Survey Respondents
These comments are from respondents' completed surveys and have been edited for publication.
Support Activities for Mining   
The oil price decline significantly [reduces] need for services that my company provides.
Utilities
Our customers' inability to pay their water bill will have a negative impact on our cash flow. It may [take] a year or more for them to recover and be able to pay in full all balances on their accounts.
The economic damage from COVID-19 has yet to be fully realized. The government programs must be maintained to prevent a complete collapse of the economy. We need to get the economy restarted but we need to do it with a smart plan that includes several waves. Otherwise, we will be right back to lockdown again.
Every week, it seems to be so grim. We believe it will get worse before it gets better.
Transportation Equipment Manufacturing          
As for every business, the impact of the coronavirus pandemic is substantial, both for our customers and our supply chain. Having invested heavily in our employees in the past during a hot job market and being in a technical and high-skilled industry, we have reduced everyone's working time and salaries for a while, in the hope of keeping everyone employed and seeing a rebound in business activity within the next couple of months. We do not expect to see a full recovery for a long time in the aviation industry, and we will keep a much-reduced level of activity and investments at least for the remainder of 2020.
Truck Transportation    
Business has dropped off drastically in April. America has to get back to work!
Pipeline Transportation
We are heavily dependent on global demand for energy. COVID-19 recovery is key to our business (pipeline company) moving energy to U.S. and global markets.
Support Activities for Transportation
Texas Security Bank persevered until we received the PPP [Paycheck Protection Program] loan funding. This loan of less than $100,000 has allowed us to stay in business. Although we are still operating and provide an essential service, the volume loss has virtually eliminated our ability to cover overhead, even with to-the-bone expense cuts. The Fed [Federal Reserve] Bank should intervene in the matter of large companies sucking up the SBA [Small Business Administration] PPP funds from small businesses. The amount that went to [one company] alone could have kept 200 companies such as mine in business. This was a vulgar and predatory move and should absolutely not be tolerated.
Warehousing and Storage         
[We] rely on tariffs assessed to the users of waterways and docks, the majority of whom transfer liquid bulk products. Between the stark decrease in demand for petroleum products as a result of COVID-19 shutdowns and the crash in oil prices as a result of the demand disruption, coupled with a Saudi/Russia fight for market share, we expect significant declines in Texas production. In an effort to assist our customers during these times, we have rolled back our tariffs to 2019 prices, eliminating the price increase we took on Jan. 1, to be effective at least for the second quarter and re-evaluated quarterly. We are well-positioned from a balance sheet perspective but expect less revenue in 2020, as well as delays in customer project development, meaning less capital spending by both us and our customers.
The lead-lag of Mexico dealing with the coronavirus and the U.S. reopening businesses will cause a significant downturn in business if our Mexican manufacturing is not in position to return to work at the same time. This will be determined by the severity of the pandemic in Mexico to a large part.
Data Processing, Hosting and Related Services
Uncertainty is pervasive among our client base and peer companies. Nearly all "new" expenditures have ceased until there's more knowledge about the ripple effect of displaced workers and how long it will take the economy to rebound. The losses some people have taken financially and personally are bound to impact purchasing decision-making for some period of time. The impact on inflation from all the government money flooding the economy will be on our radar for the coming months.
Publishing Industries (Except Internet)  
Our market focus is apps that serve training and education in many forms. Touchless UI [user interface] is growing rapidly in interest using eye retina and hand/finger in 3D space, with screen touch maintaining continued interest for smarter easy interfaces. The world requires exponential testing (insight) options for knowing [COVID-19] status case by case and groups globally to get to a new acceptable normal for every aspect of human need without major FUD (Fear, Uncertainty, and Doubt). Touchless, smarter, easy-to-use interfaces are a key attribute in this medical risk success formula.
Credit Intermediation and Related Activities
We have been extremely busy trying to process the SBA PPP loans. The challenge has been daunting trying to access the SBA portal with loan requests. As onerous as it has been, we have been able to get loan numbers for all completed small business loan applications, and those loans have been funded. It was a major undertaking requiring working around the clock. We have, like most banks, increased our reserve for loan loss in anticipation of an increase in problem loans. Our concern is that some small businesses that are nonessential will struggle to survive depending on the length of time they remain closed.
The lack of ability for businesses to remain open during the pandemic will have a long-term negative effect on the Texas economy. Oil prices would have created enough of a downturn without the pandemic. Texas will suffer more than many other states due to our dependence on oil-related jobs and the general business closures caused by the pandemic.
We may see an impact months from now if clients lose their businesses and cannot pay their outstanding invoices to us. However, at this time, we are very blessed to be going strong as usual.
We are seeing significant negative impacts on national, state and local economies due to shelter restrictions.
We have multiple businesses, all deemed essential. Our lending business is doing better than we would have expected, given that our borrowers are primarily low-income individuals working for small companies. We are launching a collision repair business and an auto dealership at the same time all this is happening, and it is a bit terrifying to be making large capital investments and growing payroll at this time. I am hopeful that we can get through the next few months and begin to earn revenue from those businesses. Our lending side has an ancillary nonprofit. We are seeing a significant decrease in funding for nonprofits as they spread their dollars over a large number of agencies.
There is uncertainty in charge-offs due to COVID-19. However, fee income will be strong in 2020 due to PPP loans originated.
Securities, Commodity Contracts, and Other Financial Investments and Related Activities         
PPP loans are a large boost. The drop in oil price is our biggest long-term concern.
We have seen a significant increase in the feeling of employee loyalty. Productivity of employees, as measured by our software tools, has also increased. We have worked hard to maintain jobs. Approval of our PPP loan will make this possible.
Our operation is 65 percent dependent on oilfield equipment and operations. With the oil price at $10 to $12, this is bad, bad news!
Insurance Carriers and Related Activities
Our firm is a specialty insurance broker providing personal and commercial property casualty insurance business in Texas. We specialize in small businesses with higher-than-average risk profiles, including a significant volume of coastal catastrophe-exposed property. Through the first two weeks of April, we have seen a 25 percent drop in new business and a 15 percent drop in renewal business. We are also receiving requests to change current in-force policies to reduce rating exposures like payroll and sales.
We are insurance brokers, so people need our product and service even in this environment. We will see premium levels drop as payroll audits and sales/revenue audits come in, showing our business clients had reduced revenue and reduced payrolls. We may also see some small business clients go out of business or drop their insurance to save money.
Real Estate
The PPP program was very helpful, and we have taken advantage of this.
We provide auction disposition services for real estate and personal property. We think the need for our services will increase in the next 12–18 months.
We have to get all businesses back open on some basis. The level of fear and destruction this closure has had is unbelievable, and we need to see some hope of reopening as soon as possible. We also need a lot more outreach to small tenants and businesses to help them access the assistance that is available and get their checks to them ASAP.
We had already had closings in the title company, so our March numbers were good. It is too early for me to see what April will look like. Since the quarantine, older homeowners do not want us to show their homes for fear of contamination. Some younger homeowners are out looking because of the low interest rates. There are also buyers right now who are looking at this time as an opportunity to make low offers thinking that sellers are more motivated to sell their homes because of job loss or fear of future earnings.
Rental and Leasing Services
Since we are a company with 710 employees, which we intend to not terminate, furlough or lay off if at all possible, we are grouped with companies with 10,000 employees and, therefore, receive no government assistance like the PPP. I think that is an arbitrary decision made by clueless politicians attempting to appear concerned. Our business was off 5 percent through March; it is now off 50 percent through the middle of April. I hate to disrupt our team but am not sure we can keep them all when the government's socialism supports my competition and offers my company no assistance. And yes, I do not need the government's help increasing my liabilities with an MSLP [Main Street Lending Program] loan that I have to repay.
Professional, Scientific and Technical Services
There is lots of uncertainty. We need to see how April sales tax receipts impact Texas and the state comptroller's outlook. This will have implications for our work in 2021. We have a strong backlog with large, funded projects to sustain the majority of our workforce. We do anticipate some softening and some associated staff adjustments to weather any downturn.
Energy companies continue to cut jobs and capital spending, which reduces the demand for consulting services. With reduced demand, prices are cut to win the small amount of work available. My outlook is currently dismal, and I don't see any improvement in the near future—six to nine months—no matter what the federal government does to "open" the economy.
All worsening is due to COVID-19 impacting revenue from customers in the U.S. and overseas.
Uncertainty is the new constant. We continue to wait and see at this point. We are digesting views on markets reopening, but again, there is still a lot of uncertainty. The world is on hold.
It's too early to tell what the short-, mid- and long-term impact of COVID-19 will be on the legal services center. Short term there will likely be a flurry of activity, followed in the medium term by a slowdown of activity, then a return to normal, then above-normal demand if the market is opportunistic in its reaction.
March was good for us in terms of hours worked, billings and collections. Some areas like health care and labor picked up. Real estate and finance maintained their workload. In April, we are hearing of some slowing in transactional areas like corporate and finance, but it does not seem too meaningful yet. Collections remain pretty good halfway through the month.
The combination of COVID-19 and oil price reduction has slowed our engineering projects already under contract and slowed the inflow of new projects. There is great uncertainty about the impact on projects in Q3 and Q4, and we face the prospect of new work as clients cut costs.
The COVID-19 situation started out as a problem for us, but due to the increased need for health care supplies, we were able to quickly recover.
COVID-19 and oil around $25 have and/or will have a dramatic impact on commercial real estate and, therefore, our business. We have applied for a PPP loan and are awaiting approval. If business decreases only slightly in the near term and then improves, this will save us. If business is substantially reduced and for several month, then the PPP loan will only delay the inevitable—great reduction in staff, salaries, etc.
It's almost impossible to forecast the future until the pandemic situation is under control.
The COVID-19 get-back-to-work measures need to come fast, and they need to be implemented on a regional basis. Texas is not New York City. We should be able to get people back to work soon. It is crazy that we are laying off nurses and health care workers and canceling all orthopedic, breast cancer, cancer and other surgeries for our own Texans in need, yet the Texas hospitals are close to empty. There are no coronavirus patients lined up inside or outside Texas hospitals. We have put our tourism industry, restaurant, and retail sectors out of business. Texas was at full employment, and now unemployment is at its highest. The number of jobs that have been lost is heartbreaking. I am all for the quarantines, but at some point, it will be time to get Texas back to work. We are super concerned about the trillions [of dollars] in growth of the national debt with the stimulus packages. It will be interesting to see what effects this will have on the economy. We were worried about the national debt before the pandemic. I have no idea what this will mean for our country in the long run. It's great that this has exposed our economic reliance upon China—for just about everything—flaws in our FDA [Food and Drug Administration] rules, medical supplies, drugs, etc. This will all change our country forever. I think we all knew this would happen, but I don't think any of us thought it would happen in our lifetime.
Payment terms for our customers have started to stretch out as they are sitting on cash. Product is moving, sales are good, but unpaid receivables are increasing. A large portion of our revenue is cash-based commissions, for which payment is now being delayed.
Conditions make it almost impossible for me to project three to six months down the road. A lot of our work is associated with warehouses and e-commerce, which appear to be increasing. We have seen very few delays or cancellations to this point with new projects.
After the immediate shock was absorbed and assessed by the capital markets, the outlook for [the financial advisory services] industry has improved as there likely will be the need for more valuation for divorces, transactions, estate planning/gifting, private equity and fair value/financial reporting (good will impairment).
If we allow government doctors to run the economy, we will all be out of work by the end of the year, and there will be no one left to pay the taxes for the bailouts.
We have eliminated positions, furloughed [workers] and reduced schedules. Continued shelter in place will destroy the economy; we need to get back to work. We must manage the risk but open up.
Management of Companies and Enterprises
Hopefully, this will be a good week for us.
To do the SBA PPP loans, we have brought in our interns early to help. Our people have been working around the clock and on weekends to get them all inputted. We made over 4,900 loans totaling $646 million on the first round and are ready for the second. This will help earnings over the next quarter, but as these pay off and the problem loans start rising, we will have less income and more cost.
Administrative and Support Services
I'm in the recruiting business, so with unemployment on the rise, coupled with the uncertainty in the financial markets, we are not expecting to see an improvement in the short term; I do believe things will normalize and we'll rely on operational and G&A [general and administrative] expense reductions to slow cash burn. Needless to say, there is more uncertainty, but we remain optimistic.
We will not begin to see a recovery until the mindset of the people changes to the prospect that you will not get sick every time you meet a stranger. The effects of the shutdown of the economy will seep into every household. Towns, counties and states are going to lose tax revenue, which will affect services. Entertainment will be slow to come back. Domestic manufacturing will see a resurgence as we focus on job creation and strategic sourcing.
Besides the obvious COVID-19 issues, there is the total lack of support for the PPP program as created and fumbled by the banks and SBA. My company applied to several banks and was totally ignored. We have as of yet to have a bank respond that it has reviewed our application or is needing further documentation. This has totally changed my mind on the current powers that are in office.
The current health care issues have negatively impacted demand across a broad, cross section of the economy. It is still early in the process, but we expect significant liquidity issues throughout the system.
Luxury travel sales are off by more than 90 percent and not expected to return to a profitable level until sometime in 2021.
Shelter in residence has had an impact—every visual for a house is virtual, [making it] difficult to establish scale, [the] neighborhood, etc.
Our company has a good backlog of work. However, we have a serious manpower shortage. The virus has caused many employees to stop coming to work.
Our government contract went from $4 million gross sales this past quarter to $0 in the month of April. We provide travel services for government and corporate accounts, and we have been terribly impacted by the coronavirus. Two of our offices, one in Arizona and another in New Orleans, are closed indefinitely. Ninety-five percent of the staff has been laid off. We are all working from home because we still have to service our clients for the next four years. There is always a bright spot in the sky, and I know I will find it sooner or later.
We're operating remotely and able to keep the business functioning. That being said, revenue has declined and clients have shut some projects, releasing contract staff. The forecast for future revenues is continuing to decline.
COVID-19 has turned our industry upside down.
Because of our organization structure, we are not eligible for any of the relief programs thus far.
Waste Management and Remediation Services
Because of demand increases, prices for our finished goods have risen to levels not seen in years. Ironically, the supply to manufacture our finished goods has decreased from generators. Metaphorically, many consumers are competing for the same roll of toilet tissue.
Educational Services
Our packaging business is very food and beverage based. While our promotion work is down, velocity is up for grocery and supermarkets, which is improving our forecast.
A psychological transition is beginning to occur in our business as we move into the opening phase of our business and the country. The economic indicators were solid going into the COVID-19 country shutdown, and I feel strongly that those underlying metrics are resilient and would bounce back rather quickly.
We are in a better position in April versus March, largely due to our quick response to the pandemic. Our ability to shift to virtual coaching and be flexible with our current solutions to meet the new needs of our clients has positioned us in a better place than last month.
Ambulatory Health Care Services
COVID-19 has been very hard on our business. We are continuing to pay employees, without the possibility of receiving the PPP loan. However, our revenues are down over 52 percent.
PPP loans are a great concept but a difficult execution. None of the three major banks we have 20-plus-year commercial relationships with have been able/willing to let us even apply for a PPP loan through them. Ridiculous! As a dental practice, we actually ran out of PPE [personal protective equipment] two days before we were mandated to close (prohibiting discretionary dentistry is effectively mandating a close—general dentists might see three or four emergencies a month and can't afford to be staffed for just that). Supply chains for PPE were already being diverted, so the higher your volume, the sooner you ran out. The result was immediate furloughing of doctors/clinical staff.
COVID-19 is having a significant impact.
We are continuing to pay our 125 employees full time with benefits. Despite getting our SBA application into the bank on the first day, the bank was unable to upload to the SBA site and we were not funded, which is a bit of a hardship with a monthly payroll of $550,000 and total revenues now $450,000 monthly.
Obviously, due to COVID-19 rampaging, home health and hospice providing services at patients' homes, nursing homes and hospital settings placed a significant burden on the businesses to comply with CDC [Centers for Disease Control] standards. On the other hand, the CMS [Centers for Medicare & Medicaid Services] CARES [Coronavirus Aid, Relief and Economic Security Act] funding for companies that have taken care of Medicare patients is a huge benefit and support. Similarly, the SBA loan package should be made available for some of the small businesses that are unable to get funded in the first round should be funded eventually to make sure that all applications are approved with the condition that each applicant meets the requirements. Overall, we appreciate CMS and SBA programs that are providing a huge lifeline for health care service providers.
Nursing and Residential Care Facilities
As a senior living company, we are having to pay 1 1/2 to 2 times for labor at communities with a reported case of COVID-19, incurring extra costs related to sterilization of our communities and increased supply costs for PPE. At the same time, we are only able to move in a limited number of new residents, but the normal churn of resident move-outs continues. We also anticipate that we will have to reduce the rates we charge for rent and services coming out of the COVID-19 crisis. So, we have upward pressure on expenses and downward pressure on revenues.
As a long-term care and senior living community, COVID-19 has had a negative overall impact on our communities. We have not had a positive case in our community, but census is down due to reduced skilled referrals, limits on community admissions to reduce spread risk and to media-generated fear of the long-term care environments.
Social Assistance
While the pandemic has limited our ability to offer certain services (e.g., on-the-job training, work experience, internships and in-person educational programs), we have received increased federal/state funding to deliver services, so that we have and are implementing technology (which has required investments) that is creating internal productivity efficiencies and also virtual/online offerings to customers.
We are currently working remotely and working to move our operation to a virtual platform. When the state begins to rebound, we will have greater opportunity to provide training to citizens who suffer job losses.
Amusement, Gambling and Recreation Industries
Social distancing makes our operation impossible.
Accommodation
With shelter in place active in most of the markets, we are in at least through April 30; hotel occupancies with a few exceptions are close to 0 percent. We have three hotels closed and have laid off 70 percent of the staff in the hotels. Group business is all canceled through May, and in many cases, through the summer. There are some new bookings for August or later. This is a multiyear recovery for hotels. We have not laid off any corporate staff. We have cut salaries, but we feel it's vitally important to do all we can do to support the owners of the hotels we manage. We have applied through a new local bank relationship for our share of the PPP loan program under the CARES Act. We had to shift to a new bank. [Our primary bank] was slow out of the gate and still hasn't been able to intake an actual application. We hope we are approved and can get funded quickly before we run out of cash and have to resort to layoffs. The process, which kicked off last Friday, has been a confusing mess for all involved—both borrowers and lenders—with each lender making up their own underwriting rules. As of this writing, our forecasted April management fees from the hotels we manage are down to about $54,000 (9 percent of budget), and our monthly corporate payroll exceeds $400,000. Time is running short for Washington to double or triple the stimulus package or companies like ours will be gone.
We continue to navigate the uncertainty throughout the country, increased government restrictions and dramatically reduced travel. We do not expect a return to normal seasonal business levels until Q1 2021.
COVID-19—enough said. With so much uncertainty regarding the timing of when to get our business reopened or even how, it is very difficult to predict the future.
As an operator of hotels, restaurants and spas, we have no idea how long the current "stay at home" restrictions will remain in place or how long it will take the public to return to traveling, eating out and purchasing spa experiences. Like everyone else, we are in uncharted waters.
Food Services and Drinking Places
Our restaurants are down to carryout only. We are staying open and have applied for PPP loans but are losing money every day. Hopefully, this shutdown is lifted soon, or at least the strings are loosened. Our restaurants also have arcades, so we are concerned the lift on that may be even further into the future. We are still optimistic that we will be back to business as usual six months from now.
Our sales are off 35 percent. We are achieving some economies of scale with limited menu and drive-thru only. We will have numbers in two weeks and know more then.
I believe we will have a pickup in business, but the curve will be U-shaped not a V shape.
Coronavirus is hurting my business so badly.
Personal and Laundry Services
My business has been shut down by the city as a "nonessential" business due to COVID-19.
Religious, Grantmaking, Civic, Professional and Similar Organizations
Our entire office is working remotely, including board meetings being held virtually.
COVID-19 is damaging our business pretty dramatically.
Thousands of workers are out of work. We expect OSHA [Occupational Safety and Health Administration] complaints and litigation on employee deaths from COVID-19.
We are a social services nonprofit providing emergent needs. We have seen an increase in both community support and community need.
Merchant Wholesalers, Durable Goods
We are struggling on sales. [We are] down 25 percent in April 2020 versus April 2019.
Sales are currently being impacted by the supply chain. We import products from China, which has been slow to restart. We also obtain and sell PPE to the restoration, construction and industrial markets. The manufacturers have shifted their production to the health care market. Although shortages are starting to affect our sales, we expect these issues to be short lived, but it will take time to recover.
Oil prices are rapidly affecting manufacturing activity in DFW.
Our biggest concern remains the price of WTI [West Texas Intermediate] oil and the impact to the Texas economy. That, coupled with the COVID-19 economic impact, is a "double black swan" event for Texas.
Merchant Wholesalers, Nondurable Goods
COVID-19 is directly impacting the casual-dine customers we serve. With dining rooms closed worldwide, our business is down 85–90 percent from March. We're receiving a few orders from customers that serve the grocery industry, but it's not enough for us to sustain our workforce long term. The PPP loan will be a huge boost for retaining employees. If the closures remain in force through June, we will be forced to close our business.
Motor Vehicle and Parts Dealers
COVID-19 has caused a bump in the road. Once the virus is under control and the country reopens, good expectations from a pent-up market should come about.
The automotive industry is off 60 percent.
April will be the most challenging month of the year as the stimulus package is in play and people go back to work. Dallas County has failed to recognize auto sales as "essential." Showrooms closed and  sales are by online appointment only. There is inconsistency within the [metroplex] and state as many cities and counties permitted dealerships to be open. We strongly support COVID-19 safety guidelines. The used car business is off 40 percent or more, service is off 30 percent and fleet business has stopped. All of our energy-related business is depressed. Sold orders for new vehicles were canceled. New vehicles sold to governmental agencies are on delivery hold until agency staff are back at work. The additional floor plan is a cost to us.
We see significant drops in used car values, and more importantly, a lack of buyers in the wholesale markets that allow us to take older higher-mileage used cars in trade on newer models. The fact that most dealership showrooms are closed is having a strong effect on all vehicle sales. We believe the used car valuation issue will affect lenders, leasing companies, manufacturers, customers and dealers. The used car market is almost three times larger than the new vehicle industry. This issue will increase the amount of negative equity customers have in their vehicles, as well as increase loan losses for the lenders.
Building Material and Garden Equipment and Supplies Dealers
This will be a long process. When things open up, the media has everyone so scared they are not going to want to fly, eat out, etc. I fear this could be a two- to three-year downturn.
Business conditions were very dark at the end of the prior month. We had adjusted our expectations downward at that time. Since then, conditions, though terrible, haven't yet been as bad as expected. It appears policymakers are beginning to move to a more risk-based approach to managing the coronavirus situation, which should be more effective from both a public health and an economic perspective.
Health and Personal Care Stores
Supply chain issues and "stay at home" orders related to COVID-19 are affecting our sales adversely at this time.
Clothing and Clothing Accessories Stores
Our financial situation has dramatically deteriorated, with no revenue coming in as a result of closed stores. Unfortunately, we do not appear to qualify for any government help.
Historical Data
Historical data can be downloaded dating back to January 2007.
Indexes
Download indexes for all indicators. For the definitions of all variables, see Data Definitions.
All Data
Download indexes and components of the indexes (percentage of respondents reporting increase, decrease, or no change). For the definitions of all variables, see Data Definitions.
Questions regarding the Texas Service Sector Outlook Survey can be addressed to Christopher Slijk at christopher.slijk@dal.frb.org.
Sign up for our email alert to be automatically notified as soon as the latest Texas Service Sector Outlook Survey is released on the web.