Southwest Economy, Fourth Quarter 2019
Snapshot: Energy Sector Sees More Weakness
Softening oil prices and price expectations, negative stock market returns and tightening credit conditions are putting downward pressure on energy industry activity and employment.
Energy firms are experiencing greater difficulty borrowing in the high-yield credit market because of a divergence in returns and in investor interest between energy and the broader market.
The option-adjusted spread between energy high-yield debt and non-energy high-yield debt in the U.S. rose to 424 basis points (4.24 percentage points) on Nov. 22 (Chart 1). That is the highest spread since April 2016, when the industry was still reeling from the deepest oil bust since the 1982–86 collapse.
Worsening conditions have led to increased layoffs and bankruptcies. The Haynes and Boone law firm identified 33 exploration and production firm bankruptcy filings in the first three quarters of 2019, up from 28 in all of 2018.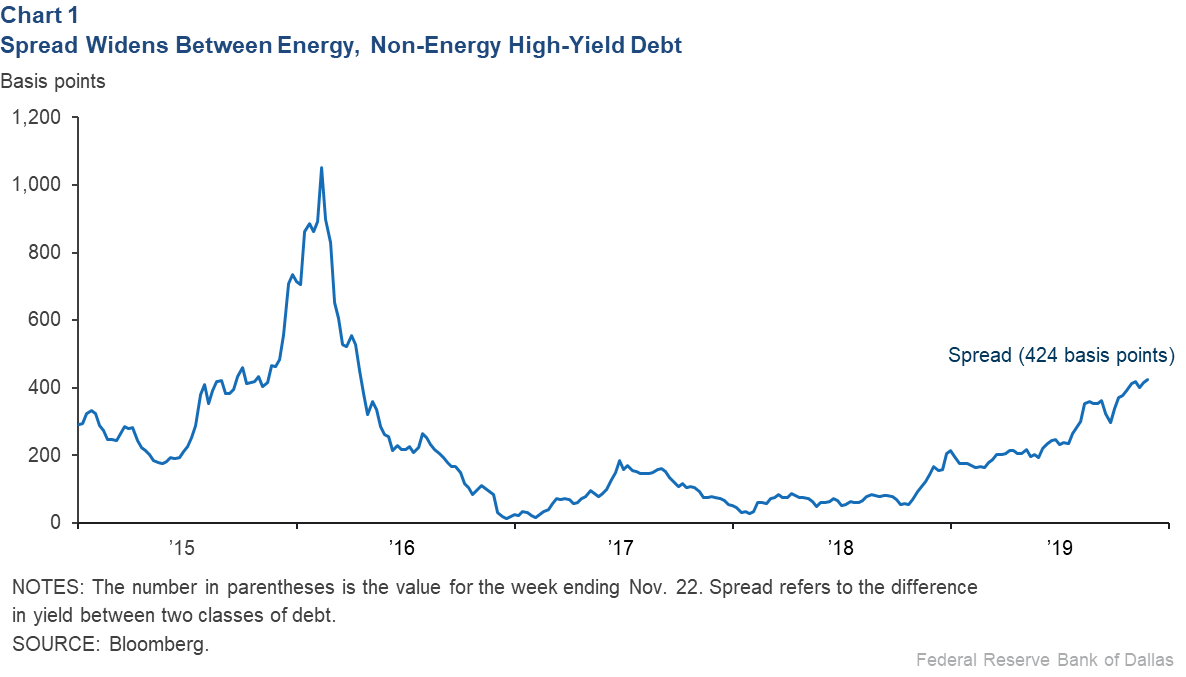 Southwest Economy is published quarterly by the Federal Reserve Bank of Dallas. The views expressed are those of the authors and should not be attributed to the Federal Reserve Bank of Dallas or the Federal Reserve System.
Articles may be reprinted on the condition that the source is credited to the Federal Reserve Bank of Dallas.
Full publication is available online: https://www.dallasfed.org/research/swe/2019/swe1904.