Southwest Economy, First Quarter 2021
Snapshot: Dining Out Picks Up in Texas, Houston
The number of patrons dining at restaurants surged in Texas and Houston after the state thawed from a deep freeze in February and COVID-19 constraints on restaurants and bars were lifted March 10. The uptick also reflected improving COVID-19 statistics and the arrival of spring break.
The number of reservations relative to the same time in 2019 suggests restaurant dining is approaching more normal levels. In Houston, restaurant demand climbed to 6 percent below the base level during the seven days ended March 23, according to OpenTable data (Chart 1). Texas was up 1 percent, while the nation overall was off 28 percent.
During the first spring break weekend, March 13–14, restaurant reservations statewide rose 12 percent compared with the same weekend in 2019. The following weekend, March 20–21, reservations were up 16 percent.
—Adapted from Houston Economic Indicators, March 22, 2021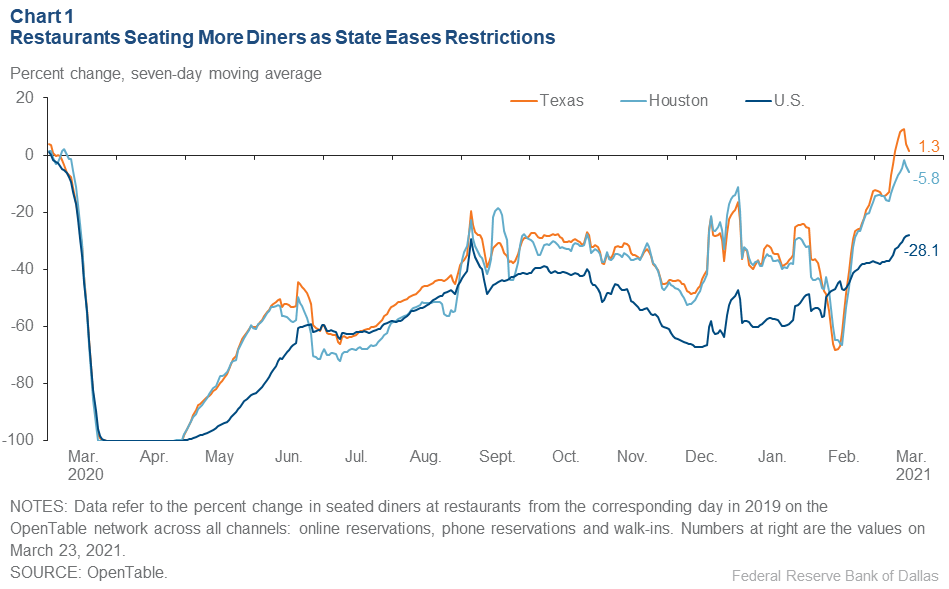 Southwest Economy is published quarterly by the Federal Reserve Bank of Dallas. The views expressed are those of the authors and should not be attributed to the Federal Reserve Bank of Dallas or the Federal Reserve System.
Articles may be reprinted on the condition that the source is credited to the Federal Reserve Bank of Dallas.
Full publication is available online: www.dallasfed.org/research/swe/2021/swe2101.