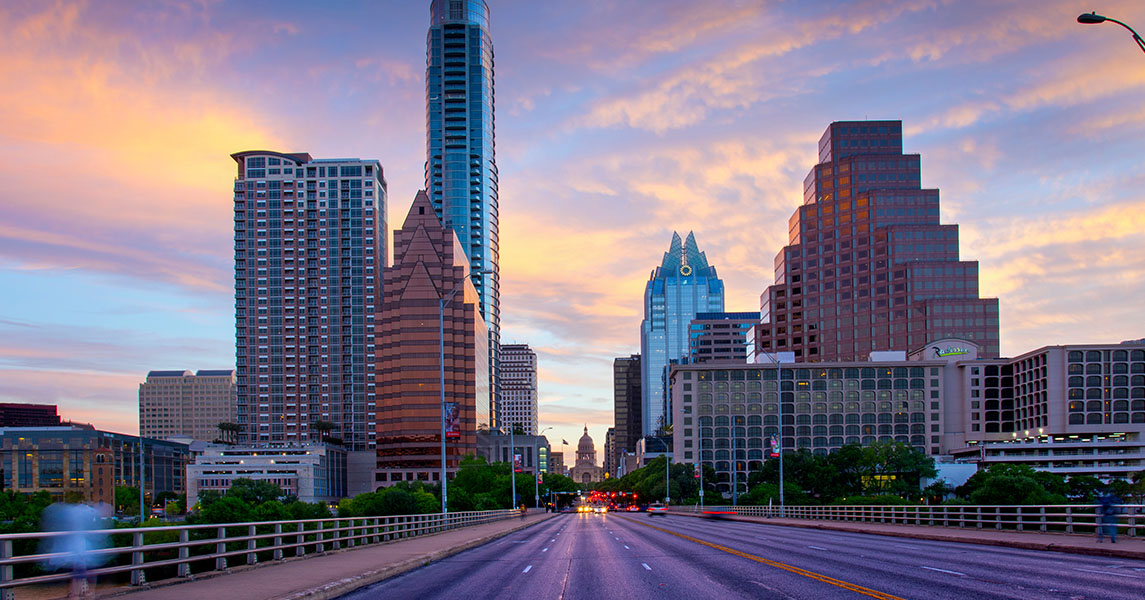 Southwest Economy, Third Quarter 2022
Around the Region: Office Markets Slowly Emerge from Pandemic Slump
The pandemic seismically shifted work from the office to home, particularly during its initial lockdown phases. Even when these limits and capacity restrictions eased and economic activity rebounded, office space demand remained soft and vacancy rates climbed.
Overall, Texas employment is 4.1 percent above its prepandemic peak. By sector, employment is 13.5 percent above the prepandemic peak in information, 12.8 percent higher in professional and business services, and 8.1 percent higher in financial activities.
Despite the rapid recovery in office-type employment, the return-to-office has been slow and overall office market improvement has been modest. Workers are reluctant to come back and have demanded more flexible work schedules. As a result, employers continue evaluating in-person work and concomitant space needs.
Sluggish Recovery
Office vacancies rose nationwide and in all major Texas metros throughout 2020 after a sizable portion of the office workforce shifted to teleworking (Chart 1). Among major Texas metros, Austin vacancies increased the most, rising 5.4 percentage points. By comparison, U.S. vacancies rose 2.7 percentage points.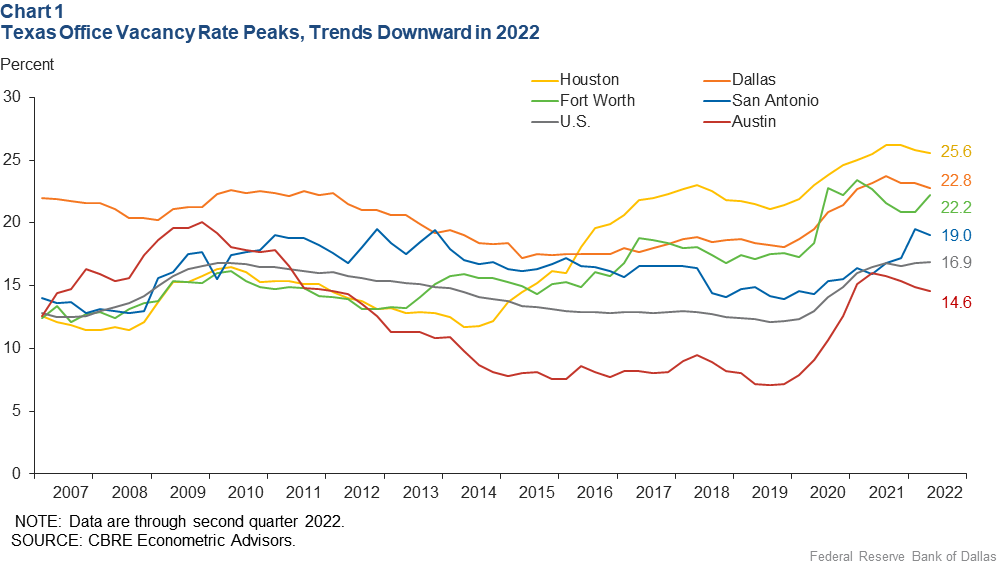 The office vacancy rate rose 4.6 percentage points in Fort Worth, 3.3 percentage points in Dallas, 3.2 percentage points in Houston and 1.6 percentage points in San Antonio in 2020. The increases were partly a result of tenants shrinking their footprint. Office rents were flat to down, and sublease space climbed as companies reeling from the pandemic recession strained to reduce expenses and gave up space they no longer needed.
Even though the U.S. and Texas economies gained traction, and employment growth was off the charts in 2021, office markets remained weak. The rise of the delta and initial omicron variants heightened uncertainty despite broad availability of COVID-19 vaccines, often pushing back return-to-office plans.
Net absorption in Texas office markets was flat to negative in the first three quarters of 2021. Vacancies rose in 2021, albeit at a slower rate than in 2020, restraining rents and construction.
Office market fundamentals wavered for some time before gaining momentum in late 2021 and into 2022. In the first half of 2022, vacancies have inched lower in most major Texas metros, except Fort Worth and San Antonio, where conditions remain weak.
Overall, office rents and leasing activity have edged higher as more employees return to the office and employers gain a better grasp of new, flexible work models.
Looking Ahead
While a recovery is underway, sublease availability still looms large in some Texas metros. In Dallas–Fort Worth, 9.4 million square feet of sublease space, or 4.1 percent of the metro's total inventory, was available as of second quarter 2022.[1]
Houston's office vacancy rate, though declining, remains close to a 22-year high, and sublease space in the metro has inched up to 7.6 million square feet, or 12.4 percent of the total space available on the leasing market.[2]
With employers shrinking their footprint and a flight-to-quality trend prevalent, backfilling older office buildings offering limited amenities will be more challenging, and planned office-to-residential conversions will help soften the blow only slightly.
With plentiful space available for leasing, conditions will likely remain favorable for tenants in the near term, keeping the pace of recovery moderate, particularly in less-desirable locations.
Notes
"Dallas/Fort Worth Office Market Figures Q2 2022," CBRE Research, accessed Sept. 1, 2022.
"Houston Office Market Figures Q2 2022," CBRE Research, accessed Sept. 1, 2022.
About the Author
Laila Assanie
Assanie is a senior business economist at the Federal Reserve Bank of Dallas.
Southwest Economy is published quarterly by the Federal Reserve Bank of Dallas. The views expressed are those of the authors and should not be attributed to the Federal Reserve Bank of Dallas or the Federal Reserve System.
Articles may be reprinted on the condition that the source is credited to the Federal Reserve Bank of Dallas.
Full publication is available online: www.dallasfed.org/research/swe/2022/swe2203.