Regional
Globally Competitive Texas Exports Sensitive to U.S. Trade Policy
Texas, the nation's largest exporting state, enjoys a strong position in world trade. The state continues to see exports climb, and it exhibits a manufacturing edge in energy-related products and intermediate goods based on an index of comparative advantage that assesses industry competitiveness.
Texas' annualized 6 percent export growth since 2002 is almost double the 3.6 percent rate for the rest of the U.S. (Chart 1).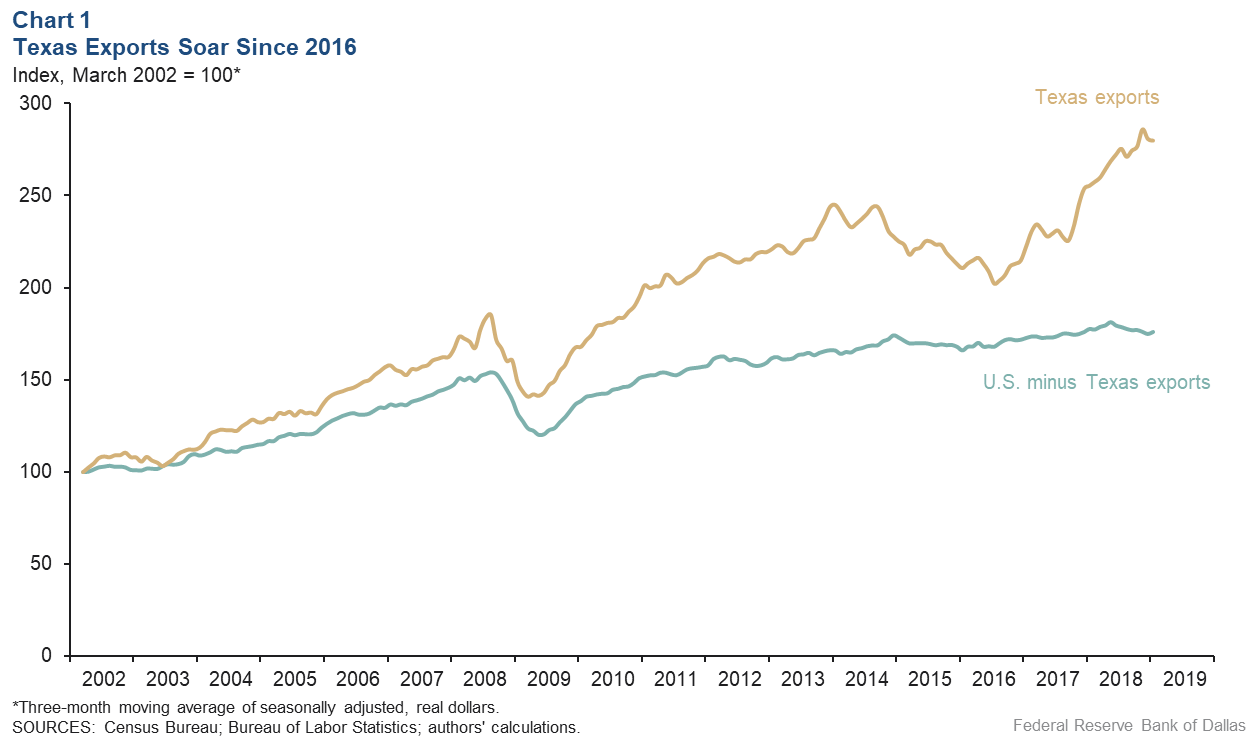 Manufactured goods accounted for the largest share of the state's exports, 78.5 percent, in 2018. Petroleum and coal products was Texas' No. 1 manufacturing export sector, accounting for 17.7 percent of total Texas exports; computer and electronic exports followed with 15.2 percent of the total.
Mining (almost entirely oil and gas) was the second-largest export, representing 18.3 percent of Texas exports. By comparison, agricultural and ranching products—including beef, corn, cotton, wheat and soybeans—accounted for 1.8 percent of Texas exports.
Global Comparative Advantage
Comparative advantage refers to the potential gains from trade arising from differences in resources or technology that allow a given country to produce a particular good at a lower cost relative to other goods. The revealed comparative advantage (RCA) index, which measures the relative advantage or disadvantage of a country (or state) by industry based on that country's export mix, is a widely used method to quantify comparative advantage. A country has a comparative advantage if a good's RCA exceeds 1.
As might be expected, Texas petroleum and coal products manufacturing, in addition to being the state's largest export category, also has the highest RCA (Chart 2). Texas, as the main trade intermediary between the U.S. and Mexico, also holds a comparative advantage in intermediate goods exports.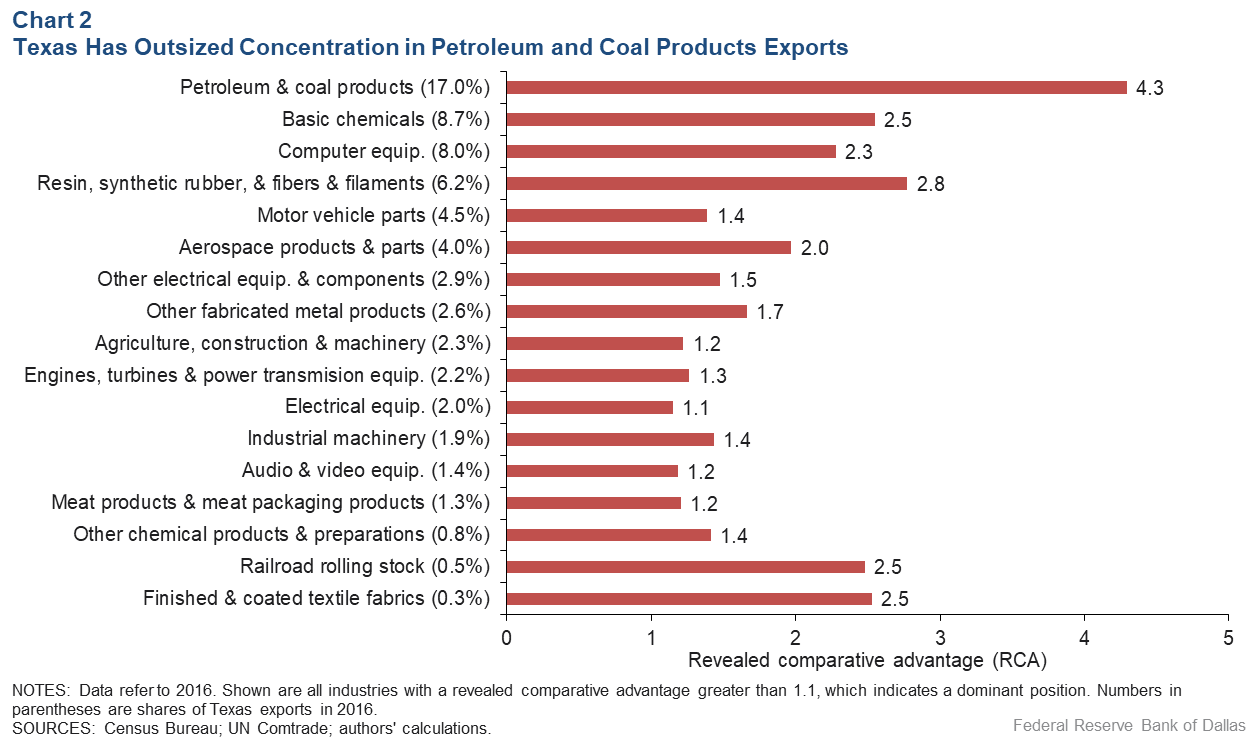 For example, computer equipment and aerospace products and parts have high RCAs and significant export shares. Texas also has a comparative advantage in motor vehicle parts, fabricated metals, engines and machinery. Overall, 17 industries in Texas possess RCAs greater than 1.1—indicative of a clear competitive advantage. These industries represent two-thirds of the state's total manufacturing exports, findings more fully detailed in the first-quarter issue of Southwest Economy.
Countries exhibiting RCA patterns that most resemble those of Texas are the state's likely competitors, often seeking export market share in the same industries. Based on export mix similarity, Texas' top five competitors are Japan, Korea, Singapore, Germany and Israel. Specifically with regard to electronic components and auto parts, Texas' key trade rivals are Japan and Korea.
Trade Uncertainty, Tariff Impacts
Though economists agree that trade has a net positive effect on economic output, international trade remains controversial largely because the short-term distributional effects of trade often bestow a relatively small benefit on a large number of consumers while significantly harming a small number of workers. Trade openness has been favorable on net for Texas given that its exports have thrived, particularly since implementation of the North American Free Trade Agreement (NAFTA) with Mexico and Canada in 1994.
Conversely, disrupting the U.S.–Mexico trade relationship or imposing new tariffs or requirements involving intermediate goods could adversely affect Texas manufacturing's world market standing. New rules of origin and wage rules have been included in the still-unratified redo of NAFTA—dubbed the U.S.–Mexico–Canada Agreement. These rules could raise production costs and ultimately reduce the competitiveness of Texas motor vehicle parts exports.
On average from 2003 to 2016, 73 percent of U.S. imports from Mexico were intermediate goods; only 24 percent were final consumer goods, a trend detailed in a 2017 Southwest Economy article on Mexico's role in U.S. global competitiveness.
Meanwhile, tariff increases involving electronic components imported from China make it harder for Texas to compete for market share against Japan, Korea and Singapore, which may be using the same electronics supply chain, absent the tariff.
Participants in the Federal Reserve Bank of Dallas' Texas Business Outlook Survey frequently express concerns about trade policy. In September 2018, 47 percent of manufacturing respondents reported negative impacts to their businesses resulting from federal trade policy changes. In February 2019, businesses described the tariffs as "a looming threat" affecting "virtually all imported raw materials" and "making U.S. exports less competitive."
Ultimately, disadvantageous trade policies could cause Texas to lose ground to its competitors, perhaps curbing manufacturing employment and the state's growth prospects.
About the Authors
The views expressed are those of the authors and should not be attributed to the Federal Reserve Bank of Dallas or the Federal Reserve System.