Regional
Services, Construction Lead Texas as Manufacturing, Energy Soften
August 08, 2019
The Texas economy continues its expansion, paced by robust job gains in construction and services. Sluggish growth in manufacturing is attributable to softening demand for durables, which appears tied to a slowing energy sector. Unemployment is at a record low, keeping wage pressures elevated.
Outlooks are mixed, with trade uncertainty, a slowing global economy and oil price volatility weighing on future expectations.
Labor Market on Solid Footing
Texas employment growth exceeded expectations in June, climbing 3.9 percent. The pace of annualized job creation in the second quarter (3.2 percent) was stronger than in the first quarter (2.2 percent).
Texas payrolls expanded a solid 2.7 percent annualized rate (167,500 jobs) in the first half of the year, outperforming the long-run average and placing the state third in the country (behind Idaho and Washington), ahead of its eighth place ranking in 2018. Texas' unemployment rate dipped from 3.5 percent in May to 3.4 percent in June, a record low for the state.
Job Growth Decelerates in the Goods Sector
Payroll expansion remains mostly broad based, although the pace of growth varied across sectors. Job growth in the goods sector slowed from 4.3 percent in 2017–18 to 3.0 percent (annualized) in the first half of 2019 (Chart 1). Growth was supported by strength in construction payrolls, which climbed an annualized 9.7 percent in June and 6.0 percent year to date.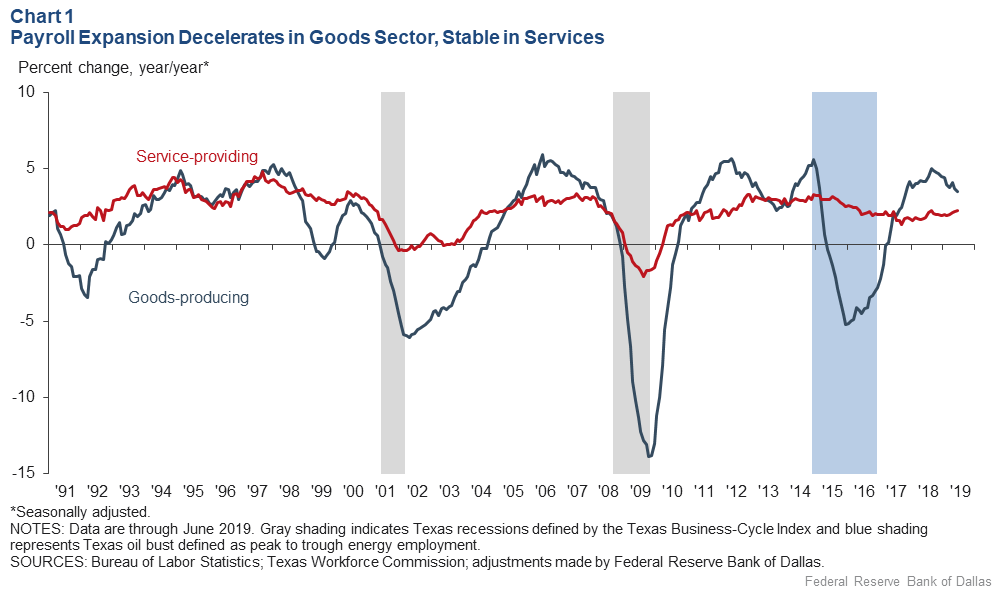 Employment in the Texas energy sector dipped again in June and is down 1.8 percent in the first half of 2019 after growing 10.2 percent in 2018. Manufacturing job growth slowed to 0.9 percent in the first half of 2019 from 3.5 percent in 2018.
Service sector payrolls maintained a broad expansion, with growth particularly strong in professional and business services, financial services, leisure and hospitality, and education and health services. Other large sectors, such as government and trade, transportation and utilities, added jobs at a more modest pace. The softer growth in trade, transportation and utilities was partly due to weakness in retail employment.
All service-providing industries grew faster in Texas than in the nation during the first half of the year.
Job Gains Strong in Major Metros; Oil Patch Slows
Job growth accelerated in most major metros during the second quarter, with Austin rising an annualized 4.7 percent; Fort Worth, 2.4 percent; and Houston, 3.6 percent. Payroll expansion in Dallas—the fastest-growing metro year to date—remained robust at 4.3 percent.
By comparison, San Antonio employment was flat in the second quarter, partly due to payroll declines in the leisure and hospitality sector, which has likely been affected by diminished tourism across the Texas–Mexico border due to lengthier border crossing times.
Employment in the oil patch declined in the first quarter, and growth was weak in the second quarter, rising at just a 0.8 percent annual rate. Weakness in the Permian Basin has to be interpreted with caution, however, as it could partly be due to a lack of available labor. Although, the latest Dallas Fed Energy Survey suggests slowing demand may be playing a part.
Softening in Manufacturing Stems from Durables
Expansion in manufacturing has moderated from 2018 highs, with easing concentrated in durables, particularly energy-related manufacturing (primary metals, fabricated metals and machinery). The Dallas Fed manufacturing survey demand measures (new orders and growth rate of orders) reveal persistent weakness for durable goods, while nondurables appear to have stabilized in recent months (Chart 2). Contacts cite trade uncertainty, labor constraints and reduced activity in the energy sector as factors restraining growth.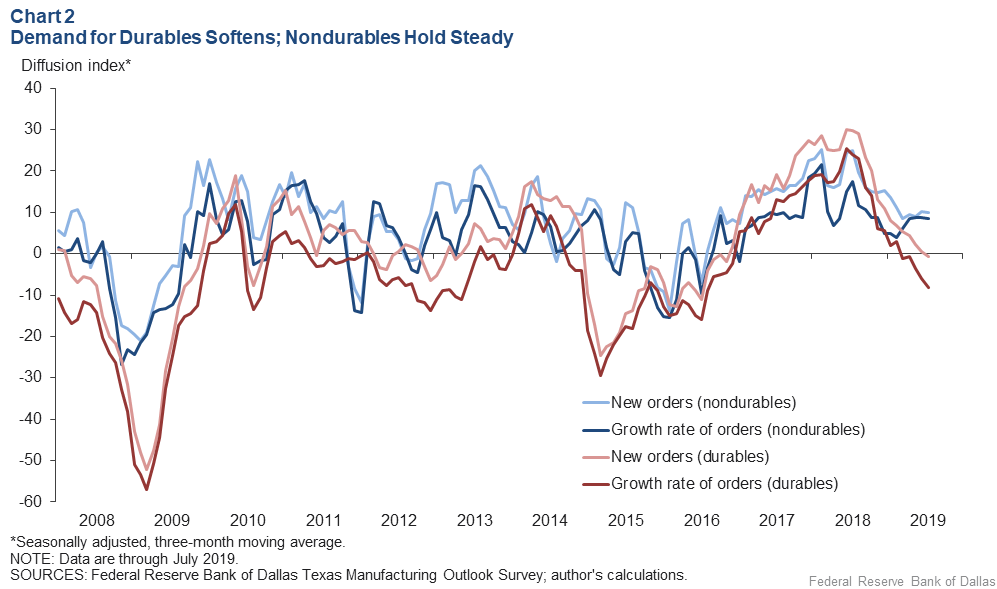 Payroll employment is further evidence of the dichotomy between growth in durables and nondurables. Sluggish job gains in the manufacturing sector this year are attributable to durables activity, which makes up 64 percent of Texas manufacturing payrolls. Expansion in durables' payrolls has slowed sharply from 4.4 percent last year to an annualized 0.7 percent through June. In contrast, job gains in nondurables remain healthy at 1.4 percent (compared with 2.0 percent in 2018).
Wage Pressures Ease but Remain Elevated
Pay increases continue spanning a wide range of industries, though the rate of growth is easing. After peaking in mid-2018, the wages and benefits indexes for all three Texas Business Outlook Surveys (manufacturing, services and retail) have slipped but remain close to or above their postrecession averages.
Additionally, the Employer Costs for Employee Compensation data also point to slowing wage growth. Wages per hour rose 2.2 percent in Houston and 2.7 percent in Dallas–Fort Worth in first quarter 2019 relative to last year—down from the 12.7 percent and 8.9 percent year-over-year increases, respectively, in first quarter 2018. It appears that employers raised wages aggressively in 2018 in response to a tightening labor market and now feel less compelled to continue doing so.
Home Sales Dip, Apartment Demand Strong
Existing-home sales dipped over the past three months after growing earlier in the year. Nevertheless, demand remains healthy and inventories low. Total existing-home sales rose 1.0 percent in the first half of the year compared with the same period last year. The recent softening is partly a result of slowing sales in the low-to-mid-price points (below $300,000) where inventories are very low (Chart 3).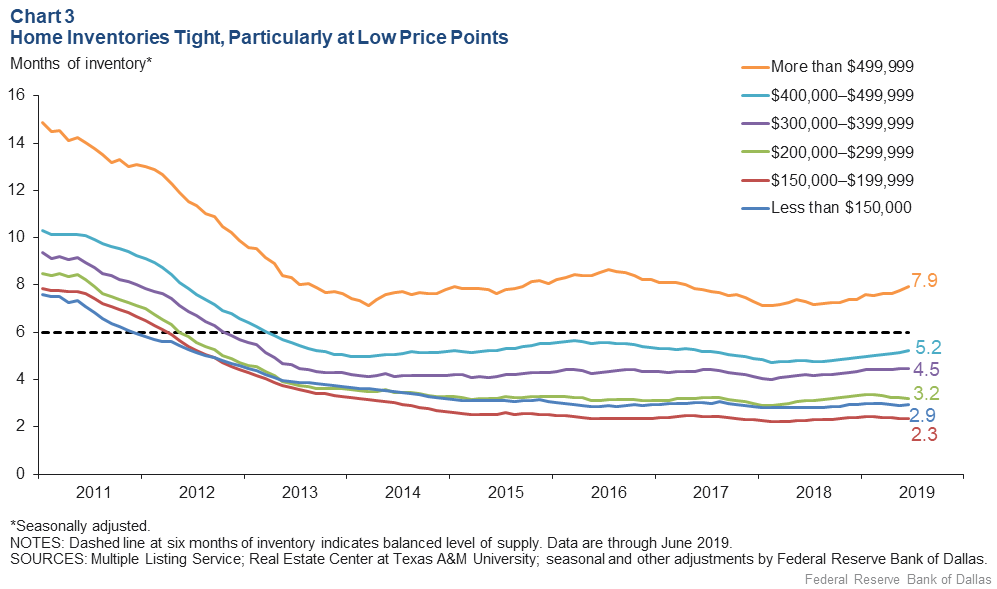 Total existing-home sales in DFW and Houston slipped in the first half of the year compared with 2018, though sales volume remains high. Meanwhile, Austin and San Antonio remained strong, with year-to-date sales exceeding last year's levels by 3 percent. Low mortgage rates are supporting sales activity. Texas apartment demand was robust in the second quarter, pushing up rents and occupancy in most major metros. Demand was particularly strong in DFW, which ranks first in the country in apartment construction.
Employment Growth Strengthens; Uncertainty Weighs on Outlooks
Texas employment is forecast to grow 2.5 percent for the year (December over December), up from 2.3 percent previously anticipated. With job growth of 2.7 percent in the first half of the year—and gains being especially strong in June—the forecast indicates a slowing to about 2.3 percent in the second half of the year.
Downside risks prevail. Activity in the manufacturing and mining sectors has slowed, likely due to tariffs, a strong dollar (which makes Texas goods more expensive abroad), a weakening global economy, trade policy uncertainty and volatile oil prices. The Texas Business Outlook Surveys in June and July reported lackluster outlooks among retailers and manufacturers, with many survey respondents expressing concern about the effects of tariffs and trade tensions.
About the Authors
The views expressed are those of the authors and should not be attributed to the Federal Reserve Bank of Dallas or the Federal Reserve System.