Regional
Texas economy retains strength despite weakening outlooks
Texas' economic expansion remained solid in May, though the pace of growth decelerated. Employment gains continued to be robust. Manufacturing output growth accelerated, but revenue growth in services slowed. Enduring supply-chain disruptions and labor shortages are still pushing up input costs. Firms, particularly in the service sector, noted a diminished ability to pass on higher costs to customers.
Conditions in the housing market weakened notably, with home sales falling, though prices remained at record highs. Outlook optimism waned and uncertainty spiked amid expectations of an impending slowdown, with persistent inflation and higher interest rates.
Employment increases in May
Texas employment expanded an annualized 6.2 percent in May, greater than April's 5.2 percent increase and above the U.S. rate of 3.1 percent. Job growth was mostly broad based, apart from the oil and gas and education and health services sectors. The Texas unemployment rate dipped to 4.2 percent in May but remained above the U.S. figure (3.6 percent), in part due to stronger labor force growth in the state.
Year to date through May, Texas payrolls increased an annualized 5.6 percent (298,400 jobs), with gains in nearly all sectors outpacing those in the U.S. (Chart 1). Over the five-month period, growth was strongest in the energy sector (19.1 percent), buoyed by high oil and gas prices.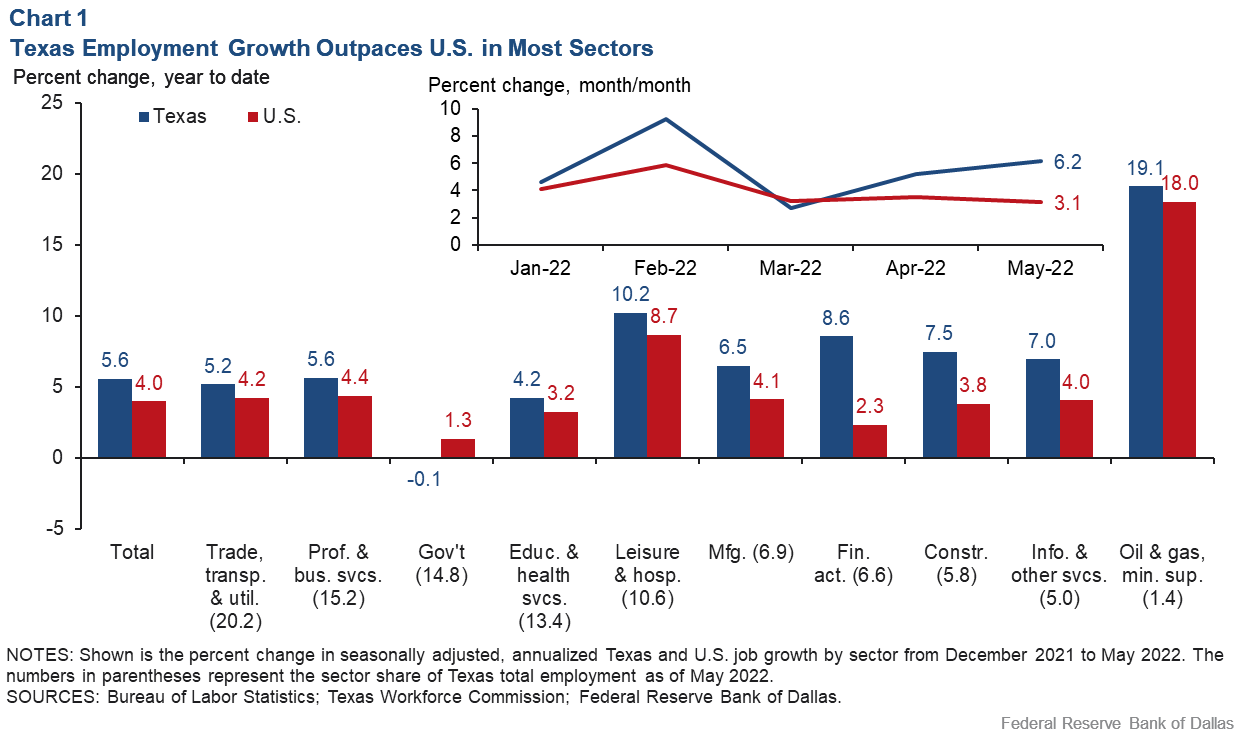 Expansion in the state's two largest employment sectors—trade, transportation and utilities, and professional and business services—was vigorous, exceeding 5.0 percent. The sectors together account for more than a third of the state's employment. The Dallas Fed forecast is for 4.0 percent Texas job growth in 2022, suggesting that the rate of expansion will slow in coming months from its current robust pace.
The labor market remains tight. Texas firms continue to report difficulty hiring, and job postings remain well above prepandemic levels. However, Texas initial claims for unemployment insurance have gradually risen since early April and, as of the week ended June 11, had largely returned to levels last seen in early March 2020 at the onset of the COVID-19 pandemic.
Growth in services decelerates; manufacturing mixed
Results from the Dallas Fed's Texas Business Outlook Surveys (TBOS) indicate that expansion in the state's service sector slowed notably in May. Factory output growth strengthened while demand eased. The new orders and growth rate of orders indexes fell to two-year lows, indicating slowing production expansion ahead.
In May, the sentiment-based general business activity index for manufacturing turned negative for the first time since July 2020. The service sector index dropped to a near-zero reading, meaning service firms were roughly split in their evaluation of whether economic activity deteriorated or improved over the past month. Outlooks weakened for both sectors, uncertainty rose and expectations for production and revenue expansion six months ahead (year-end 2022) were less optimistic.
Supply-chain bottlenecks endure
Supply-chain challenges remain widespread, especially among firms sourcing internationally, in part due to added stress from the Ukraine–Russia conflict and COVID-19 lockdowns in China. According to May's TBOS, 65 percent of firms were experiencing supply-chain issues—the same share as in February. Texas firms with international supply chains were more exposed to disruptions—87 percent with foreign suppliers were experiencing disruptions, compared with 42 percent of firms with only domestic suppliers.
The expected timeline for supply-chain normalization continues to lengthen. Among firms encountering supply-chain interruptions in May, only a quarter expect conditions to return to normal within the next six months and 37 percent expect it will take more than a year.
In June 2021, nearly half of firms thought these supply issues would resolve within six months and only 13 percent indicated it would take more than a year. A weighted average of the TBOS respondents' expectations of supply-chain resolution reveals that the timeline for normalization has extended from 7.4 months in June 2021 to 9.6 months in May 2022 (Chart 2).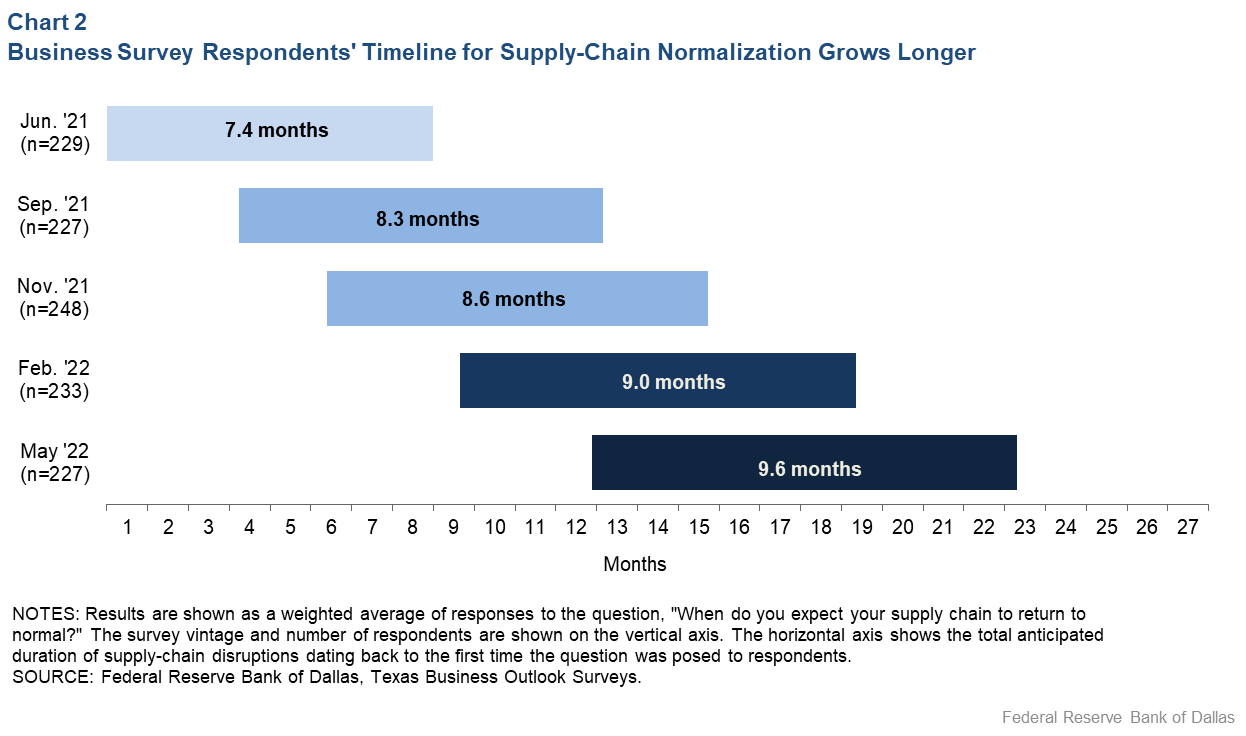 Expectations for supply-chain normalization have deteriorated among large firms more so than for small ones, a comparison of current TBOS results with those in February 2022 shows. Small firms (fewer than 100 employees) were more optimistic in May about the timeline for normalization—31 percent said they expect supply chains to normalize within six months, compared with 19 percent of large firms (more than 100 employees). In February, 33 percent of small firms and 28 percent of large firms expected supply issues to be resolved in less than six months.
Cost pass-through diminishes
Prices pressures remain elevated, with input and selling prices at or near record highs. But cost pass-through has become more difficult for businesses, particularly for small firms and companies in the service sector.
Only 24.6 percent of all respondents passed most or all of their higher costs on to customers via price increases, according to the May TBOS, down from 35.2 percent in December. Most firms passing on higher costs did so by raising prices this year (85 percent), though 29 percent plan to increase prices next year as well.
Large firms had more latitude—about 30 percent said they could pass through most or all of their increased costs, compared with 21 percent of small firms.
By industry, cost pass-through was weakest in the service sector, particularly in professional and technical services and in education and health services (Chart 3). Respondents in the education and health sector attribute this to fixed tuition rates and Medicare and insurance reimbursements. Conversely, manufacturers and wholesalers reported the greatest capacity to pass through costs. According to anecdotal commentary from these businesses, customers recognize supply-chain constraints and input-cost increases and are thus more accepting of price hikes.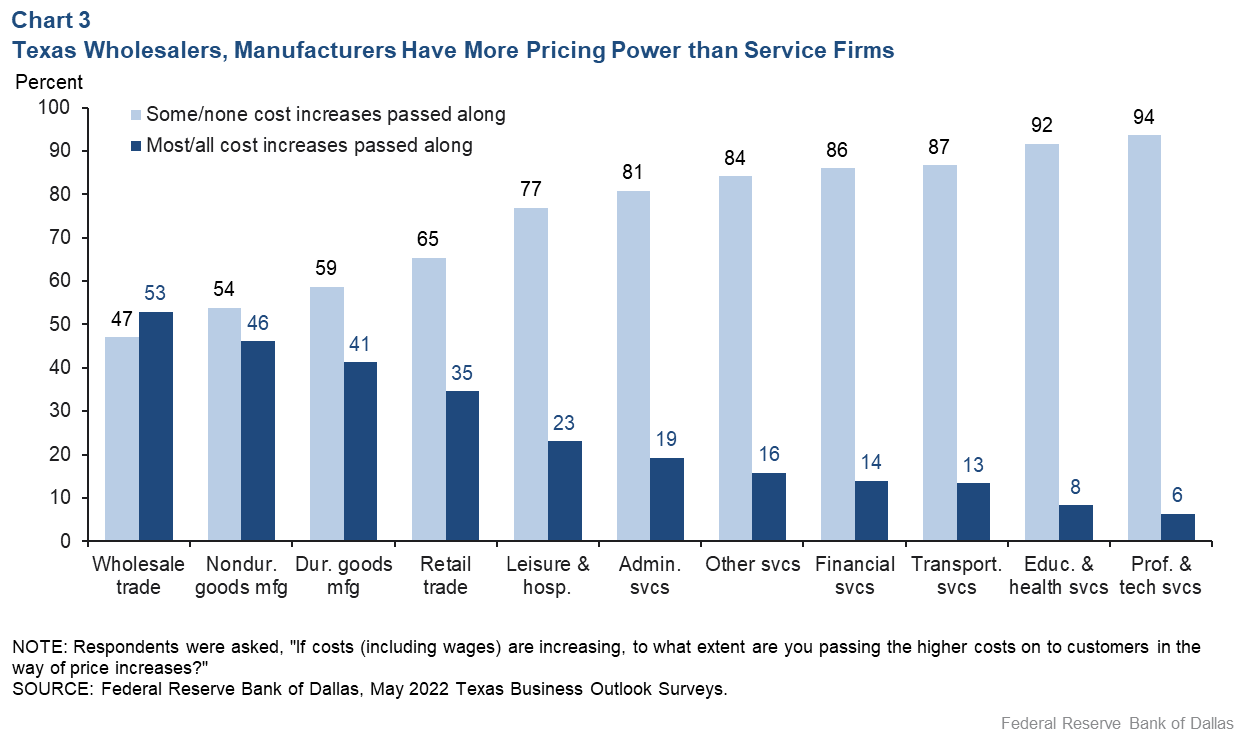 Hot housing market cools down
The housing market appears to have reached an inflection point, with the recent spike in mortgage rates and record-high prices damping demand. Texas existing-home sales fell 2.2 percent in March on a month-over-month basis and were flat in April. Weekly data from Redfin, a national real estate brokerage, indicate that sales continued trending down through mid-June (Chart 4).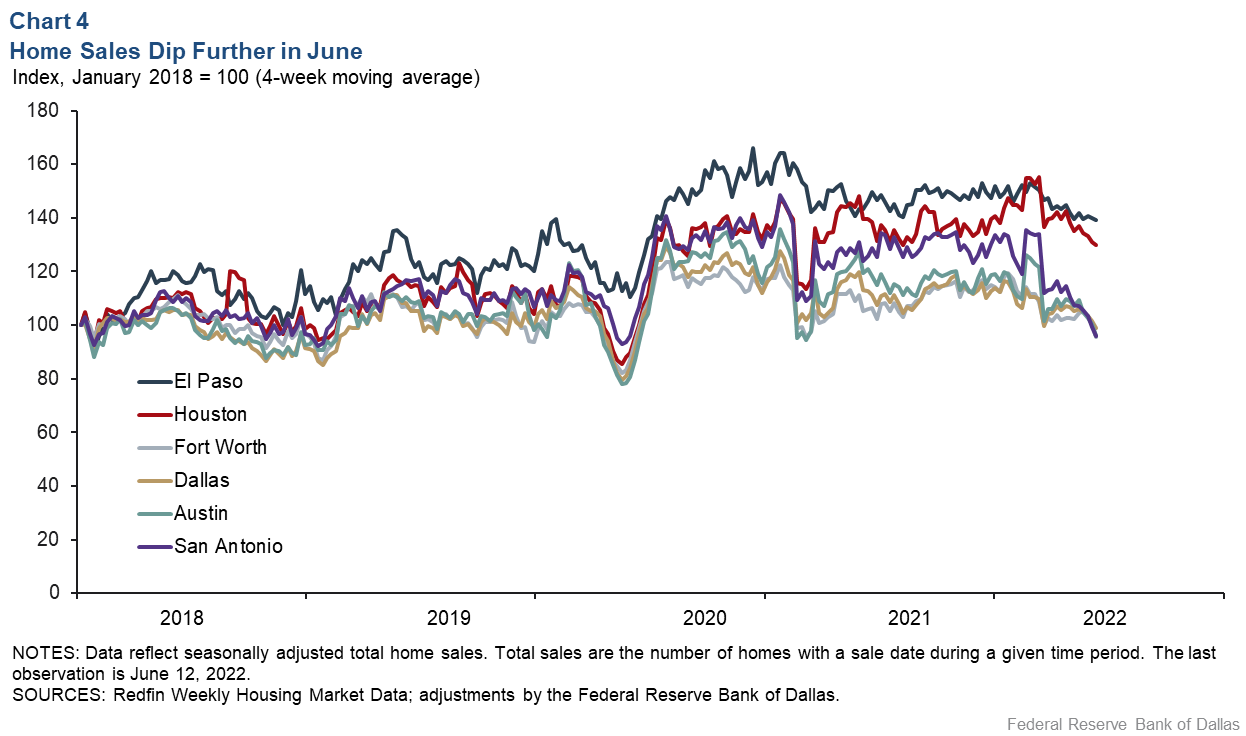 New homebuyer traffic has been disappointing, cancellations are up, conversions are taking longer and waiting lists are shrinking. Incentives are being reintroduced to stimulate sales, particularly mortgage-rate buydowns, rate locks and closing costs. Some builders are also releasing homes earlier in the building cycle to enable clients to lock in rates.
The slowing is most pronounced among entry-level buyers, though high rates are starting to hit other segments as well, such as investors. Despite the slowing, median home prices continue to rise and set yet another record in April.
The pace of price increases is ebbing, with contacts noting that bids are coming in closer to asking prices, in contrast to the premiums seen before. Most homebuilders say they have held base prices steady in recent weeks. Given mortgage rates approaching 6 percent, home sales and price growth will slow further.
About the Authors
The views expressed are those of the authors and should not be attributed to the Federal Reserve Bank of Dallas or the Federal Reserve System.