Energy Indicators

January 22, 2021
Oil prices increased in December and early January. Executives responding to the Dallas Fed Energy Survey see West Texas Intermediate crude (WTI) prices staying near to or above breakeven levels for drilling new wells this year and are budgeting based on WTI in the low-to-mid $40s. The outlook for consumption in the first half of 2021 has moderated, but forecasters still expect demand to be strong in the second half of the year. Bond markets are demanding the lowest premium in interest for high-yield energy debt since 2018.
Prices
OPEC-Plus, expectations for stronger demand boost oil prices
Oil prices rallied toward the end of 2020 despite worsening COVID-19 statistics in many countries. Expected demand was buoyed by the approval of multiple vaccines for the virus around the world. Expected supply also tightened as OPEC-plus nations (Organization for the Petroleum Exporting Countries, plus Russia and others) signaled they would delay production increases scheduled for first quarter 2021. The announcement of the delay and an additional voluntary output cut of 1 million barrels per day (mb/d) by Saudi Arabia helped global benchmark Brent crude average $55 per barrel in the first half of January (Chart 1).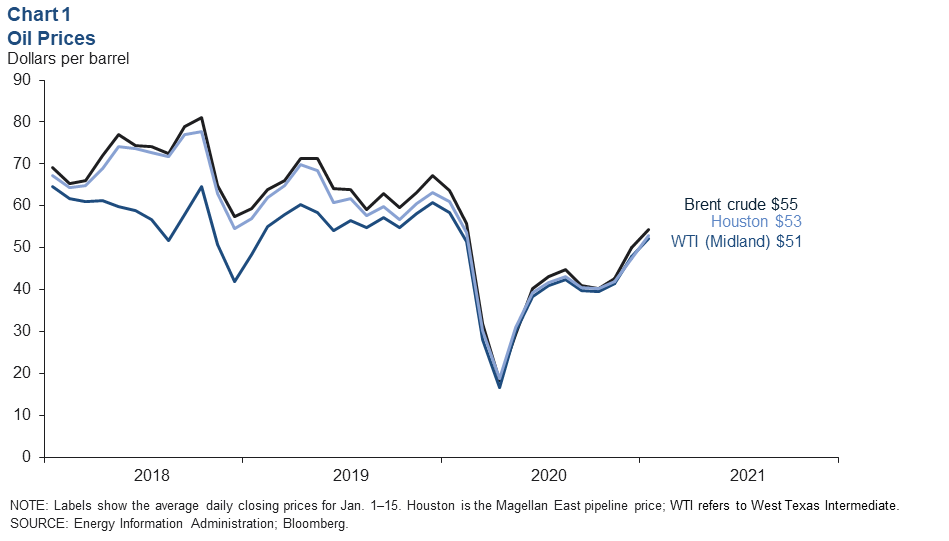 Houston crude averaged $53 in the first half of January, and West Texas Intermediate (WTI) priced in Midland, Texas—closer to the wellhead prices that operators in the Permian Basin receive—averaged $51. Dallas Fed Energy Survey respondents in December 2020 on average expected WTI to be about $50 at the end of 2021, only a few dollars above where front-month futures contracts were at the time of the survey.
Most oil firms budgeting for WTI in low-to-mid $40s
Seventy-two percent of oil and gas firms in the Dallas Fed Energy Survey are basing their 2021 budgets on a WTI price of $40 to $46 (Chart 2). With those budgets, most firms surveyed plan to keep their capital spending flat to slightly up this year versus 2020.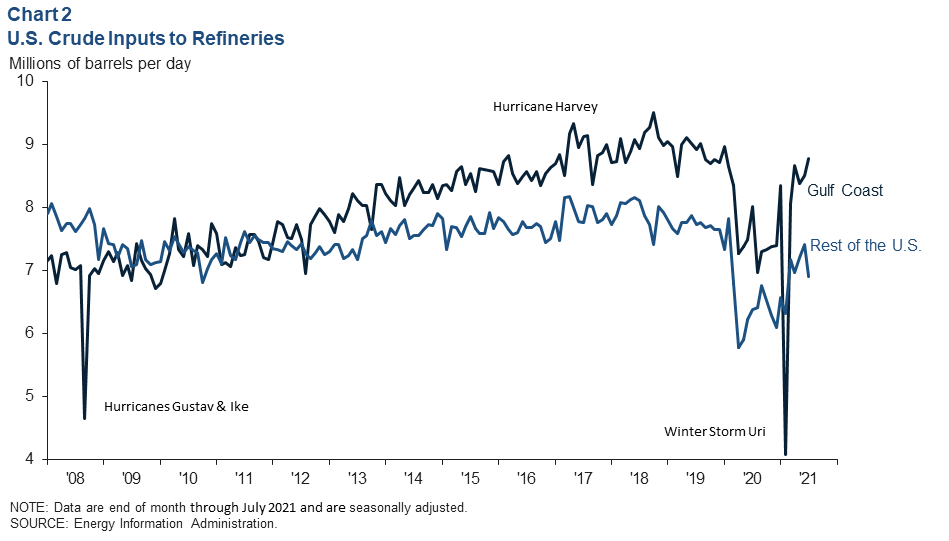 Last year, the Dallas Fed Energy Survey indicated that the price for WTI that producers needed to break even on drilling a new well was about $50 on average ($48 in the Permian), though it varied greatly across both firms and shale basins. Breakevens are expected to be slightly lower in 2021 due to improvements in efficiency, an even tighter focus on the very best well sites, and price concessions by firms that sell oilfield services to producers.
Consumption
U.S. consumption recovery starts 2021 on pause
The amount of product supplied—a proxy for U.S. consumption—averaged 18.8 mb/d over the four weeks ending Jan. 8. That equates to a year-over-year decline of 7.6 percent, though product supplied was nearly flat compared with the prior four-week period (Chart 3). Gasoline consumption was down 12.5 percent year over year on Jan. 8. Declines in mobility associated with the COVID-19 resurgence and winter weather likely muted demand for the fuel.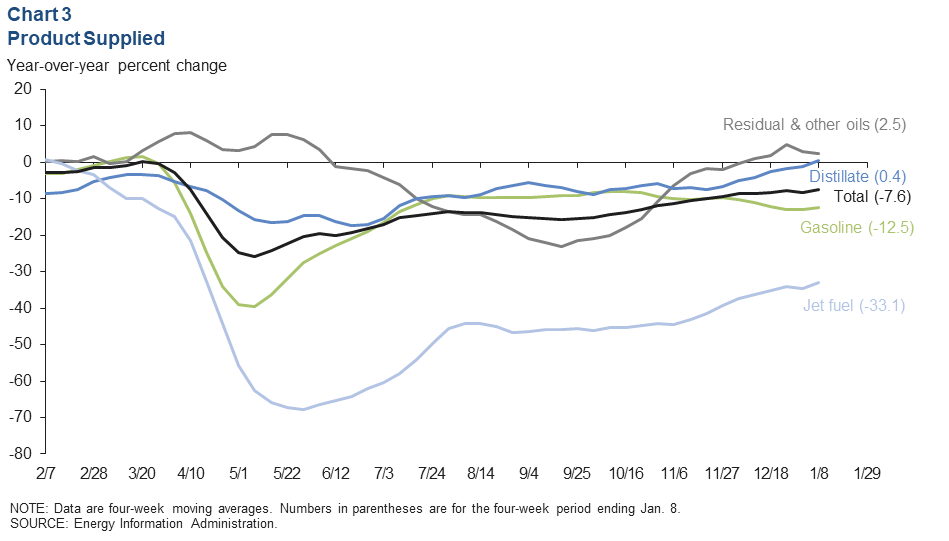 Diesel consumption was nearly flat year to year, supported by demand for deliveries from online retailers. Residual and other oils logged slight growth thanks largely to strong demand for propane. However, jet fuel consumption gave back some of its gains in the new year.
Consumption expected to accelerate in second half of 2021
Expectations for global oil consumption in the first half of 2021 have moderated somewhat compared with September projections as rising cases and more contagious strains of the coronavirus dampen the pace of recovery. However, expectations for petroleum demand are stronger in the second half of 2021 due to the rapid development and deployment of multiple vaccines (Chart 4).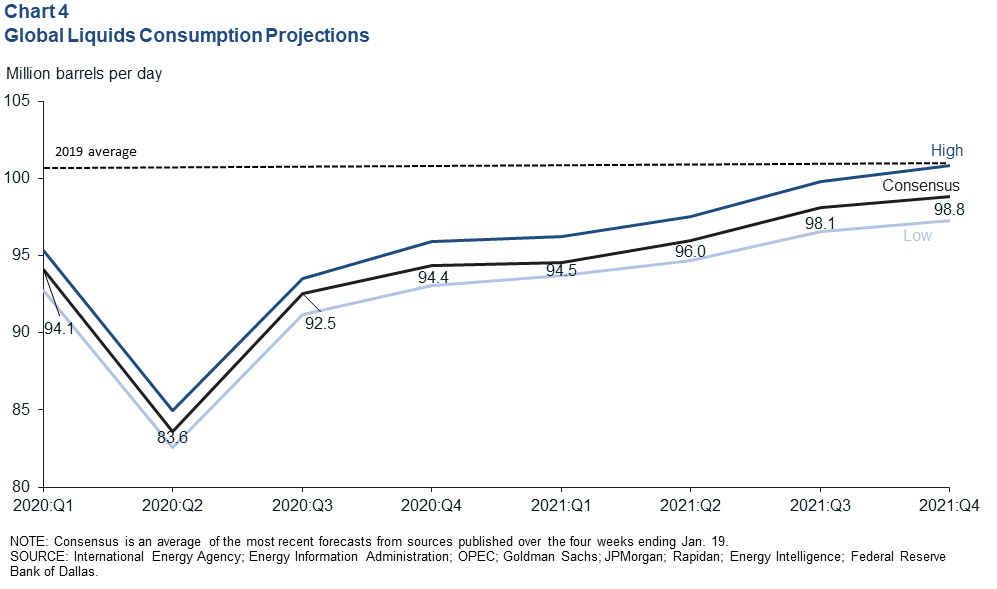 Financial markets
Energy high-yield debt spreads narrow in the new year
After a disastrous 2020 that saw a raft of bankruptcies to rival the 2015–16 oil bust, the extra premium demanded by bond investors from oil and gas firms for high-yield debt receded to its lowest level since late 2018 when oilfield activity (drilling and completions) was at a cyclical high. Over the week ending Jan. 15, the spread between energy and all other corporate high-yield bonds fell to average 173 basis points (0.173 percentage points). Multiple supply- and demand-side factors affect the price of energy debt at any given time, but the improved outlook for oil prices and margins among market participants and energy executives is likely reducing the perceived risk of energy relative to other sectors.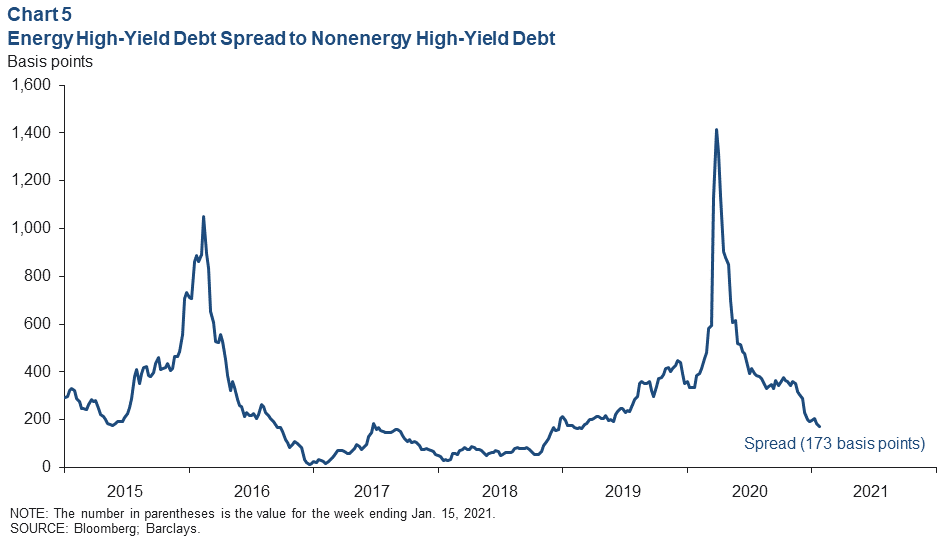 About Energy Indicators
Questions can be addressed to Jesse Thompson at jesse.thompson@dal.frb.org. Energy Indicators is released monthly and can be received by signing up for an email alert. For additional energy-related research, please visit the Dallas Fed's energy home page.