Energy Indicators

April 12, 2023
The prices of many global energy products have come down since the start of the year. Global refined crude throughput has increased in the past year and is expected to continue to rise. Refinery crack spreads—a proxy for refiner margins—were above historic levels at the start of 2023 and look to stay elevated through spring.
Energy prices
Banking fears drag down WTI
After oscillating around the high $70s since December 2022, the price of West Texas Intermediate (WTI) crude oil fell from $77 a barrel on March 10 this year to $67 on March 17, its lowest close since December 2021 (Chart 1). Over that same period, the S&P 500 declined 1.4 percent, the Dow Jones industrial average slipped 1.1 percent and the broader S&P energy commodities index slid 10.4 percent. These declines were associated with fears of a potential banking crisis after the failure of Silicon Valley Bank.
At the low point, WTI was roughly 18 percent below its January 2023 high of $82. WTI had recovered to $76 by March 31.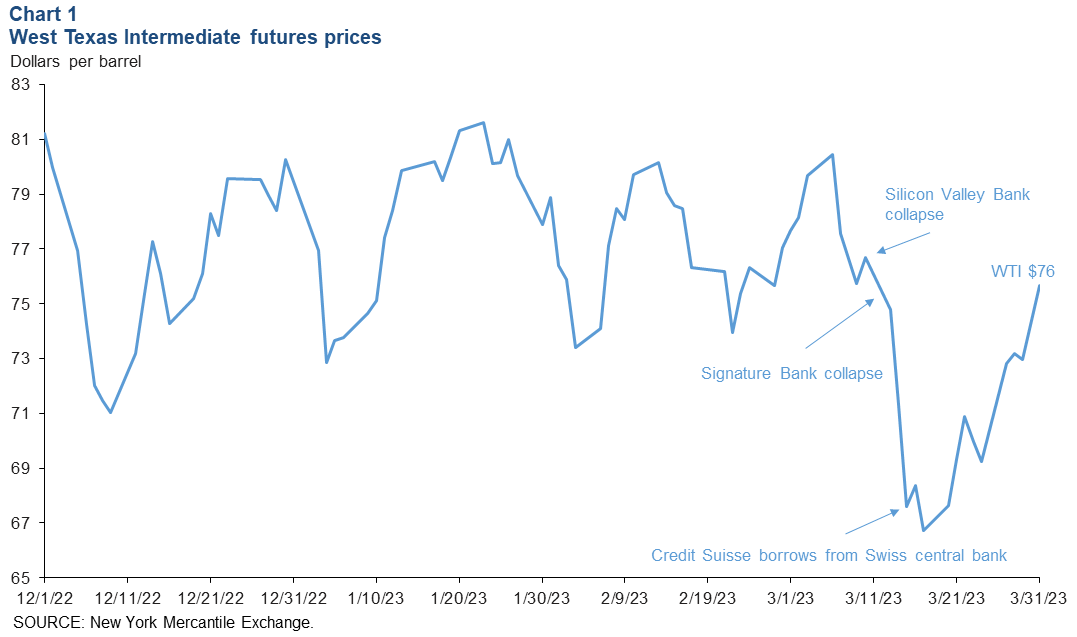 Cost of coal on the decline
Australian coal fell 54 percent from the start of the year to $21.19 per million British thermal units (MMBtu) for the week ending March 10 due to increased production, warmer weather and the falling price of natural gas, a substitute for coal (Chart 2). Chinese coal prices declined 12 percent to $15.45 per MMBtu.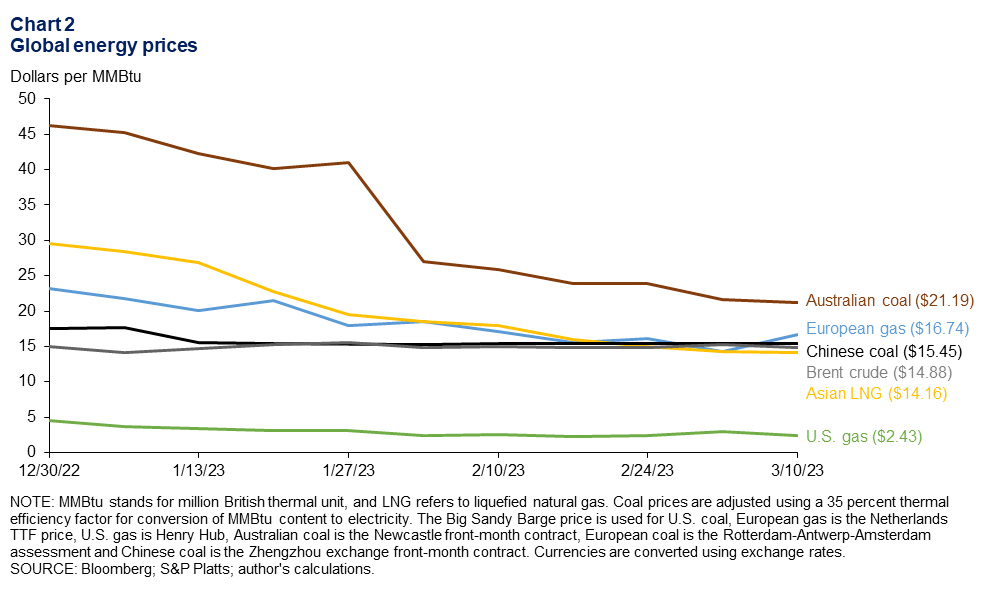 To put those prices in perspective, $15.45 coal is equivalent to $87 per barrel of Brent crude oil, which is slightly above the front-month futures price of $83 per barrel, or $14.88 per MMBtu, for the week ending March 10.
Surveyed firms expect oil to end year at $80
Energy prices have eased, but oil producers interviewed between March 15 and March 23 for the Dallas Fed's Energy Survey expect WTI to end the year at $80 per barrel (Chart 3). The survey was conducted amid heightened banking sector fears. Given the timing, a large number of respondents reported that the banking crisis was adding uncertainty to their outlooks.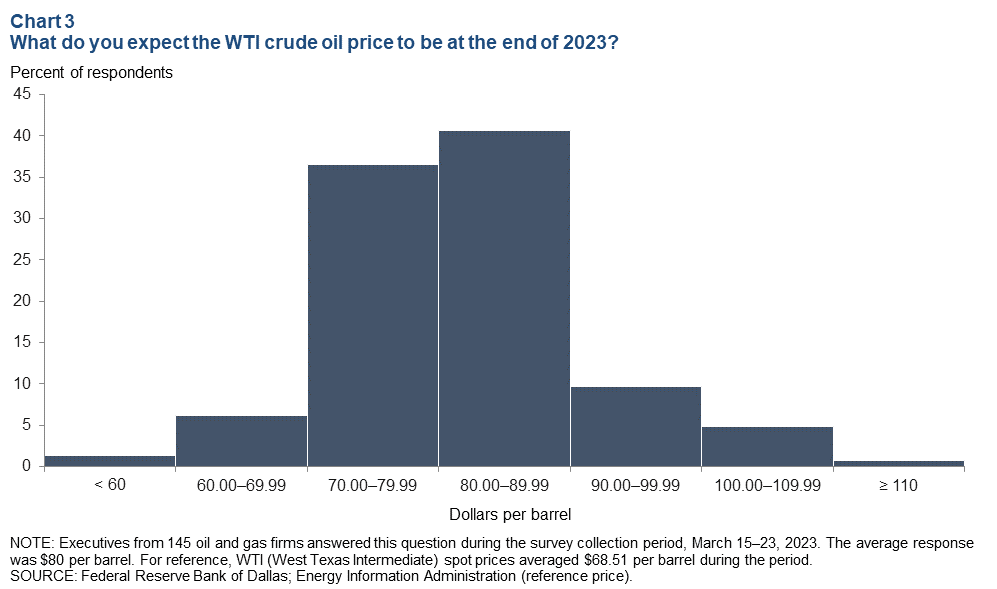 Natural gas expected to rise
According to Energy Survey respondents, Henry Hub natural gas is expected to rise to $3.43 per MMBtu at the end of this year, well below the $5.64 projection the previous quarter (Chart 4). That is fairly close to where bets in the futures market imply prices will be. Prices averaged $2.23 during the March survey collection period.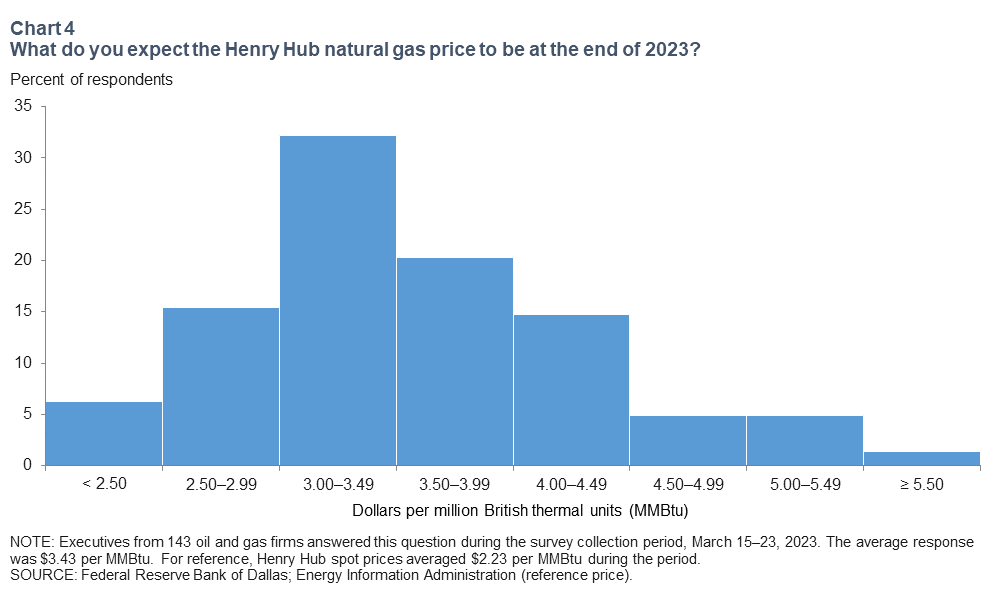 Refining
Global throughput to grow modestly in 2023
The volume of crude oil going into Chinese refineries rose from 14.1 million barrels per day (mb/d) in December 2021 to 14.4 mb/d in December 2022, and the International Energy Agency (IEA) sees the country's crude throughput increasing a further 0.7 mb/d by the end of 2023 (Chart 5). In contrast, the U.S. saw throughput decrease 0.5 mb/d over that same time, with a sharp dip in December 2022 due to an arctic freeze that affected much of the nation. Throughput in the rest of the world grew 0.5 mb/d year over year.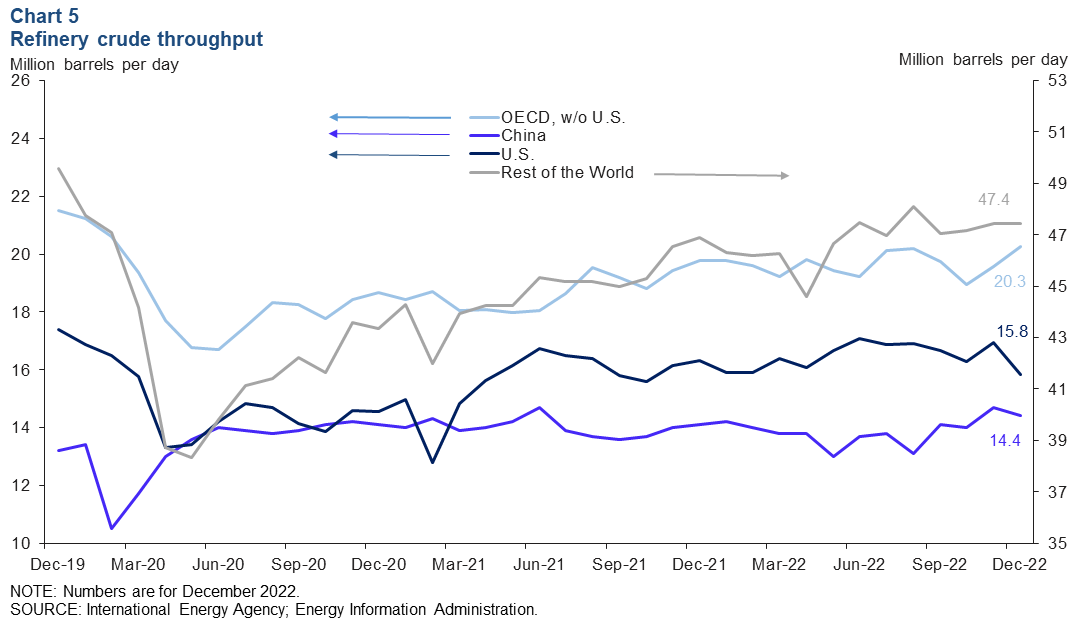 The IEA expects global crude runs will average 82.1 mb/d in 2023, a 1.8 percent year-over-year increase driven by Chinese demand.
Crack spreads drop early in year but look to rise in spring
Refining crack spreads at the start of 2023 were down 15 to 24 percent from average January levels (Chart 6). Nonetheless, resilient consumer demand and narrow product inventories around the world—particularly for diesel—have kept spreads well above levels seen before the Russia–Ukraine war or even before the pandemic.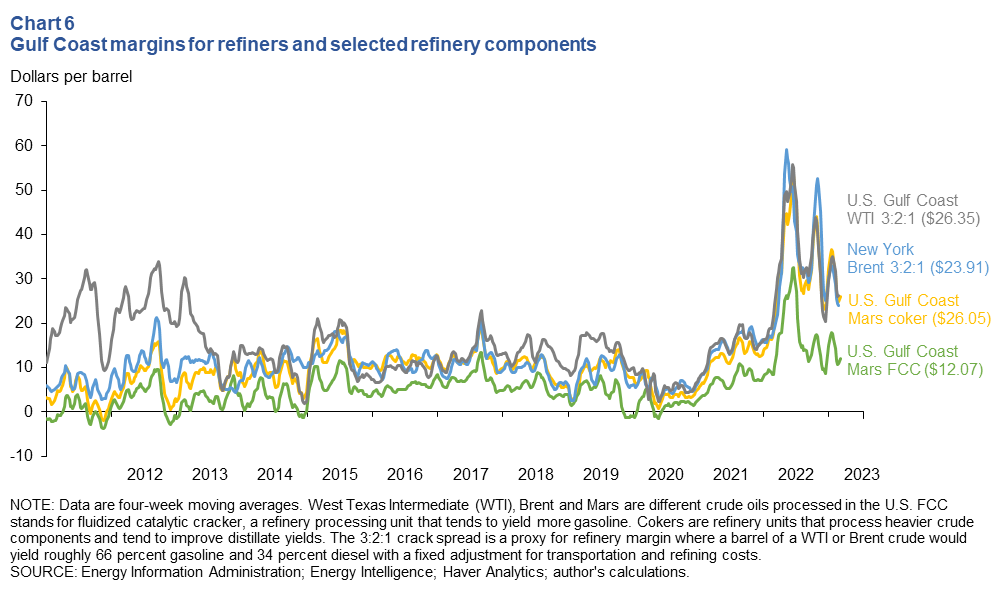 Crack spreads for U.S. Gulf Coast Mars cokers—heavy-crude processing components in refineries that tend to yield more diesel—dropped to $26, 51.4 percent below their peak in June 2022 and their lowest point since December of last year.
A heavy maintenance schedule worked to push crack spreads higher in the spring. This was compounded by the fact that Gulf Coast refineries ran 7 percent below capacity for a time after winter storms in December 2022. Refiners are running twice as many overhauls as usual in early 2023 as many projects that were deferred during the COVID-19 pandemic come due, putting upward pressure on refining margins.
Decline in implied crude stocks seen for 2023
In the first half of 2023, global crude oil production is expected to modestly outstrip consumption. However, consumption is expected to outpace supply in the second half of 2023, mainly due to China. An average of several projections for implied changes in global inventories suggests consumers will drain global crude oil stocks to the tune of nearly 0.6 mb/d in the second half of 2023 (Chart 7).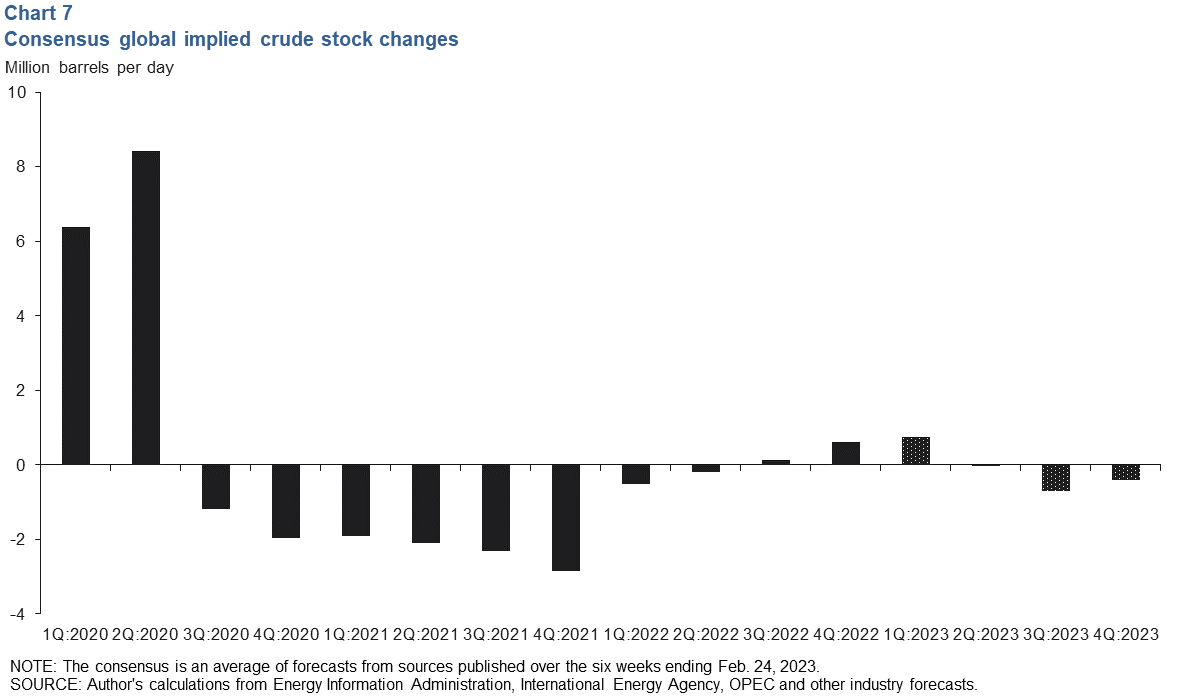 About Energy Indicators
Questions can be addressed to Kenya Schott at kenya.schott@dal.frb.org. Energy Indicators is released monthly and can be received by signing up for an email alert. For additional energy-related research, please visit the Dallas Fed's energy home page.