Texas Economy
Texas Employment Forecast

December 17, 2021
Texas employment grew at a strong 7.4 percent annualized rate in November after increasing a revised 4.5 percent (previously 3.8 percent) in October. The Texas Leading Index increased for the fourth consecutive month—the 17th rise in the last 19 months. The recent gains in the index suggest continued strong job growth over the next three to six months.
Using a top-down model based on oil price futures and forecasts for national gross domestic product and Texas COVID-19 hospitalizations, we estimate that jobs will increase by 5.3 percent in 2021, with an 80 percent confidence band of 4.9 to 5.7 percent. Based on the forecast, 649,200 jobs will be added in the state this year, and employment in December 2021 will be 13.0 million (Chart 1). The 2022 Texas jobs forecast will be released at the annual Texas Economic Outlook event on Feb. 3, 2022. The data thus far suggest that job growth will slow somewhat next year but remain well above the trend rate of growth.
"Despite increased labor market tightness and worsening supply-chain disruptions, job growth continues at a strong pace," said Keith Phillips, Dallas Fed assistant vice president and senior economist. "Demand remains strong, likely boosted by the decline in COVID-19 cases over the past several months and healthy household finances.
Texas Business Outlook Surveys contacts
report frustration that hiring constraints and supply-chain shortages have increased their costs and limited their ability to fully respond to strong consumer demand."
The Texas unemployment rate declined from 5.4 percent in October to 5.2 percent in November. While labor markets are tight in Texas, the labor force has been growing at a faster pace than nationally, likely helped by strong net migration from other U.S. states. The Texas labor force grew 3.6 percent annualized for the three months ending in November while increasing only 1.3 percent nationally.
The Texas Leading Index grew strongly in November, with a majority of the eight indicators giving positive contributions (Chart 2). The increase in the index was concentrated in a large drop in initial claims for unemployment insurance. The U.S. leading index, Texas help-wanted advertising, average weekly hours worked in manufacturing, and permits to drill oil and gas wells also contributed positively to the index. A moderate increase in the Texas trade-weighted value of the dollar and slight decreases in the stock prices of Texas-based companies and the real oil price made negative contributions.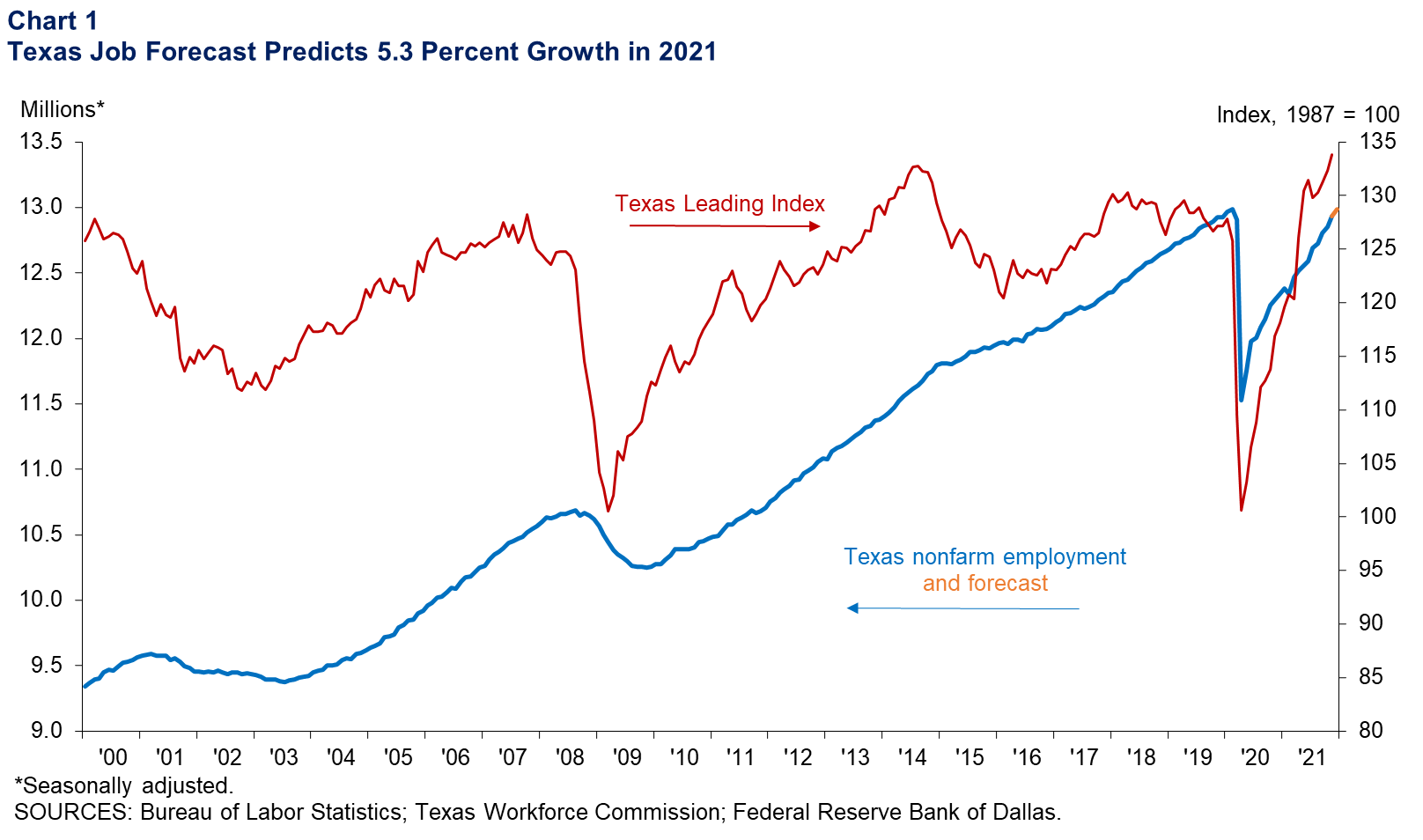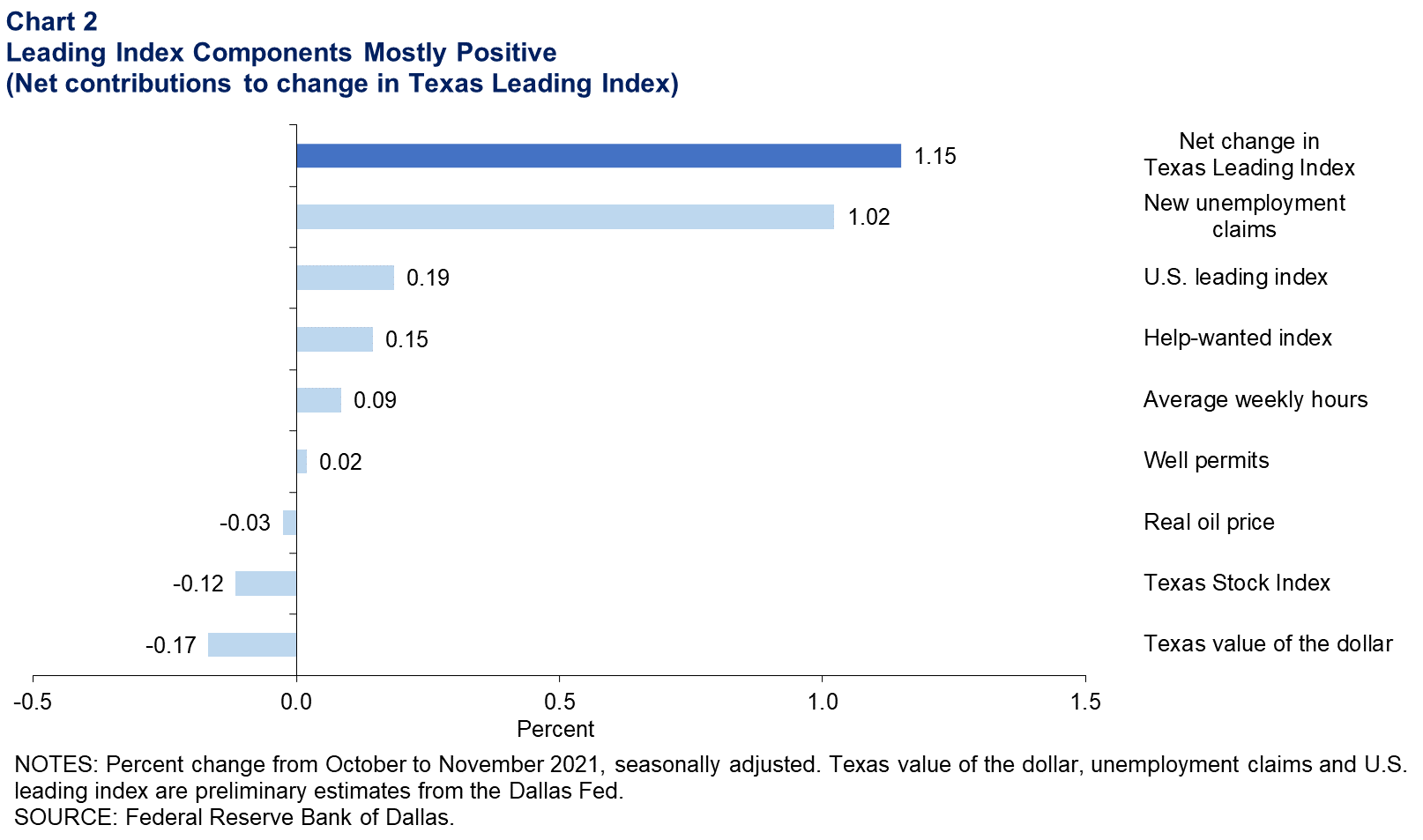 Next release: February 3, 2022
Methodology
The Dallas Fed Texas Employment Forecast projects job growth for the calendar year and is estimated as the 12-month change in payroll employment from December to December.
Due to the rapid onset of the COVID-19 pandemic, the forecasting model used in this release of the Dallas Fed Texas Employment Forecast differs from the model used historically. In this case, payroll employment is estimated based on expectations for U.S. GDP growth for 2021, an estimate of direct COVID-19 impacts from March to May 2020, projected hospitalizations in Texas for COVID-19 from the Institute for Health and Metrics Evaluation, and expected prices of West Texas Intermediate crude oil based on the futures curve.
For additional details, see dallasfed.org/research/forecast/