Austin Economic Indicators

April 1, 2022
Growth in the Austin economy strengthened in February. The Austin Business-Cycle Index expanded at a faster pace, while the unemployment rate remained unchanged. COVID-19 hospitalizations continued to decline through March, and hospitalizations fell to an eight-month low. February housing permits ticked up in the metro as the median home price reached a new high. Private sector average hourly earnings continued to trend upward.
Business-cycle index
The Austin Business-Cycle Index—a broad measure of economic activity—rose an annualized 6.8 percent in February. This is a notable acceleration from the 3.6 percent pace in January (Chart 1).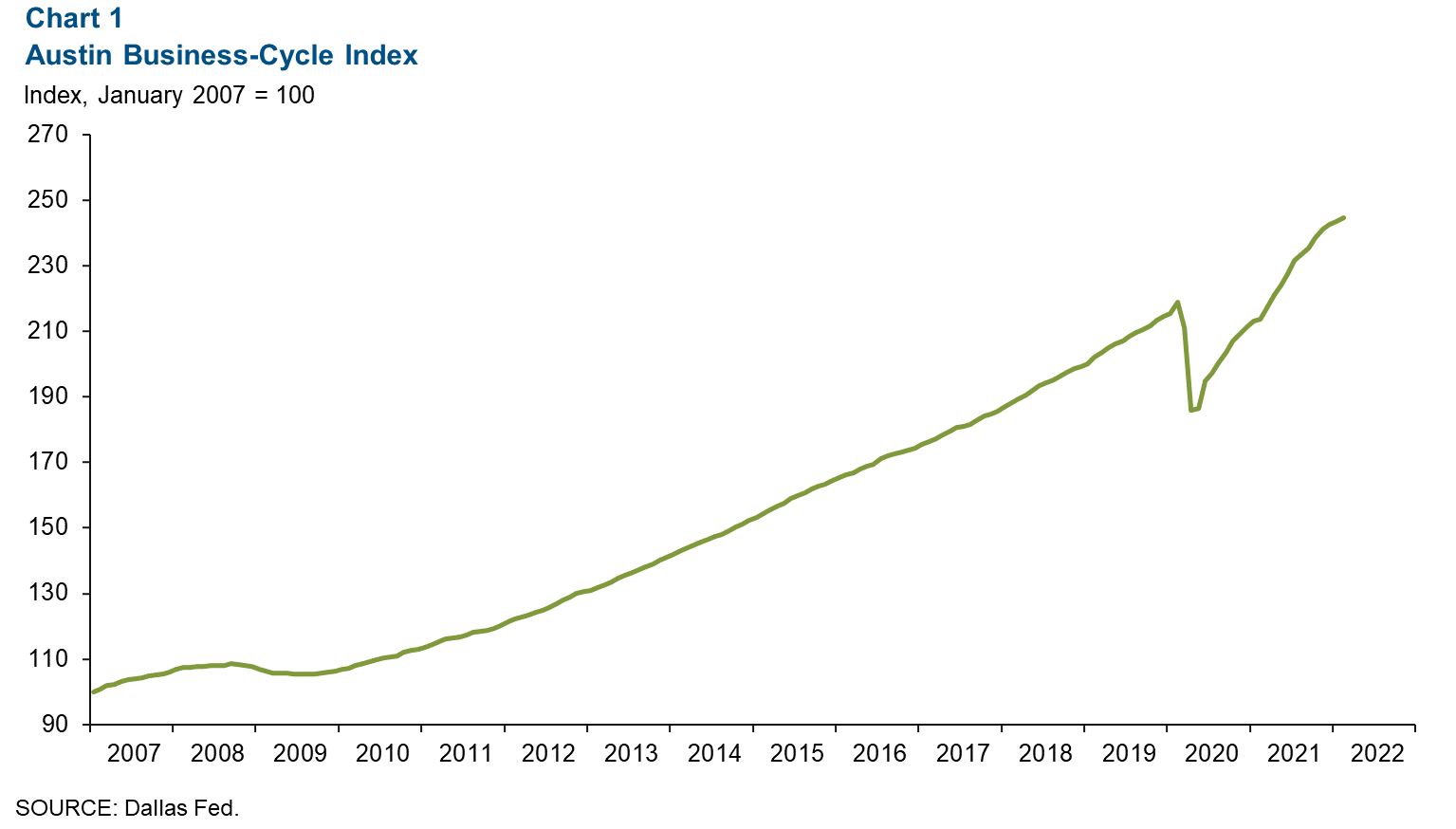 Labor market
Unemployment rate remains low
Austin's unemployment rate remained at 3.2 percent in February, the lowest level since the beginning of the pandemic (Chart 2). This is well below the state's jobless rate of 4.7 percent and the nation's rate of 3.8 percent. Growth in the metro labor force accelerated from an annualized 1.4 percent in January to 5.8 percent in February. This compares with the state's 3.4 percent and nation's 2.3 percent labor force growth.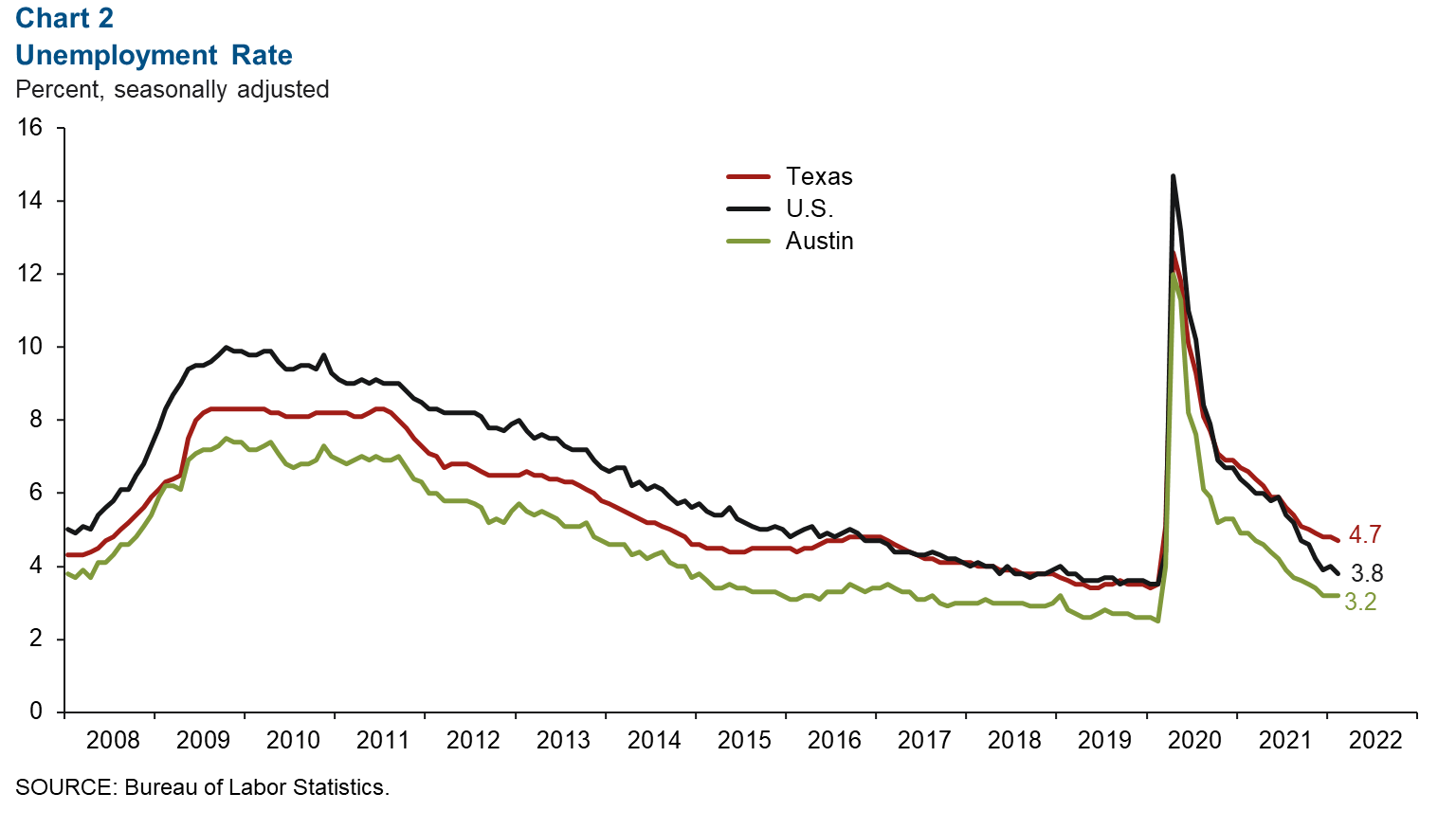 Payroll gains positive across most sectors
Austin employment increased at a 2.1 percent annualized pace, or by 6,353 net jobs, in the three months ending in February (Chart 3). Leisure and hospitality (up 13.5 percent, or 4,122 jobs) led overall growth, followed closely by manufacturing (up 11.7 percent, or 1,833 jobs). Sectors that saw a net decline in employment include other services, which encompasses activities such as personal care and auto repair services (down 34.8 percent, or 4,745 jobs), financial activities (down 14.8 percent, or 3,026 jobs) and construction and mining (down 4.1 percent, or 773 jobs). As of February 2022, Austin payrolls are 6.0 percent above prepandemic (February 2020) levels. Employment rose 8.7 percent year-over-year in December 2021.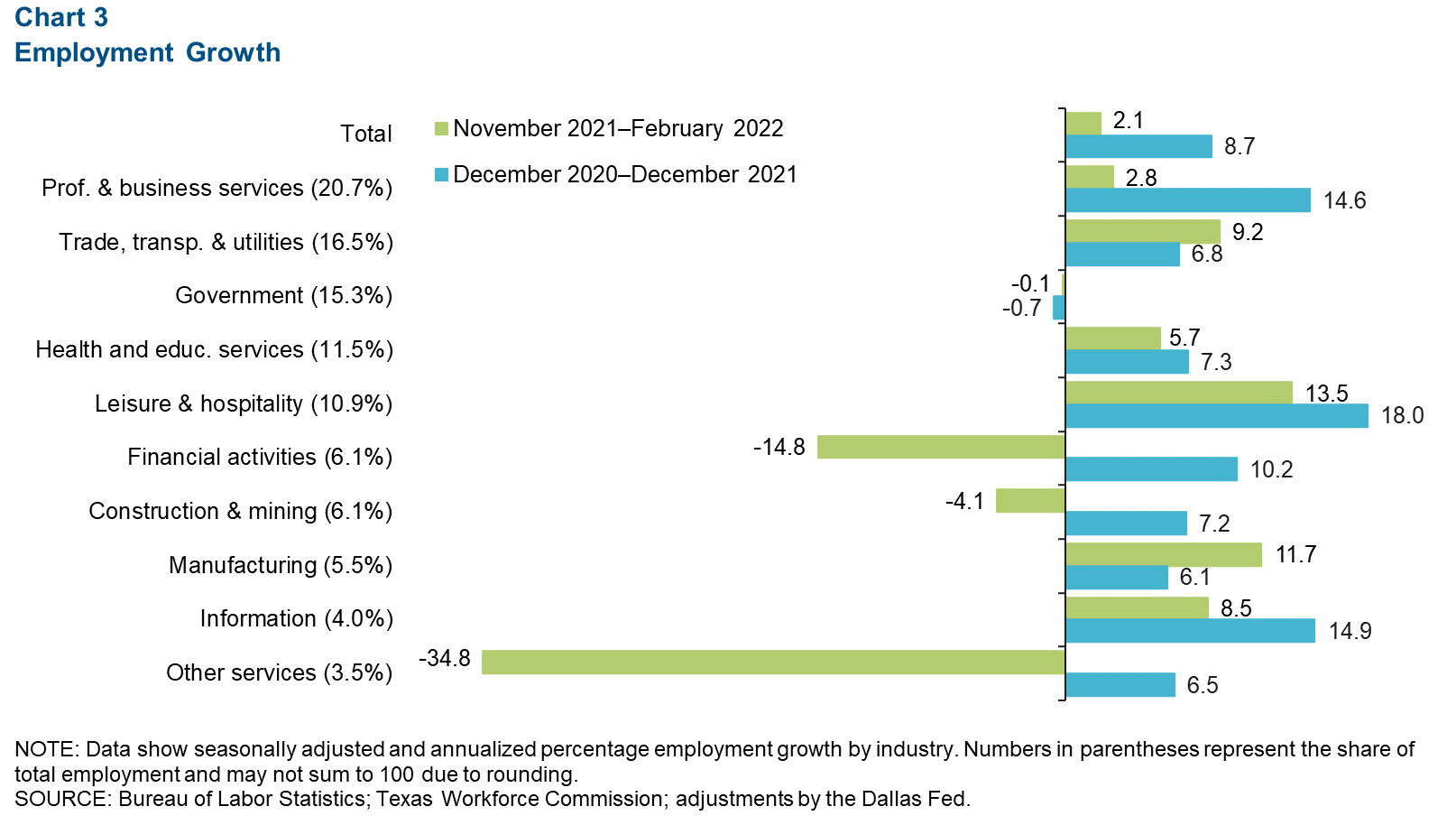 COVID-19 statistics
The number of people hospitalized with COVID-19 in Austin and Texas continued to sink in February (Chart 4). COVID-19 hospitalizations recently reached their lowest levels in Austin since early July 2021, while statewide hospitalizations reached their lowest levels since early 2020. As of March 26, 105 people in Austin and 1,335 in the state were hospitalized with COVID-19.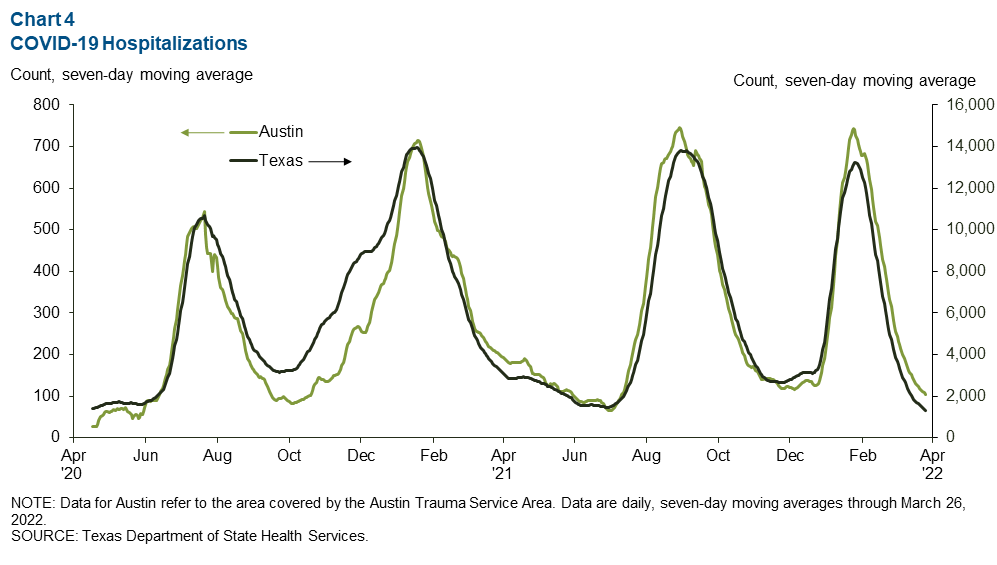 Real estate
Austin housing permits expanded in February, with the five-month moving average posting a 1.8 percent increase after a 6.8 percent contraction in January (Chart 5). This compares with the state's 2.2 percent gain in February and 0.3 percent gain in January. Compared with 2021, year-to-date housing permits are down 25 percent in the metro and up 7.1 percent statewide. In February, the median home prices in Austin and Texas reached all-time highs. The median price of homes sold was $515,524 in the metro—an 18.4 percent rise year over year, while the median price in the state was $333,721—a 10.1 percent jump.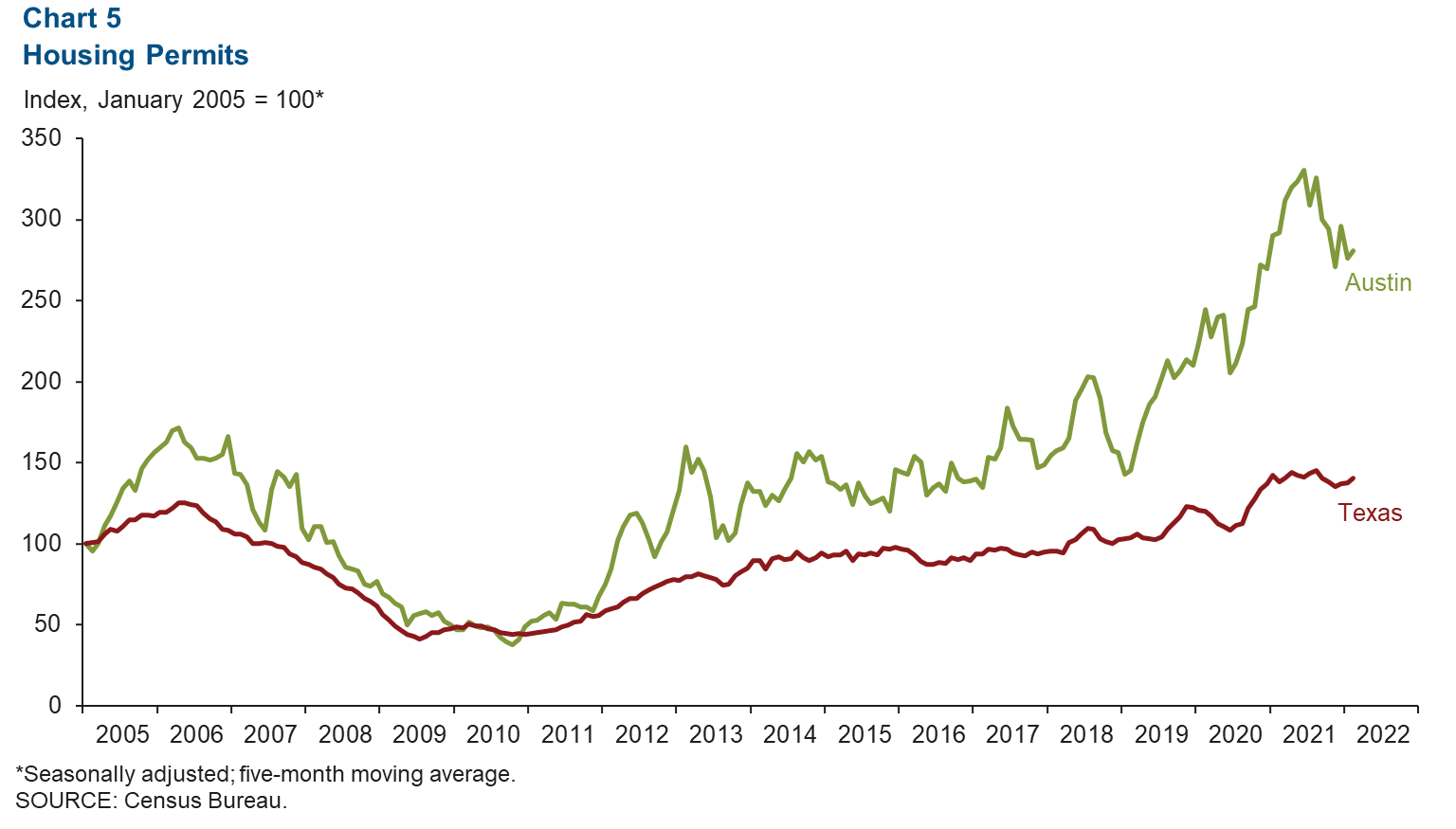 Wages
Private sector average hourly wages in Austin continued to show healthy growth in February (Chart 6). Year-over-year wages increased 5.3 percent, compared with a 4.6 percent increase in Texas. Based on a three-month centered moving average, private sector average hourly wages in Austin climbed to $31.97.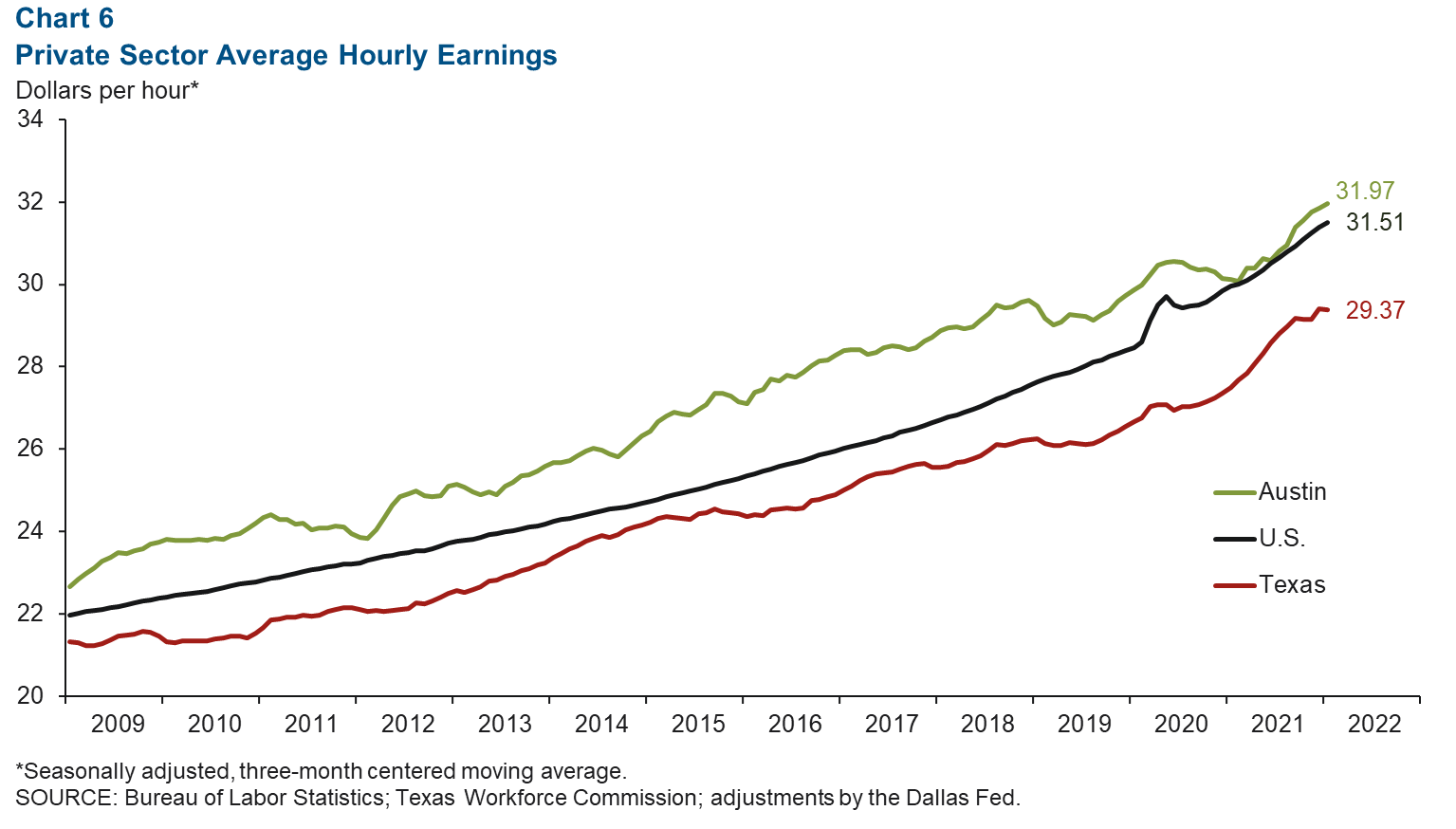 NOTE: Data may not match previously published numbers due to revisions.
About Austin Economic Indicators
Questions can be addressed to Mytiah Caldwell at Mytiah.Caldwell@dal.frb.org. Austin Economic Indicators is released on the first Thursday of every month.