Austin Economic Indicators

September 1, 2022
Austin's economy continued to expand in July. The Austin Business-Cycle Index continued to grow as the unemployment rate remained low and employment increased. However, while Austin's median home price declined slightly in tandem with the rest of the state, its Housing Opportunity Index declined this past quarter due to rising mortgage rates.
Business-cycle index
The Austin Business-Cycle Index—a broad measure of economic activity—grew an annualized 15.5 percent in July (Chart 1). This follows 15.3 percent growth in June.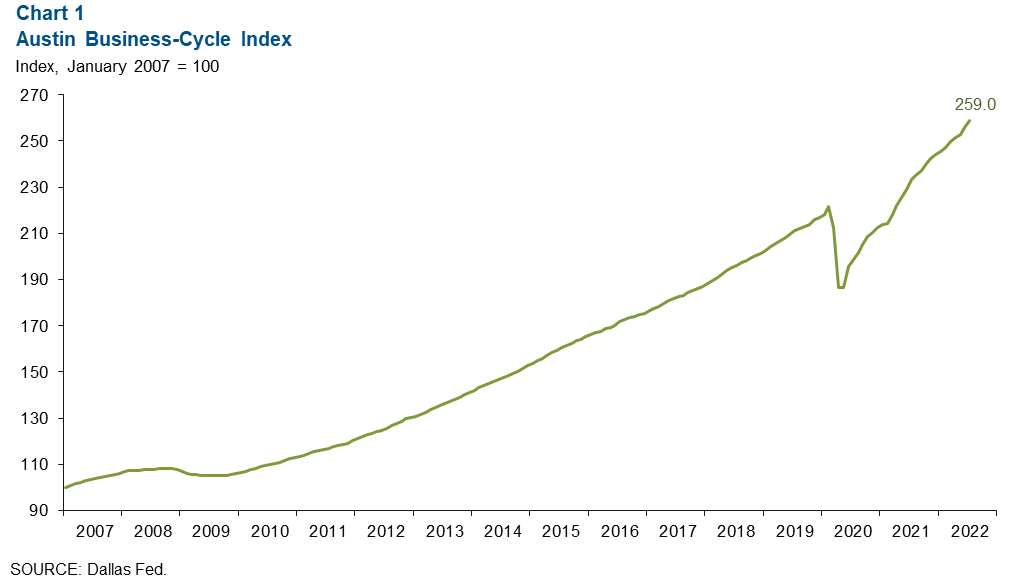 Labor market
Unemployment stays low
Austin's unemployment rate remained at 2.9 percent in July (Chart 2). This compared with the state's jobless rate of 4.0 percent and the nation's rate of 3.5 percent. The metro area labor force increased at an annualized rate of 2.7 percent in July.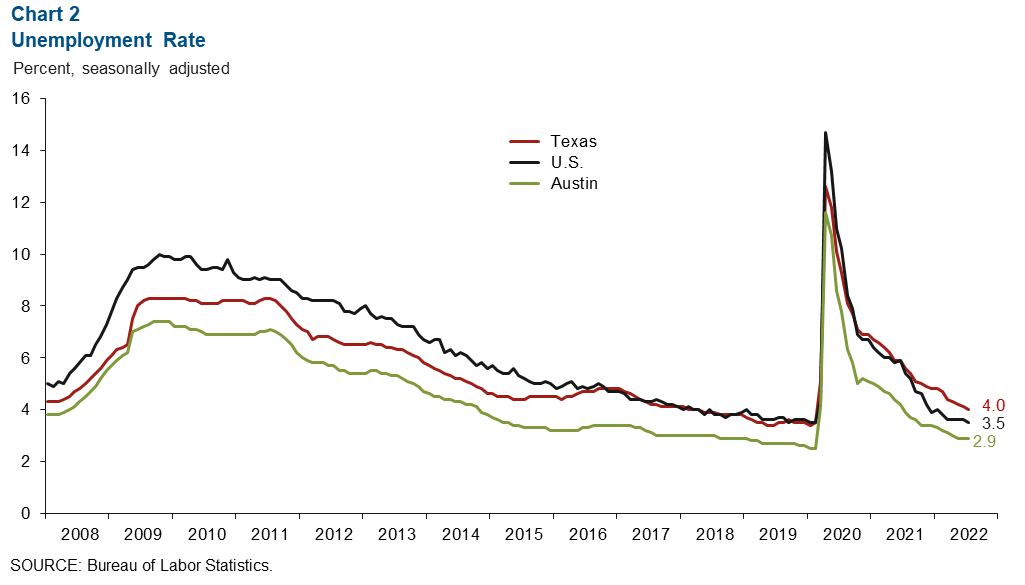 Payroll gains positive across most sectors
Austin employment increased at a 10.9 percent annualized rate, or by 10,758 net jobs, in July (Chart 3).  Growth was led by health and education services (up 38.5 percent, or 3,879 jobs) followed by leisure and hospitality (up 17.7 percent, or 1,865 jobs). Manufacturing was the only sector to decline in July (down 5.9 percent, or 359 jobs). Austin payrolls increased 6.3 percent year over year.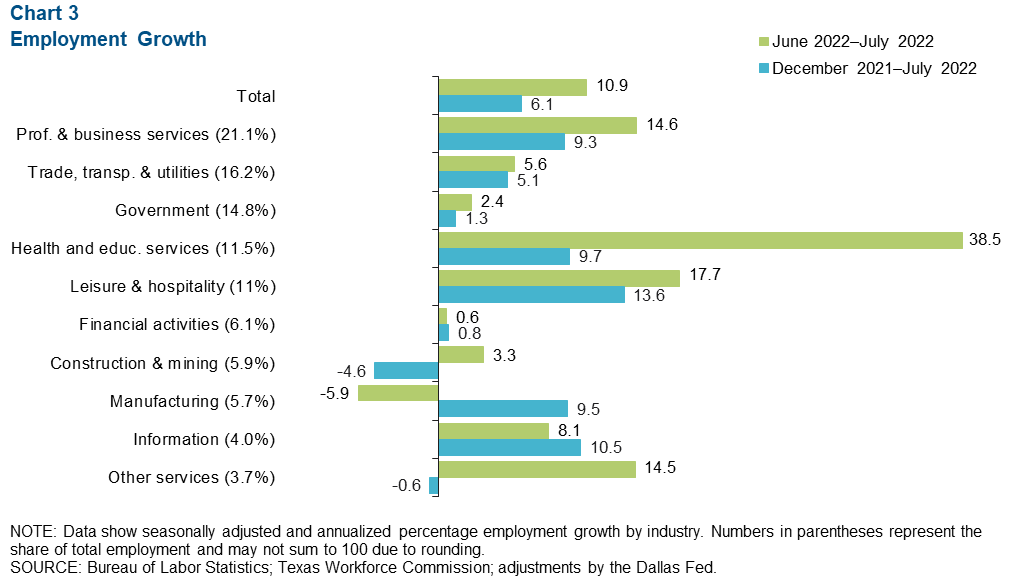 Wages
Austin's three-month moving average of wages increased to $32.99 in July, greater than both the U.S. average of $32.12 and the state average of $29.93 (Chart 4). The 12-month wage growth decreased to 6.1 percent for Austin but still outpaced gains of 4.8 percent in Texas and 5.2 percent in the U.S.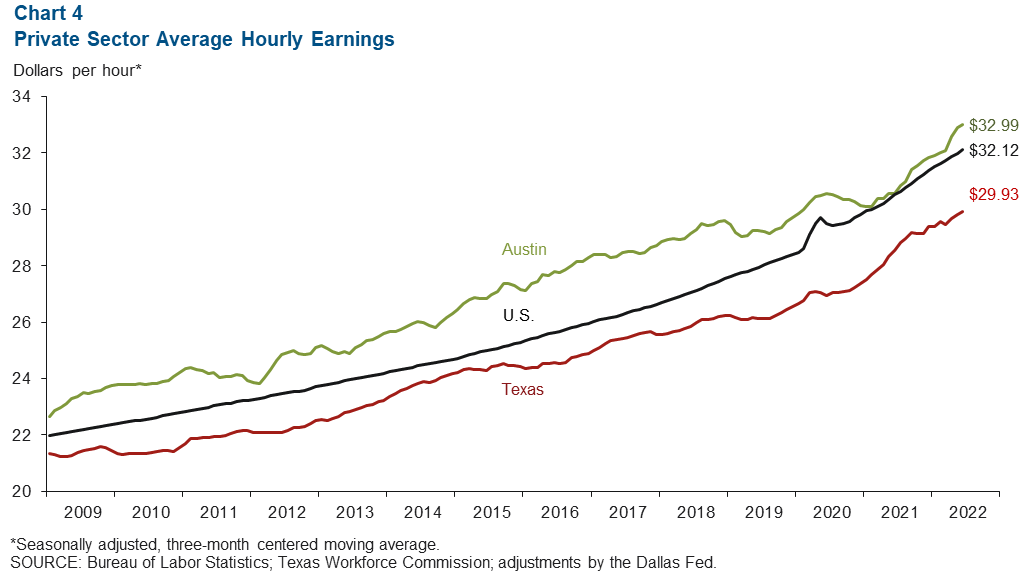 Housing market
Housing opportunity index drops
In July, Austin's Housing Opportunity Index—which measures the percentage of homes in a given area that are affordable to a family earning the median income for the area—further fell by 16.5 percent in second quarter 2022 to 30.4 percent (Chart 5). The decrease in affordability was due to rising mortgage rates, an increase in median home prices over the past two quarters and new development primarily focusing on higher-income housing.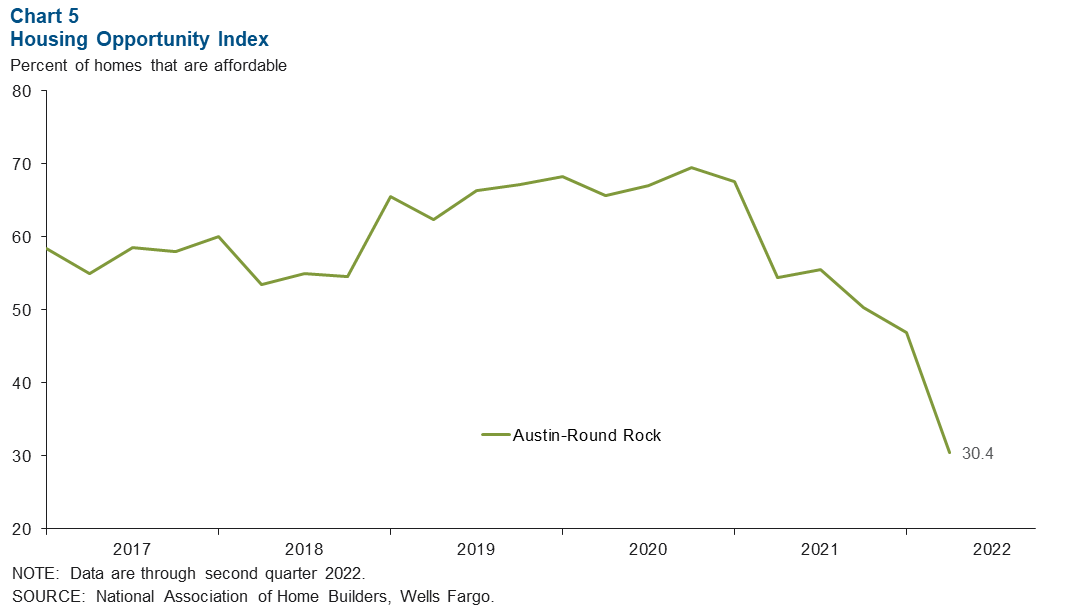 Home prices rise in 2022
The median home price in Austin declined in July by 0.8 percent, reaching $507,959 (Chart 6). Similarly, the price in Texas ticked down 0.2 percent to $347,790. Over the past year, Austin has experienced a slight decline of 0.2 percent in the median home price, while Texas experienced a 4.1 percent increase.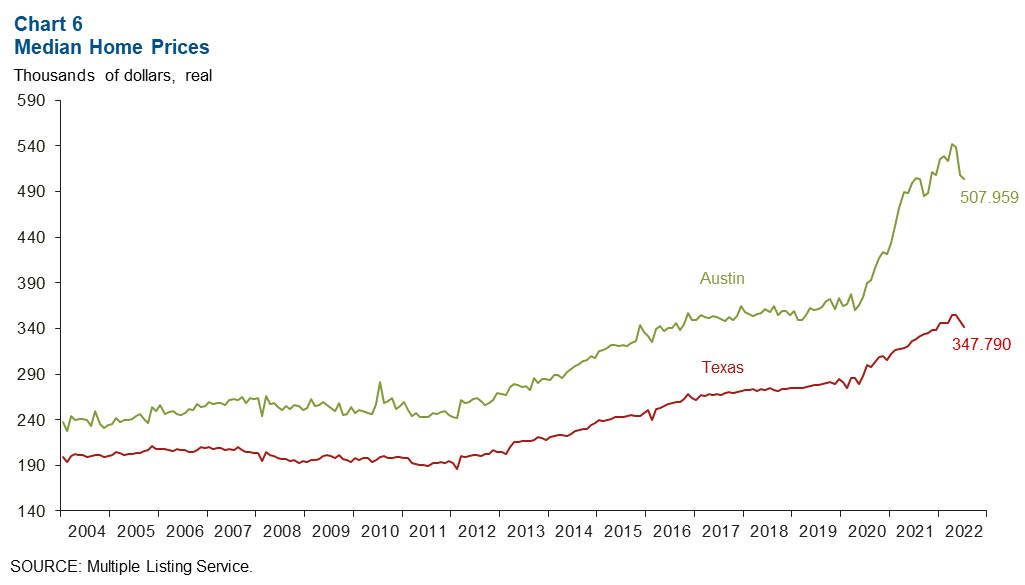 NOTE: Data may not match previously published numbers due to revisions.
About Austin Economic Indicators
Questions can be addressed to Vee Kalkunte at Prithvi.Kalkunte@dal.frb.org.
Austin Economic Indicators is released on the first Thursday of every month.