Dallas-Fort Worth Economic Indicators

April 2, 2020
Note: Most of the data included in this release precede the coronavirus outbreak in the U.S.
Dallas–Fort Worth economic growth remained on track in February. Payroll employment expanded at a rapid clip, unemployment stayed low and wages increased, indicative of the robust labor market prior to the coronavirus (COVID-19) outbreak. The Dallas and Fort Worth business-cycle indexes expanded at an above-average pace, and home sales rose. DFW population growth was healthy in 2019, according to recently released data from the Census Bureau.
Labor Market
Payrolls Expand Further
DFW employment rose an annualized 3.9 percent in February, up from 2.4 percent in January (Chart 1). Payroll expansion was 2.6 percent in Dallas, while employment grew 7.2 percent in Fort Worth largely due to solid gains in the education and health services and leisure and hospitality sectors.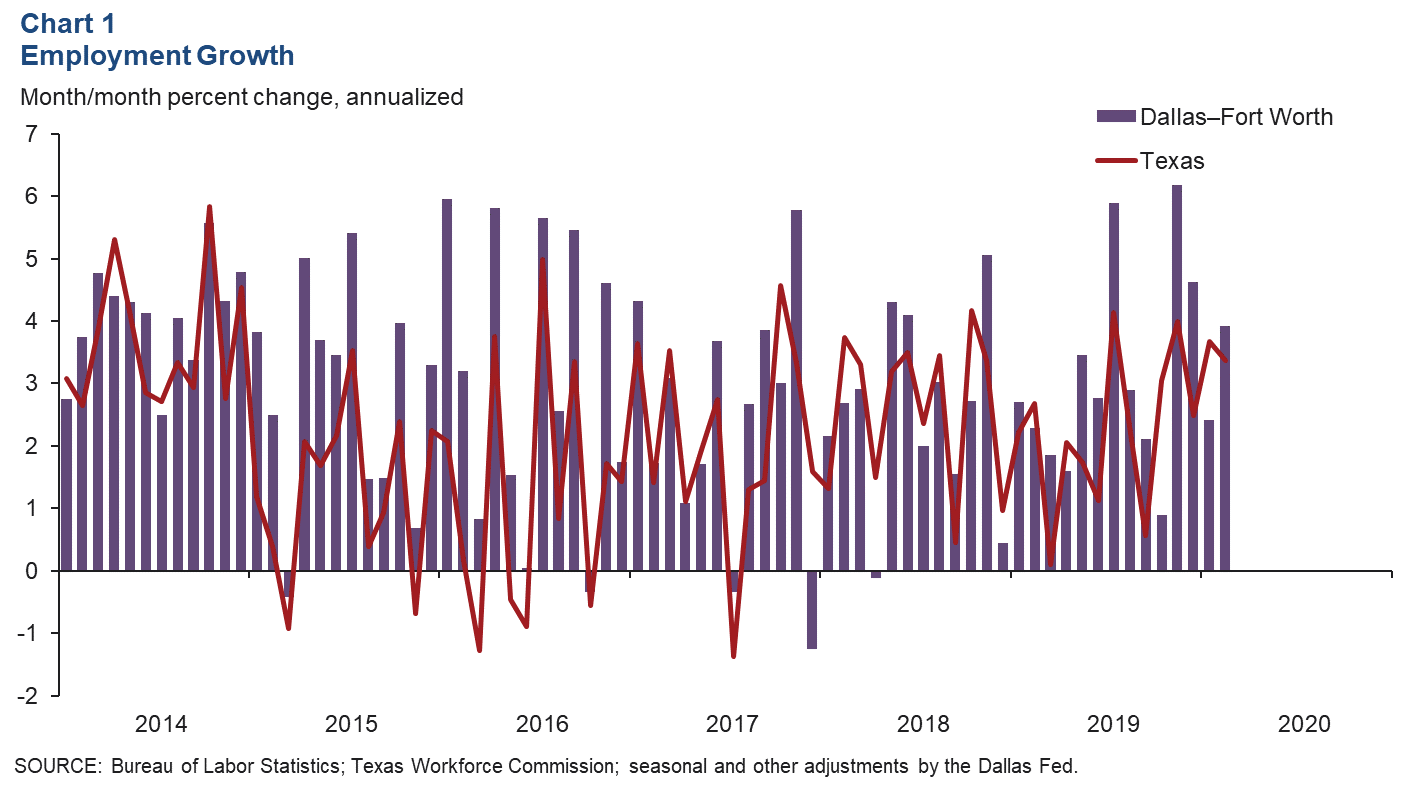 Unemployment Holds Steady
The DFW labor market continued to be tight, with unemployment close to multiyear lows. In February, the unemployment rate was unchanged at 3.1 percent in both metros (Chart 2).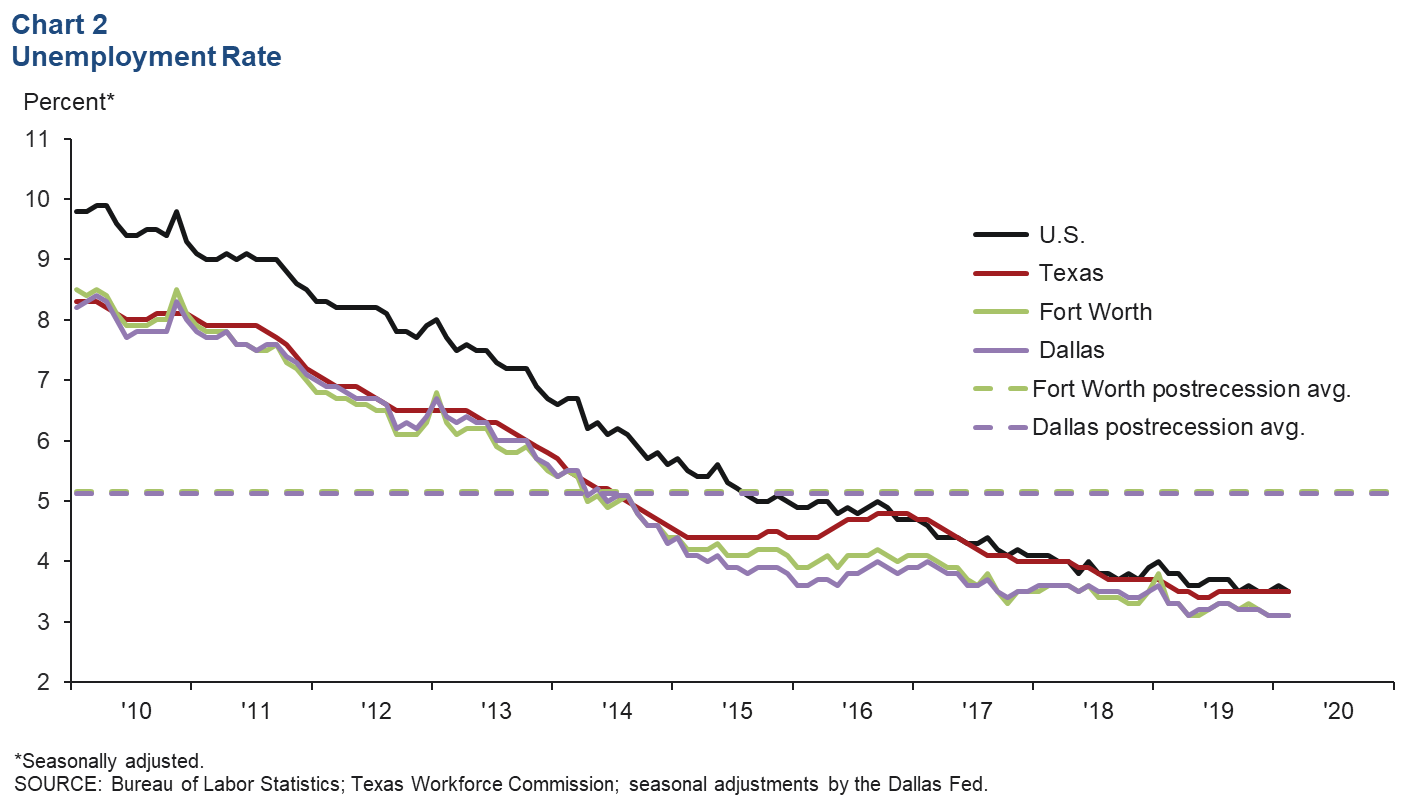 Unemployment remains below the state and U.S. rates, which held steady at 3.5 percent for Texas and fell to 3.5 percent for the U.S. The recent spike in weekly Texas jobless claims is suggestive of rising unemployment in coming months.
Wages Rise
The three-month average for private sector hourly wages in February rose to $29.57 in Dallas and $26.86 in Fort Worth. Year over year, Dallas wages were flat, while Fort Worth wages rose 8.0 percent—faster than the Texas increase of 1.6 percent (Chart 3).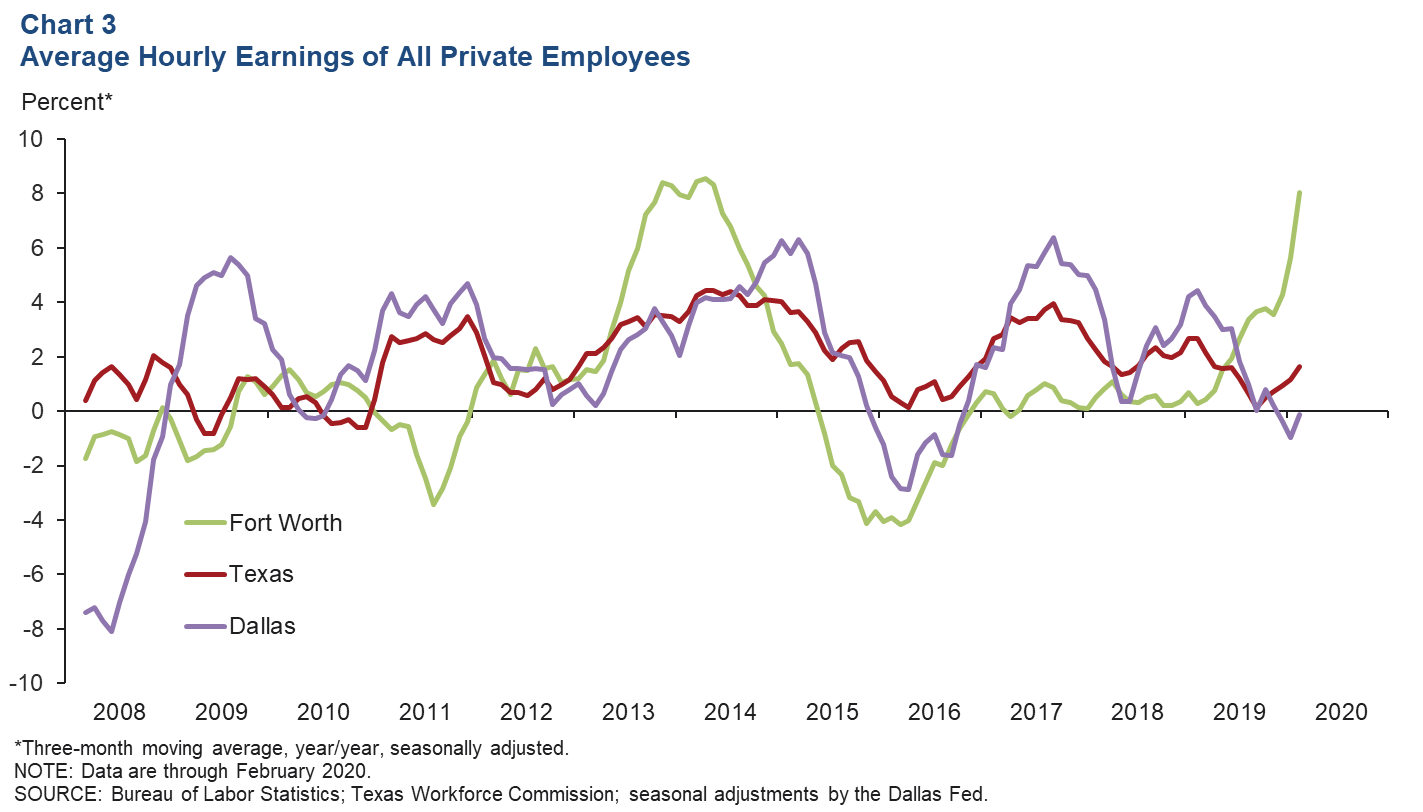 Business-Cycle Indexes
Expansion in the Dallas and Fort Worth business-cycle indexes continued in February, supported in part by healthy job growth. The Dallas index rose an annualized 5.5 percent, faster than January's rate. Growth in the Fort Worth index was strong at 8.5 percent. Year over year in February, the Dallas index rose 5.7 percent, and the Fort Worth index was up 4.7 percent (Chart 4). Growth in both indexes remained higher than their long-term averages.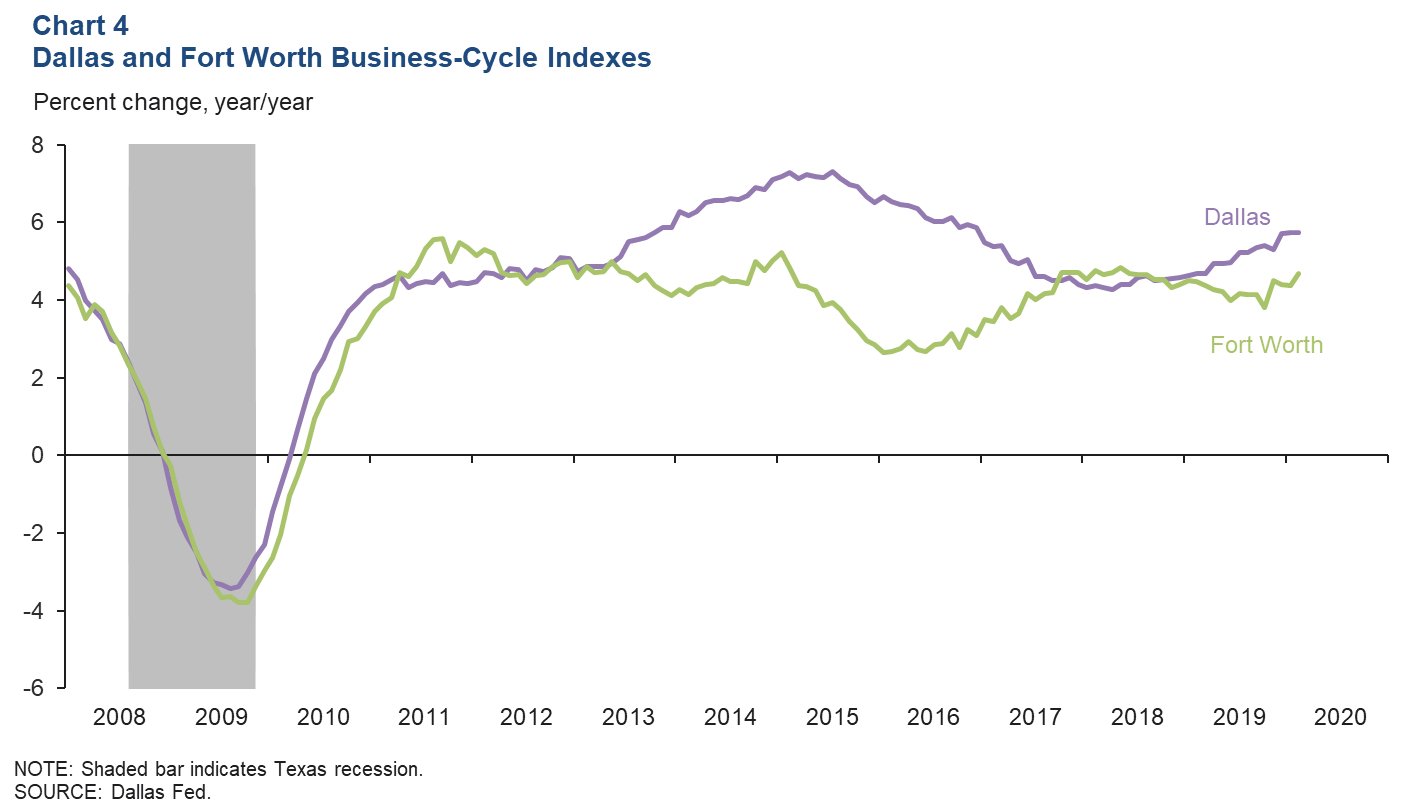 Housing
Housing demand remained strong in February, with DFW existing-home sales rising for the third straight month. Sales have been trending upward since the beginning of 2019 (Chart 5). Healthy job growth along with lower interest rates are likely boosting sales. Through February, total existing-home sales are up 12.8 percent in DFW, 10.1 percent in Texas and 8.0 percent in the U.S. from the same period in 2019.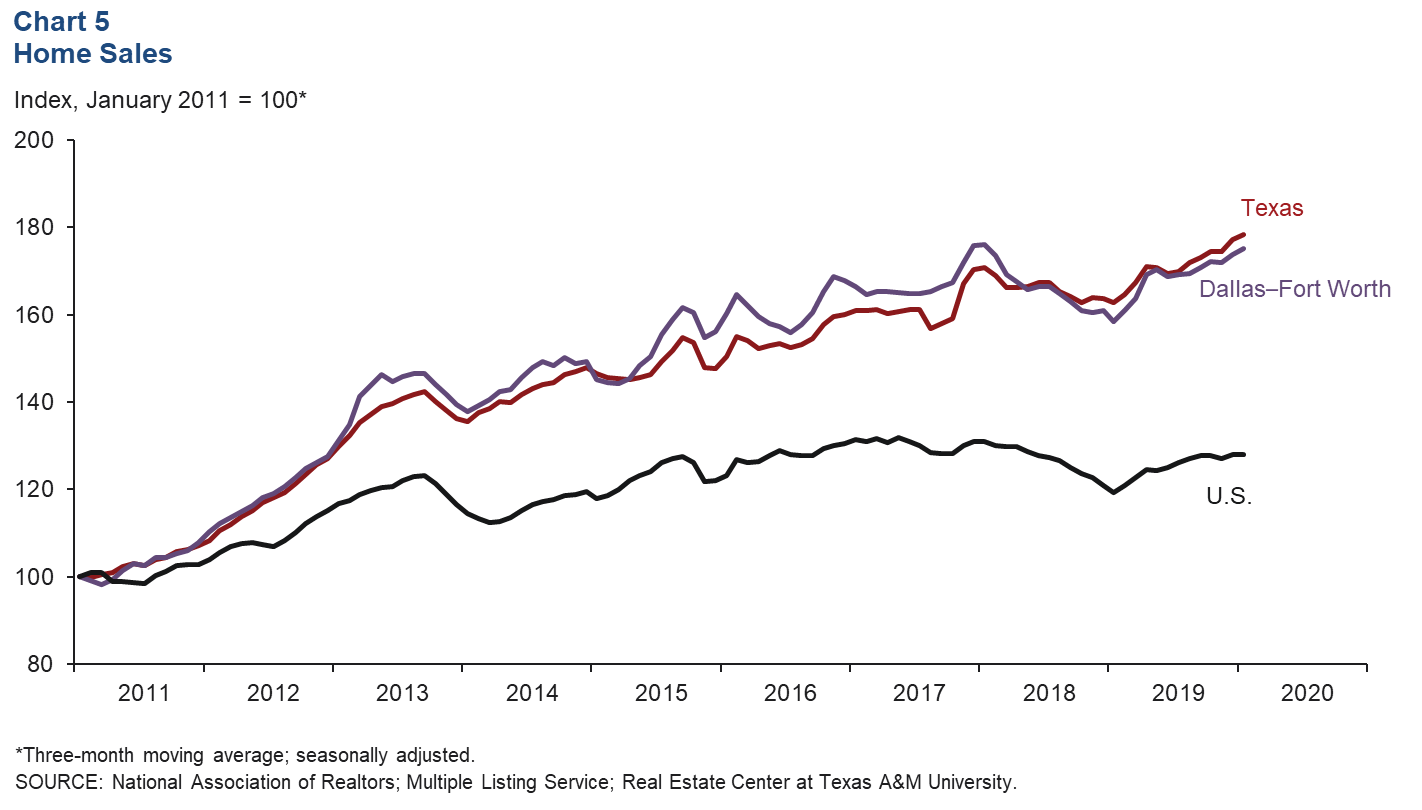 Population
According to recently released census data, DFW's population increased by 117,300 residents in 2019 thanks to continued healthy in-migration, which accounted for 57 percent of the increase. The metro's population grew 1.6 percent in 2019, the same pace as in 2018 and shy of its long-term average of 2.0 percent. Population growth in Dallas was stable at 1.7 percent, while growth in Fort Worth slowed to 1.3 percent from 1.5 percent in 2018 (Chart 6). Population expansion sped up in most other major Texas metros relative to 2018's pace, with Austin seeing the largest percentage-point increase. Growth at the state level was 1.3 percent in 2019, up from 2018's 1.2 percent.
DFW ranks No. 1 among U.S. metropolitan areas with the largest numeric gain since 2010—an increase of 1.2 million residents.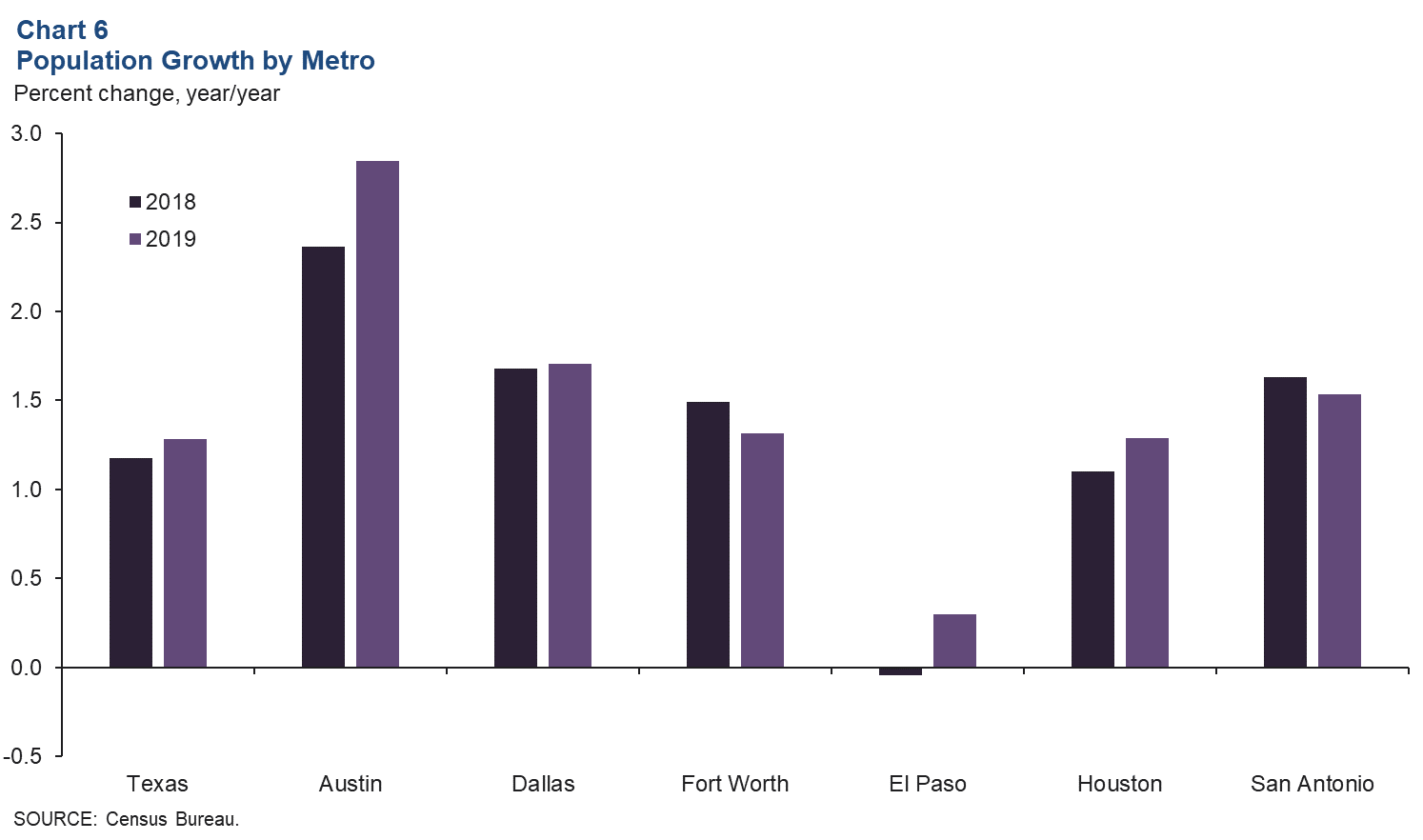 NOTE: Data may not match previously published numbers due to revisions.
About Dallas–Fort Worth Economic Indicators
Questions can be addressed to Laila Assanie at laila.assanie@dal.frb.org. Dallas–Fort Worth Economic Indicators is published every month on the Tuesday after state and metro employment data are released.