Dallas-Fort Worth Economic Indicators

October 23, 2020
The DFW economy continued to expand in September, although the pace of growth slowed from August. Job growth moderated, and the unemployment rate increased. Movement in the Dallas and Fort Worth business-cycle indexes was mixed. Activity in the housing market remained robust. Apartment demand picked up in the third quarter, while office leasing activity weakened further.
Labor Market
Payrolls Rise
DFW employment grew an annualized 4.1 percent (12,400 jobs nonannualized) in September after growing 10.4 percent in August (Chart 1). Payrolls rose an annualized 5.6 percent (11,900 jobs nonannualized) in Dallas and were relatively flat at 0.6 percent (500 jobs nonannualized) in Fort Worth. Job growth in DFW outperformed the state's 1.0 percent annualized increase last month. Through September, DFW payroll employment was down an annualized 6.3 percent (184,000 jobs nonannualized) because of losses resulting from the COVID-19 pandemic and related stay-at-home orders.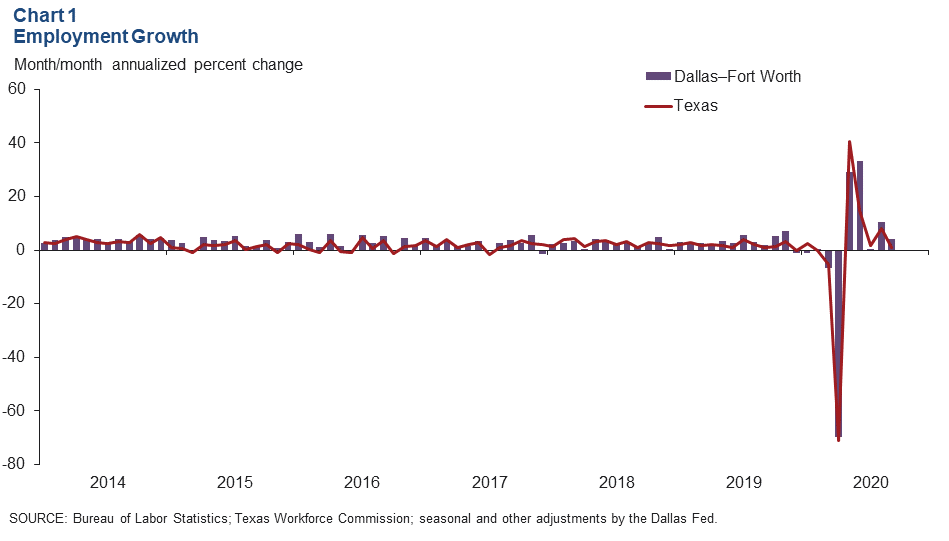 The jobless rate reversed course in September, rising 1.7 percentage points to 7.7 percent in Dallas and 7.8 percent in Fort Worth. Texas unemployment increased as well to 8.3 percent, while the U.S. unemployment rate continued its downward trend, dropping to 7.9 percent.
Third-Quarter Job Gains Mixed
Job gains were widespread, with payrolls in most sectors expanding in the last three months (Chart 2). Employment in the service sector grew strongly, up an annualized 5.8 percent (44,100 jobs nonannualized). Employment in government and professional and business services led the service sector expansion as payrolls increased an annualized 17.1 percent (17,100 jobs nonannualized) and 10.5 percent (15,700 jobs nonannualized), respectively. Trade, transportation and utilities—the metro's largest sector—increased 4.0 percent (7,800 jobs nonannualized). Payrolls in leisure and hospitality contracted. Employment in the goods-producing sector (manufacturing, and construction and mining) was down 0.5 percent (700 jobs nonannualized).
Business-Cycle Indexes
The Dallas Business-Cycle Index showed continued improvement in September. The Dallas index rose an annualized 7.6 percent, slower than August's rate. Meanwhile, the Fort Worth index fell an annualized 36.5 percent after growing in August. Year over year in September, the indexes were down 1.7 percent in Dallas and 18.2 percent in Fort Worth (Chart 3).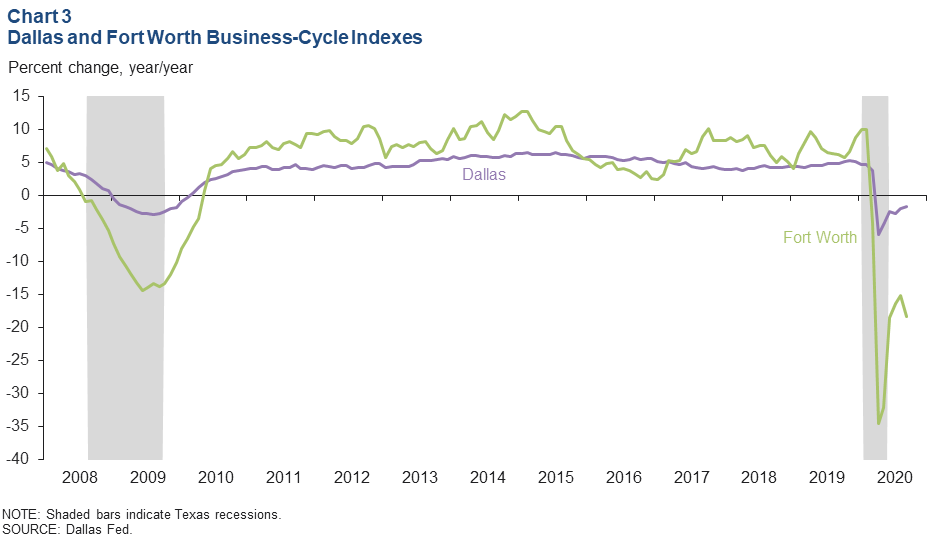 Real Estate
Housing Market Remains on Track
DFW existing-home sales (seasonally adjusted) rose further in September, building on the exceptionally strong growth seen in the summer. Statewide, home sales expanded as well. The three-month moving average for both DFW and Texas existing-home sales continued to increase, and sales were up 21.0 percent in DFW and 24.0 percent in Texas year over year in September (Chart 4). Historically low interest rates and pent-up demand from the economic shutdown have supported single-family sales. Through September, DFW and Texas home sales were up 5.1 percent from the same period last year. According to business contacts, new-home sales have also been robust, outperforming expectations since May when COVID-19-related shelter-in-place orders were lifted.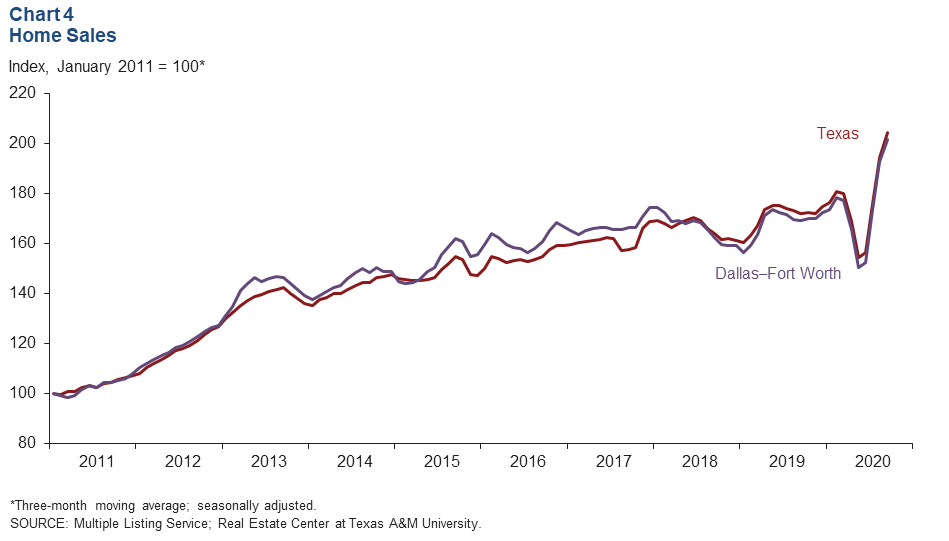 Apartment Demand Rebounds
DFW apartment absorption strengthened in third quarter 2020, coming in at 9,600 units, according to data from RealPage Inc. (Chart 5). DFW ranked first in third-quarter absorption among the U.S. metros that RealPage tracks. Average effective rents were flat in Dallas from third quarter 2019, while the Fort Worth market saw slight increases. Leasing activity virtually came to a halt in early-to-mid spring due to COVID-induced stay-at-home orders but has regained momentum since then. Demand is seasonally strong in spring and summer months and tapers off as the weather gets colder. Construction remained elevated, with roughly 40,000 units under construction. This will put some downward pressure on occupancy and rents in the near term.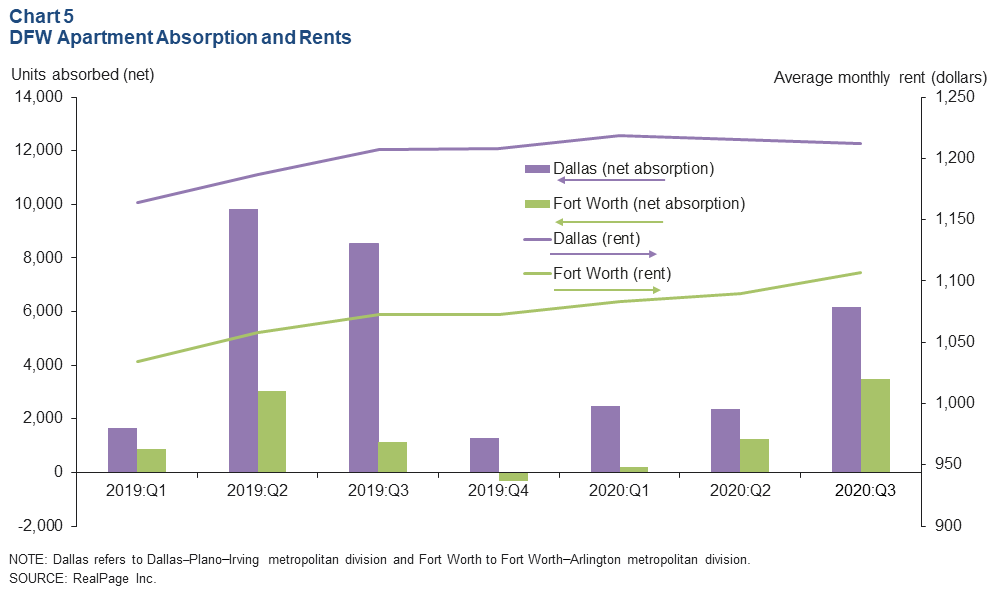 Office Absorption Negative; Vacancy Rates Rise Further
Demand for office space in DFW weakened in third quarter 2020. Net absorption was negative for the third consecutive quarter at 2.1 million square feet, pushing up the vacancy rate to 22.3 percent, according to data from CBRE Research (Chart 6). Year to date, net absorption totaled nearly -2.9 million square feet, and the vacancy rate has risen 2.0 percentage points. Sublease space has been rising over the past several months, climbing to 8.5 million square feet in the third quarter, or 3.7 percent of total inventory, and 14.0 percent of current available space (direct plus sublease).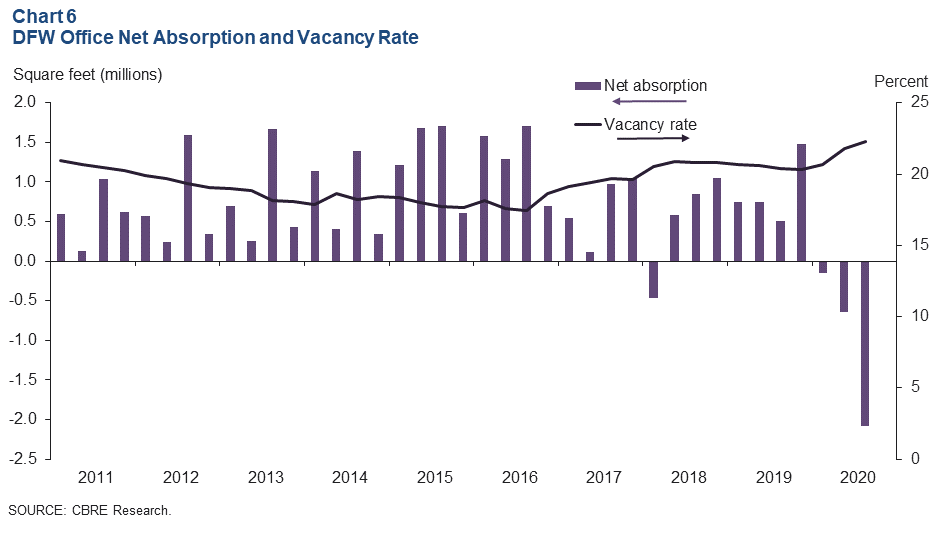 NOTE: Data may not match previously published numbers due to revisions.
About Dallas–Fort Worth Economic Indicators
Questions can be addressed to Laila Assanie at laila.assanie@dal.frb.org. Dallas–Fort Worth Economic Indicators is published every month on the Tuesday after state and metro employment data are released.