Dallas-Fort Worth Economic Indicators

December 31, 2020
Dallas–Fort Worth's economic recovery waned in November, following strong growth in October. Employment growth moderated, and movements in the Dallas and Fort Worth business-cycle indexes were mixed. Initial unemployment claims dipped in the second week of December after rising in the previous week. Low-wage workers appear to have been the hardest hit by the pandemic. Multifamily permits rose for the third straight month in November but were down year to date relative to 2019. Housing market indicators pointed to slight improvement in affordability in third quarter 2020.
Labor Market
Job Growth Slows
DFW employment moderated to an annualized 3.7 percent (11,100 jobs) in November after expanding 10.3 percent in October. November marks the seventh straight month of job gains since the slump in early spring. Payrolls in Dallas were largely unchanged at an annualized 0.8 percent (1,800 jobs), while employment in Fort Worth rose a healthy 11.3 percent (9,300 jobs). Similarly, job growth was slower in Texas at 4.0 percent (40,300 jobs) and the U.S. at 2.1 percent (245,000 jobs) in November relative to October.
When the pandemic hit and shelter-in-place orders compelled many businesses to temporarily close their doors in early spring, payrolls plunged nationally; however, the declines in Texas and DFW were less steep than in the U.S. (Chart 1). Employment began recovering in May, though in November it remained 4.9 percent lower than pre-pandemic February levels in DFW; Texas was 5.5 percent below those levels, and the U.S. was 6.5 percent lower.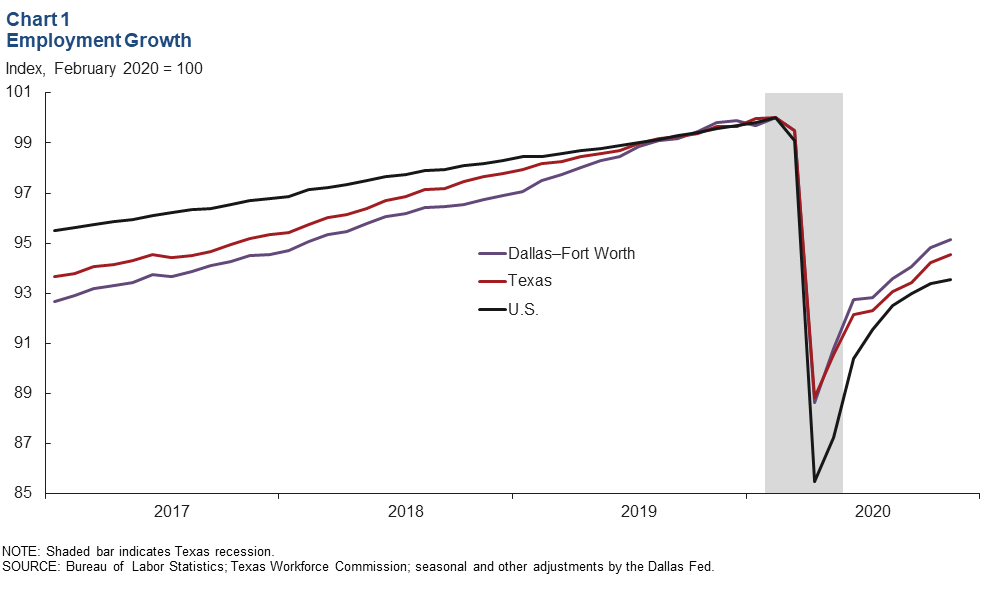 Unemployment Claims Stable but Elevated
Weekly initial unemployment insurance claims in DFW dropped by 1,968 to 8,613 during the week ended Dec. 12, a continuation of the downward trend that began in early April (Chart 2). That trend was briefly interrupted in early July when limitations on certain businesses were reinstated amid a sharp rise in COVID-19 cases, hospitalizations and deaths. Since that time, the week-to-week declines appear to be narrowing, and claims have largely stabilized but they remain stubbornly high—nearly double early-to-mid-March (pre-COVID-19) levels.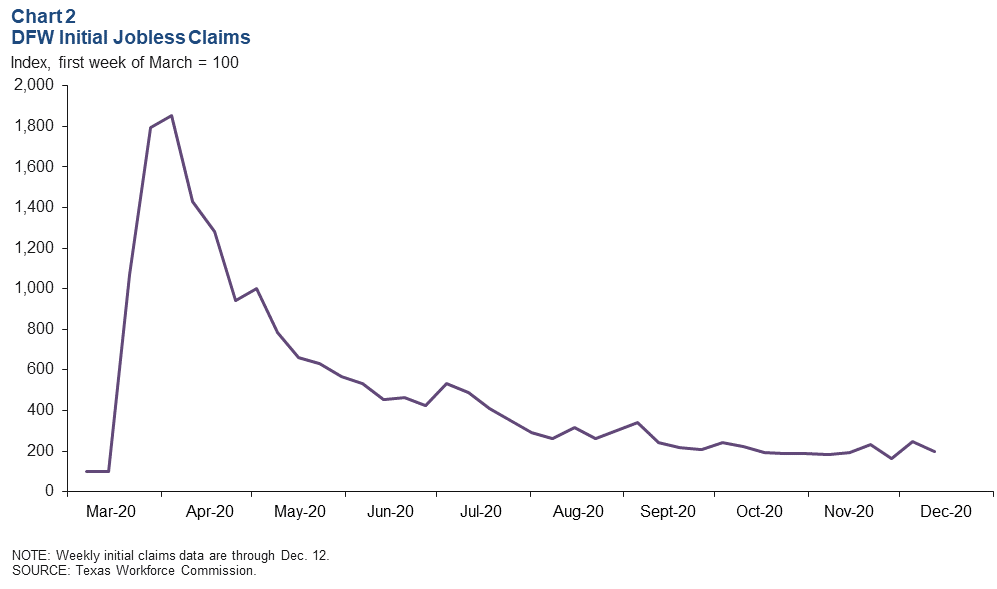 The jobless rate reversed course in November, rising more than a percentage point to 7.4 percent in Dallas and 7.6 percent in Fort Worth. Texas unemployment increased as well to 8.1 percent, while the U.S. unemployment rate continued its downward trend, dropping to 6.7 percent.
Business-Cycle Indexes
The business-cycle index for Dallas rose in November, albeit at a slower pace than the previous month. The Dallas index edged up an annualized 2.1 percent. Meanwhile, the Fort Worth index dipped in November, following robust growth in the previous month. Year over year in November, the indexes were down 3.3 percent in Dallas and 13.5 percent in Fort Worth (Chart 3).
Employment by Income
The COVID-19 pandemic has disproportionately affected low-income workers. Data from the Opportunity Insights Economic Tracker illustrate that medium-to-high-income workers (those earning above $27,000) in Dallas have been less impacted than their low-income counterparts (Chart 4). In early spring when shelter-in-place orders were implemented, job losses were steeper amid those in the bottom wage quartile (those earning less than $27,000), relative to the declines seen among medium-to-high-income workers. The recovery has been uneven as well, with employment in the middle-to-upper-wage quartiles in mid-October close to or in line with January 2020 levels. By contrast, employment among low-wage earners in Dallas remained 17.2 percent below January 2020 levels. Similarly, Fort Worth's employment among medium-to-high-wage earners was at or above January 2020 levels, while employment among those making less than $27,000 remained 13.3 percent lower.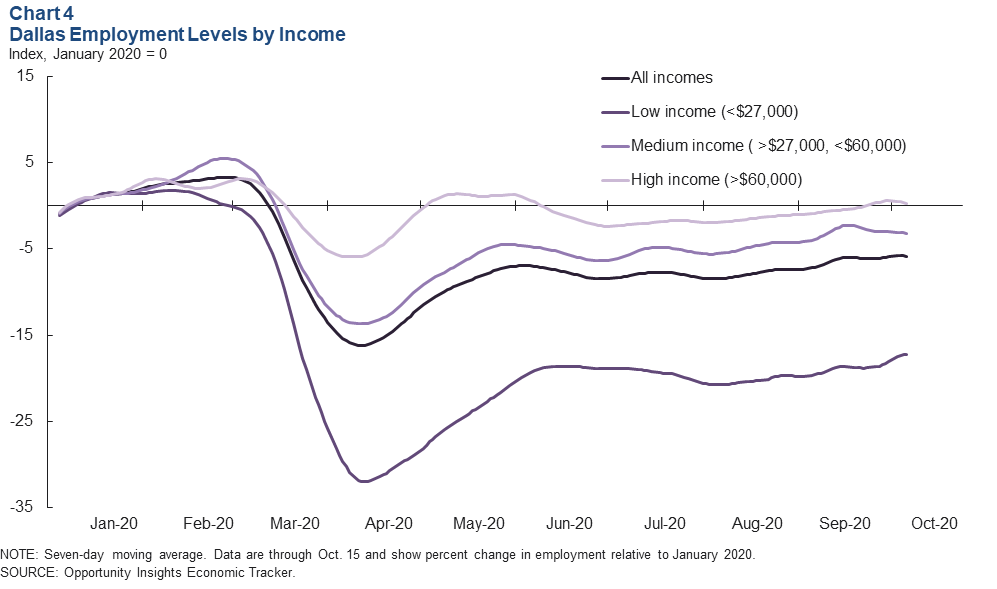 Housing
Multifamily Construction Picks Up
Multifamily permit issuance, which leads apartment construction, rose for the third straight month in November, and the three-month moving average climbed as well (Chart 5). Through November, DFW multifamily permits issuance was nearly half that of the same period last year. By comparison, Texas multifamily permits fell 9.6 percent. DFW multifamily permit issuance peaked in late 2019 and has been moderating since; however, construction in the metroplex is currently elevated at approximately 40,000 units, with DFW remaining one of the busiest markets in apartment building among large U.S. metros.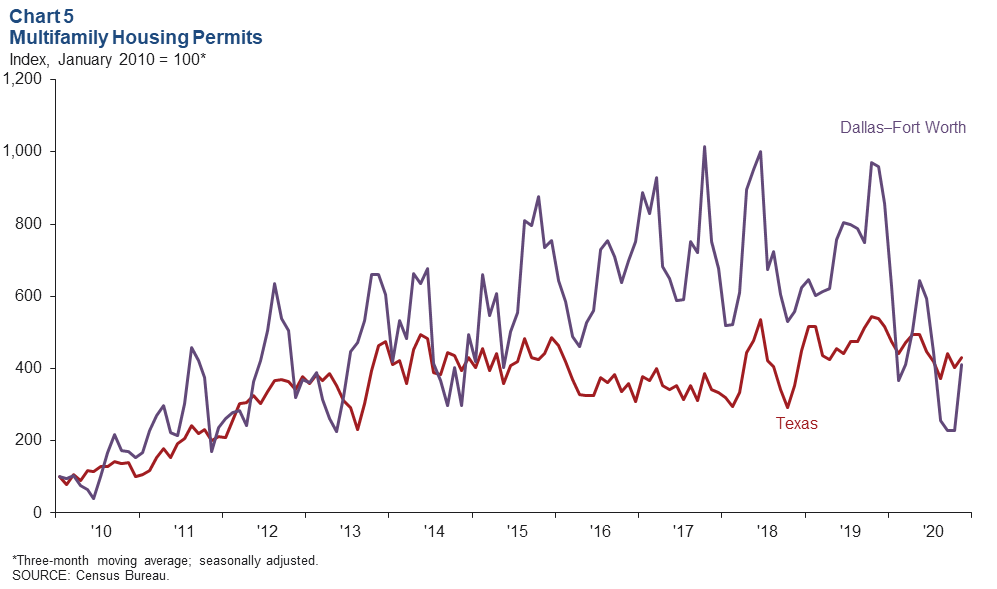 Housing Affordability Holds Steady
DFW housing affordability improved slightly in third quarter 2020 (latest data available), according to the National Association of Home Builders/Wells Fargo Housing Opportunity Indexes (Chart 6). Of the new and existing homes sold in the third quarter, 52 percent in Dallas and 63 percent in Fort Worth were affordable for the median-income family. Overall, housing affordability in Dallas is down relative to last year, partly due to an acceleration in home price appreciation as mortgage rates remain close to historical lows. Affordability in the U.S. has seen a similar trend. Affordability in Dallas is the lowest among major Texas metros; affordability in Fort Worth is above the national figure and that of the other major Texas metros.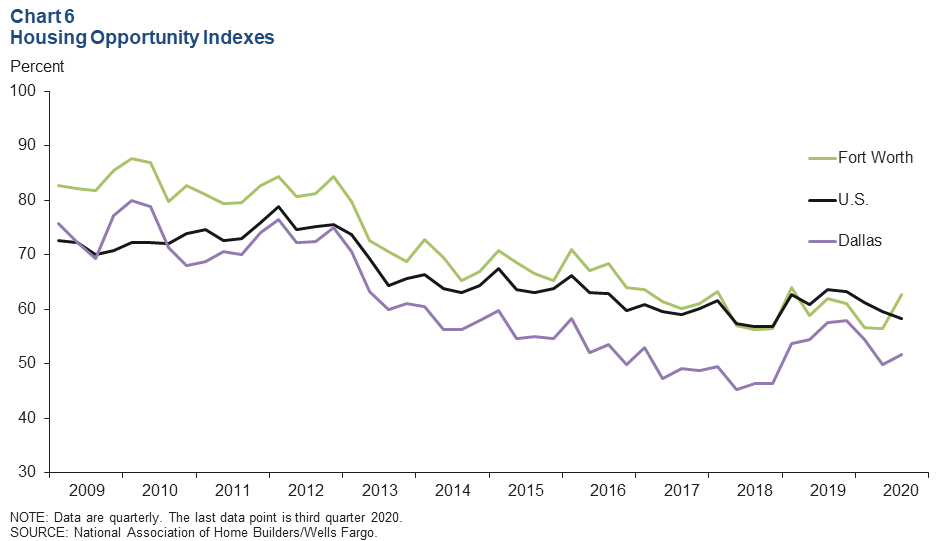 NOTE: Data may not match previously published numbers due to revisions.
About Dallas–Fort Worth Economic Indicators
Questions can be addressed to Laila Assanie at laila.assanie@dal.frb.org. Dallas–Fort Worth Economic Indicators is published every month on the Tuesday after state and metro employment data are released.