Dallas-Fort Worth Economic Indicators

June 17, 2021
The pace of economic recovery in Dallas–Fort Worth eased in April. Payrolls expanded broadly but at a slower rate than in March. Unemployment dipped, and the business-cycle indexes for both Dallas and Fort Worth rose. Existing-home sales climbed in March and April, and home price gains accelerated further. Recently released data from the Census Bureau show that DFW ranked No. 1 among U.S. metros in net population increase in 2020.
Labor Market
Payroll Expansion Slows in April
DFW employment grew an annualized 1.7 percent (5,300 jobs, nonannualized) in April following an 8.0 percent increase in March (Chart 1). Payrolls expanded 2.2 percent (4,900) in Dallas and 0.5 percent (400) in Fort Worth. Similarly, Texas job growth moderated to 1.3 percent (13,400) from a 12.3 percent increase in March. The DFW labor market began recovering in May 2020 from pandemic lows; through April, payrolls remained 2.9 percent below February 2020 levels.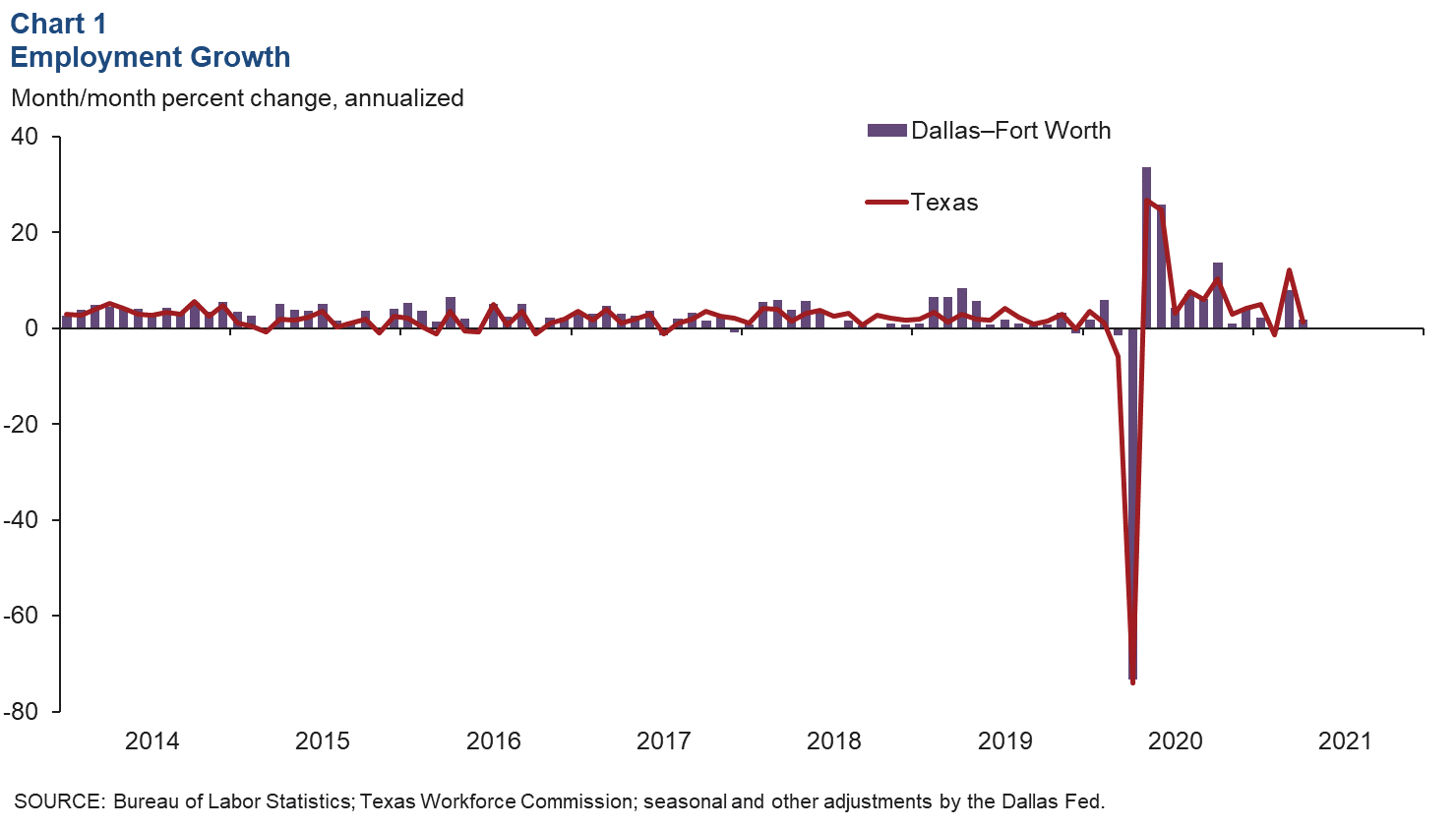 New Jobless Claims Tick Up
The unemployment rate fell to 5.8 percent in Dallas and 6.1 percent in Fort Worth in April, with both remaining below Texas' jobless rate of 6.7 percent. Initial unemployment insurance claims in DFW edged up to 6,700 for the week ended May 15 (Chart 2). Since peaking in early April 2020, claims have generally been on a downward trend outside of a post-winter-storm period in February and March. They have largely stabilized but remain slightly elevated—double the levels in early 2020 (pre-COVID-19).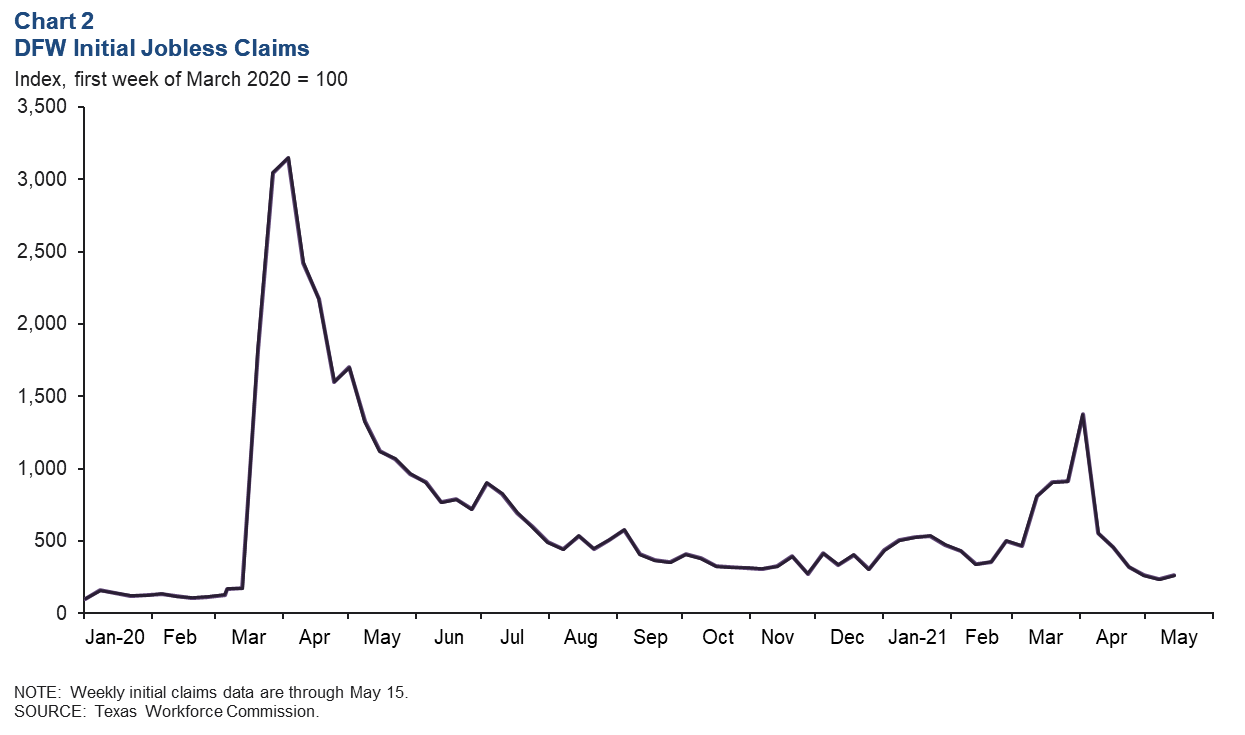 Business-Cycle Indexes
The Dallas and Fort Worth business-cycle indexes—broad measures of economic activity—expanded in April, buoyed by recent job gains and unemployment rate declines. The indexes rose 7.5 percent in Dallas and 4.5 percent in Fort Worth in April following robust increases in March. April marked the 12th consecutive month of growth for both indexes, suggesting continued recovery in the DFW economy (Chart 3).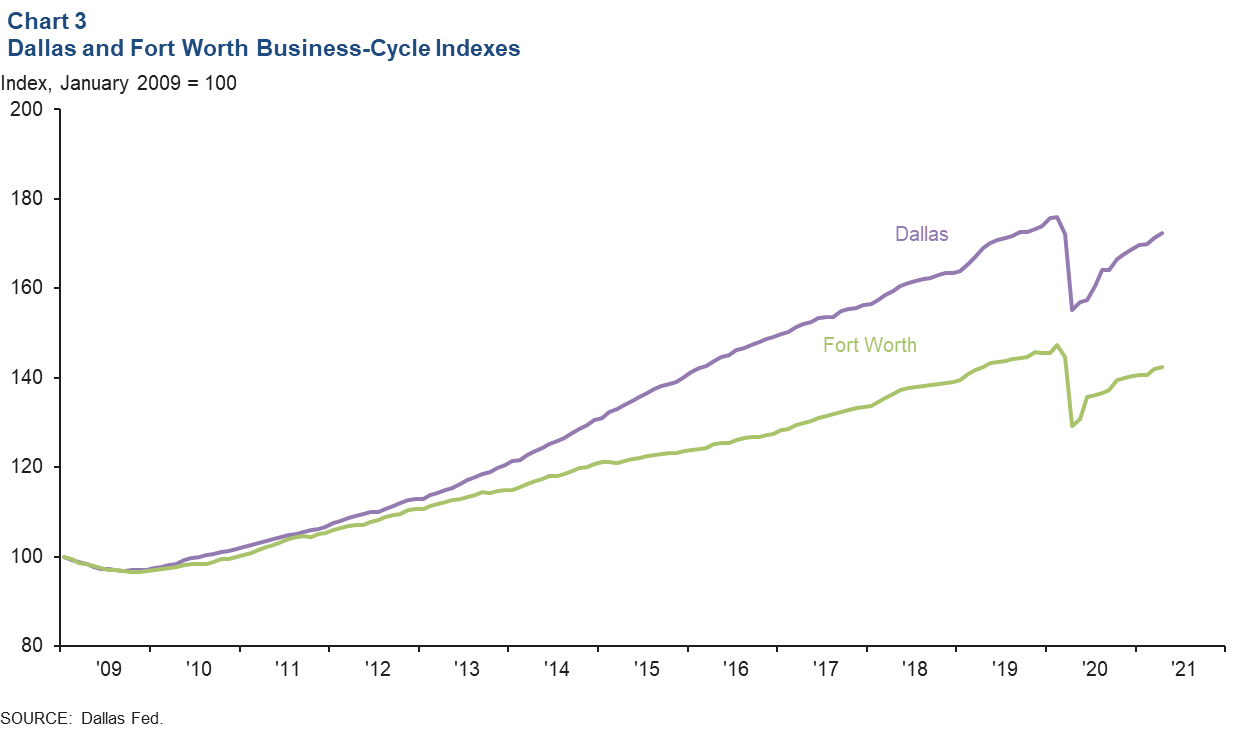 Housing
Robust Home Demand
DFW existing-home sales rose 1.2 percent in March and 2.8 percent in April following steep declines in February that resulted from the winter storm. Statewide, existing-home sales held steady at a high level in April (Chart 4). According to business contacts, new-home sales continue to be robust, though builders are struggling to keep up with demand and are limiting sales. Several are only building inventory homes and selling them at the drywall stage. Sales are being supported by record-low mortgage rates and increased demand for larger homes in less-dense areas. Total listings continued their downward trend in April, and existing-home inventories dipped to one month of supply.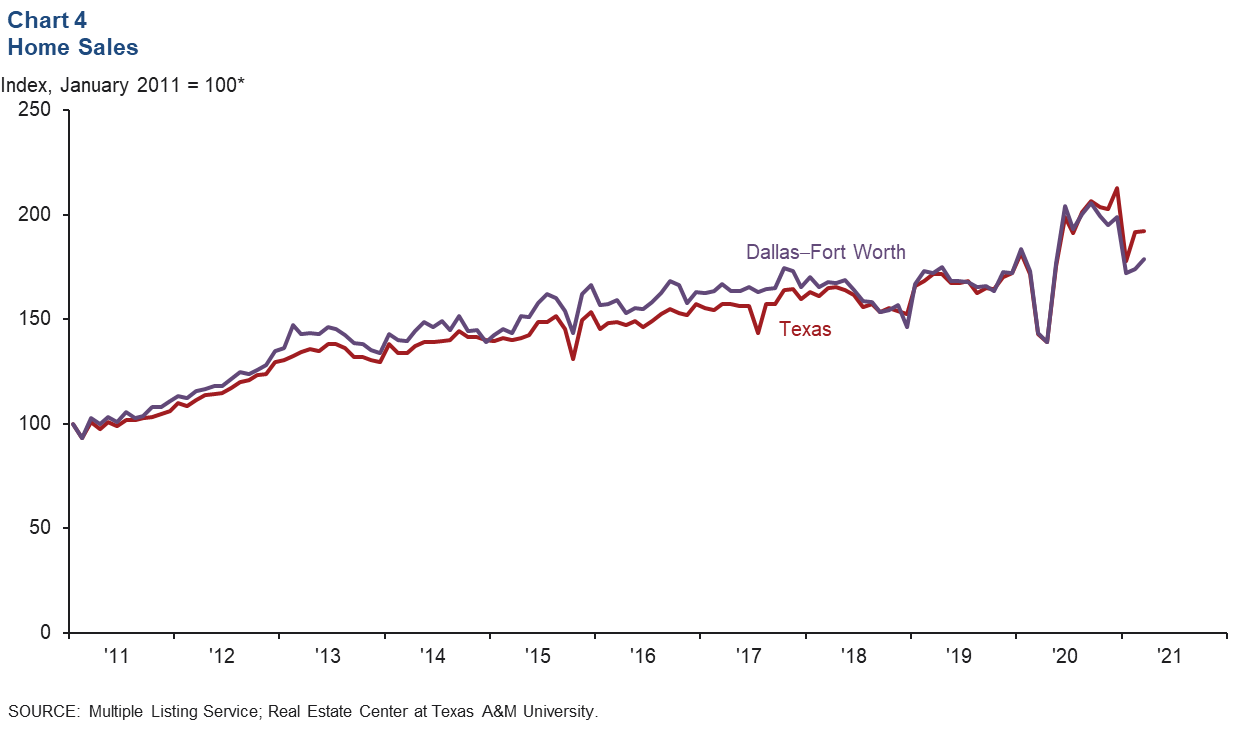 Price Appreciation Accelerates
Record home sales and tight inventories continue to boost prices. Home prices rose at their fastest monthly pace on record in March at 2.5 percent in DFW, according to the Case-Shiller House Price Index. U.S. prices similarly saw rapid increases of 1.5 percent in March. Year over year, prices were up 13.4 percent in Dallas and 13.2 percent in the U.S. (Chart 5). Moreover, the nominal median sales price reached an all-time high of $354,000 in Dallas and $292,000 in Fort Worth in April.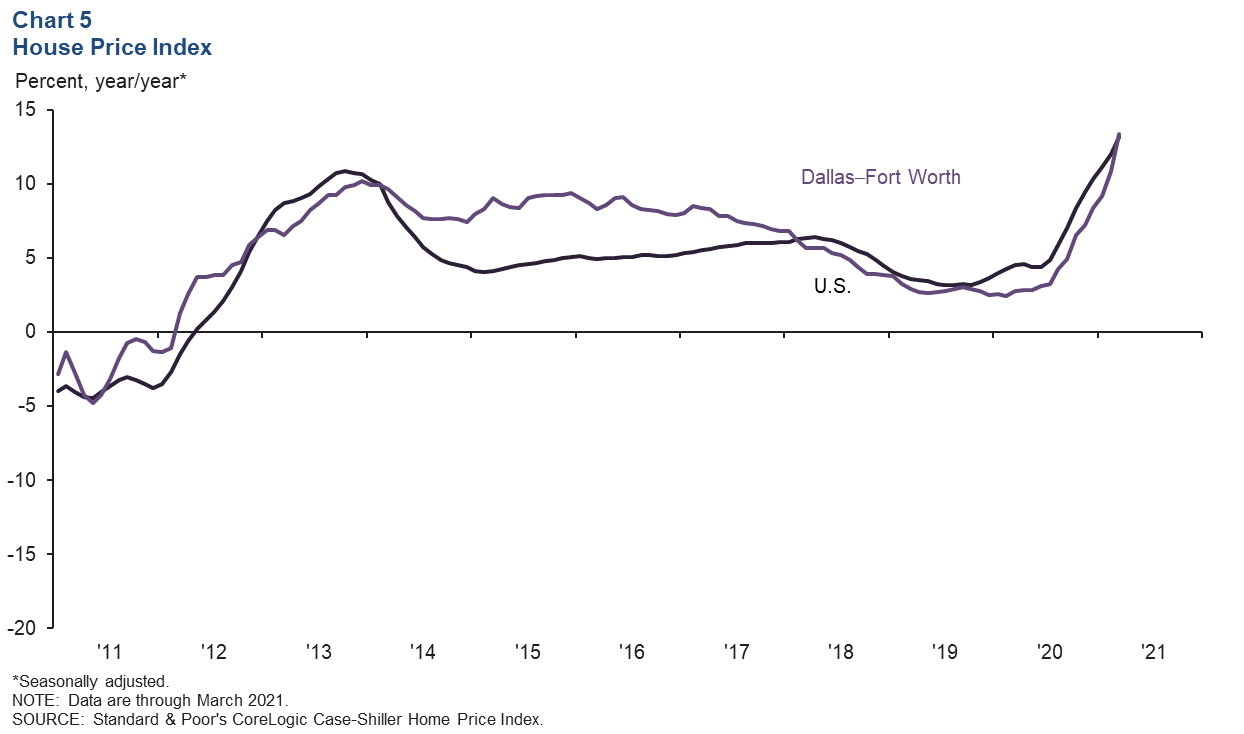 Population
Recently released census data show that from July 2019 to July 2020, the metroplex grew by nearly 120,000 people—the largest numerical increase among metro areas in the U.S., followed by Phoenix and Houston. DFW's 1.6 percent gain was ahead of Texas' 1.3 percent increase last year. Net domestic migration accounted for 48 percent and international migration for 14 percent of DFW's population growth, meaning that approximately 205 people moved to DFW every day last year (Chart 6). Though international migration slowed due to the ongoing pandemic, domestic migration strengthened from 2019. DFW is the fourth-largest metropolitan statistical area in the U.S., with a population of nearly 7.7 million in 2020. Since 2010, DFW has added 1.3 million residents.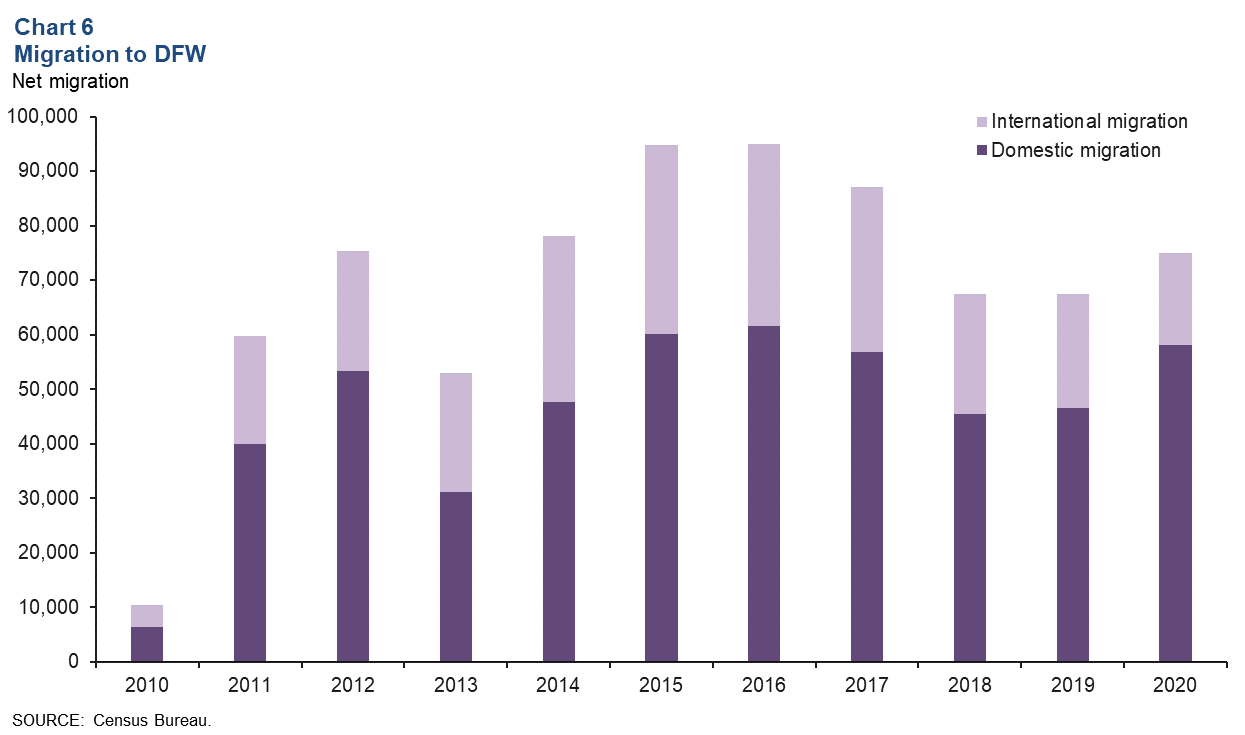 NOTE: Data may not match previously published numbers due to revisions.
About Dallas–Fort Worth Economic Indicators
Questions can be addressed to Laila Assanie at laila.assanie@dal.frb.org. Dallas–Fort Worth Economic Indicators is published every month after state and metro employment data are released.