Dallas-Fort Worth Economic Indicators

December 29, 2021
Dallas–Fort Worth's economic expansion strengthened in November. Payroll employment rose at a rapid clip, and unemployment dipped. The Dallas and Fort Worth business-cycle indexes advanced further. Consumer spending stayed strong, above prepandemic levels, and mobility improved in the first half of December before declining around the holidays. Apartment leasing was solid, pushing up occupancy and rents, and multifamily construction remained elevated.
Labor Market
DFW employment rose an annualized 10.8 percent (33,400 jobs) in November, up from an upwardly revised 6.3 percent (19,800 jobs) in October (Chart 1). Growth was broad based across sectors, with leisure and hospitality and professional and business services leading the way. The November gain puts DFW employment at 1.7 percent (63,900 jobs) above its prepandemic level in February 2020. Employment in the Dallas–Plano–Irving metro division was 2.0 percent and Fort Worth–Arlington 0.8 percent above prepandemic levels. Payrolls in Texas and the U.S. trailed their prepandemic highs by 0.4 percent and 2.6 percent, respectively. Unemployment fell in November, with the jobless rate sliding to 4.3 percent in Dallas, 4.4 percent in Fort Worth and 5.2 percent in Texas.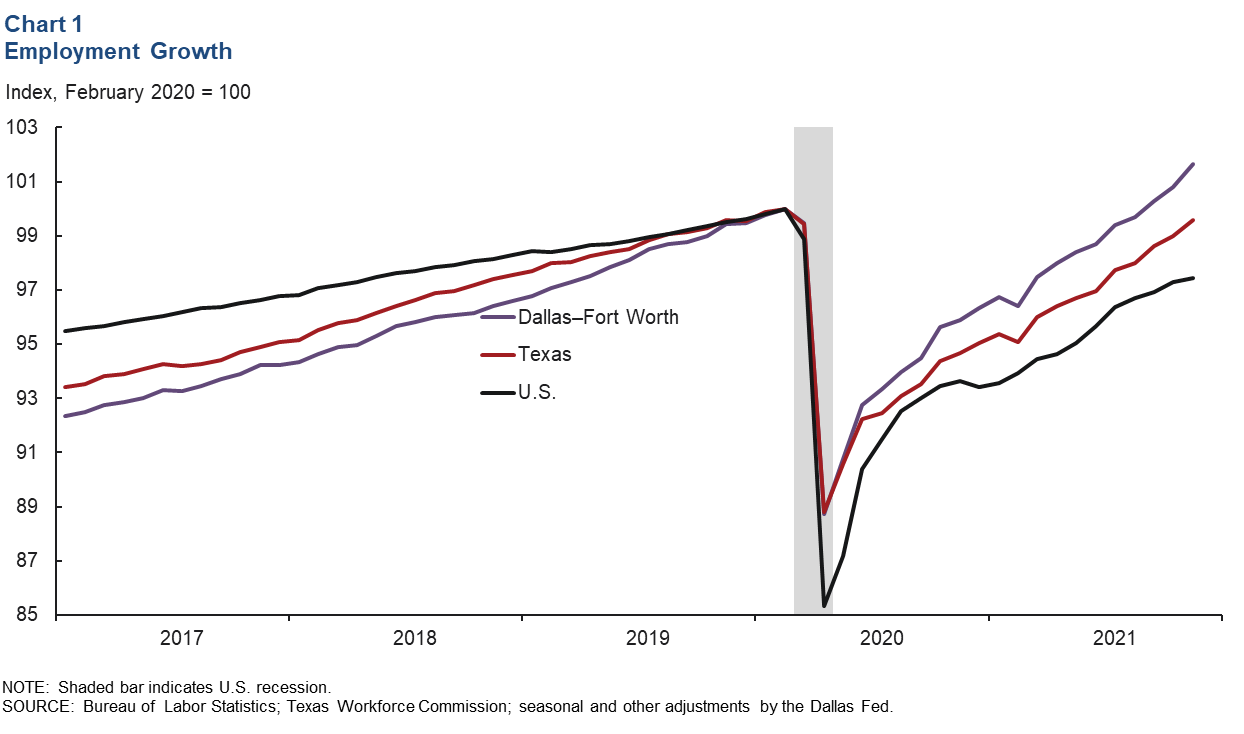 Business-Cycle Indexes
The Dallas and Fort Worth business-cycle indexes continued to expand strongly in November, buoyed by robust job growth and falling unemployment. The Dallas index rose an annualized 13.7 percent, marking the 19th straight month of growth, and was up 5.7 percent from its February 2020 level (Chart 2). The Fort Worth index climbed an annualized 14.2 percent in November, its ninth successive month of expansion, and eclipsed its prepandemic high by 2.4 percent.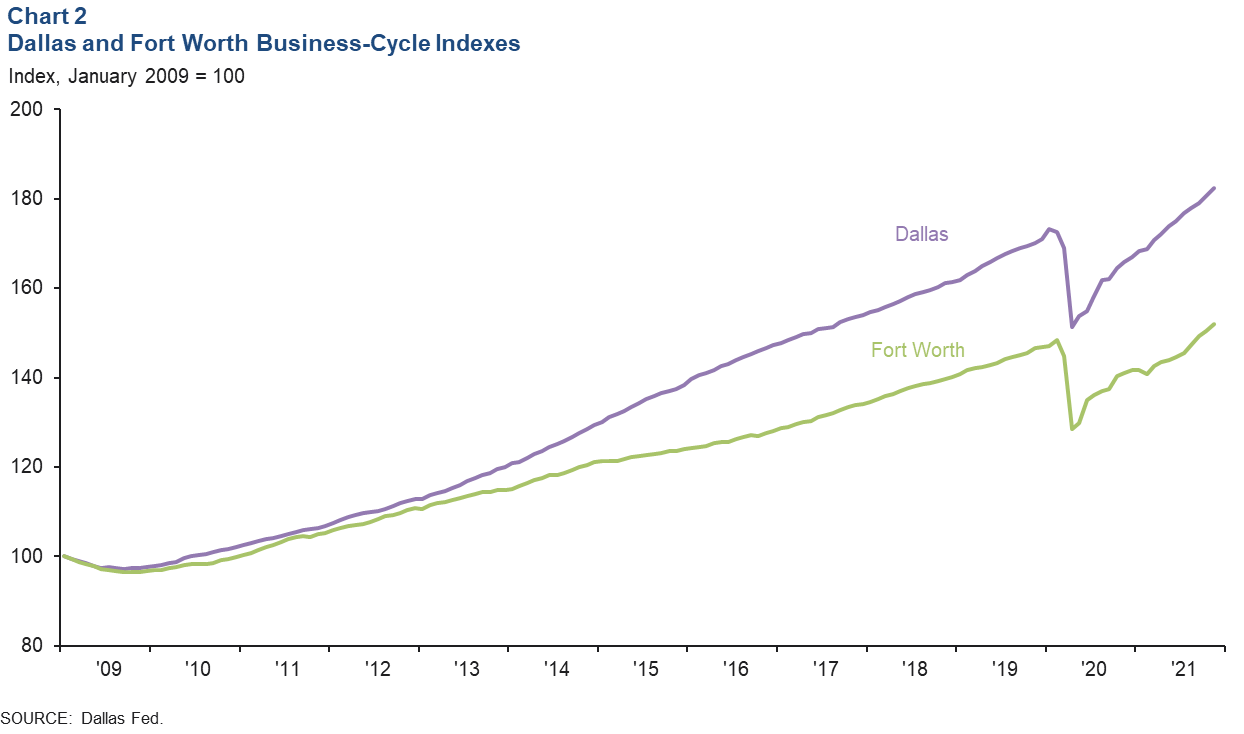 Consumer Spending
Since late February 2021, consumer spending in DFW has stayed consistently above prepandemic levels. Debit and credit card spending rose in November; as of Nov. 14, it was 37.1 percent higher in Dallas County and 32.2 percent higher in Tarrant County relative to January 2020 (Chart 3). Rising consumer spending is indicative of rising demand and consumer confidence.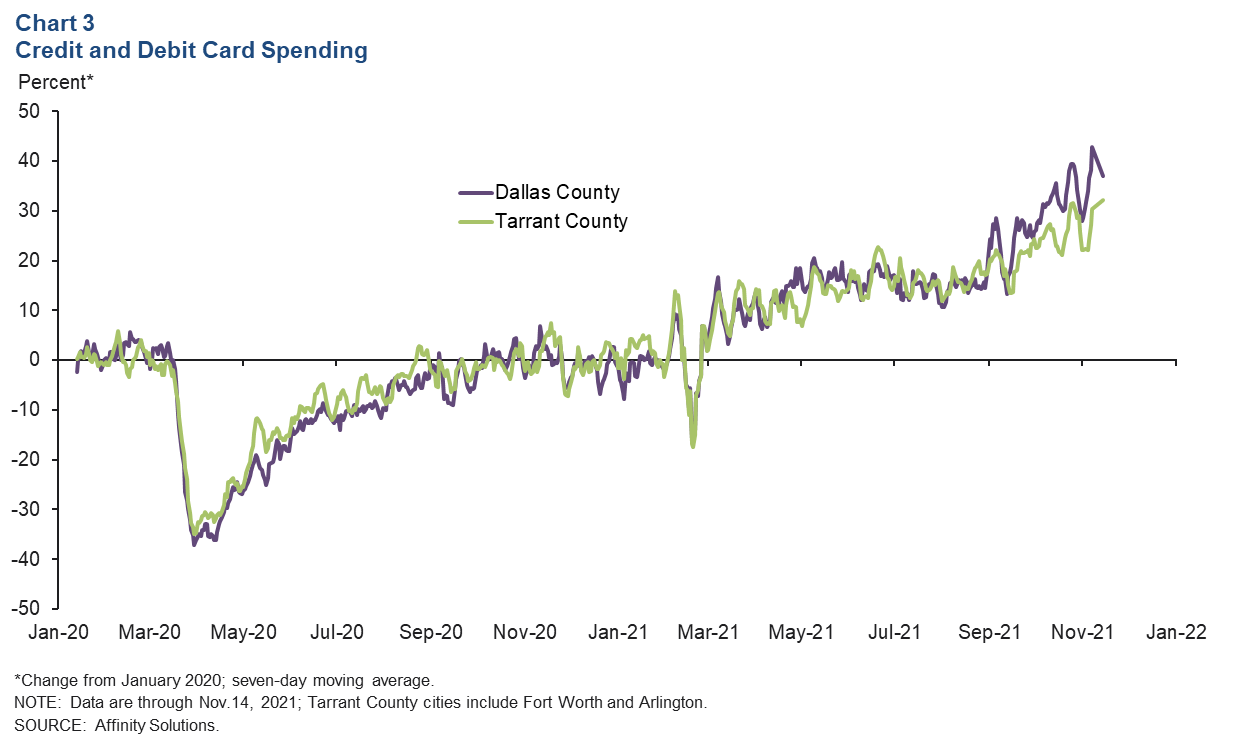 Mobility
Google mobility data for Dallas and Tarrant counties improved in the first half of December before dipping later in the month. As of Dec. 20, Dallas County mobility was down 4.9 percent from January 2020 levels—an improvement from its -10.9 percent reading on Nov. 28 but down from its -4.3 percent reading in mid-December (Chart 4). Tarrant County mobility followed a similar pattern, with the index down 10.4 percent on Nov. 28 and 4.4 percent on Dec. 20 compared with prepandemic levels. This oscillation may be due to holiday movements and a rise in COVID-19 cases in December.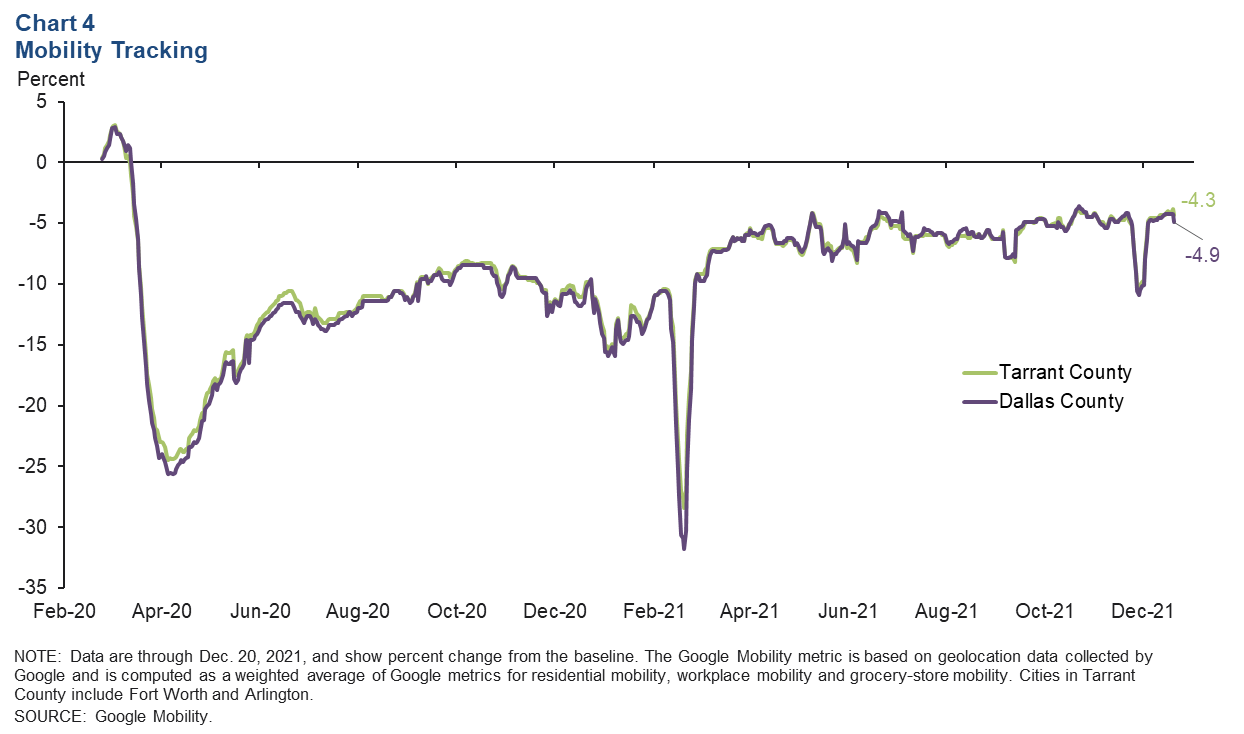 Multifamily Housing
Apartment Demand Stays Strong
DFW apartment absorption remains elevated, further pushing up occupancy and rents, according to ApartmentData.com. A total of 3,627 units were absorbed in October and November, more than double the 1,573 units absorbed during the same period a year ago (Chart 5). Average monthly rents in DFW increased to $1,379 per unit in November, up 17.9 percent year over year, and occupancy rose to 93.5 percent, 3 percentage points higher relative to November 2020.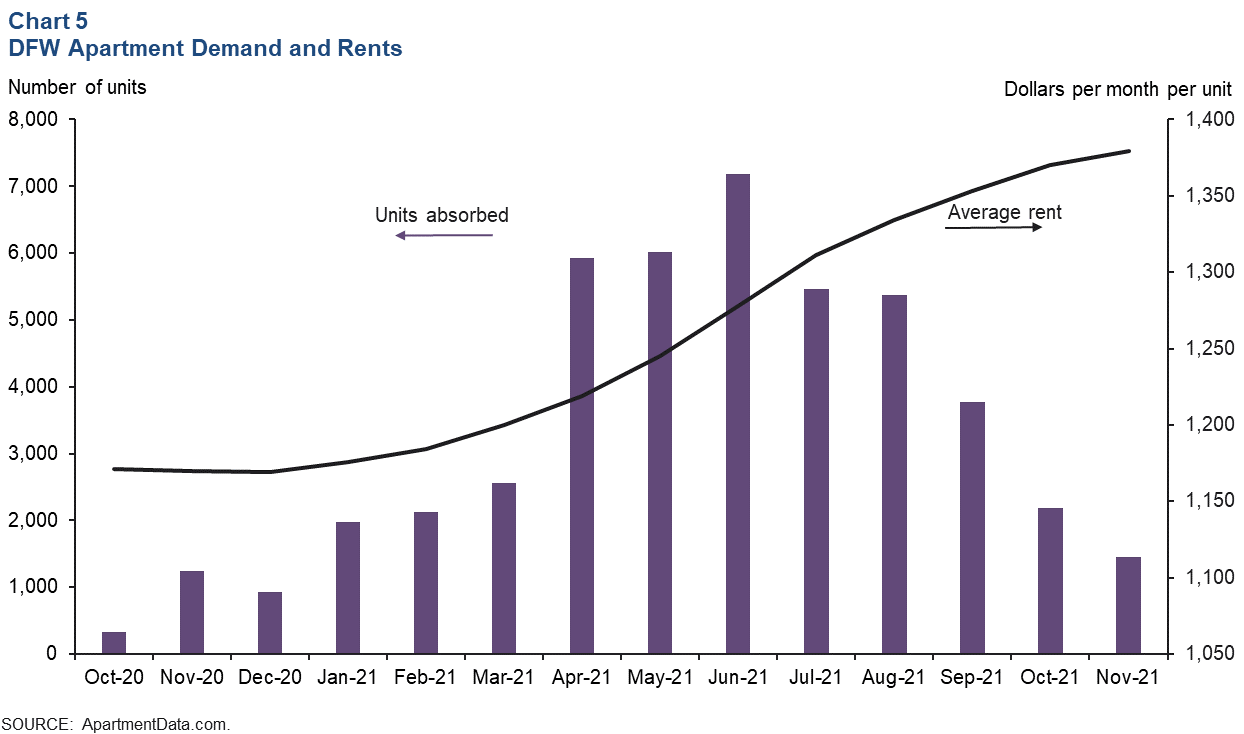 Multifamily Construction High
Multifamily permit issuance, which leads apartment construction, fell in October, pulling the three-month average down (Chart 6). However, through October, DFW multifamily permits are up 62.1 percent this year compared with the same period in 2020. Statewide, multifamily permits are up 15.3 percent over this time frame. DFW multifamily permit issuance fell in 2020 due to the pandemic; however, construction in the metroplex has ramped up again following a brief pause and is elevated compared with historical averages. DFW remains among the busiest markets in apartment building among large U.S. metros.
NOTE: Data may not match previously published numbers due to revisions.
About Dallas–Fort Worth Economic Indicators
Questions can be addressed to Laila Assanie at laila.assanie@dal.frb.org. Dallas–Fort Worth Economic Indicators is published every month after state and metro employment data are released.