El Paso Economic Indicators

January 6, 2021
The El Paso economy continued to expand in November, but growth slowed compared with previous months. The El Paso Business-Cycle Index increased for the second consecutive month thanks to strong payroll gains, mainly within the trade, transportation and utilities and professional and business services sectors. Despite the monthly employment gains, the unemployment rate rose, and consumer spending and small business conditions remained depressed. Both U.S. and Mexico industrial conditions improved but were still down on a year-over-year basis. Monthly auto production and sales continued to recover.
Business-Cycle Index
The El Paso Business-Cycle Index rose an annualized 3.2 percent in November to 137.3, slower than October's annualized growth rate of 11.6 percent. Despite this monthly increase, the index is down an annualized 8.2 percent from its peak in February 2020 (Chart 1).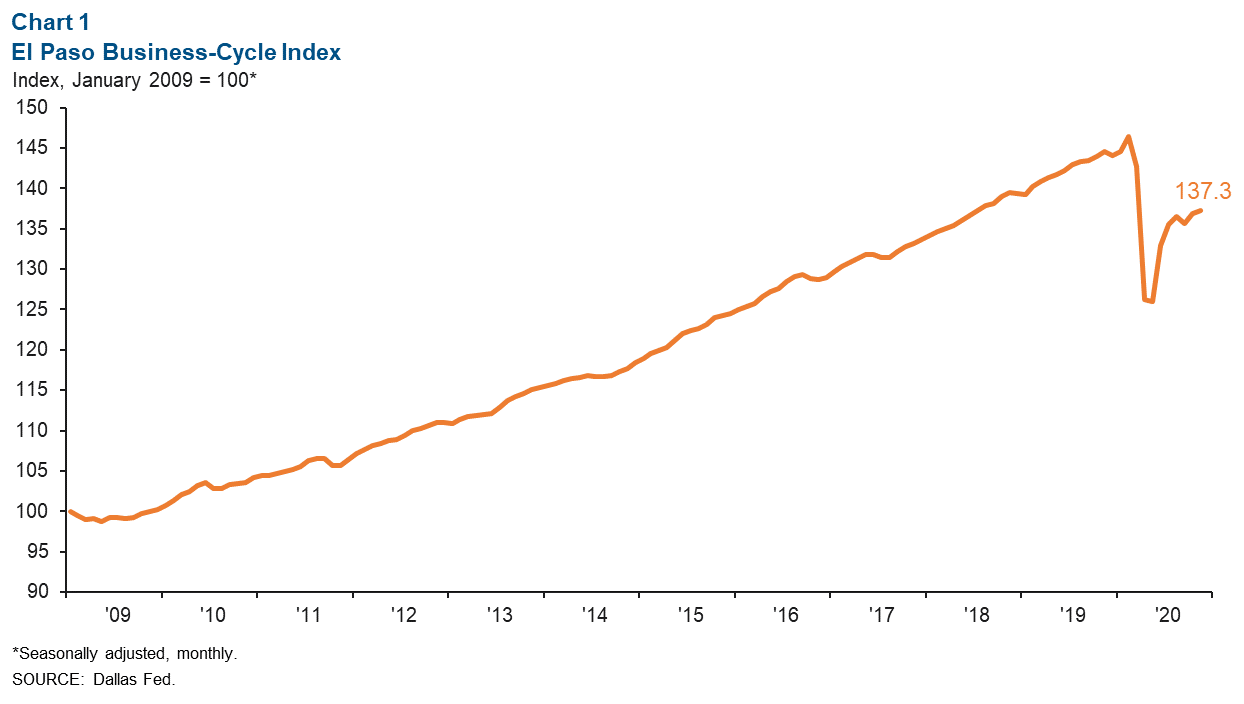 Labor Market
Monthly total nonfarm employment grew an annualized 12.5 percent in El Paso, with the metro adding a little over 3,000 jobs (nonannualized) in November (Chart 2). The area's second-largest sector—trade, transportation and utilities—added almost 2,000 jobs (nonannualized) and professional and business services gained nearly 1,230 jobs. The only two sectors that saw monthly job losses were manufacturing (-458 jobs) and education and health services (-277 jobs).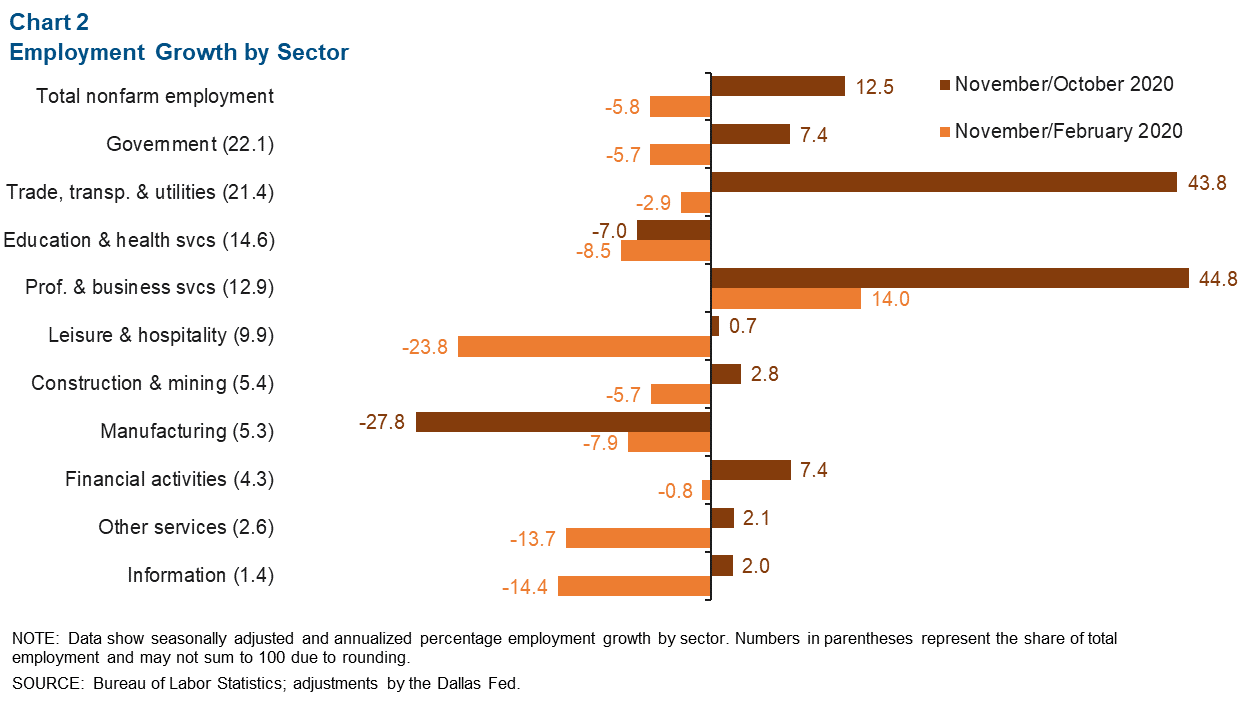 Between February and November, the El Paso labor market contracted at an annualized rate of 5.8 percent, or a loss of over 14,300 jobs (nonannualized). Only professional and business services posted job gains, adding almost 3,800 jobs over the previous nine months. Job losses since February were mainly driven by leisure and hospitality (-6,980 jobs), government (-3,140 jobs), education and health services (-3,130 jobs), trade, transportation and utilities (-1,470 jobs) and manufacturing (-1,055 jobs).
El Paso's unemployment rate rose from 7.6 to 9.9 percent in November. The jobless rate in Texas also rose from 6.9 to 8.1 percent, while the nation's rate fell from 6.9 to 6.7 percent in November.
Consumer Spending
El Paso County consumer spending (as measured by credit and debit card spending) has recovered ground since bottoming out in mid-April, when weekly spending was down 42.7 percent from January 2020 levels, but remains well below the statewide figure (Chart 3). As of Dec. 6, spending in the county was down 20.0 percent from January 2020 compared with a decline of only 1.0 percent in Texas.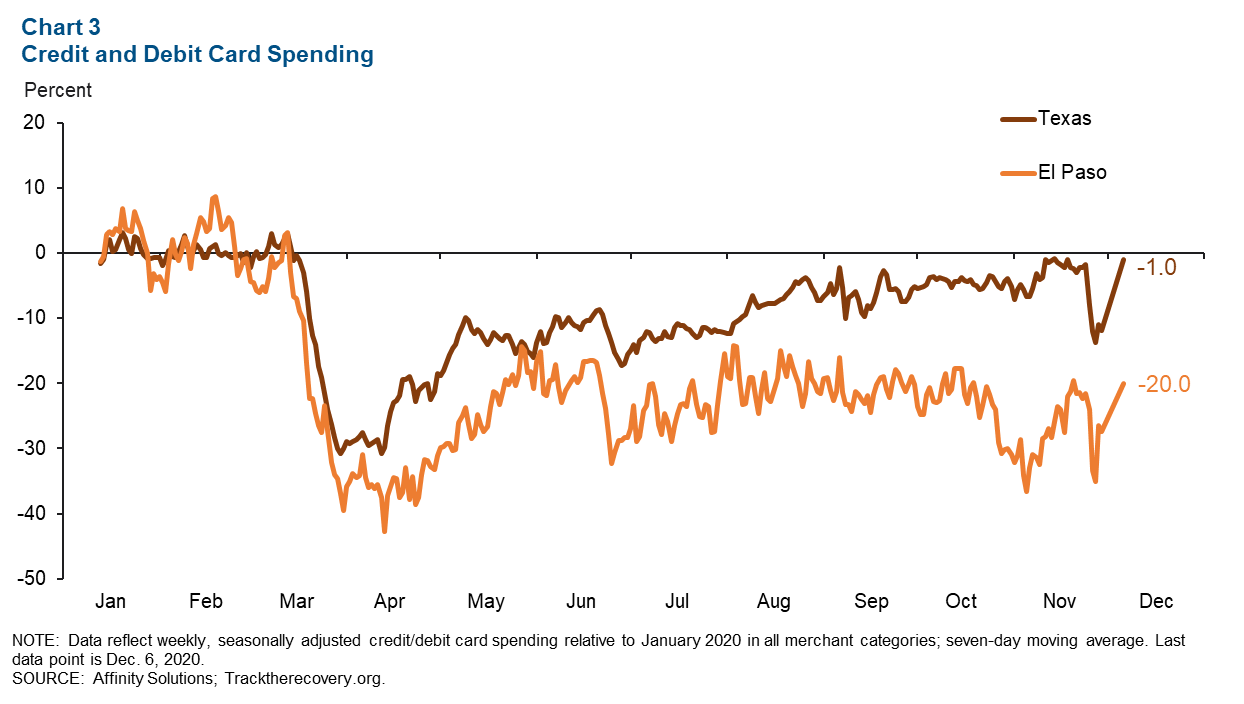 Small Business Operations
Data from Womply, a service provider to small businesses, suggest that as of Dec. 9, the number of small businesses open in El Paso relative to January was down 28.5 percent (Chart 4). Leisure and hospitality was the most severely impacted industry; the average number of small businesses open in early December relative to January was down 34.6 percent. Transportation decreased 21.6 percent, and education and health services saw 19.4 percent fewer businesses open as compared with January.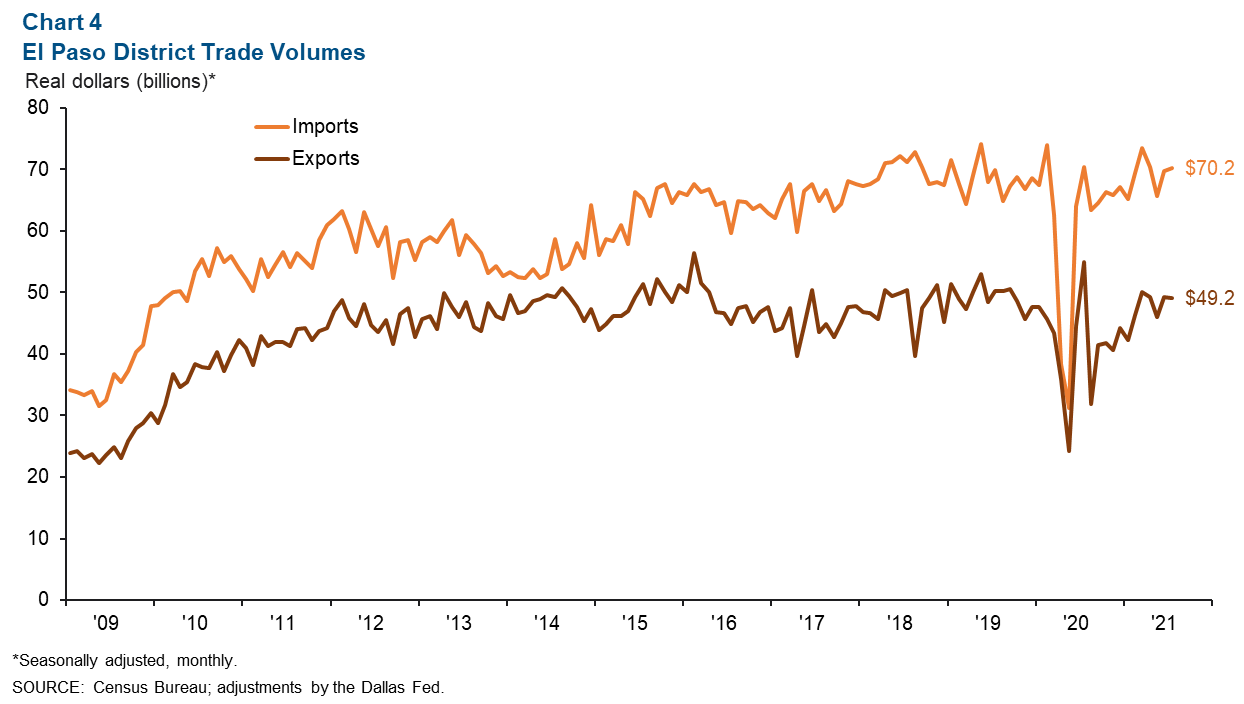 Similarly, net revenues at small businesses were down 29.4 percent as of Dec. 9 compared with January. Again, leisure and hospitality saw the sharpest decline, down 42.5 percent on average in early December compared with the beginning of 2020. Net revenues in the education and health services and transportation sectors fell by 34.2 percent and 25.7 percent, respectively, compared with January.
Industrial Production and Maquiladora Activity
The U.S. industrial production index rose from 103.6 in October to 104.0 in November but was down 5.5 percent on a year-over-year basis (Chart 5). Mexico's industrial production index grew on a monthly basis in October, moving from 95.0 to 96.8, but was down 3.1 percent compared with a year prior. The Institute for Supply Management manufacturing index stood at 60.7 in December, up from November's figure of 57.5. While the manufacturing sector continued to recover from contractions in the spring, some manufacturers are still facing problems such as absenteeism, temporary shutdowns to sanitize buildings, and trouble hiring or rehiring.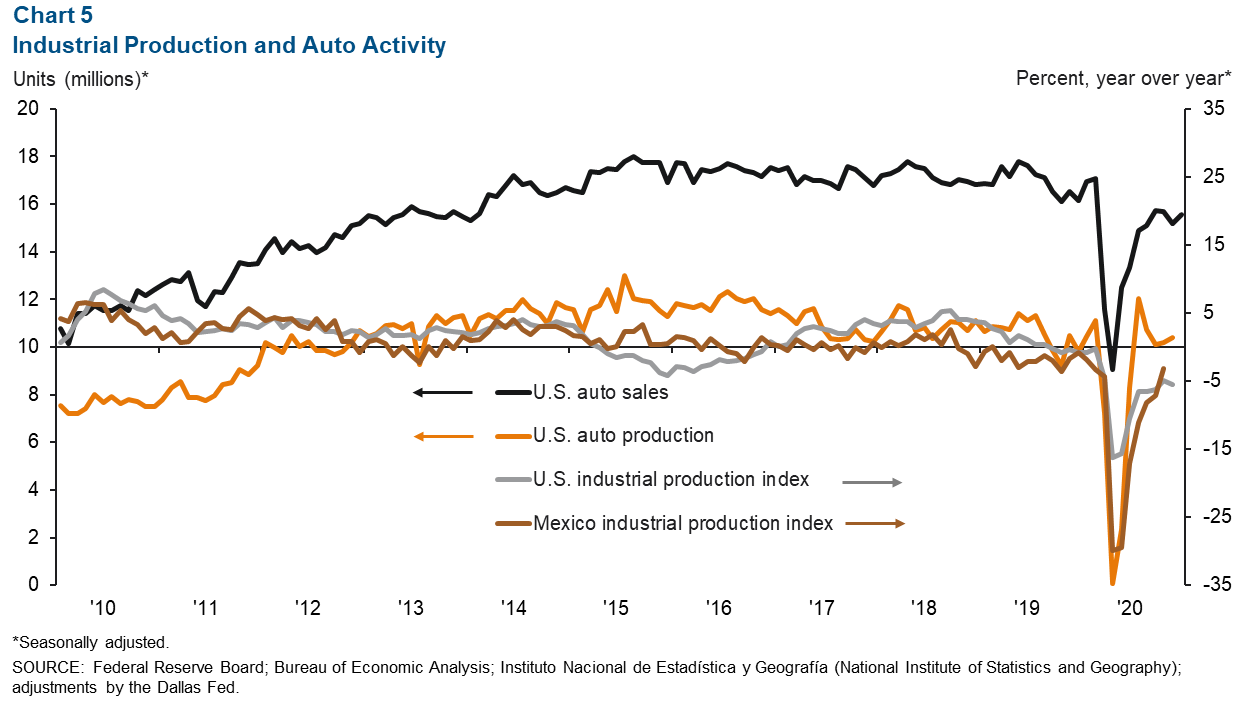 Across the border, Juárez maquiladora industry employment in October was on par with September, totaling 295,540 manufacturing jobs. U.S. auto and light-truck production rose from 10.2 million units in October to 10.4 million units in November. This was slightly lower than November 2019's production figure of 10.5 million units. Monthly U.S. auto sales rose in December, totaling 15.6 million units, but were 3.5 percent lower than a year prior. Auto sales are closely linked to the local economy because roughly half of maquiladoras in Juárez are auto related.
NOTE: Data may not match previously published numbers due to revisions. The El Paso metropolitan statistical area includes El Paso and Hudspeth counties.
About El Paso Economic Indicators
Questions can be addressed to Keighton Hines at keighton.hines@dal.frb.org. El Paso Economic Indicators is released on the fourth Wednesday of every month.