Houston Economic Indicators

January 30, 2018
Economic data were mostly positive for Houston in December. Employment grew, and business-cycle and leading indexes were indicative of healthy economic output and future growth. Construction and real estate metrics were mixed but pointed to a tighter housing market and increased construction ahead. Overall, the outlook for Houston remains positive.
Business-Cycle and Leading Indexes
Growth in the Houston Business-Cycle Index—a real-time proxy for changes in economic activity such as income and output—surged to a three-year high of 6.8 percent from September to December (Chart 1). This was driven by strong post-Hurricane Harvey activity. 2017 overall was a modest year for growth. The index grew 2.3 percent last year (December over December), below its average of 3.2 percent since 2000.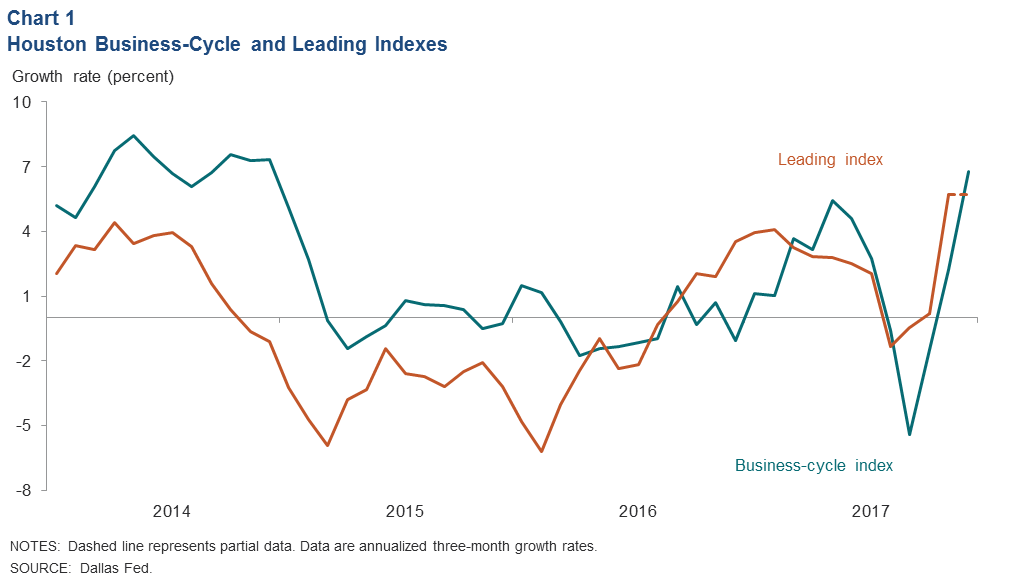 An index of leading economic indicators for Houston grew 5.7 percent over the three months ending in December. The surge is partly related to the post-Harvey recovery and big increase in Help Wanted OnLine job postings and partly to stronger energy-related activity. The increase is suggestive of greater local job growth ahead, particularly over the next three to six months.
Employment
Houston added over 12,000 jobs from August to December, an annual growth rate of 1.3 percent (Chart 2). Financial activities and construction saw the fastest rates of growth. However, trade, transportation and utilities grew by the largest amount (8,100 jobs), followed by professional and business services (5,500) and financial activities (4,000). Mining lost jobs at the fastest rate over the period (5.5 percent, or 1,500 jobs), but leisure and hospitality shed the most jobs (2,600). The manufacturing sector and education and health services both declined by about 2,500 jobs each.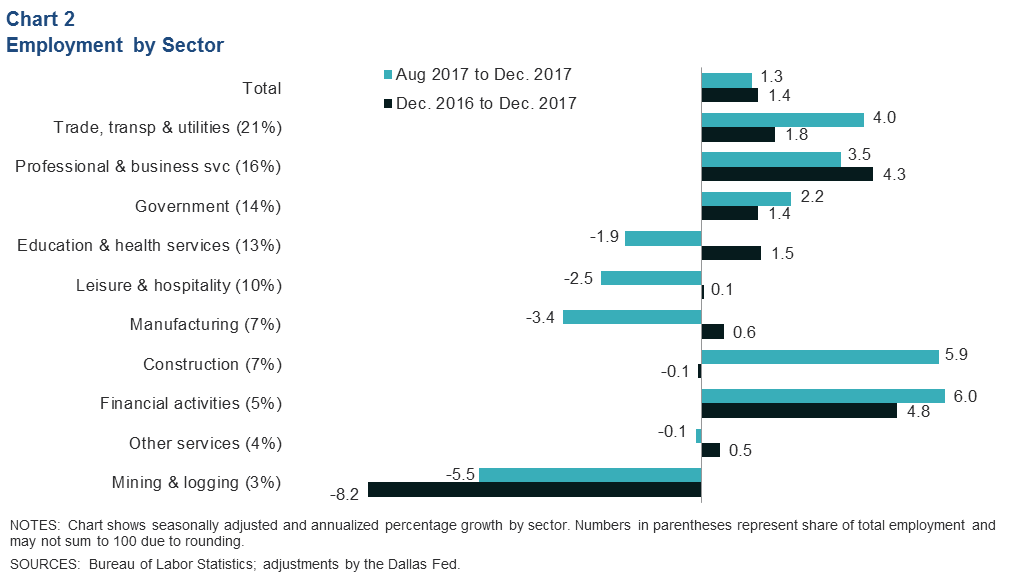 In 2017, employment rebounded from a slight decline in 2016 to 1.4 percent growth—slower than the metro's historical average of 2 percent. The fastest-growing sector was financial activities, which was already accelerating at midyear before getting a boost from real estate, rental and leasing services after Hurricane Harvey. Professional and business services was the second-fastest-growing sector last year, up 4.3 percent (19,781). Mining and logging was the only sector to register significant declines, finishing the year down 8.2 percent (6,900), with industry job growth focused in the oil fields of West Texas and rather than the head offices in Houston.
The unemployment rate in Houston was 4.9 percent in December, 0.1 percentage points above the November level but still on par with the average rate in the second half of 2017. For comparison, the unemployment rate in Texas was 3.9 percent in December, and the U.S. rate was 4.1 percent.
Construction Employment
Structural headwinds from the completion of several large projects in the petrochemical industry as well as a drop-off in commercial real estate construction—particularly office and multifamily—had eroded construction labor demand in the metro since early 2016. But total construction employment broke from its 21-month downward trend in the last few months of 2017 as post-Harvey renovations began on homes, apartment complexes and offices (Chart 3). This increase in demand is likely to be temporary but is reportedly putting significant upward pressure on construction labor costs in the region.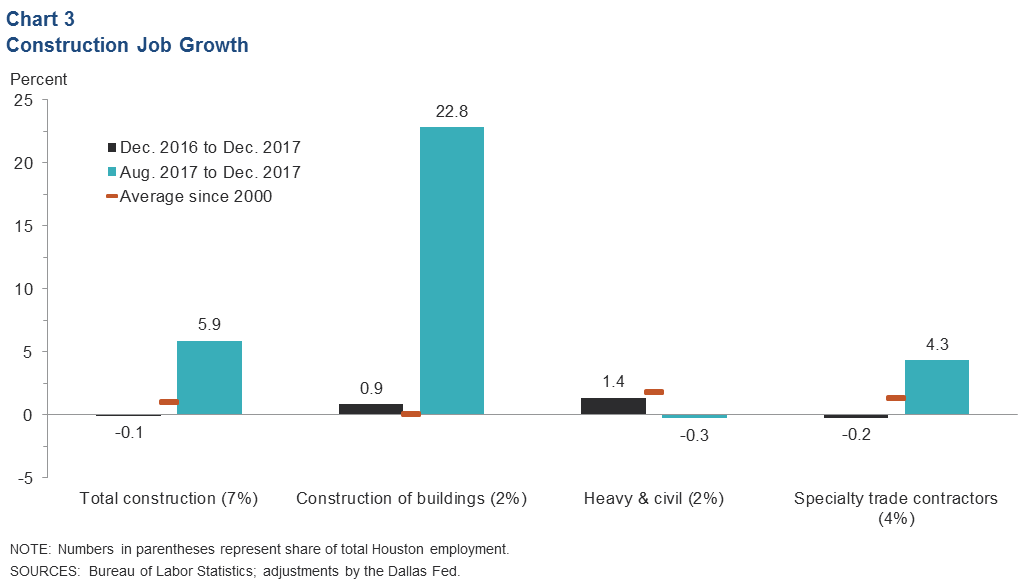 Real Estate
Existing-Home Market Tightens
After a post-Harvey dip and rebound, existing-home sales resumed the upward trend that began in 2016. About 2.3 homes were sold for every 1,000 employed persons in December 2017 (Chart 4). The last time home sales were as strong by that measure was in November 2007.
The real median home price in the metro fell for the third consecutive month in December 2017. That drop is due in part to a falloff in sales of more expensive homes ($750,000+), while home sales in the middle of the distribution ($150,000 to $500,000) grew.
The supply of homes fell to 3.6 months in December. Housing markets have historically been considered balanced between buyers and sellers at around six months of inventory.
Building Permits Point to Single-Family Growth
Permits for new residential units in Houston rose in the final months of 2017, driven by sharp increases in both single-family and multifamily permits (Chart 5). The average number of single-family permits was up 10.2 percent from September through November compared with the prior three-month period. By that measure, it was the fastest growth in single family since November 2009. The number of permits for multifamily housing units also increased sharply.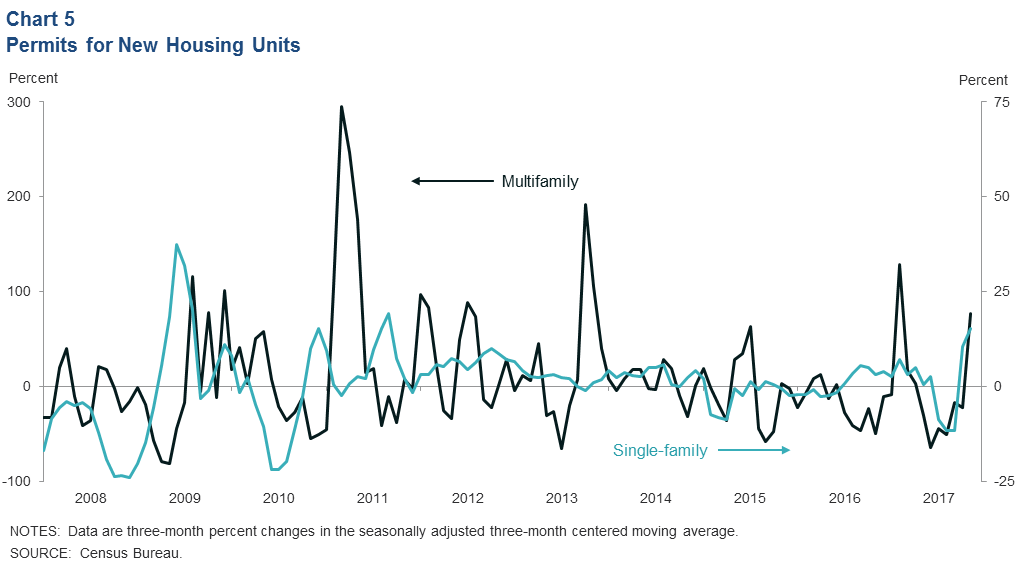 Vacancy Rates Mixed for Commercial Real Estate
Vacancy rates for commercial real estate in Houston were mixed in the fourth quarter (Chart 6). Office vacancies were essentially flat but elevated in the second half of 2017 and stood at 21.5 percent in the fourth quarter. Rising office vacancies in 2015 and 2016 were largely driven by the completion of a glut of projects that had been put into motion prior to the oil bust.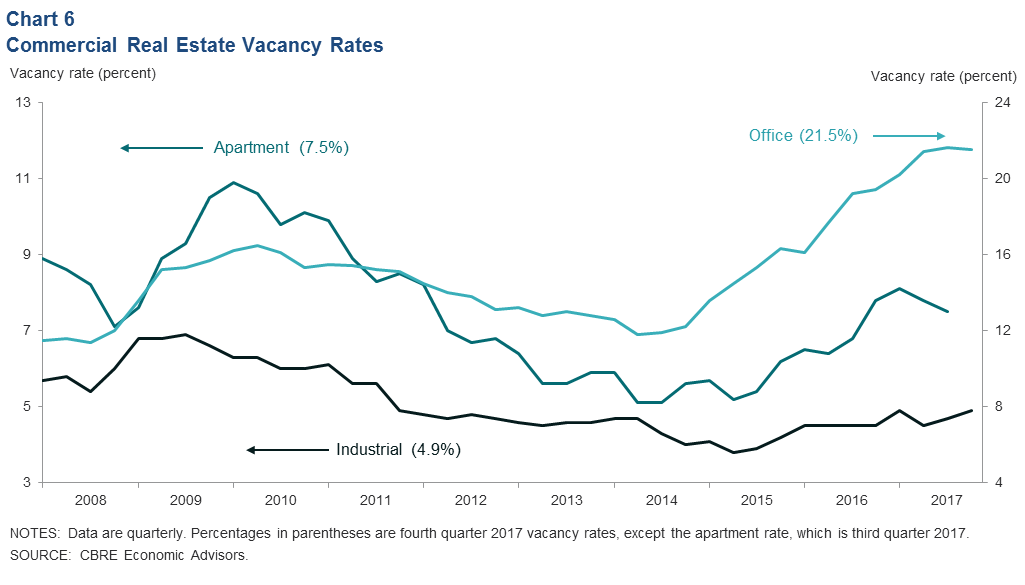 The multifamily vacancy rate rose sharply over that same time frame but fell toward the end of 2017. Hurricane Harvey displaced many homeowners, and some of those households have moved into apartments while their homes are renovated. It also took many thousands of apartment units that were damaged out of the market, albeit some of them temporarily. The combination resulted in a drop in apartment vacancies and a rise in average lease rates per square foot, which could be attributable in part to a surge in shorter-term leases, which tend to have higher lease rates.
The industrial market saw its vacancy rates rise slightly, but that market remains very tight overall.
NOTE: Data may not match previously published numbers due to revisions.
About Houston Economic Indicators
Questions can be addressed to Jesse Thompson at jesse.thompson@dal.frb.org. Houston Economic Indicators is posted on the second Monday after monthly Houston-area employment data are released.