Houston Economic Indicators

March 31, 2020
Note: Most of the data included in this release precede the coronavirus (COVID-19) outbreak in the U.S.
Houston started 2020 with average growth in the business-cycle index and healthy job gains—led by leisure and hospitality, and health industries. Service-providing industries were collectively accelerating, while goods-producing sectors shifted to slight contraction, with modest to no growth in manufacturing. However, oil and stock markets have been reeling from the impacts of COVID-19 on world economies and a flood of crude from OPEC. These factors have cast a significant shadow over the outlook for the region.
Business-Cycle and Leading Indexes
The Houston Business-Cycle index grew at an annual pace of 3.7 percent over the three months ending January 2020 (Chart 1). This is roughly on par with its average rate since 2000 and its pace in the second half of 2019. This suggests that Houston grew at a healthy pace in the months preceding the COVID-19 outbreak.
An index of 10 leading indicators for Houston was essentially flat over the three months ending January 2020, well below its historical average rate. That growth pattern would be consistent with modest job growth in the first half of 2020, if not for the economic developments associated with COVID-19 and the Russia–Saudi oil price war.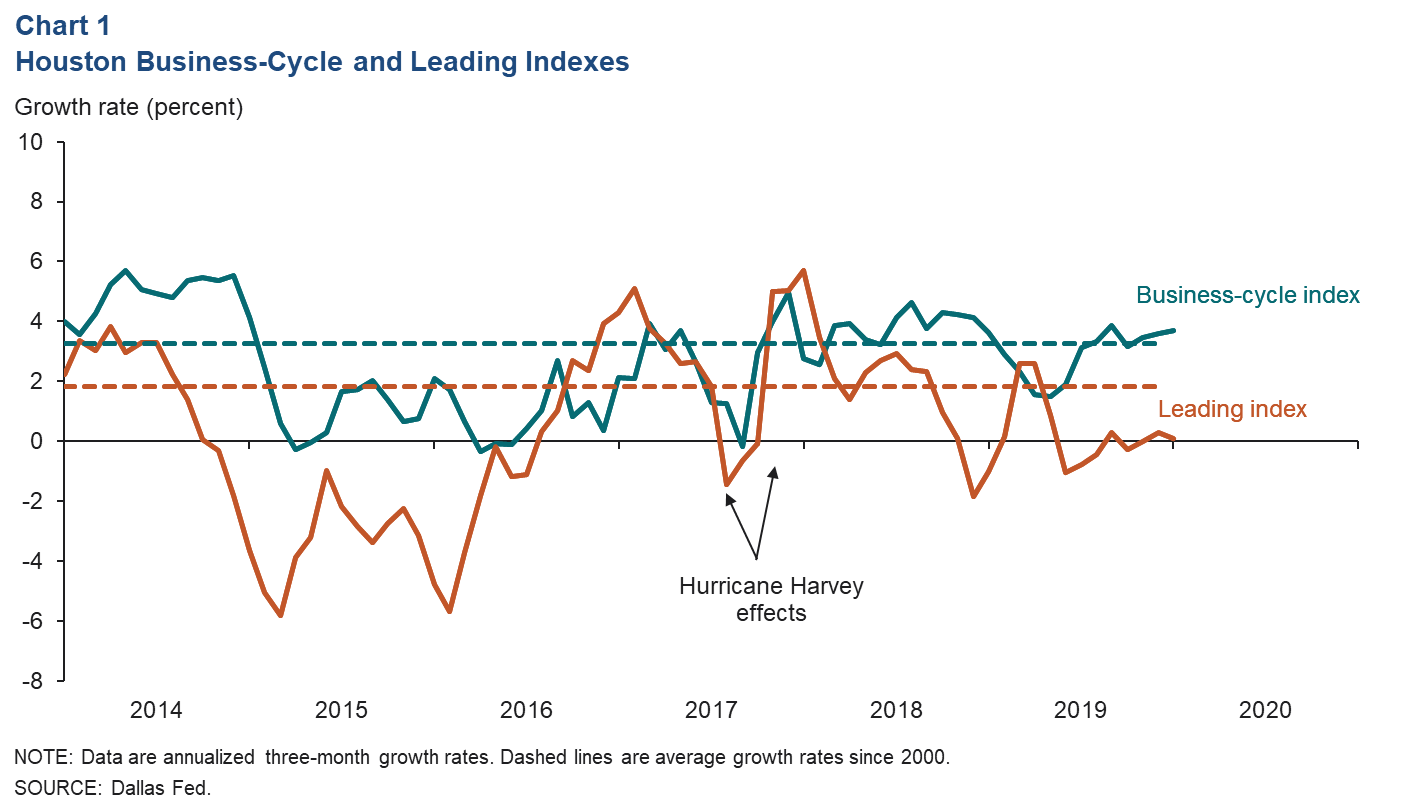 Employment
Job Growth Healthy at Start of 2020
The metro area added jobs at a very healthy clip of 3.8 percent from November 2019 to February 2020 (Chart 2). That growth was led by leisure and hospitality (10,500 jobs), education and health services (6,800; mostly health workers), trade, transportation and utilities (5,900) and professional and business services (5,400). Job losses were concentrated in oil-and-gas-related industries: manufacturing (-4,200) and mining and logging -3,200)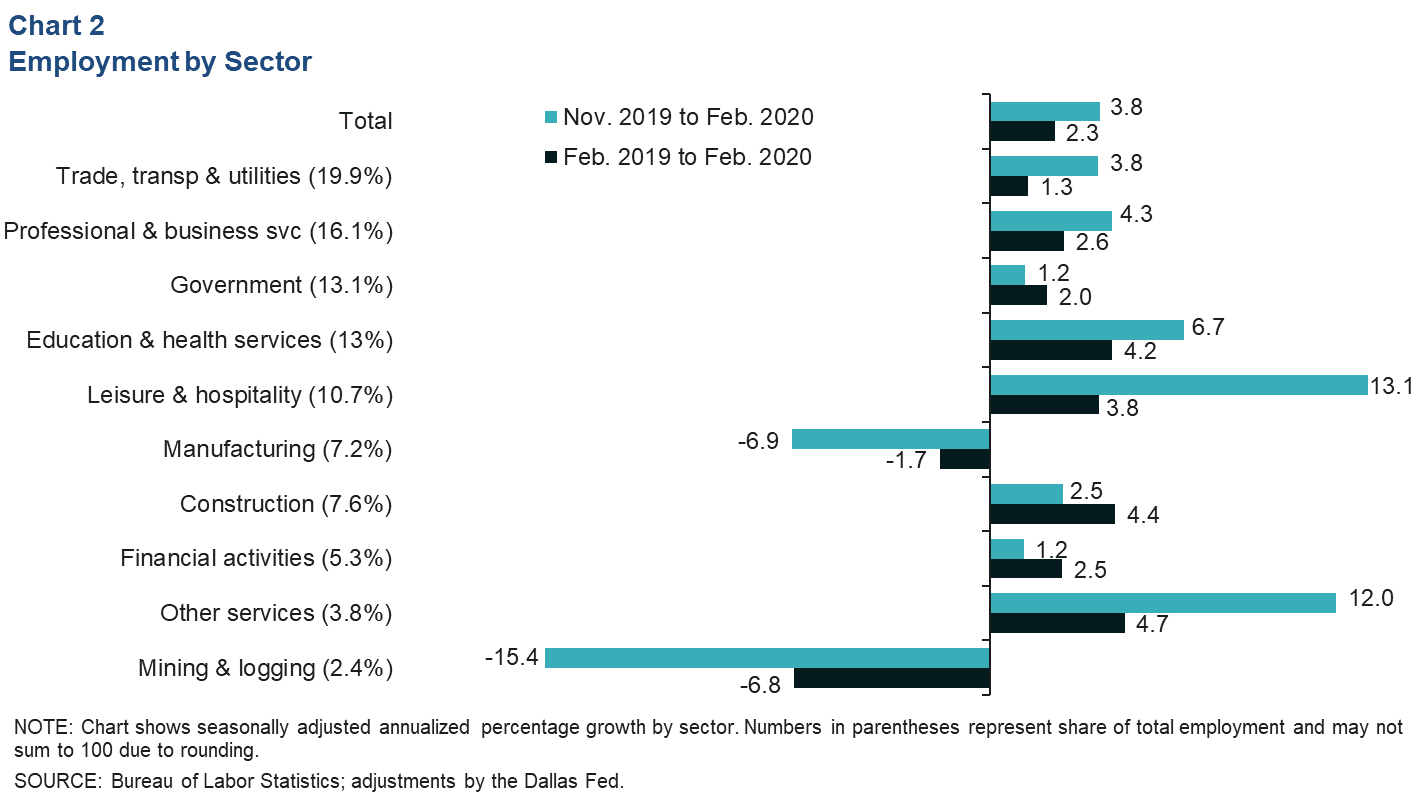 On a year-over-year basis, Houston grew 2.3 percent (71,100 jobs).
Houston's unemployment rate was flat at 3.8 percent in February. For comparison, the February unemployment rate was 3.5 percent in Texas and 3.5 percent in the U.S.
Service Sector Accelerates as Goods-Producing Jobs See Losses
Job growth in goods-producing sectors slowed sharply from an annualized 4.4 percent growth rate June 2019 to September 2019 to a contraction of 2.6 percent over the three months ending in February (Chart 3). The rapid deceleration was due mostly to weakness in energy-related jobs. Goods-producing industries, which tend to be relatively volatile, comprised nearly 18 percent of Houston jobs in 2019. In both the 2009 recession and the 2015–16 oil bust—during which the Houston economy arguably experienced a mild contraction—the goods-producing sector bore the brunt of the volatility.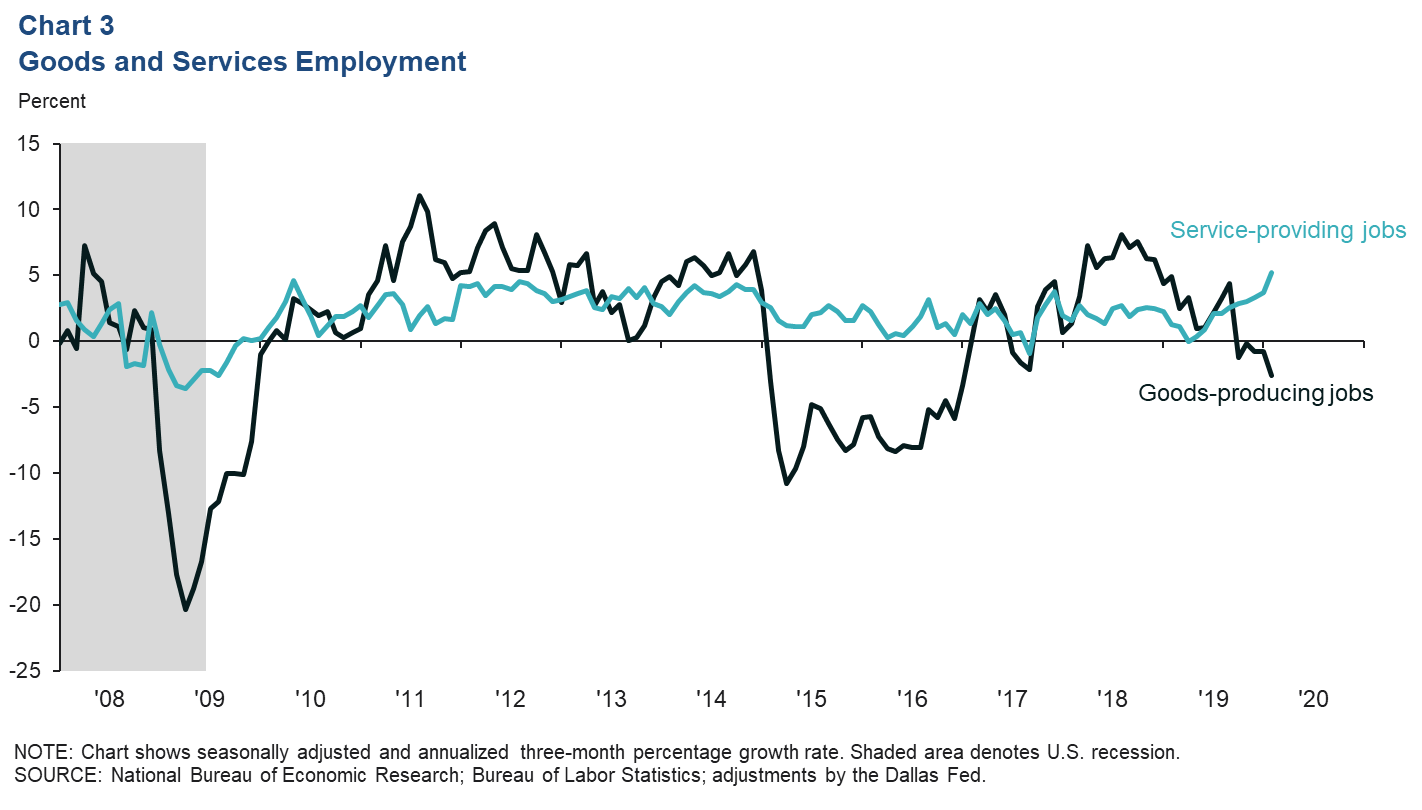 In contrast, the larger and less-cyclical service-providing industries accelerated from growth of 2.6 percent in the three months ending in September 2019 to 5.3 percent from November 2019 to February 2020. Tending to track more closely with the health of the broader U.S. economy, services industries—particularly leisure and hospitality and health care and social assistance—helped buffer Houston against the effects of the last oil bust.
Houston Purchasing Managers Index
The Houston Purchasing Managers Index (PMI) fell to 50.2 in February, indicating that the region's growth in manufacturing activity had slowed to nearly zero (Chart 4). However, that reading was still consistent with a growing local economy. Comments from survey participants highlighted the ongoing weakness in the energy sector and that supply chain disruptions stemming from the COVID-19 situation in China had not yet materially affected local operations. Released on roughly the 10th day of each month, the PMI is one of the timeliest indicators of economic activity in the Houston region.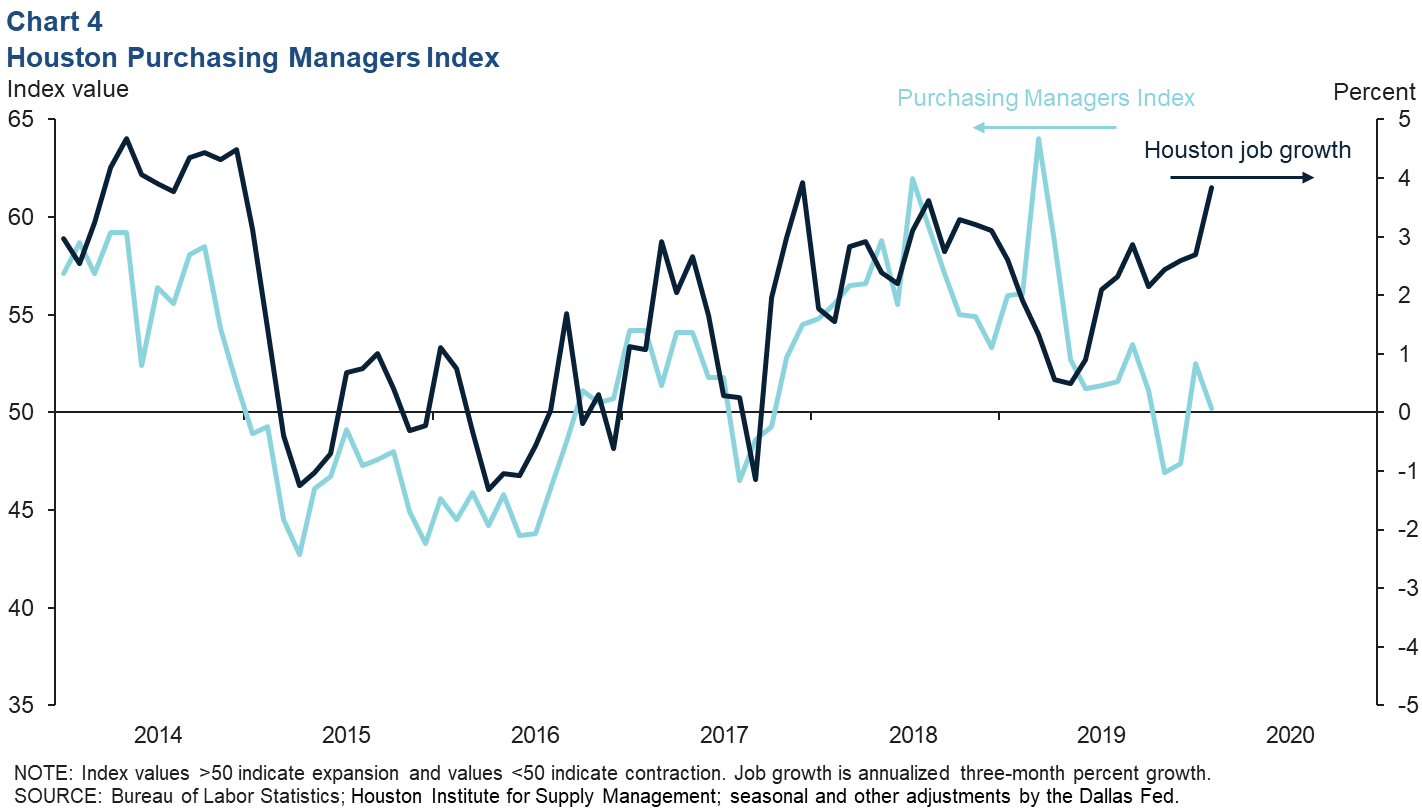 Oil Prices and the 2015–16 Oil Bust
Although Houston has diversified its economy over the past 35 years, oil markets still drive the region's volatility. The price of West Texas Intermediate crude oil fell from an average of $60 per barrel in December 2019 to an average of about $30 in March 2020 (Chart 5). This drop was due mainly to a simultaneous hit to demand and a surge in supply.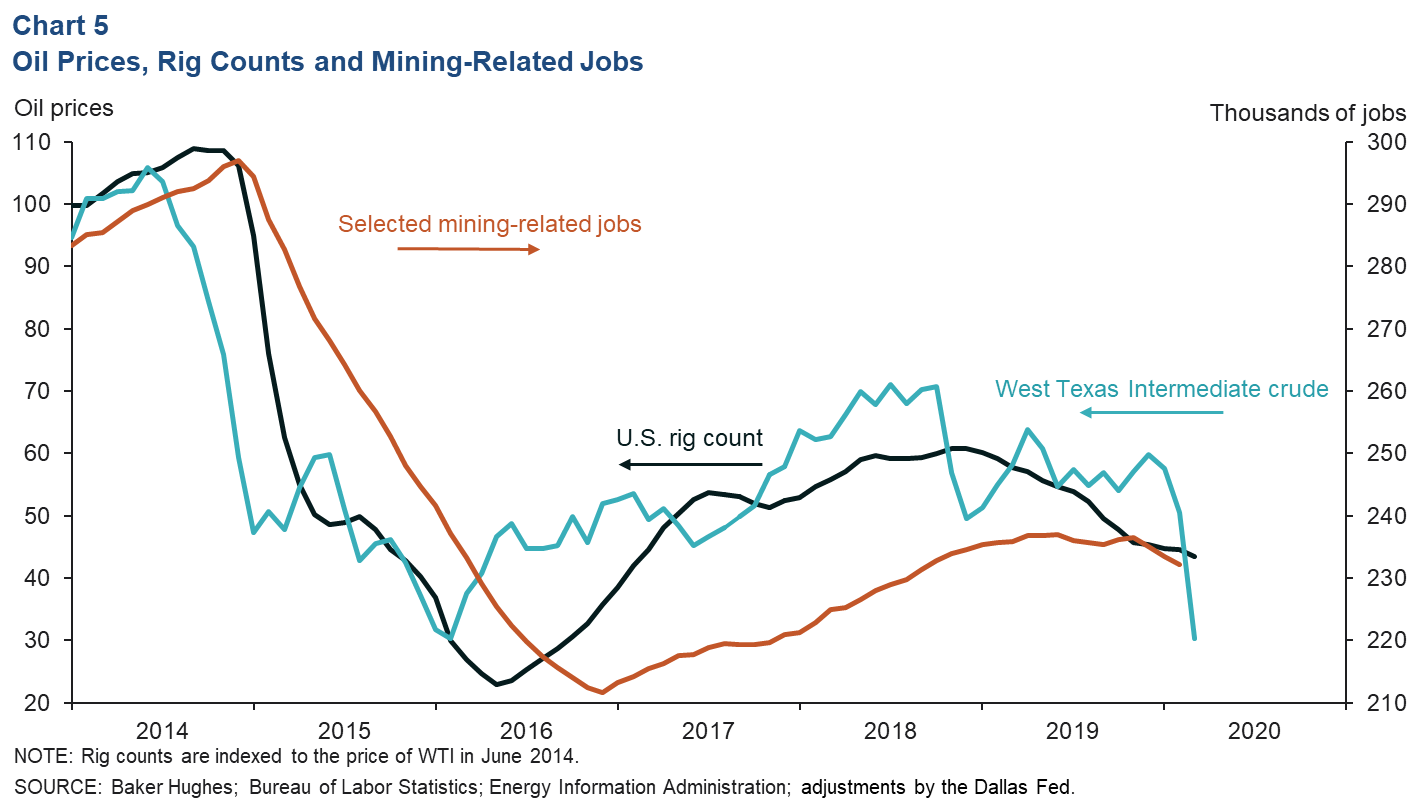 Expectations for U.S. and global oil consumption have deteriorated markedly over the past two months as efforts to contain COVID-19 negatively affected current and expected economic activity. Simultaneously, an agreement between several nations and OPEC came unexpectedly to an end in March, and key producers Russia and Saudi Arabia abandoned their policy of supporting crude prices with production cuts. Over the week ending March 27, the combination of market forces drove WTI to average $19.
Rig counts follow price, typically with a lag of about three months. Recent announcements by oil and gas firms suggest that capital expenditures—mostly spending on drilling and completing new wells and equipment purchases—are likely to be slashed in the remainder of 2020 at scales comparable to what occurred during the 2015–16 oil bust. At that time, the average monthly rig count fell nearly 80 percent from December 2014 to May 2016—finally bottoming three months after WTI reached a low $26. However, lack of access to capital and the pressing nature of the dual supply-and-demand shock may accelerate the pace of declines relative to previous downturns.
Heading into the last oil bust, Houston's mining-related employment (oil and gas extraction; support activities for mining; fabricated metals manufacturing; agriculture, construction and mining machinery; architecture, engineering and related services) accounted for 9.9 percent of Houston jobs. By December 2016, these sectors had shed 85,400 jobs.
By their collective peak in June 2019, mining-related industries had recovered 25,300 jobs. In fourth quarter 2019, these sectors accounted for 7.4 percent of all jobs in Houston.
Houston Stock Index
In the first half of March 2020, the Bloomberg Houston Texas Stock Index averaged 437.9, a decline of 16.2 percent (84 points) from February levels (Chart 6). This would already make March 2020 the largest monthly decline in the index since October 2008 when collapsing commodity markets amid the Great Recession triggered a 28 percent drop.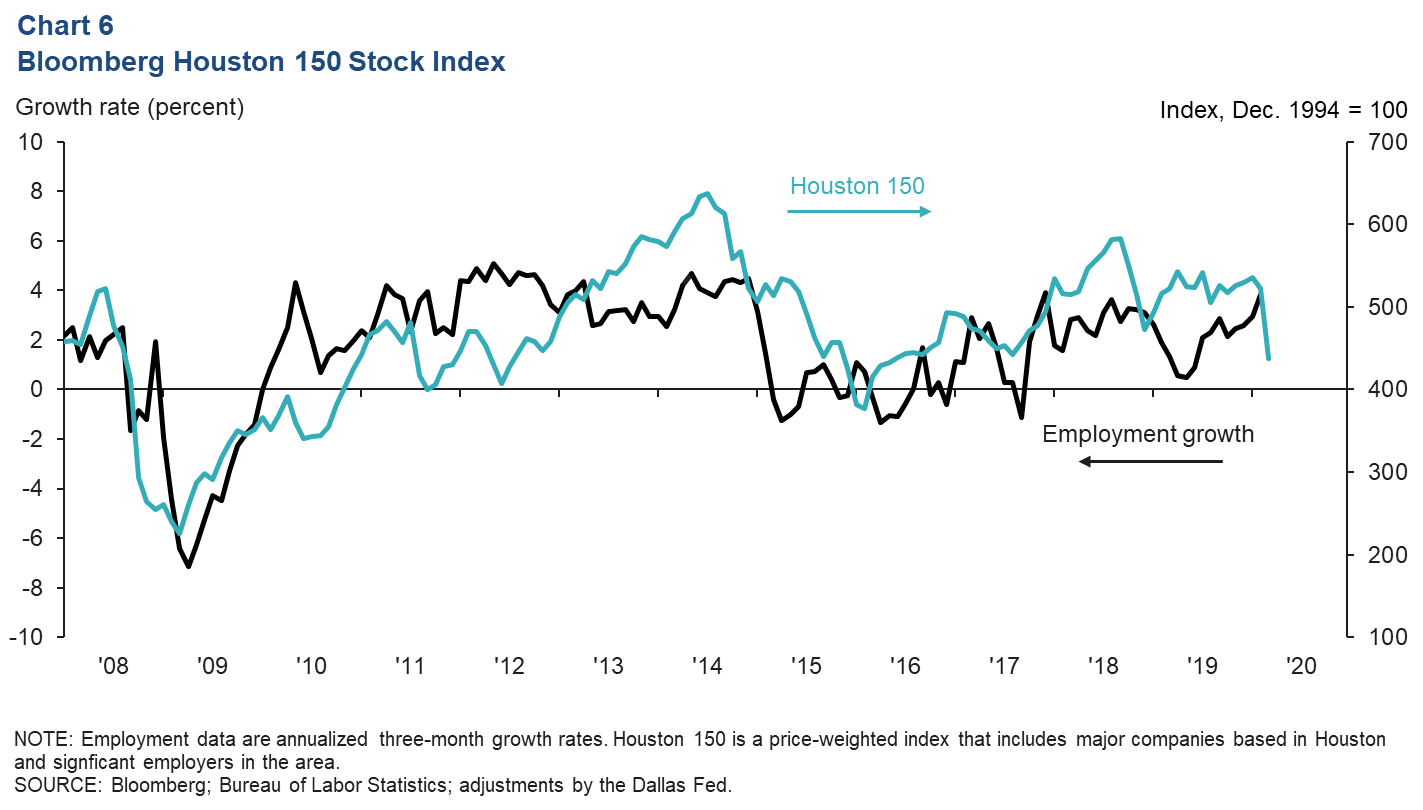 The Houston stock index is a price-weighted index that comprises firms based either in Houston or with a significant employment footprint in the metro area such as Conoco Phillips, Cadence Bank, United Airlines, Baker Hughes and the Kroger Co. It is one of the 10 components of the Houston Leading Index.
NOTE: Data may not match previously published numbers due to revisions.
About Houston Economic Indicators
Questions can be addressed to Jesse Thompson at jesse.thompson@dal.frb.org. Houston Economic Indicators is posted on the second Monday after monthly Houston-area employment data are released.