Houston Economic Indicators

July 15, 2020
Pandemic-induced declines in economic activity for Houston slowed in May as the economy reopened, and some signs of recovery began. Leading and coincident indexes logged modest improvements, but Houston's energy sector continued to shed jobs ahead of record-setting lows for drilling activity in the U.S. in June. Unfortunately, June also saw a return to sharp growth in COVID-19 hospitalizations. This increase has put a damper on the recovery as policy efforts to contain the virus and voluntary social distancing likely contributed to a reduction in area mobility and engagement.
Business-Cycle and Leading Indexes
The Houston-Business Cycle Index picked up slightly from a value of 303 in April to 311 in May on a partial recovery in labor market data. The modest improvement left the index well below pre-COVID levels in February of 341, netting an annualized decline of 30.5 percent over the three-month period ending in May (Chart 1).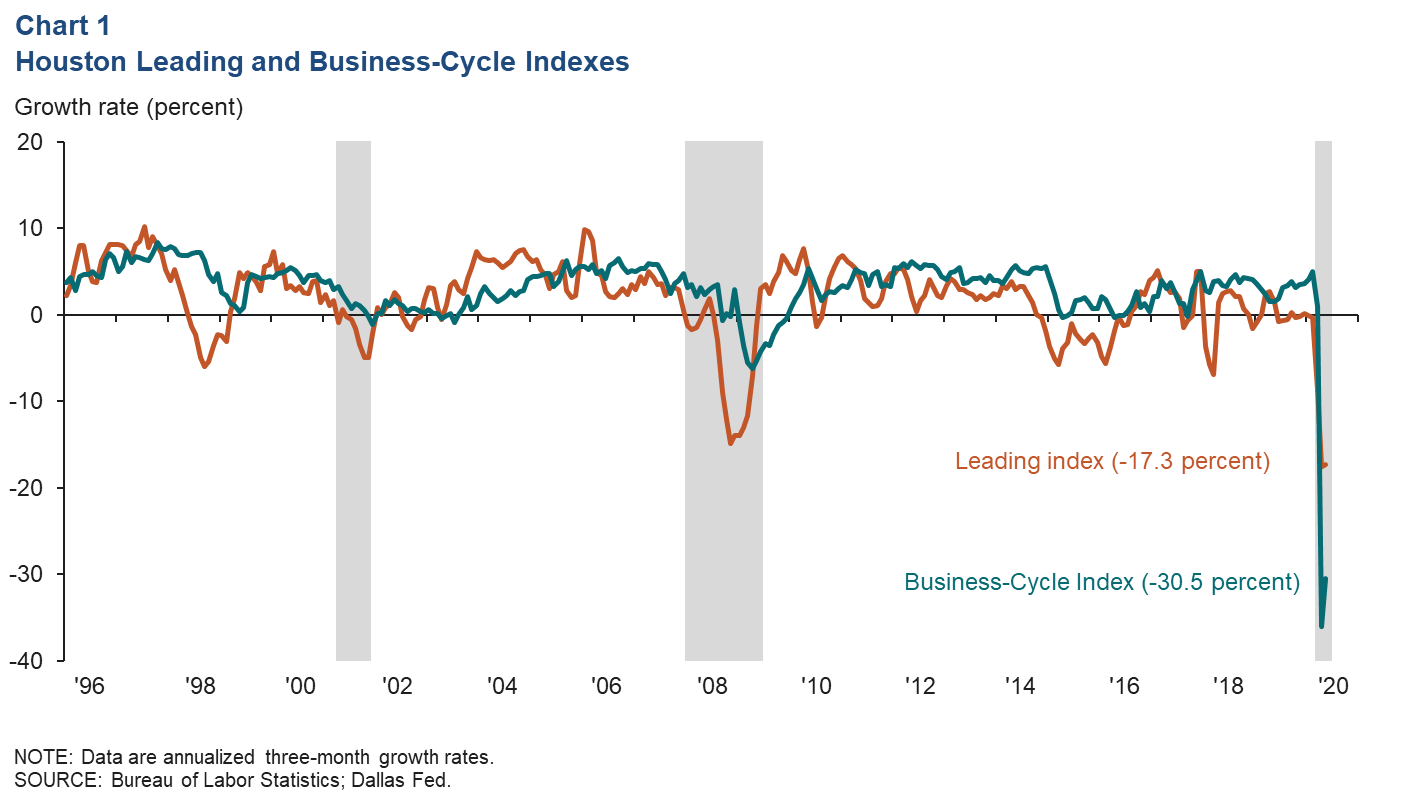 A leading index of 10 economic indicators for Houston stabilized in May after falling sharply in March and April. Compared with pre-COVID levels in February, the index fell an annualized 17.3 percent over the three-month period ending in May. Early data for June point to a modest month-to-month improvement, as slower decreases in rig counts and manufacturing indicators were met with improvements in the price of oil and the Houston 150 stock market index.
Employment
Payrolls Increase in Wake of Stay-at-Home Orders
After losing 361,300 jobs between February and April 2020, Houston payrolls grew by 74,700 from April to May (Chart 2). The recovery of nearly a fifth of the jobs lost in the pandemic largely reflected the relaxation of stay-at-home orders in the state's Phase 1 reopening plan, during which, leisure and hospitality led Houston job growth by a wide margin, adding back 38,700 jobs—mostly restaurants and bars. Education and health services was the second-fastest-recovering sector with 25,500, mostly nonhospital health care jobs and social assistance jobs, which includes child-care services.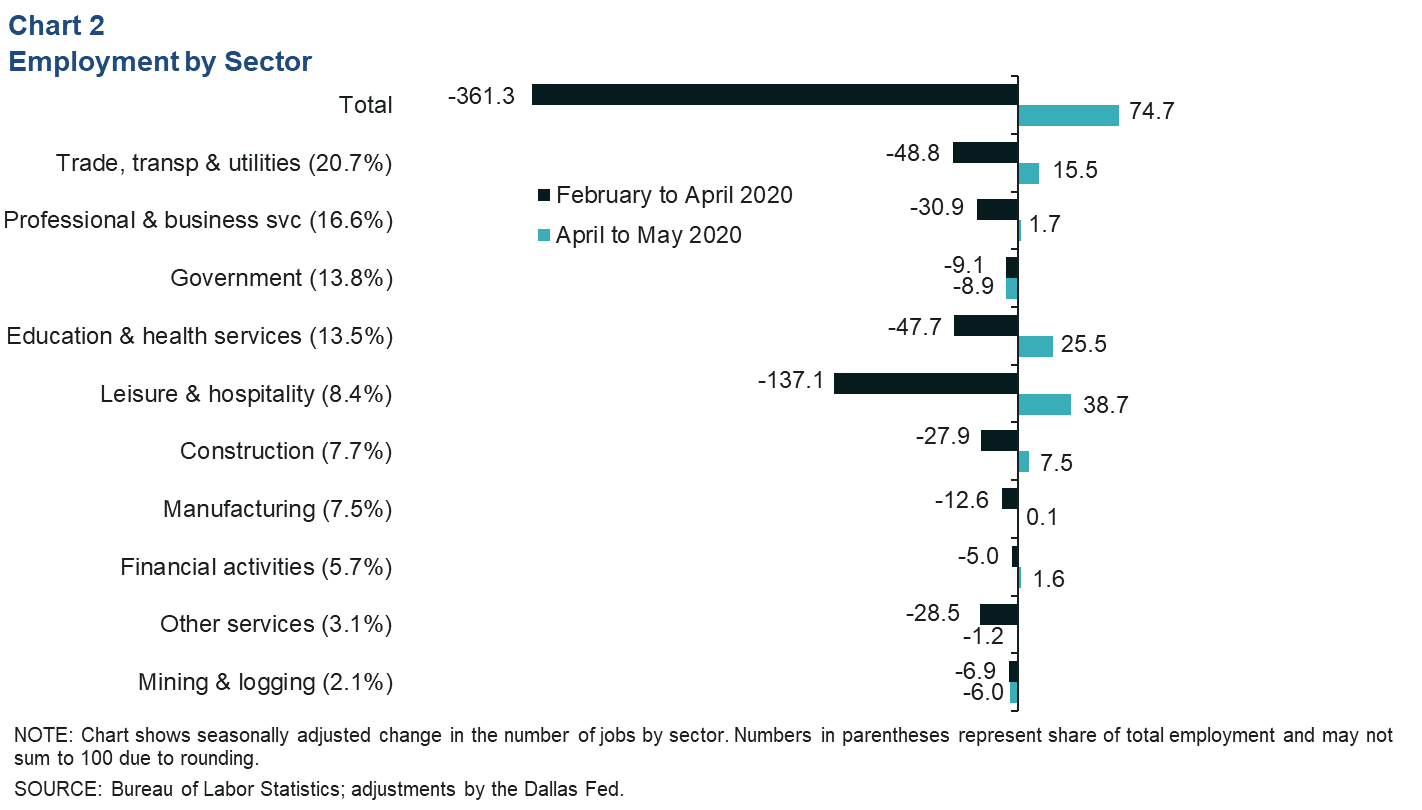 The sector that lost the most jobs in May was government, which fell by 8,900. Nearly all of those jobs were in state and local educational services. Other services—which includes auto mechanics, dry cleaners and animal boarding—and mining also eroded further in May.
Weekly Jobless Claims Fall
Weekly claims for unemployment insurance under state programs in the Houston metro area peaked the week of April 4 at 76,007 and have trended down since (Chart 3). Claims were as low as 22,119 the week of June 13 but leveled off at near 23,600 at the end of June. Statewide claims rose sharply in the first week of July, and Houston metro claims are likely to follow suit.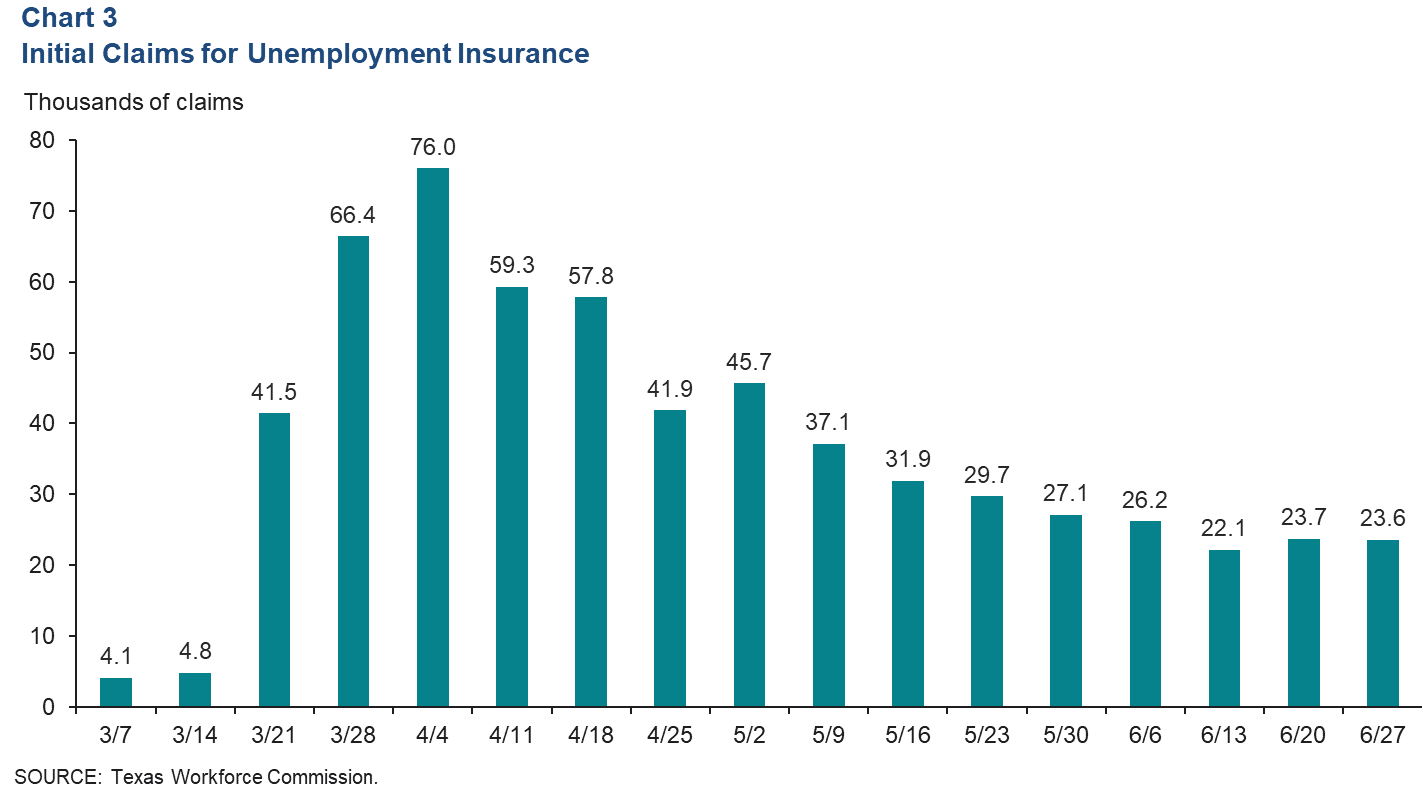 Houston Mining-Related Sectors
Oil Price Partially Recovers, Rig Count Hits Record Low, Energy Jobs Plunge
The average monthly price of West Texas Intermediate (WTI) crude oil averaged less than $17 a barrel in April ($19 excluding the one-day plunge to -$37). WTI partially recovered to an average of $38 in June as rising consumption in reopening economies around the world met reduced global oil supplies thanks to shut-in production from producers in the U.S., OPEC and elsewhere (Chart 4).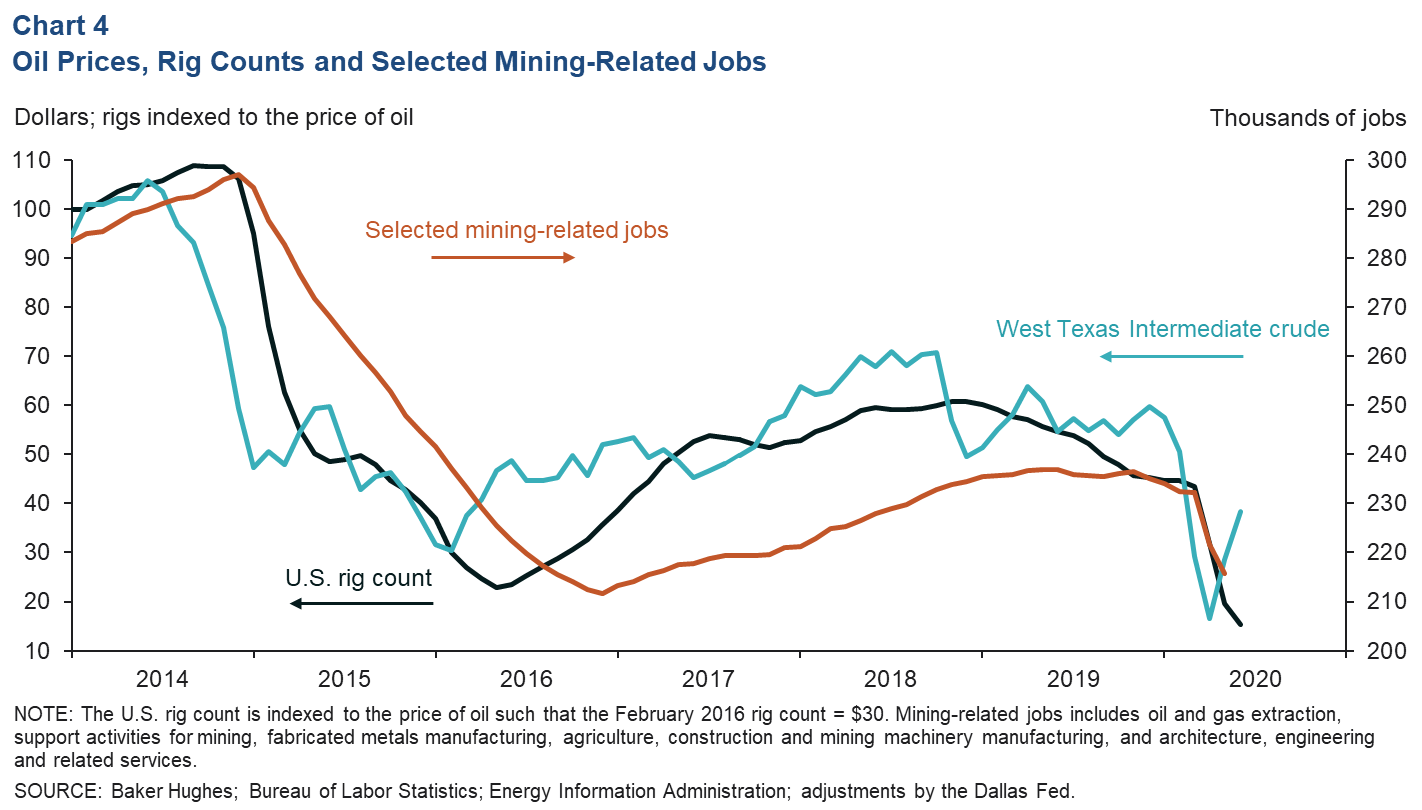 The number of drilling rigs operating in the U.S. continued to fall through the end of June, reaching the record low of 265 (the average for the month was 274). Historically, changes in the monthly rig count lag behind changes in oil prices by about three months. Mining-related jobs in Houston fell in tandem with drilling activity.
Houston's mining-related sectors were already struggling when the COVID-19 pandemic hit. With the collapse in prices and oilfield activity, mining-related payrolls fell an annualized 25.9 percent (16,800 jobs; not annualized) over the three months ending in May. The bulk of the job losses came from oil and gas extraction and support activities for mining (-13,200; mostly in support activities or oilfield services firms). However, machinery manufacturing has also suffered as the oil and gas supply chain was impacted by the fall in activity.
COVID-19 in Houston and Mobility and Engagement Index
Houston-Area COVID-19 Hospitalizations and Deaths Resurge in June
Houston-area COVID-19 hospitalizations—the sum of the number of people currently hospitalized with COVID-19 in the Houston and Galveston Trauma Service Areas—trended down from their early peak of 496 on April 25 before turning up in mid-May. Hospitalizations continued to grow rapidly through the month of June, ending the month at 2,055 individuals (seven-day moving average)—an increase of 57.6 percent compared with the prior week (Chart 5). The sharp rise in hospitalizations garnered significant attention as the Texas Medical Center announced that occupancy in intensive care units was approaching its base capacity level, and hospitals in the region would have to tap into their ample surge capacity.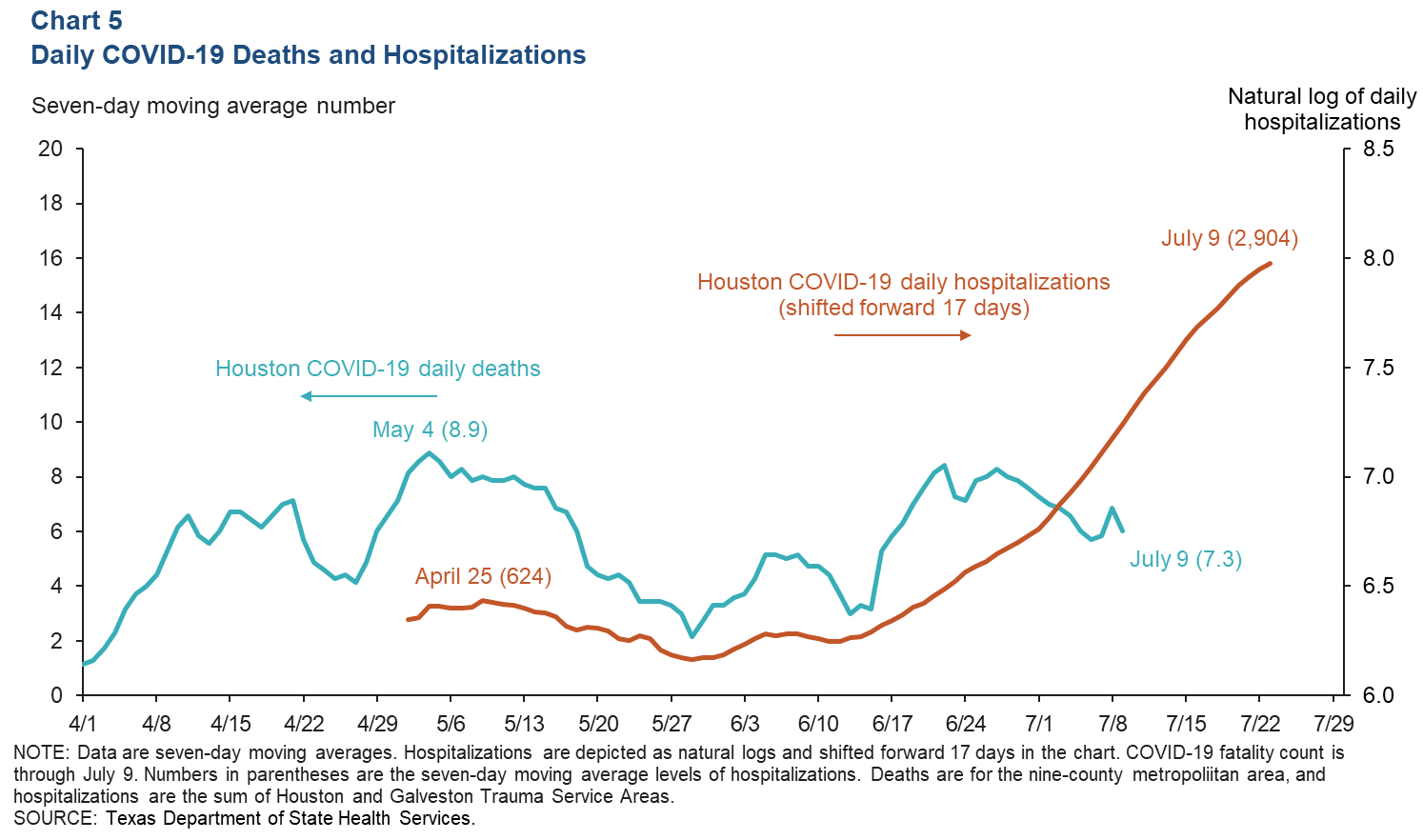 COVID-19 fatalities in the nine-county metro area tend to lag hospitalizations by two to three weeks. The surge in the number of individuals in hospitals with COVID-19 strongly suggests a rise in deaths. However, shifting demographics of the sick and improvements in treatment protocols—among a variety of other variables—may mute the impact of rising cases and hospitalizations on deaths in the area.
Mobility and Engagement Index Retreats as COVID-19 Cases Rise
As consumers and policymakers observe the increasing burden of COVID-19, consumer behavior changes. Recovery in Mobility and Engagement Indexes (MEIs) for Houston and Texas began to slow over the course of June before the trend clearly reversed on June 20 (Chart 6). MEIs have been highly correlated with a number of economic outcomes in the pandemic. The retreat of these indexes amid a resurgent pandemic likely means the economic recovery in Houston is losing momentum.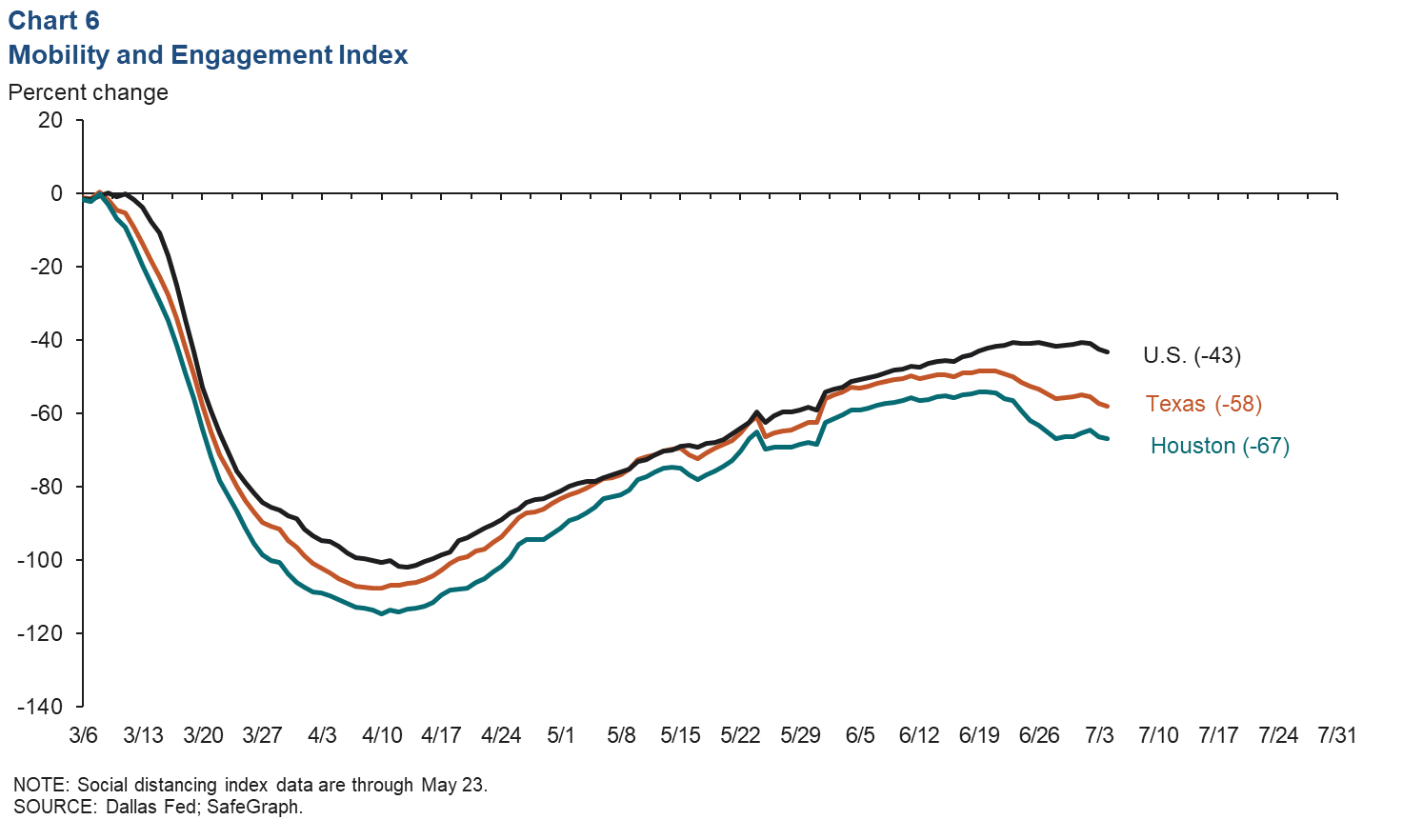 NOTE: Data may not match previously published numbers due to revisions.
About Houston Economic Indicators
Questions can be addressed to Jesse Thompson at jesse.thompson@dal.frb.org. Houston Economic Indicators is posted on the second Monday after monthly Houston-area employment data are released.