Houston Economic Indicators

February 3, 2021
Recent indicators continue to portray an ongoing recovery hampered by the second wave of coronavirus infections. COVID-19 statistics for the Houston area worsened through mid-January, and weekly unemployment claims increased. However, COVID hospitalizations were easing heading into February and vaccinations of the general public were ramping up. Houston jobs continued to recover through the end of 2020, lagging the rest of Texas but on par with the nation. Local and international measures of manufacturing activity improved in December, while exports through Houston-area ports leveled off.
Pandemic
The number of daily coronavirus deaths in Houston were elevated through the first half of January following a surge in hospitalizations in November and December (Chart 1). This likely contributed to softer readings in area mobility and engagement after the holidays. However, the number of COVID-positive patients in Houston-area hospital districts has been dropping since mid-January after approaching July 2020 highs. Economic recovery in 2021 hinges on the virus' path and the extent to which COVID mitigation restrictions, including reduced capacity at some businesses and business closures, can be lifted.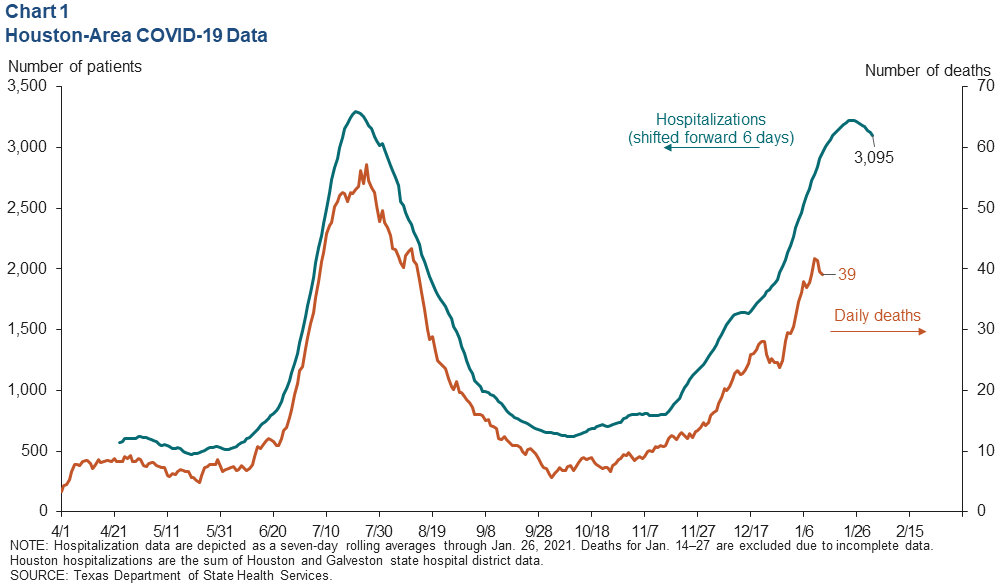 Vaccinations are a key aspect of fully reopening the economy. In the Houston metro, 389,893 individuals (about 5.5 percent of the population) had received at least one dose of a coronavirus vaccine as of Jan. 28, according to state data. Within that group, 83,045 were fully vaccinated.
Employment
2020 Job Decline Deeper in Houston than Rest of Texas, on Par with U.S.
Jobs plummeted in Houston and Texas during the pandemic but less precipitously than in the rest of the nation. Houston payrolls bounced back in May and June as businesses partially reopened from lockdowns. However, surging COVID hospitalizations along with layoffs and bankruptcies from a beleaguered energy industry muted the pace of Houston's recovery. Houston employment ended 2020 down 5.8 percent relative to year-end 2019 (Chart 2). By comparison, the rest of Texas was down 4.1 percent, and the U.S. outside of Texas was down 6.3 percent.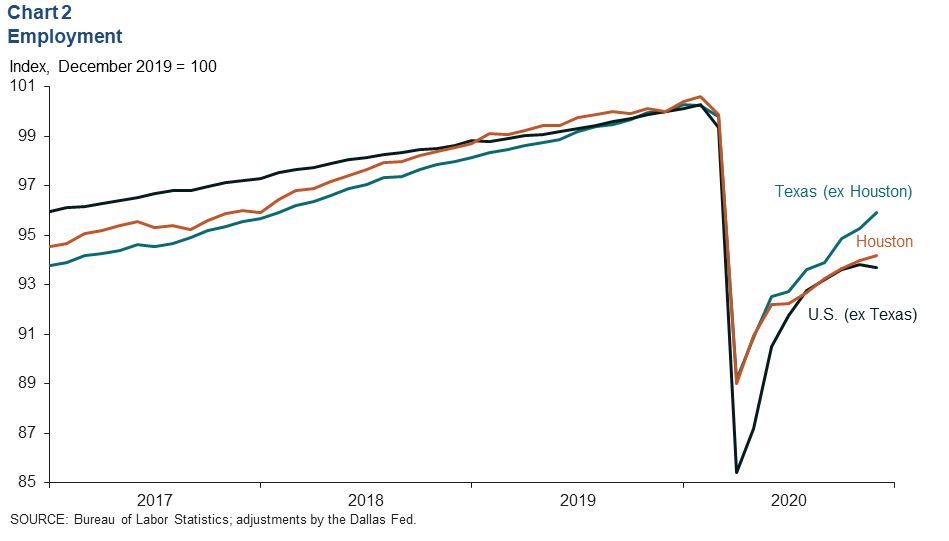 Houston Unemployment Claims Rise
Initial claims for unemployment benefits rose from 8,279 in the final calendar week of 2020 to 13,600 in mid-January as COVID numbers worsened (Chart 3). Measures of mobility and the number of hourly employees clocking in for work at small businesses during that time pointed to a slowing local economy.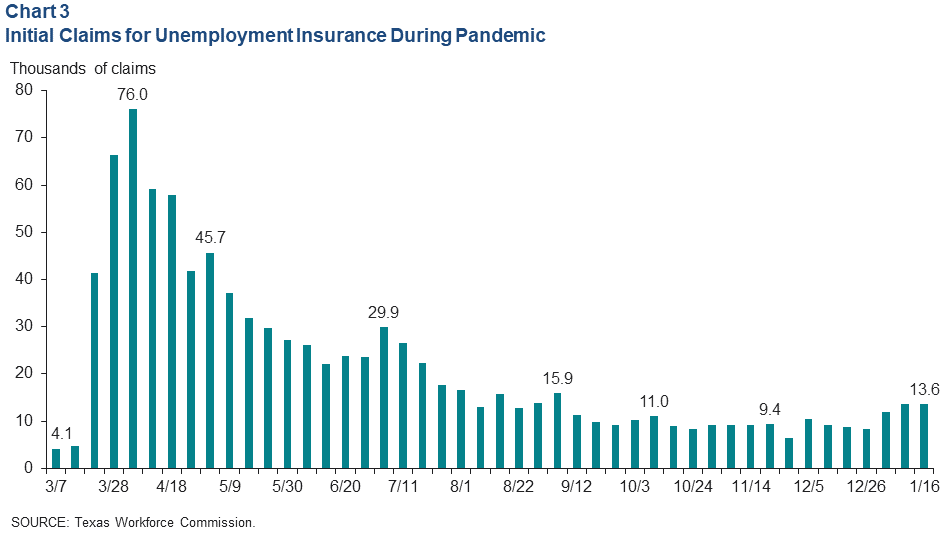 Manufacturing and Trade
Rising Manufacturing Implies Global Trade Recovery
The real dollar value of world export growth was down roughly 4.4 percent year over year in September 2020 (Chart 4). Data on global trade are available with significant lags, but trade growth correlates with global manufacturing output.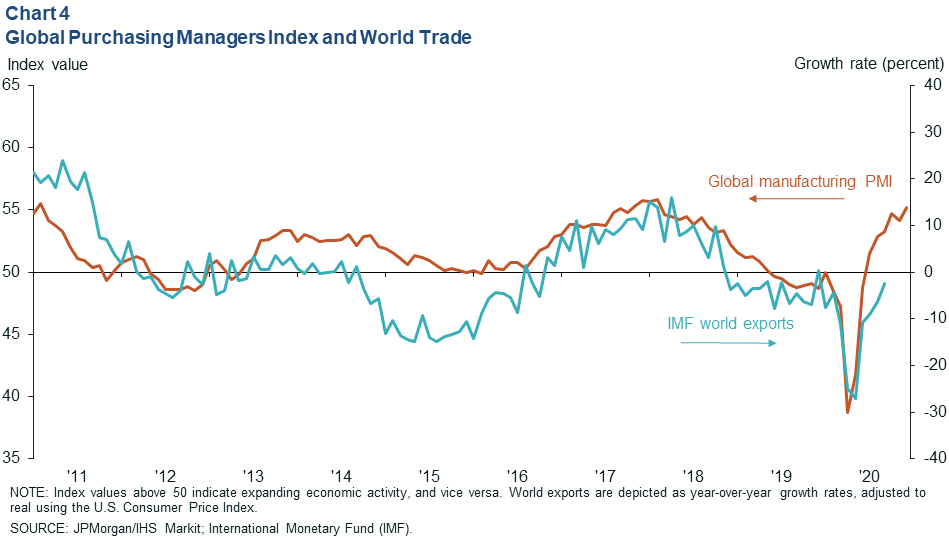 Activity in manufacturing and supply chains grew strongly in the latter part of 2020 after declining sharply early in the pandemic. The JPMorgan Global Purchasing Managers Index (PMI) compiled by IHS Markit—a timely proxy for growth in manufacturing activity—registered a value of 55.2 in December. That's the highest reading since January 2018. Values above 50 signify growing activity, and values below 50 signify declines.
Gulf Coast Export Destinations Ramp Up Manufacturing Activity
The Houston port region's exports are dominated by intermediate goods, which feed into global supply chains. Energy, plastics, intermediate chemicals, machinery and machine parts all play outsized roles in the total value and tonnage of goods leaving through the Houston–Galveston customs district. The weighted PMI index for Houston's export markets continued to expand but slowed from 53.6 in December 2020 to 52.5 in January, similar to the change in emerging-market manufacturing (Chart 5).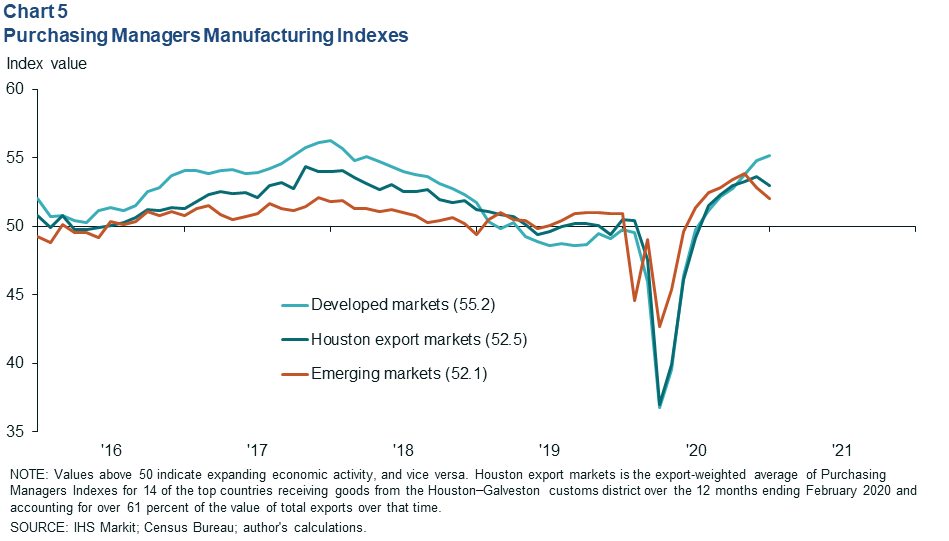 Local Indexes Point to Increase in Manufacturing Jobs
Growth in manufacturing production in Houston stabilized in mid-2020 and grew again by year-end (Chart 6). A combination of production measures from the Houston PMI and the Dallas Fed's Texas Manufacturing Outlook Survey correlates strongly with near-term manufacturing payroll growth in Houston. Although job growth dipped later in 2020, the combined index value in December of 12.8 implies improvement in manufacturing payroll levels in the next few months.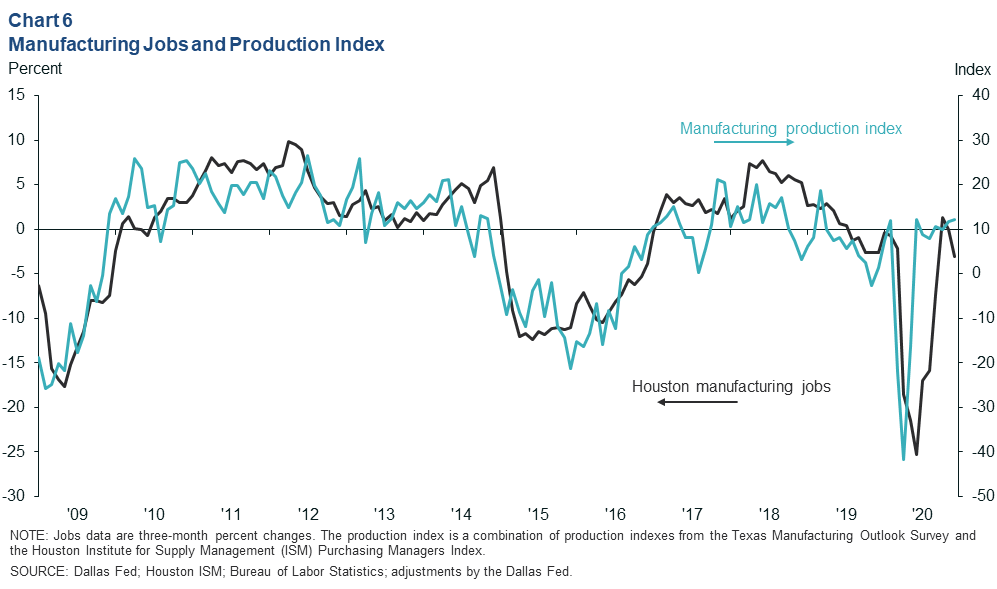 Houston Export Tonnage and Value Begin to Stabilize
Both the value and tonnage (volume) of exports through the Houston–Galveston customs district (which accounts for most of Texas waterborne trade) began to stabilize from midyear through November 2020 after climbing back from pandemic lows (Chart 7). The flattening of volumes near 2019 highs—chiefly in crude and refined product exports—largely reflects the slowing recovery in global liquids demand stemming from the second wave of coronavirus infections in trading-partner countries.
The Texas trade-weighted value of the dollar is also declining (axis is inverted in Chart 7). At the margin, a weakening dollar tends to increase the competitiveness of Texas exports in world markets and is historically associated with growing exports and manufacturing jobs in Texas.
NOTE: Data may not match previously published numbers due to revisions.
About Houston Economic Indicators
Questions can be addressed to Jesse Thompson at jesse.thompson@dal.frb.org. Houston Economic Indicators is posted on the second Monday after monthly Houston-area employment data are released.