Houston Economic Indicators

March 22, 2021
Houston ended 2020 behind the nation in its comeback from the COVID-19-driven job collapse. Last year's employment data were revised down to show that the area had recovered only about a third of jobs lost during the pandemic downturn versus the previous estimate of nearly half. However, COVID statistics for Houston have been improving since mid-January and, despite the chilling effects of Winter Storm Uri, high-frequency barometers of economic activity like mobility and restaurant demand indicate that the local economy has been picking up steam. Together, the data paint a positive picture for the near-term outlook in Houston.
Employment
Houston Lags Rest of the Nation in 2020
Payrolls in Houston and the rest of Texas did not decline as much as they did in the rest of the nation in early 2020, but Houston weakened further in midsummer as the pandemic oil bust weighed on its recovery. Recent revisions to 2020 jobs data by the Bureau of Labor Statistics indicate that Houston performed worse than earlier estimates had suggested. From December 2019 to December 2020, Houston payrolls contracted 6.7 percent versus 5.8 percent in the Dallas Fed's prior estimate (Chart 1). By comparison, revisions resulted in a slightly more modest decline of 3.8 percent (versus 4.1 percent) in the rest of Texas. The nation outside of Texas was down 6.4 percent (versus 6.3 percent).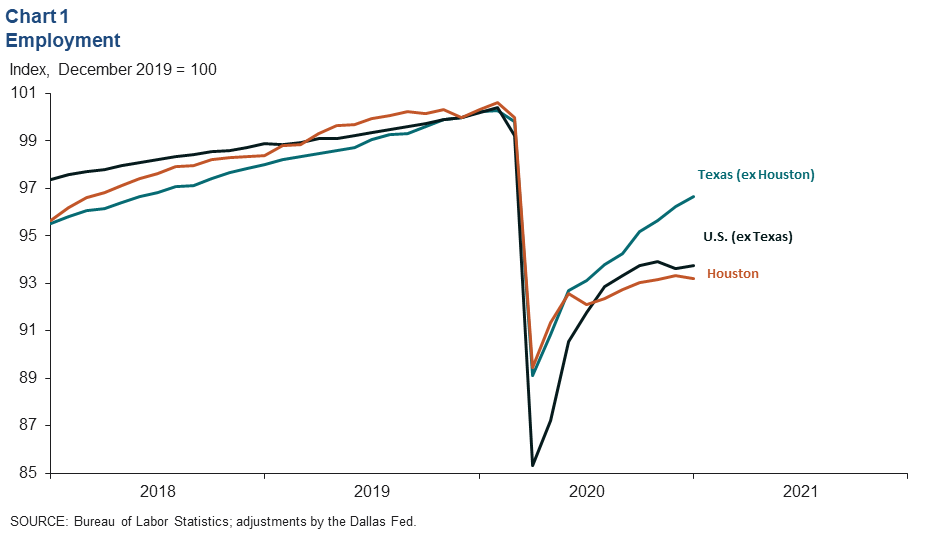 Houston Recovers One-Third of Jobs Lost in Pandemic
Houston added 118,800 jobs from April 2020 to January 2021, roughly one-third of the 354,000 jobs lost from February to April 2020 (Chart 2). Prior estimates for the month of November 2020 had put Houston's recovery past 43 percent, but revised data show that the summer surge in coronavirus hospitalizations and deaths, and the attendant tightening of restrictions on activity, had a bigger impact than earlier data had indicated.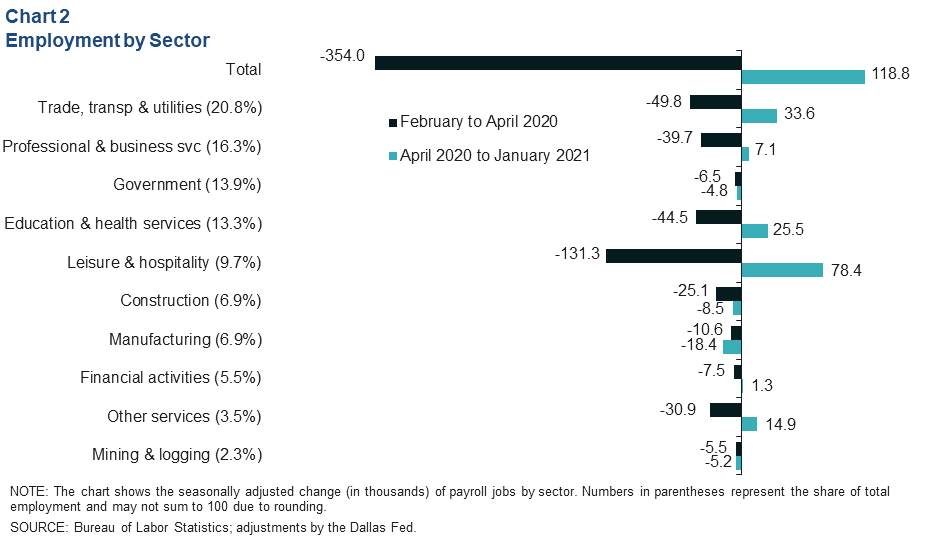 Leisure and hospitality led net job growth from April 2020 to January 2021 but still has the largest deficit remaining from prepandemic employment levels. The industry recovered 78,400 jobs in the nine months ending January 2021, but its deficit stands at 52,900.
In contrast, construction—led by job losses in heavy and civil construction (disproportionately oil and gas pipelines, refinery, and petrochemical-related construction—has seen no recovery past April. Construction payrolls in January were still 33,600 jobs shy of prepandemic levels. The manufacturing sector and mining and logging also saw losses mount after April 2020. Combined, the two industries are 39,700 payroll jobs below their prepandemic level.
More Workers Clocking In at Small Businesses Post-Uri
After Winter Storm Uri temporarily paralyzed Texas, the number of employees working at businesses using Homebase software resumed the steady pace of recovery that began in mid-January (Chart 3). The index had risen to 75 percent of prepandemic levels as of the week ending March 10. By comparison, both the U.S. and Texas saw this indicator of labor utilization rise to roughly 78 percent of prepandemic levels.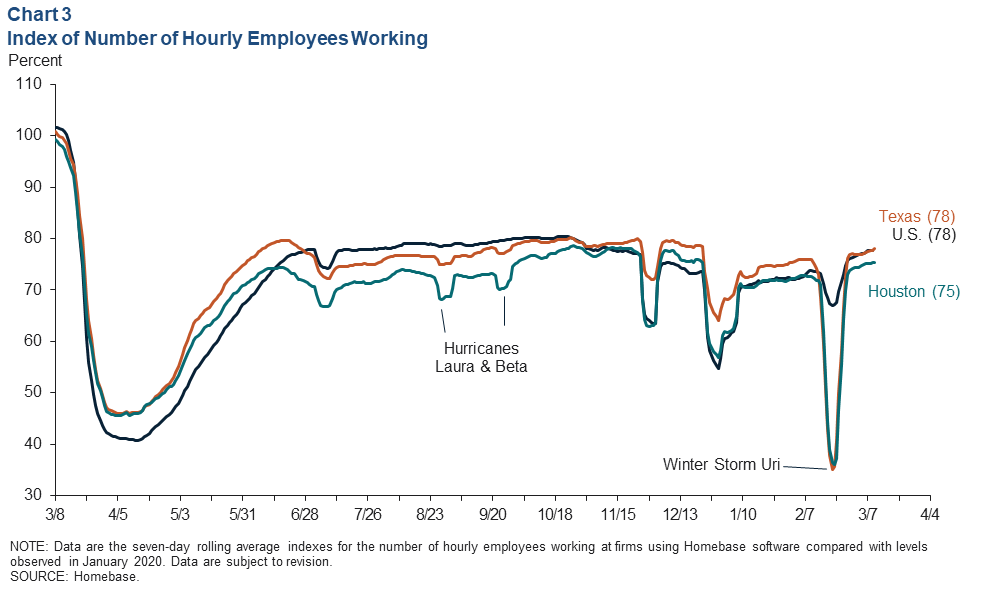 Coronavirus
COVID-19 has been in the driver's seat of the economy for the past year, and both policy and individual behavioral responses to the virus have contributed to fluctuations in labor demand and in mobility and engagement. Over the seven days ending March 15, the daily level of hospitalizations in the Houston and Galveston Trauma Service Areas fell to 1,577, which is still more than double the lows reached in early October 2020 (Chart 4).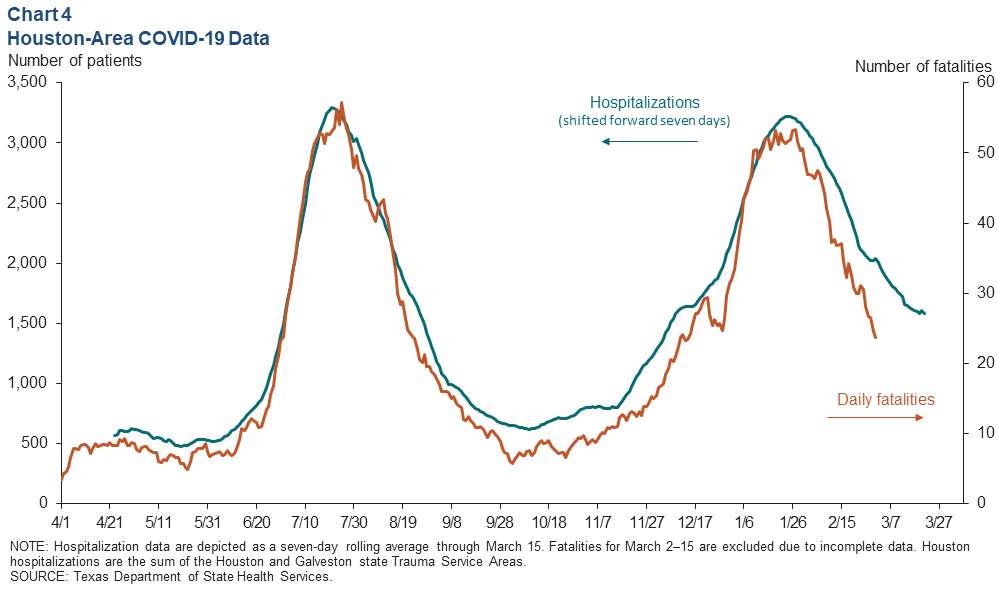 Changes in the number of hospitalizations have tended to lead certified COVID fatalities by roughly seven days over the course of the pandemic. As of early March, the seven-day moving average of daily COVID fatalities had fallen to 24 in the area—triple the October 2020 lows. The recent declines in hospitalizations imply COVID fatalities will continue to ease through mid-March.
Nearly 1,263,000 individuals—over 23 percent of the 16-and-over population—had been given at least one dose of a vaccine in the Houston metro area as of March 15. Additionally, many more individuals who were previously exposed to the virus likely have some degree of immunity to the strains that have circulated over the past year.
Economic Engagement
Mobility Index Jumps Ahead of Spring Break
Individuals across the U.S. were much more willing to leave home to engage in economic activity in March, as proxied by the Dallas Fed's Mobility and Engagement Index (MEI). The Houston and Texas MEIs rose sharply to -21 and -17, respectively, after thawing from the effects of the winter storm (Chart 5). Similarly, the nation reached -23. All three indexes achieved their highest levels since the start of the pandemic.
On one hand, the rollout of vaccines and easing burden of COVID-19 on the region are likely spurring increased confidence in individuals to engage in more economic activity, with positive implications for labor demand. On the other hand, coronavirus cases, hospitalizations and test positivity rates remain elevated relative to levels observed ahead of Houston's second wave. Rising mobility and engagement early in spring break season may once again presage a rise in case counts as the spread of new and more virulent strains accelerates.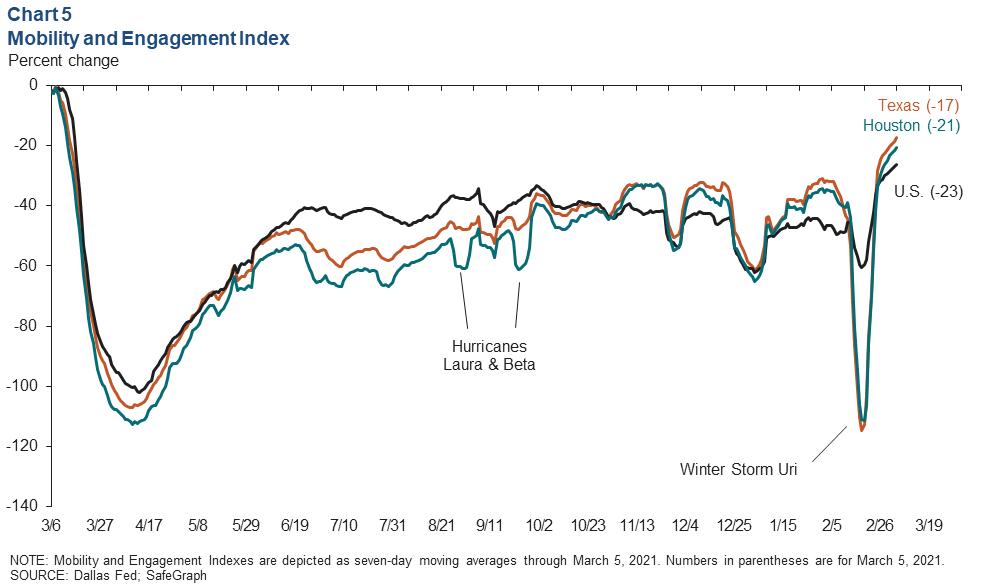 More Texans Dining Out
The number of patrons dining at area restaurants surged in Texas and Houston after Uri, reflecting improving COVID statistics and the arrival of spring break. The decline in Houston restaurant demand versus the same period in 2019 was 16.2 percent for the seven days ending March 14, according to OpenTable data (Chart 6). Texas was down 12.8 percent, and the nation overall was off 37.0 percent.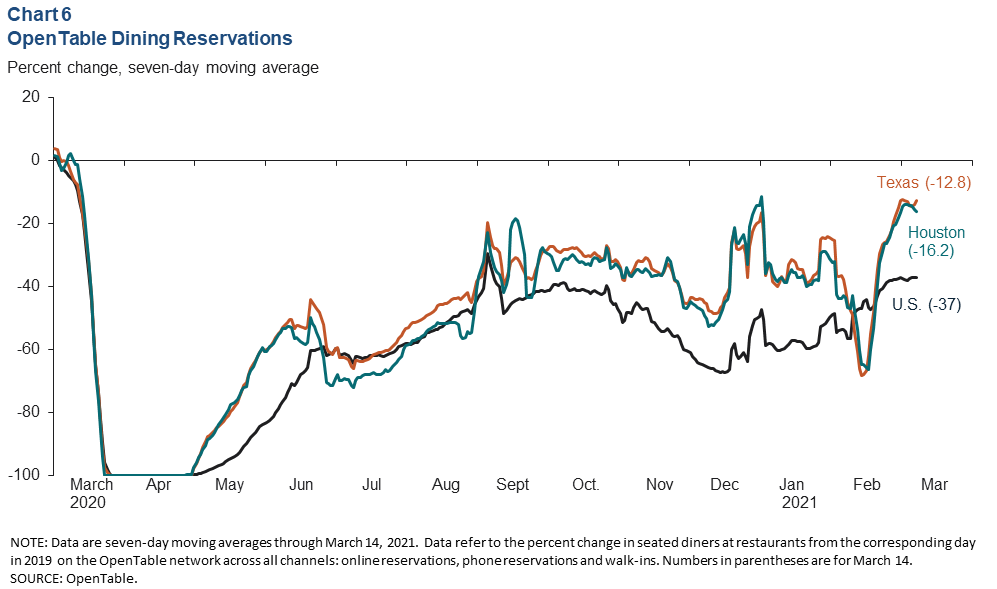 On March 10, ahead of the first week of spring break in Texas, the state rescinded its mask mandate and limits on the capacity at which businesses like restaurants and bars may open. While many businesses and individuals indicated that they intend to maintain recent COVID safety measures, Texas data for the four days following the announcement revealed a surge in restaurant reservations. The opening spring break weekend of March 13–14 saw an 11.6 percent increase compared with the same weekend in 2019. Houston's increase was a more modest 1.4 percent; it was only the third weekend to log an increase in restaurant demand versus 2019 since the pandemic began.
NOTE: Data may not match previously published numbers due to revisions.
About Houston Economic Indicators
Questions can be addressed to Jesse Thompson at jesse.thompson@dal.frb.org. Houston Economic Indicators is posted on the second Monday after monthly Houston-area employment data are released.